The Best Time to Visit Kenya for Safari - Low, High, Peak, & Festive Seasons
What is the best time to visit Kenya? The best time for safari in Kenya is during the migration season, but the country offers favourable travel conditions 365 days.
That's because Kenya is among the quintessential safari destinations on the planet that offers excellent attractions.
These can range from dazzling animal conservancies, parks, and reserves to open plains, savannas, and even world-class accommodation.
It's long been agreed that Kenya is the epitome of a luxury holiday in Eastern Africa. The go-to for royals, celebrities, and high-class societies.
It's also one of the most popular destinations for honeymooners seeking a great alfresco experience, as seen from our Kenya Honeymoon Packages.
The Kenyan climate is favourable enough to accommodate year-round safari and beach travel aficionados.
The moderate to equatorial temperatures allow you to enjoy daytime activities and still participate in evening merry-making shenanigans.
But, the question remains: what is the best time to visit Kenya? The best way to answer this is with another question: what do you want to do or experience in Kenya?
In other words, the best time to go to Kenya depends on whether you're interested in going on a safari, climbing the mountains, or experiencing the Kenya beaches.
Book Your Kenya Safari Today with KenyaLuxurySafari.co.uk
You can Contact Us via phone or WhatsApp at +254-704-532-105 to find out more about the best time to come to Kenya for a safari.
You can also reach us at safarioffers@ajkenyasafaris.com or james@ajkenyasafaris.com or even fill out our "Book a Safari Form" to book your safari to Kenya today.
Our team of professional safari consultants and guides will assist you in planning the perfect itinerary to meet your needs.
Our Frequently Booked Kenya Safari All-Year-Round with Pricing
Best Time of the Year to Visit Kenya - Month-by-Month Guide of Visiting Kenya
This page contains a month-to-month guide, handy hints, and expert recommendations on the best time to travel to Kenya.
Best Time to Visit Kenya - January - Festive to High Season
January often falls in the dry season on the broader sense of the term, lying just outside the two notable 'short' and 'long' rains.
This can be considered the best time to go on a safari in Kenya since there is much less rain and the landscapes are stunning.
You can expect hot temperatures in Nairobi and central highlands, although you may also experience moderate showers from time to time.
The coastal region is scorching by the day and rather hot at night. There's almost no rain at all in January at the coast.
Parks and reserves may be relatively quiet during this month, bar the New Year's.
So, you should expect availability and reasonable prices at camps and lodges throughout the country.
If you want to visit Masai Mara, expect Mara Rivers and plains to be full of wildlife – from big cats to crocodiles.
This month also offers you a chance of warm evenings characterised by breathtaking sundowners.
Remember to share stories around campfires while on your safari, and don't forget to take beautiful sunset snaps. Bring your binoculars to gaze on some migratory bird species.
However, it would help if you also remembered that evening can get a bit cold at Masai Mara, Lewa, and Laikipia; make sure to pack layers when on safari.
January may be the best time to visit Kenya, especially the coastal region, for those looking to experience this side of the country.
The weather in Mombasa and the surrounding towns offer the best time for diving and snorkelling.
You'll be in with an excellent chance to see dolphins, snappers, rays, turtles, and other marine flora and fauna.
With its unique character, this coastline will offer you the perfect end to an exhilarating safari.
Ensure that your Kenya itinerary starts or ends with the visit to the coast during January.
It is famous for its tropical waters, spectacular white-sandy beaches, and an array of water sports.
Best Time for Safari in Kenya - February - High Season
February is also one of the driest months in Kenya, averaging about three days of rain throughout the month.
The absence of wet soil and mud makes the savannahs easy to access, making it the best time of year to go on safari in Kenya.
Destinations such as Masai Mara and Samburu National Reserve teem with giraffes, zebras, big cats, and elephants, while cities like Nairobi and Mombasa are warm and pleasant.
You can expect the park to be full of predatory action, with numerous young herbivores present following last year Great Wildebeest Migration in the Masai Mara.
Laikipia will also be a perfect destination for safari enthusiasts, where Elephants roam all over.
Those looking for the Kenyan coast will relish the clarity of the waters, providing the perfect opportunities for scuba diving, snorkelling, fishing, and other aqua activities.
Sandy beaches such as Diani Beach will provide low chances of rain; hence great opportunities for relaxing and unwinding on the coast.
February is also a fantastic time to summit Mt. Kenya, visit Amboseli National Park, or hike in Hell's Gate National Park.
Although February is more famous for tourists than January, the camp's value remains as high as January's.
This is also the best time for anyone looking to enjoy Heli Safari in Kenya since the weather is clear.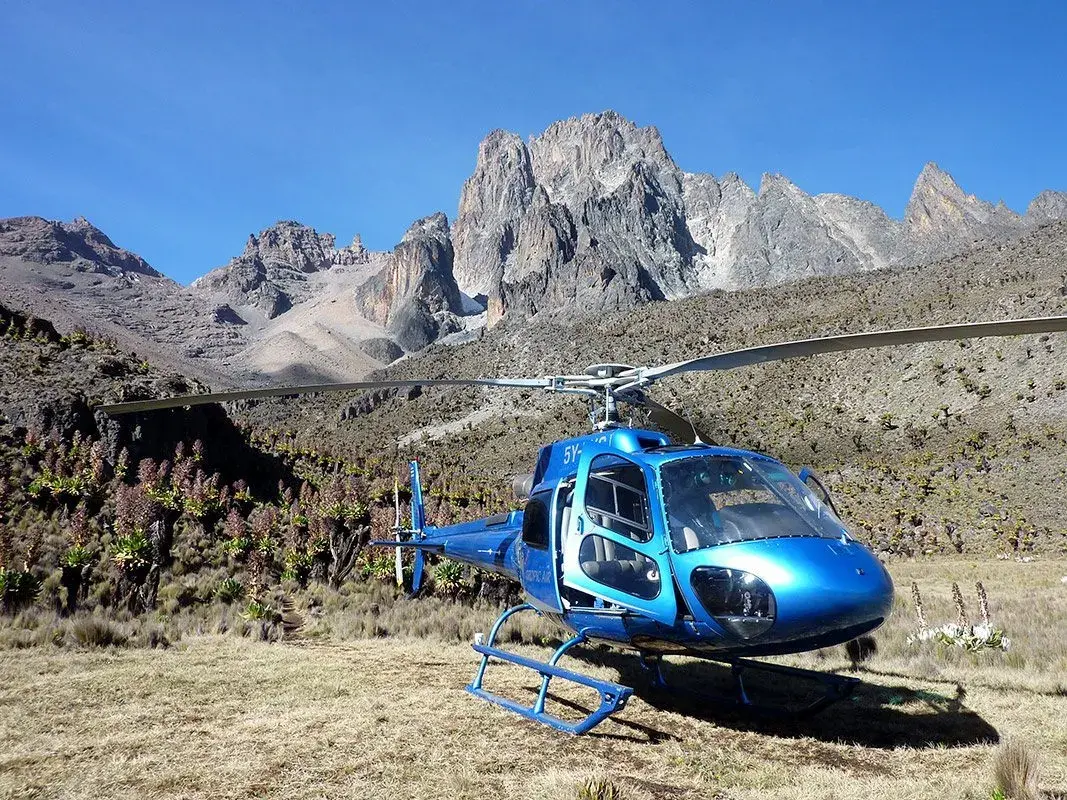 Best Time to Go to Kenya - March - High Season
March in Kenya marks the transition from dry to wet weather.
The month starts pretty humidly, with high temperatures and good visibility of wildlife in parks due to short grasses.
But, everything starts to change when the green season rains begin to sweep in.
The Great Migration remains absent for this month, but the wildlife viewing experience remains top-notch across numerous parks in the country, especially in the early days of the month.
Animals in many parks will spread as the rain starts in the latter stages of the month, and vegetation will become lusher.
Photography enthusiasts may want to pay particular attention to the rains, as bushes become greener and flower more effervescent.
Clear waters on the Kenyan coast will continue to provide perfect conditions for water activities such as diving and snorkelling before the rains start.
After that, heavy rains and high temperatures may make the coastline and beaches less ideal.
Artists looking for the best time of year to visit Kenya should also consider March.
The East African Art Festival usually takes place in Nairobi every March, providing an excellent schedule of literature, fashion, music, art, and theatre activities to enjoy.
The possibility of heavy rains at the end of the month makes March the end of the high season.
This means lodges and camps will offer better pricing in April, and availability may be higher than preceding months.
It is also worth noting that some safari lodges and camps may close for the upcoming heavy rains.
Best Time to Go on Safari in Kenya - April - Low/Green Season
April is the wettest month in Kenya, with long rains at the peak. Expect a lot of rain with fewer sunshine hours if you want to visit Kenya this month.
Clouds often remain in the sky, even if it is sometimes dry during the day.
With long rains comes increasingly verdant vegetation, which means more places for animals to seek shelter.
This, along with muddy roads, makes it very challenging to conduct game drives in some parks in Kenya, such as Aberdare and Mt. Kenya.
Elephants are less likely to frequent the waterhole during the rainy season since the rain keeps them cool and there is water everywhere.
Other wildlife species such as the big cats tend to remain sheltered.
The best way to experience wildlife in April is by visiting animal conservancies such as the Ol Pejeta Conservancy.
Here you will spot endangered species such as rhinos, chimpanzees, and hippos.
The Giraffe Centre is ideal for tourists looking to see endangered giraffe species up close.
This time Mombasa and the entire Kenyan coastline are very hot by the day and receive little rain.
During this month, rainfall in the region tends to arrive in showers and often comes in the afternoon or overnight.
The overall climatic condition on the coast isn't ideal for beach-going or water-based sports.
Mosquitos are ubiquitous, especially in national parks and coast, making mosquito repellents mandatory items during your April visit to Kenya.
The great thing about rains and the green season is that it keeps visitors away. This means you can secure the most attractive rates of the year in April.
Most hotel accommodations and lodges will offer special low-season rates, and the airlines will also lower their prices considerably.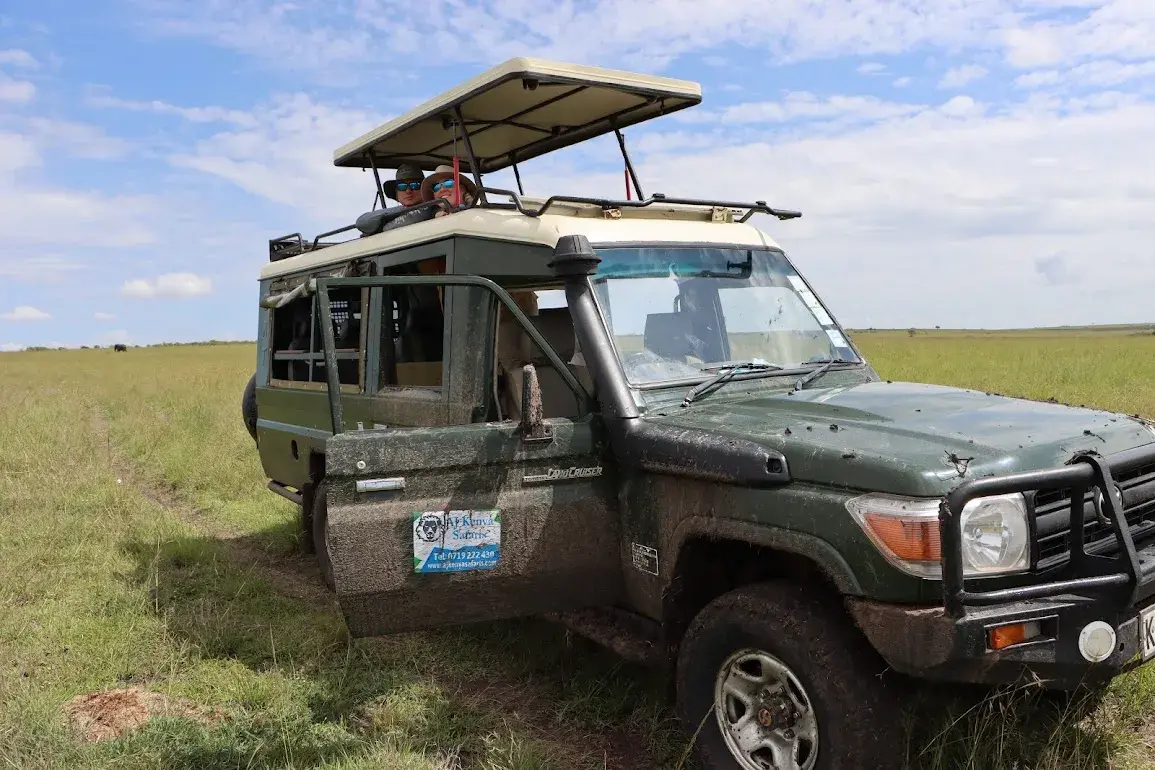 Best Time to Travel to Kenya - May - Low/Green Season
May is also one of the wettest months in Kenya.
You should expect a lot of rain throughout the month, along with relatively high temperatures and cooler evenings in most parts of the country.
Muddy tracks, dispersed wildlife, and thick vegetation will challenge game drives and wildlife sightings.
However, this may appeal to safari-goers in the hunt for a challenge.
Those interested in wildlife exhibitions may still enjoy visiting animal conservancies dispersed across the country.
On the Kenyan coast, water clarity will continue to decrease compared to earlier months in the year.
This will be bad news if you seek scuba diving, snorkelling, and other water activities in the coastal region.
We suggest seeking accommodation in lodges and hotels with swimming pools, for maximum relaxation and unwinding by the pool.
You should expect accommodation prices to be at their lowest as May is still in the low season.
However, some lodges and safari camps may remain closed during the wet season.
Remember, waterproofs and mosquito repellents are essential for all activities during this time.
Kenya Best Time to Visit - June - Low to Peak/Migration Season
June ushers the beginning of drier weather in Kenya after the long rains of April and May and the busy high season.
The early days of the month continue to be wet, but as you move towards the middle and the end, the month starts to get drier and sunnier.
The western interior and the Rift Valley are sweltering by day, fantastic evening and night, and occasional rainfall.
Some of the rains are brought by the Kusi (Swahili for southern wind) Moonsoon winds in the early days of the month.
Some grasses in Kenyan plains and parks will remain tall, making it difficult to spot some animals.
However, some parks, such as the Masai Mara, will remain beautiful and scenic for photography.
Animals will start to congregate around shrinking water sources, which will increase your chances of wildlife viewings.
June will be an excellent time to visit or start thinking about visiting the Masai Mara if you want to experience the migration.
It precedes the arrival of wildebeests from the Serengeti National Park in Tanzania.
We also recommend visiting the Meru National Park in June. The park's waterways will be in full flow following the long rains.
This makes it an idyllic destination for spotting distinctive bird species such as the African pygmy kingfisher and African fish eagle.
The first rainy season will also leave the Amboseli National Park full of greenery.
Although the area will be increasingly hot, the drying period will attract giant elephants to rivers and watering holes.
Mombasa and the coast region will remain hot by day and relatively calm by night. The area also receives a fair amount of rainfall.
Water activities such as diving and snorkelling may be conducted in areas like Diani Beach.
The availability of lodges and camps will start becoming harder to come by as we approach the high season.
But since the Great Migration won't be happening till the start of July, June becomes the perfect month to snap up an ideal accommodation.
It is worth noting that some hotels still treat June like the low season while others hike their prices from 15th June.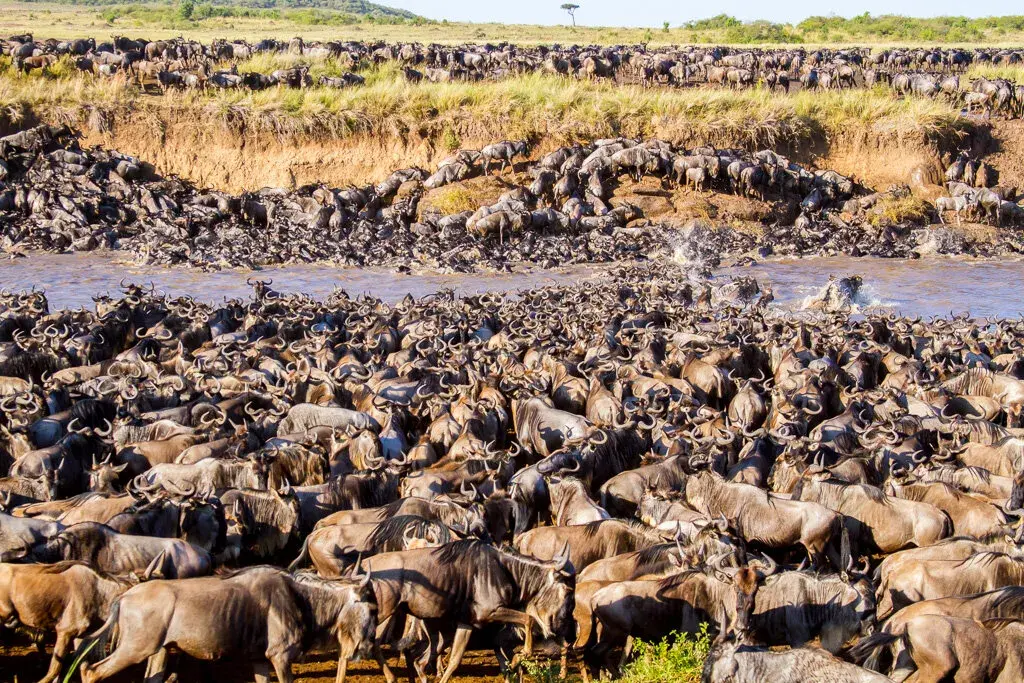 Best Time to Visit Kenya for Safari - July - Peak/Migration Season
The wet season will be gone by the start of July, ushering in the dry season, and the peak season will be in full swing.
Scarcity in water sources and thinning of lush greenery will make animal sightings considerably easier.
July is a fantastic time to catch a glimpse of roaming wildlife in savannahs and national parks.
This month is also widely regarded as the best time to go on safari in Kenya because it coincides with the Great Wildebeest Migration.
The first herds of wildebeests, gazelles, and zebras will start arriving in the Masai Mara during this time, pursued by fearsome crocodiles in the Mara river and by big cats on land.
The massive crossing will not start until the mid of July, although there's some degree of wildlife crossing by the end of June.
We recommend visiting some smaller parks and conservancies such as the Tsavo East if you want to avoid the crown.
Expect properties to charge the highest of prices during the migration season. Availability of accommodation will also be a hustle.
We, therefore, recommend booking two to three months in advance to get the best rates and picture-perfect accommodation options.
Best Time of Year to Visit Kenya - August - Peak/Migration Season
August is one of the coolest months of the year in the country, with temperatures hitting as low as 10° C at night time.
The days are generally sunny and hot, particularly in regions with higher altitudes.
The low humidity and little to no rainfall in the coastal region make August one of the best months to sunbathe and conduct water activities.
That means you can try out scuba diving, surfing, swimming, kayaking, and snorkelling.
The herds will mostly have settled by mid-August on the plains of Masai Mara, although there will still be activities in terms of animal crossings at the Mara River.
But it will be breathtaking to witness the action on the plains as the wildebeests, gazelles, and zebras demonstrate survival for the fittest trick.
They will be against the predators such as cheetahs, leopards, and lions, and the life cycle will be in full motion.
Expect accommodation rates to be at a premium price and next to no availability, especially for luxurious accommodations.
As such, we also recommend booking early in advance to secure sublime options.
Best Time of Year for Kenya Safari - September - Peak/Migration Season
September is undoubtedly on the list of the best time for a Kenya safari. It is still hot and sunny like August, but the crowds will slowly reduce.
The last of the wildebeests will still be wandering around the plains of the Mara, so you'll still catch a glimpse of the Great Migration.
The sheer number of herbivores in the plains will still make for thrilling encounters between prey and predators.
You can relish the sighting at other tourist attractions such as Lake Naivasha, Lake Nakuru, Ol Pejeta, etc.
Here, you will get a chance of memorable wildlife viewing, including hippos, impalas, giraffes, and zebras, to name a few species.
You'll have a good time seeing massive flocks of flamingoes as well as other migratory birds in destinations such as Lake Bogoria and Nakuru.
Clear conditions throughout the country provide textbook backdrops for wildlife and nature photography.
The great weather with less rainfall will allow for some exciting water activities along the coast.
Ivory sand in the area will feel very soft on toes, and the water will be warm and sparkly. Unfortunately, the fall-off in crowds at tourist attractions won't mimic prices.
High season rates will remain throughout September and the first half of October.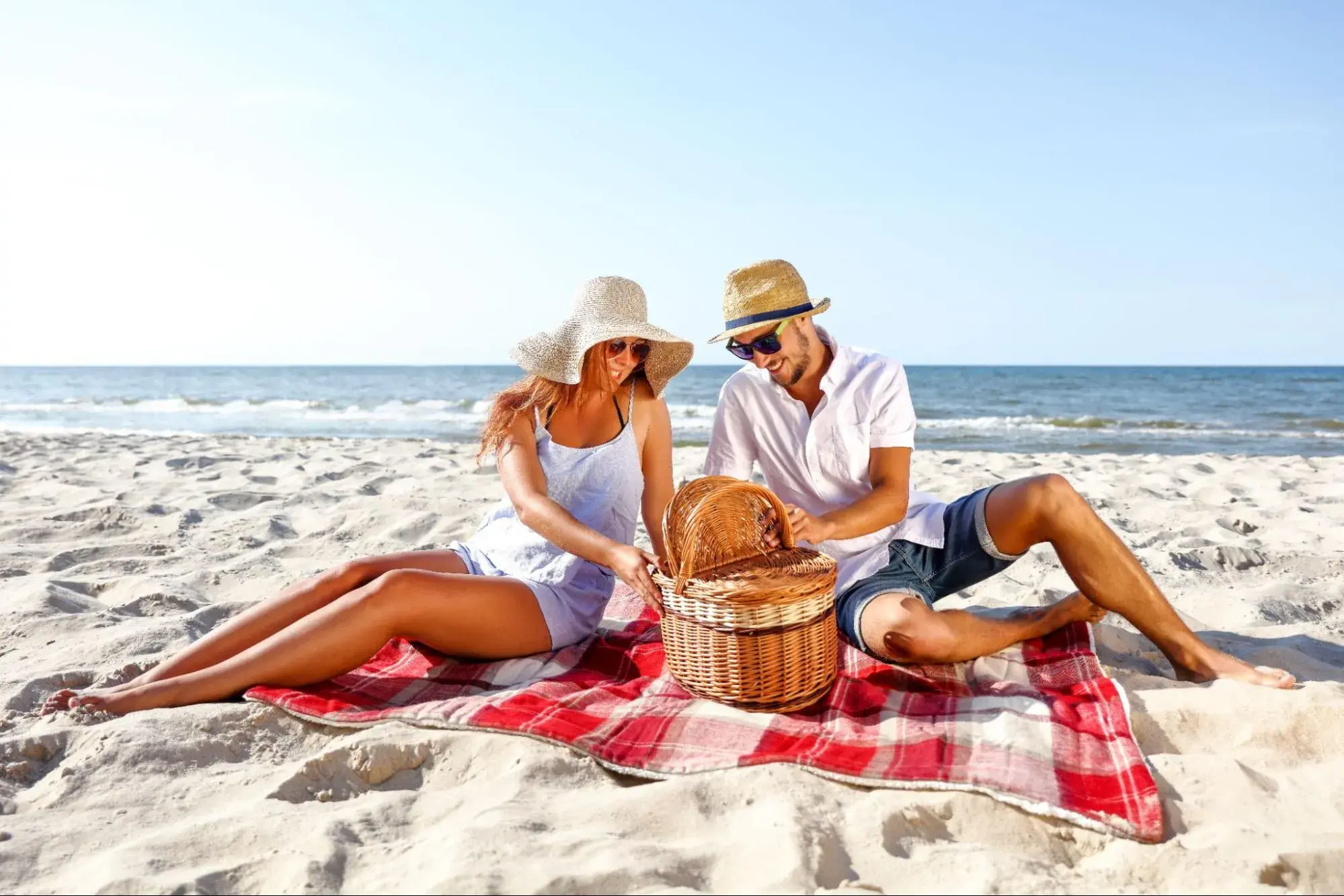 Kenya Safari Best Time to Go - October - Peak to High Season
The peak season will continue in some places while others will start the month with the high one.
This will still be an excellent time to visit the country, although you might want to come earlier in the month for the best tourist condition in areas such as Masai Mara.
The Great Migration will depart from Masai Mara, but massive herds can still be seen in the park, especially in the southeastern parts.
Wildlife devotees and photographers, in particular, should take advantage of excellent wildlife sightings in parks and conservancies.
The highest concentration is usually around rivers and watering holes.
Enormous numbers of migratory birds will be flying from Europe around October to areas such as the western parts of Lake Nakuru and Amboseli National Park.
Attractions such as Mount Kenya National Park and Hell's Gate National Park will also make good destinations during this period.
The days are hot, nights cool, and might receive occasional rainfall in Nairobi and central highlands.
Mombasa and its surrounding will remain hot by the day, rather hot by nighttime, and may receive moderate rainfall.
This means that water activities can still take place. October is ideal for budget-conscious travellers.
Prices will also fall dramatically as accommodation availability increases, especially in lodges and camps near Masai Mara.
This will give safari-goers seeking private exploration a perfect chance to navigate the park.
Best Time of Year to Go on Safari in Kenya - November - High Season
The weather in November can be described as wet, with common tropical showers.
This means that the temperature is high enough to wear light clothes, but waterproof options can save you from getting caught in unexpected showers.
The country's rift valley and western interior parts become hot by day, cool at night, and may receive moderate showers.
Animals cluster around the few remaining water sources in most parks and game reserves, which means perfect opportunities for wildlife sightings.
You can still enjoy the Big Five, baby animals and migratory birds abound the Masai Mara, although the Great Migration is over by Now.
You can move to the Kenyan coastline to enjoy the beaches and water sports if you seek wildlife viewing and safari alternatives.
The coastal region is scorching by the day, rather hot by night, and may receive moderate rainfall in November.
The oncoming short rains bring mosquitoes, and we recommend packing some repellents, regardless of the place you intend to visit.
Hotel's prices and travellers are markedly lower compared to former months and the ensuing month of December. November is referred to as a 'shoulder month,'
Despite this, we still recommend booking well in advance if you want to combine November with the incoming Christmas Holidays.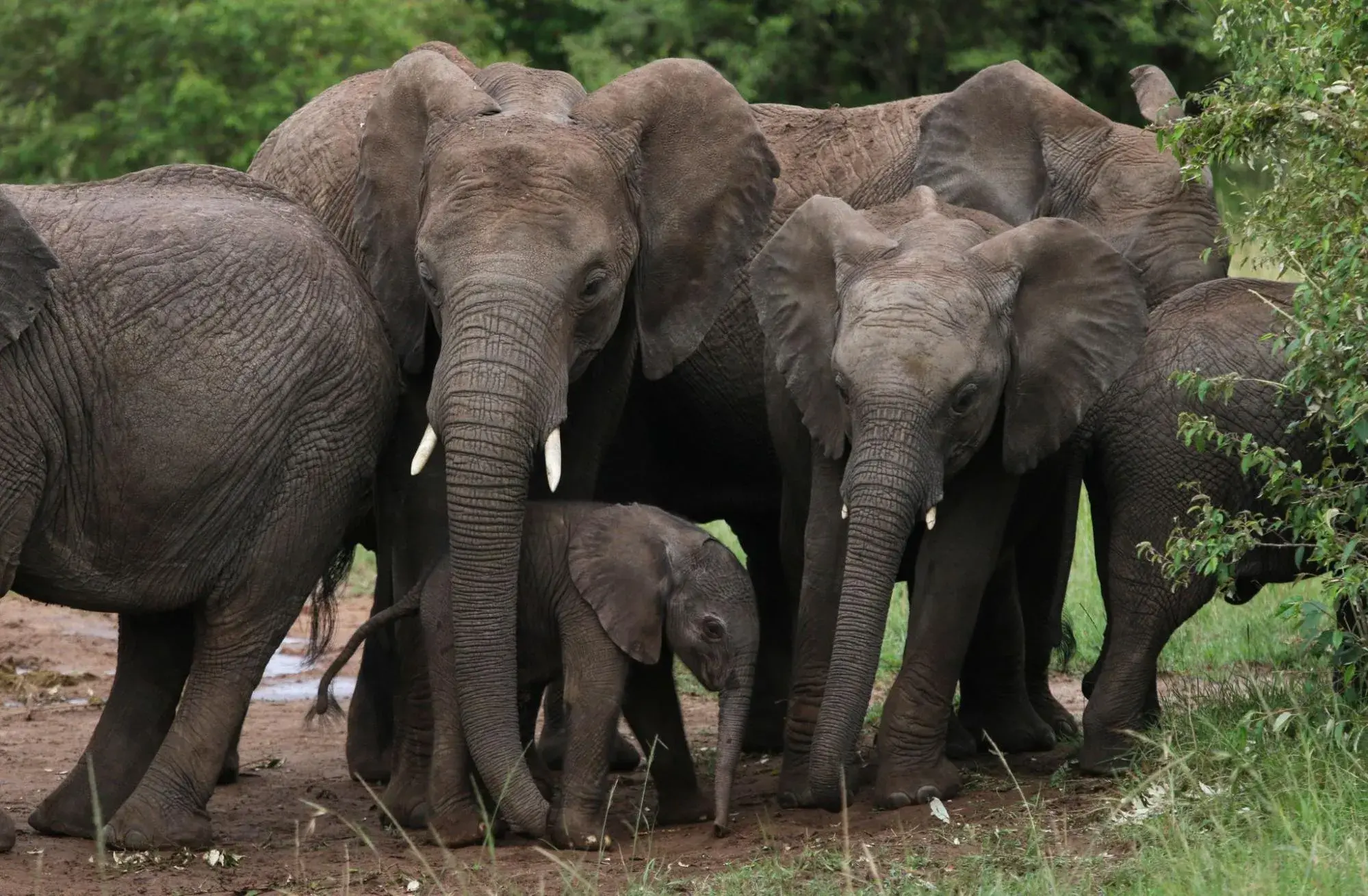 Best Time to Visit Kenya - December - High to Festive Season
The end of the year starts with a high season, and then the festive season kicks in from 20th December to the 3rd of January.
Christmas holidays attract huge crowds at major attraction sites and destinations, such as national museums, national parks, historical sites, beaches, and major towns.
New Year's and New Year's Eve also attract many domestic and international tourists who look to end the year and start a new one in style.
The temperatures across the country are ideal if you are looking to celebrate the festival in various parts of the country, especially if you want to head to Mombasa or similar towns.
The constant warm temperatures and ocean breeze provide a perfect blend for beach vacations in December, although the coastal region's humidity is high.
Due to the short rains, Kenyan plains and savannas will be flush with greenery.
Water sources begin to dry up in the later stages of the month, making wildlife sightings easier.
A visit to the Masai Mara and similar game reserves is ideal for merry-making during Christmas and New Year's celebrations.
This is also a stunning month for photography, where migratory birds and other animals can easily photograph amidst the thriving foliage.
Since this is a high season, accommodation availability may be tricky. Prices also tend to rise with a decrease in accommodation options.
As such, we recommend booking two to three months early if you are looking to go on a December holiday.