Heli Safari in Kenya - Helicopter Excursion in Kenya Guide, Rates, Destinations, and FAQs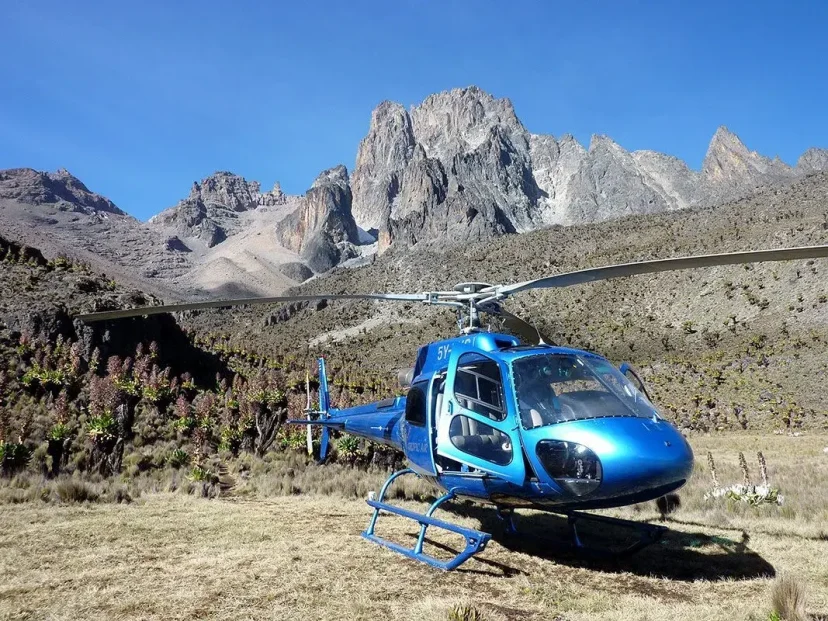 "The grandeur of the planet is on full display when you leave the shades open,"– Geraldine Brooks. 
Few things in this world are as fascinating as Kenya helicopter tours whether you credit it to the spectacular natural wonders or astounding vantage view.
From the invigorating wildlife-swamped savannahs to luxurious moonlight dinners and intimate nature walks, this heli safari in Kenya is our shot at perfection.
Book Your Helicopter Kenya Tour Now
Our Frequently Booked Heli Safari Tours - Packages
Chopper Safari Destinations in Kenya - Best Helicopter Excursions
You might have thought Kenya was gorgeous if you have ever booked a trip such as 8 Days Kenya Safari or 3, 4, or 5 Days Masai Mara Safari Package.  
That's true, but wait till you experience it from the skies and you will have a new dimension of being gorgeous. 
From the lushly impressive Mt. Kenya to the arid yet intriguing Lake Turkana, here are ten must-experience, spectacular helicopter excursions and safari in Kenya.
1. Mt. Kenya Helicopter Safari - Flying Time: 2 Hours
Mt. Kenya helicopter rides give way to dense forests, brilliantly blue lakes, distinctive montane, and visually appealing alpine vegetation. 
The two-hour ride begins at 7:30 a.m. and with it, you experience a traverse into a breathtaking world of brilliant mountain views, wildlife, and soul-stirring ambiences. 
Sit by Lake Michelson and discover magnificence over breakfast or trout fishing. 
Marvel at the awe-evoking forests, the birds, the wildlife, and, of course, the snow-capped mountain peaks. 
Note: We do not operate this excursion in the afternoon due to weather conditions – July/August can be difficult due to cloud cover.
2. Ololokwe (Samburu) Heli Excursion - Flying Time: 2½ Hours
The Samburu is arguably one of the most scenic destinations in Kenya and a helluva destination to take a helicopter ride around. 
Take to the sky for a rousing view of the Samburu National Reserve, famous for its vast elephant herds and the life-giving waters of Ewaso Nyiro.  
Soak in the grandeur of the Ololokwe summit after touchdown, and be amazed by its high-altitude mist forests, which teem with giant cicadas and birds. 
Or venture into the beguiling Naitodo and drool over its 360-degree views of the Samburu. 
Naitodo is an outstanding granite outcrop that featured extensively in David Attenborough's 'Africa' series.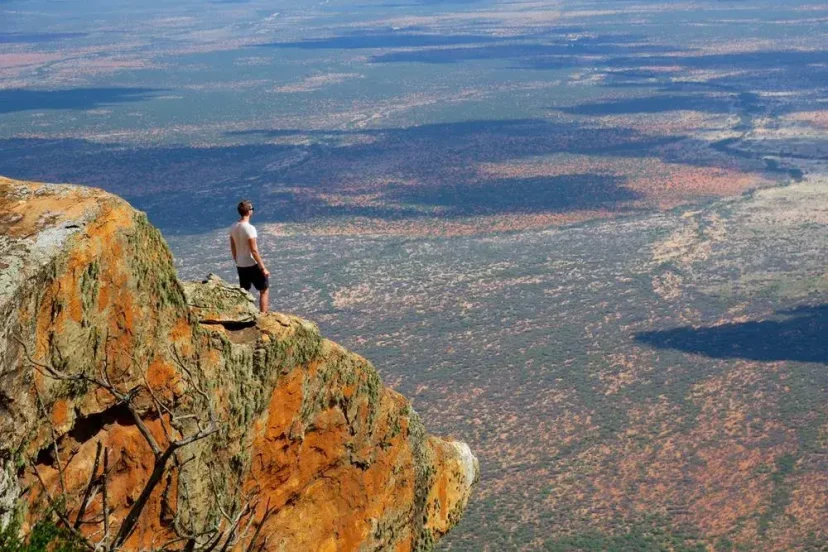 3. Suguta & Mathews (Samburu) Helicopter Half-Day Trip - Flying Time: 5 Hours
Finding a destination more deserving of a helicopter ride seems like an arduous task when you're flying above this work of art. 
And those painted valleys are indeed an object of fascination for many. 
We pick you up at 7:00 a.m. and take you to the skies for a revealing, of what is to us, the most arresting scenery in the world. 
From the stunning Suguta to the Hoodoo and painted valleys cutting back down the Ndoto Mountains and Mathews range, there's truly never a dull moment. 
We make time for two and three stops along the way, including a picnic stop. The stunning backdrop is more than enough inspiration during the picnic. 
Pro Tip: There is also an option to land for a walk in the Cycad Forest in the Mathews.
4. Suguta, Turkana and Mathews Heli Day Trip - Flying Time: 5½ Hours
Avail yourself to the best of Kenya by coming aboard this sensational helicopter ride which takes you down the insanely gorgeous Suguta, Hoodoo.
Hoodoo is the southern tip of Lake Turkana, and then we continue to the Nabyutom Crater, and finally, the Ndoto Mountains, where we make a stop for a walk into the Cycad Forest.
5. Lekuruki, Mathews, Ololokwe and Reteti Helicopter Half-Day Tour - Flying Time: 3 Hours
This Kenya helicopter safari epitomizes luxury, from the moment it begins at 8:00 a.m. to the moment it ends three hours later. 
The earliest of its attractions is the soul-stirring Ewaso Nyiro River, a river so scenic and vital it has been dubbed the lifeblood of Samburu. 
Gorgeous Ololokwe follows the outstandingly beautiful Warigus Mountains next, and, at 9:00 a.m., the Rereti Elephant Sanctuary.
There is a lot to be explored at Rereti, the most prominent being its tusked and trunked 6,000kg attraction. 
Breathe it all in; the views, the zen ambience, and learn a thing or two about the program while at it. 
We take a short flight to Mathews, land for a picnic lunch and site-filled walks in the Cycad Forest before returning to Laikipia.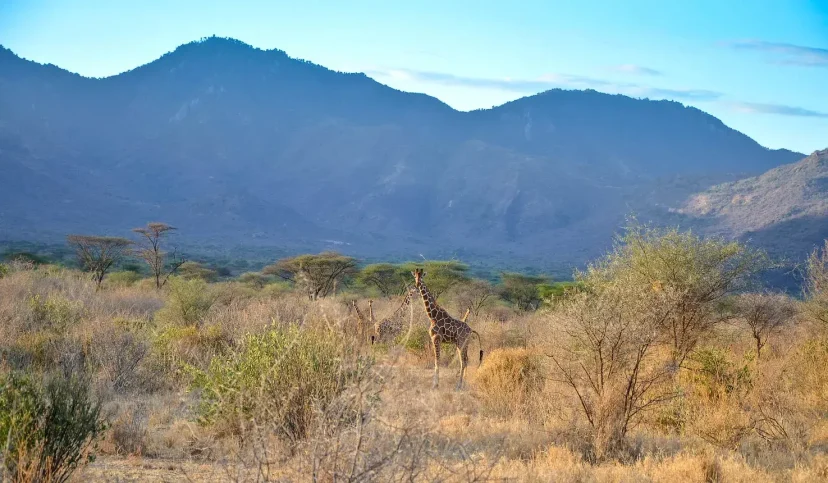 6. Lakes, Pokot & Silale Crater Helicopter Half-Day Excursion - Flying Time: 4 Hours
The Rift Valley embodies all that is perfect and surreal, and this Kenya helicopter package is no different. 
The flight is an early morning one when the temperatures are just right and the views are at their most pristine. 
As the ground furthers away, you are, a minute after takeoff introduced to the awe-invoking Rift Valley lakes. 
From Lake Baringo to Lake Nakuru to Lake Naivasha to Lake Elementaita to Lake Bogoria, you'll struggle to believe it's all is real. 
The helicopter will descend on the edge of Lake Bogoria, for the view, of course, and later in Pokot for a Pokot cultural experience. 
Other highlights include a picnic breakfast and refreshments, which are all served along the way. 
Tip: This trip can be reduced to 3 hours if you prefer not to include the Pokot cultural experience.
7. Lake Turkana Overnight Helicopter Safari - Flying Time: 8½ Hours
As it is, Turkana is a bastion of natural wonders and spectacular landscapes. 
Now imagine adding to its impressiveness with a perfectly executed Kenya helicopter tour.
This helicopter ride in Kenya takes guests across the Silale Crater, up the Suguta, Hoodoo, Painted Valleys, and down the Horr Valley. 
We finally land at the Koros Camp, where you rest.  
The Koros is an absolute must for those looking for a luxurious helicopter experience, and nothing evokes luxury like a leisure lunch by the pool. 
You are back to the skies again later that afternoon, the riveting Lake Turkana and flamingo-swamped Lake Logipe being your muse this time. 
You land at the Suguta Dune for an epic sundowner before returning to Koros for overnight rest and accommodation. 
The adventure begins early the next day with a helicopter ride to the Ndoto Mountains. 
The Mathew Ranges follow the Samburu Singing Wells, and finally the Koros for lunch and some well-deserved rest.
8. Magadi Scenic Heli Tour - Masai Mara - Flying Time: 2 Hours
If you have ever booked a 5 Days Masai Mara Safari with a hot air balloon safari, then you know Kenya helicopter safaris around the Masai Mara are magical.
Mara provides over 1,510 km² of open sunburned grasslands, scattered acacia, wildlife, riverine forests, non-deciduous thickets and scrublands.
The ride starts in the morning, again, for the tranquillity and mild temperatures. 
It takes you over the Mara, winging its way to the Loita Hills before finally landing at the Rift Valley. 
Lunch is by the shores of Lake Magadi, where magnificence abounds and tranquillity thrives.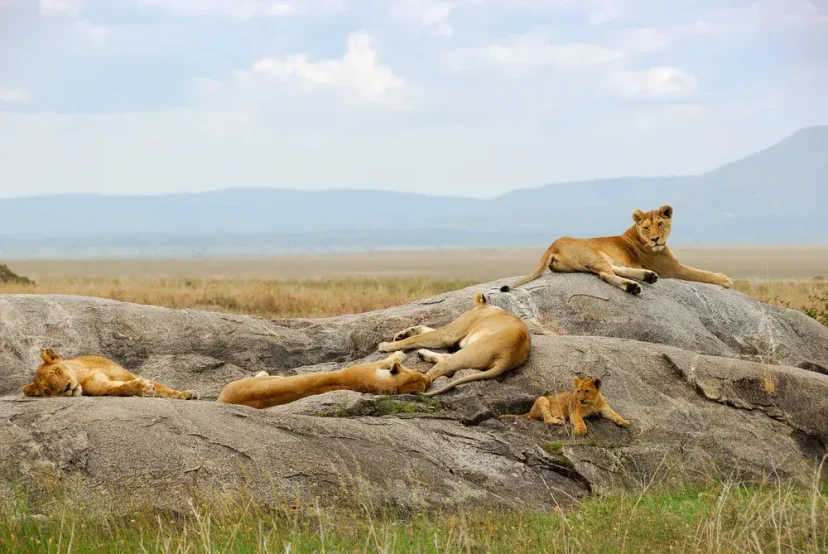 9. Lake Victoria Helicopter Safari - Masai Mara - Flying Time: 2 Hours
The Masai Mara National Reserve is rife with wonders and experiences still unexplored. Our Heli tours in Kenya help change that. 
We depart from the lodge at 10:00 a.m., taking the scenic route across the Mara, later flying west over the sugarcane fields and villages of the Lou tribe. 
We do not stop there; for minutes later, we are right above the Ruma National Park, famous for its Roan antelope, Rothchild giraffe, and black rhino. 
Our flight continues to Lake Victoria, Mfangano Island, and Rusinga Island, where we land for lunch and fishing.
10. Lake Bogoria & Laikipia Helicopter Safari - Masai Mara - Flying Time: 5 Hours
You depart at sunrise with a picnic breakfast in tow, ready for an unveiling of what is to us the most spectacular showcase in the country. 
The vast tea plantations of Kericho are our first object of interest, their lushness and sheer gorgeousness a formidable duo. 
We then head over to the Mau escarpments for a drool-worthy encounter with its vast forests, open woods, plateau falls, and later to the Rift Valley.
We stop here for a picnic lunch at Bogoria, enjoy the scene, and then continue with your Kenya Helicopter Tours. 
Our helicopter ride continues to the Mukutan Gorge and across the Laikipia Plateau, a dazzling beauty famous for its expansive plains and wildlife. 
Nanyuki, lush and tranquil, close this 2-hour Lake Bogoria Kenya helicopter package for us.
Helicopter Excursion in Kenya- Best Helicopter Charter Companies in Kenya
Tropic Air Kenya has been in the business of offering quality and safe, private flights and helicopter voyages across the continent of Africa for 25 years.
Spectacular sceneries and amazing views await you on these sensational helicopter tours, as well as an exciting catalogue that features aerial filming support, air rescue, and wildlife conservation. 
What's more, its team of ten pilots is the friendliest and most professional you'll ever encounter. 
Book a chopper safari in Kenya today with us and capture a better, more captivating perspective of the country.
2. Helicopter Charter East Africa LTD
They say it best 'anywhere, anytime, and at your convenience. 
True to those words, Helicopter Charter East Africa consistently delivers safe and affordable chopper safaris in Kenya. 
They offer;
Corporate and personal air transfers

Event and advertising flights

Custom Kenya helicopter packages

Survey and mapping charters
From your helicopter windows, the world opens up, and there's no one better than Helicopter Charter East Africa to experience this with.
3. Wings Over Africa Aviation
The Wings over Africa Aviation is where exceptionality, affordability, and professionalism merge to create unmatched Kenya helicopter tours. 
A scroll down their official website makes one thing clear- the company knows what it does and does it effortlessly. 
Their scope of work includes; 
Private charter flights

Filming flights

Sightseeing flights

Photography flights

VIP charter flights
Sit back, relax, and prepare to have your jaws drop to the floors with WAA's excellent showcase of Kenya.
Experienced pilots, exemplary customer service, impeccable equipment, and well-thought-out Kenya helicopter packages.
There is nothing modest about Corporate Helicopters. 
Since its inception, 2005, this elite helicopter company has helped revolutionize the Kenyan travel industry by enabling travel even to those thought unnavigable. 
They also offer;
Tailored safari charters

Executive air transfers

Filming and photography.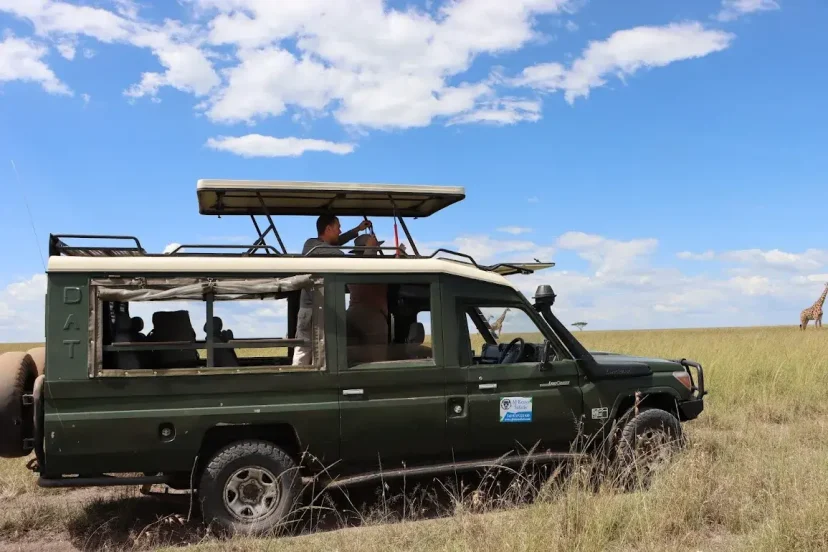 Helicopter Experience in Kenya - Frequently Asked Question
Is it too expensive? What should I wear? Should I be scared? This Q&A section separates the myths from the facts.
1. What is a Helicopter Tour?
A helicopter tour is an organized trip or safari we conduct in a helicopter. 
Typically, we fly our guests over a couple of stunning destinations and let them watch as the views unfold from helicopter windows. 
We offer a new perspective, thrill, and is undoubtedly the best way to experience any destination.
2. Where Can You Fly to in a Helicopter in Kenya?
If you can think of it, then we have a Kenya helicopter tour for it. 
From the open grasslands of Masai Mara to the barren wastelands of Lake Turkana and the rocky unnavigable Painted Valleys, there is no destination in Kenya a helicopter cannot get to. 
In essence, our helicopter tours are a bridge to the impenetrable and the most remote, a flexibility that makes them unbeatable.
3. Why Choose a Helicopter Safari?
You haven't seen Kenya unless you've seen it aboard a helicopter safari. Helicopter safaris offer a fresher, more refreshing perspective. 
They are an unforgettable venture, one that does not discriminate between the most striking and the most extreme. 
Choose our helicopter safari today to have unmerited access even to those destinations that are deemed unnavigable. 
They also come with lots of spontaneity and freedom, a formidable combination that makes these safaris unique.
4. How Do You Prepare for a Helicopter Ride?
Helicopter rides can be scary, especially for those doing it for the first time. 
If it helps you calm down a bit, there are far fewer helicopter accidents than car accidents, and the chances of getting an unqualified pilot for these are next to zero. 
That said, here are a few tips and tricks to get those nerves in check. 
There's nothing like meditation and deep breathing when it comes to keeping those nerves at bay. Do this just before your flight.

If you have a feeling those mentioned above won't do the trick, try some anti-anxiety meds. These work like a charm. 

You can also strike up a conversation with the person seated right next to you, play some games or listen to some calming music.
5. How Should I Dress for a Helicopter Ride?
It makes complete sense that you want to look dapper on your helicopter ride; who doesn't? 
But here's the catch! There are restrictions when it comes to what you can and cannot wear on your helicopter ride. 
Let's dive into it
What to Wear
Dark clothing. These are your best friend if you want to make the best out of your helicopter site viewing experience. Dark clothing does not reflect light, making it easier to see what's outside your windows. 

Long pants, preferably jeans, and windbreakers

Closed-toe shoes

Have your hair pulled back
What not to Wear
Sunglasses, loose jewellery, and bright or white clothing because of reflections.  

Skirts, dresses or hats. Hello, wind!

Do not bring heavy luggage.
6. Can Anyone Ride in a Helicopter?
Not everyone can ride in a helicopter. There are, of course, health conditions that prevent one from flying. 
Anyone who's experienced a heart attack within three months or a stroke within six months is advised to steer clear from flying. 
This also rings true for people with low blood pressure, coronary heart diseases, heart failures, pulmonary arterial diseases and anyone who's had recent surgery. 
Your weight should also not exceed 109 kg.
7. How Scary is a Helicopter Ride?
If you are talking about turbulence, then no, not a scary experience at all because there's barely any. 
Helicopters are sleeker and have more flexible blades than aeroplanes, so you probably won't be experiencing any turbulence. 
For those afraid of heights, it might be a little reassuring to know that helicopters, especially those on safaris, do not fly that high up. 
The highest they go is 1000 feet above the ground.