Kenya Honeymoon Packages - Best Honeymoon Destinations & Packages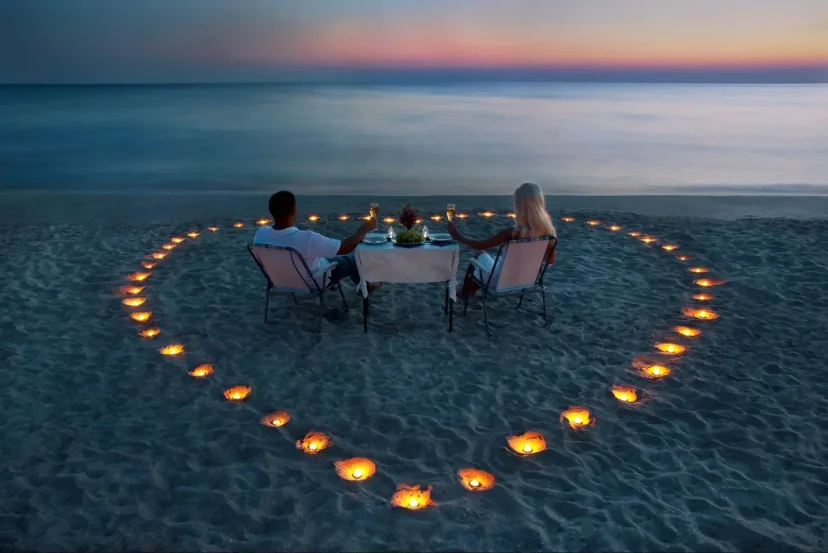 Aren't blissful blue skies, unbelievably beautiful coastlines, and eye-catching sceneries all that you desire for your Kenya honeymoon safari? 
Isn't waking up to the tunes of a thousand birds or being surrounded by wildlife in a cosy camp in Africa a page borrowed from the wildest dreams? 
Do honeymoons ever get better than a romantic hot air balloon ride in Masai Mara or romantic candle-lit dinner in Diani? How about bush dinners or bush breakfast in Amboseli National Park? I will bet sunset game drives among large herds of Elephants, the big cats, giraffes, cape Buffaloes, rhinos and other wildlife will excite you.
From the effortless panorama of the Masai Mara to the history and bedazzling scenery of coastal Kenya, it's hard to envision a honeymoon destination more enamouring than East Africa.
We at KenyaLuxurySafari.co.uk know that beauty inspires romance. That's why we have only included world class safari destinations in our packages. We are talking about romantic safari getaways such as the Masai Mara, Amboseli National Park, Lake Nakuru National Park, Serengeti National Park in Tanzania, and Samburu Game Reserve. 
For some sand time and romantic walks in the beach, we will take you to Diani beach, Chale Island, Zanzibar Beach, Wasini Island, Malindi Island, or Watamu beach. We the local experts of Kenya honeymoon safari and beach holidays, and we promise to make your Kenya honeymoon package the best vacation you will ever plan. 
Contact us to Start Planning Your Kenya Honeymoon Package
Our Most Booked Kenya Honeymoon Safari Packages
Why Plan a Kenya Honeymoon Holiday with KenyaLuxurySafari.co.uk
We leverage our in-depth knowledge of East Africa honeymoon destinations, professionalism and attention to orchestrate the best honeymoon safaris for our guests. Whether you are looking for a luxury beach honeymoons, a safari honeymoon, or to relax in luxury lodges such as Angama Mara, leave it to us.
We are the local experts of Kenya travel, and we shall plan the best honeymoon trip for you.
Our Kenya honeymoon itineraries are always all inclusive. Everything from international flights, airport pick up and return, park fees, game drives, park fees, accommodation, meals, and all transfers and excursions are covered in the cost. 
Best Places for Honeymoons in Kenya - Beach and Wildlife Honeymoons
Kenya Honeymoon Safari Destination #1 - Diani Beach
We have looked at some of the best Kenya Honeymoon destinations you can book with us and have a memorable adventure.
Diani Beach is a spectacular tropical beach tucked along the Kenyan coast, 45 kilometers south of Mombasa. It is a must have in nearly all beach honeymoons in Africa. Diani is accessible from Nairobi via both road, air as well as by train. Next, we look at the best honeymoon hotels in Diani Beach as well as at romantic places to visit with your spouse.
Wrapped in the beauty and majesty of the remarkable Diani Beach, the Leopard Beach Resort is the perfect destination for your Africa honeymoon in Kenya. Love birds that lay nest in this beachfront resort can be assured of the highest standards and services, interior décor and meals that break the perfect meter. 
It is here and nowhere else where lovebirds dance under the hazy glow of sunset. Lounge by the beach as you sip your margaritas, swim, snorkel, or walk hand-in-hand with your lover by the beach. 
To top it all are more than 158 elegantly furnished rooms, a spa, an outdoor swimming pool, and free Wi-Fi. Enjoy romantic dinners on the beach, star-gaze on the furnished patios, sunbathe, go on romantic picnics, or waste the day in bed.
Hint: We recommend combining Leopard Beach Resort with 3 nights at Entim Mara Camp for for a holistic Kenya honeymoon package. Entim offers the perfect blend of modern luxury and classic big 5 safaris. It is located in Masai Mara National Reserve on a hill and it offers deluxe room with magnificent views of Masai Mara Savannahs and wildlife. 
The Resort lies 0.1km from Diani Chale Marine National Park and 13.9km from Tiwi Beach. It is 25km from the Shimba Hills National Park.
Southern Palms Beach Resort
With two outdoor pools, five restaurants, and ocean views like no other, this is the perfect destination for your luxury Kenya honeymoon. The Southern Palms Beach Resort is a 4.5-star resort nestled on Diani Beach, 35 km or so from the buzzing city of Mombasa. 
Whatever your palatial preference, you will be catered for and without disappointment. The resort features spacious air-conditioned rooms with patios offering spectacular views of the Indian Ocean. Two bars, air-conditioned racquet rooms, tennis courts, and a free, well-secured parking lot are also available. 
It also offers a variety of activities that you can check, book and confirm at the 24/7 customer service desk. Those lucky enough to have their honeymoon in Kenya graced by the full moon can celebrate their love with a full course meal served under the moon's enchanting glow.   
But if you happen to be around during different days, you can have the same experience on request but during the day. Southern Palm beach resort is a great choice for those looking for mid-range beach honeymoons. 
Kenya Safari Honeymoon Destination #2 - Elsa's Kopje
Nothing spells fun and romance like a luxury Kenya honeymoon at Elsa's Kopje Meru. This camp is as rich in history as it is beautiful and is unquestionably one of the best places for a honeymoon in Kenya.
The resort is sculpted into Mughwango Hill, just above George Adamson's original camp, where he, Adamson, raised lions and released them into the wild when they were old enough to cope. Back then, conservation was not as fashionable as today, so Adamson did it out of love for wildlife.
The camp itself sits in 215,000 acres of land overlooking the spectacular Meru National Park – which has the highest diversity of wild animals in East Africa. Meru National Park also has a rhino sanctuary and over 300 bird species.
Wake up to a breathtaking African sunrise with Mount Kenya in the background. Cuddle, sleep and repeat in the camp's luxurious rooms. Enjoy splendid views from the comfort of your balcony. And enjoy romantic dinners or raunchy sessions assured of the exclusivity of your secluded cottage.
Things to do during Kenya Safari honeymoon with a stay at Elsa's Kopje
Bird watching

Safari drives in Meru National Park

Guided walks in the wild.

Swim in the infinity pool

Hang out on the deck with a book and enjoy the view.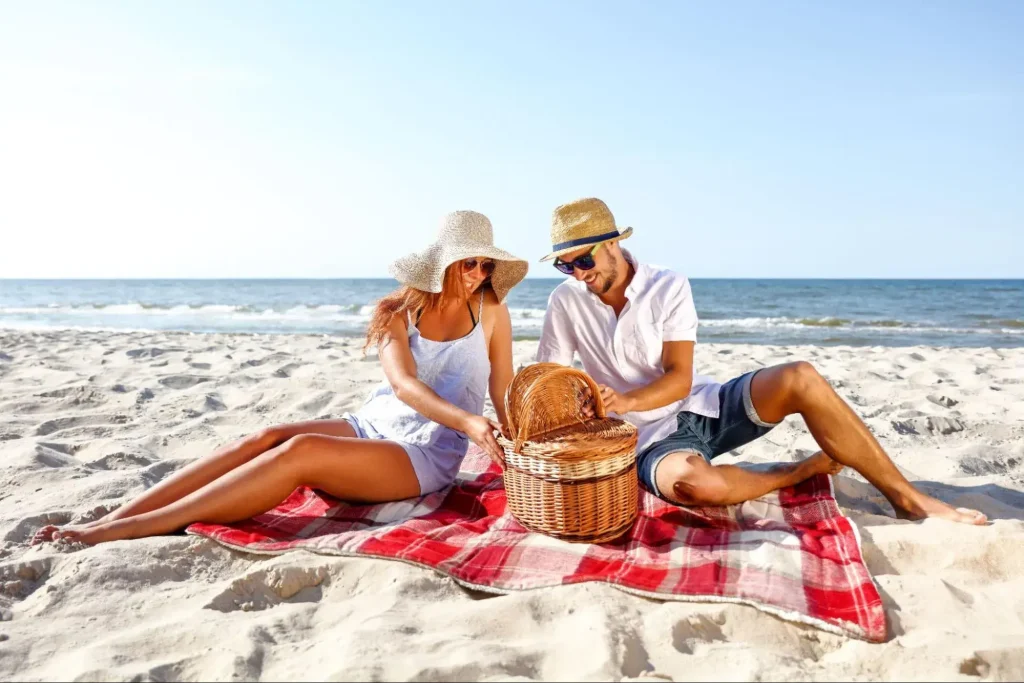 3. Honeymoon Package in Kenya - Jambo Mutara Camp
Insane beauty finds comfort at Jambo Mutara Camp, a well-hidden gem nestled in the heart of Mt. Kenya. But it's more than just Mt. Kenya for this one. This gorgeous camp also lies within the Mutara Conservancy, a 200,000-acre wildlife protection centre that houses thousands of birds and wild animals.
A bottle of prosecco, your spouse, and a cliff – because the camp is built on one – are all you need for a spectacular showcase of the wonders Mt. Kenya and Mutara Conservancy. Did we mention sunsets and sunrises in this part of the country are jaw-dropping? No? Should be on the list of wonders of the world if you'd ask us.
As well as the meals overlooking Mount Kenya or the waterhole, there are plenty of animals here like elephants, zebras, and other animals. If you want to have a bird's eye view of Mutara Conservancy and Mount Kenya, we offer Kenya Helicopter Safaris, and guided walks in the wild.
There are also bikes for those who like to merge site seeing and exercise. Nothing matches the elegancy of safari honeymoon at Jambo Mutara. 
Romantic Activities for Honeymooners at Jambo Mutara Camp include:
Game viewing Using 4×4 open jeeps.

Helicopter safaris

Bike and quad rides.

Swim in the infinity pool.

Take a trip to Ol Pejeta to see the world's remaining white rhinos.

Chill by the cliff-top 

The camp offers horse safaris as well. 
4. Best Honeymoon Destinations in Kenya - Kinondo Kwetu
Pristine and undeniably beautiful, the Kinondo Kwetu is a small private hideaway located on the equally, if not more, stunning Galu Beach. What the resort lacks in size, it doubles up with magnificence, its 7 suites promising impeccable interior design, breathtaking ocean and garden views.
This boutique hotel offers services that go beyond the client's expectations. It is where you go if quiet, absolute comfort, and unimaginable beauty are what you desire for your luxury Kenya honeymoons. 
Catch the most breathtaking sunsets on your room's private viewing balcony, or take romantic sunrise strolls along its scenic shores. You can also swim, surf, deep-sea dive or snorkel in its turquoise water or engage in the transcendent lunches and dinner the gorgeous scenery allows. At KenyaLuxurySafari.co.uk, we vote Kinondo Kwetu among the very best honeymoon resorts in East Africa. 
5. Luxury Honeymoon Safari in Kenya - Saruni Samburu Luxury Experience
Magnificence is what you'll find at Samburu National Reserve whether you want to go on long exciting game drives, walking safaris to explore the park. Samburu National reserve is a 165 km2 park nestled at the banks of Ewaso Nyiro that stands out for its quiet and serenity.
Some animals you are likely to see during Kenya safari in Samburu include Elephants, lions, leopards, giraffes, zebras, buffaloes, and more. And when you think it couldn't get better than that, comes the elegant Saruni Samburu Lodge. 
The lodge is located on top of the Kalama Mountains, which automatically guarantees you beautiful views from a unique vantage point. Honeymoon packages to Saruni Samburu are ideal for honeymooners looking for privacy, intimate moments with nature, and quality time without distractions.
Among the property's amenities list includes 2 swimming pools, impeccably styled rooms, a high-toned African restaurant, and a spa where you can enjoy some pampering. You can also pick a beauty tip or two from one of the lodge's beauty experts. Its spacious and luxurious villas are our second-favorite part of this lodge. 
The villas come armed with stunning African décor, fully equipped bathrooms and views of the Samburu in all its glory. They are also fitted with indoor and outdoor shower spaces and have an ambience that makes you feel right at home. 
You can also get soft drinks, local beers, and house wines. And enjoy romantic dinners and lunches at an open dining area that overlooks the wildlife packed waterhole just below the lodge.    
Bush dining and breakfasts are also planned and provided on request; enjoy the meals on a dry riverbed with your lover at one of the best honeymoon destinations in Kenya.
Spend some time basking in the lodge's opulence as you witness nature's majesty from your room's viewing deck. Treat your taste buds like royalty with food from the lodge's restaurant. And comes highly recommended, take a nature walk around the lodge in the presence of our expert guide.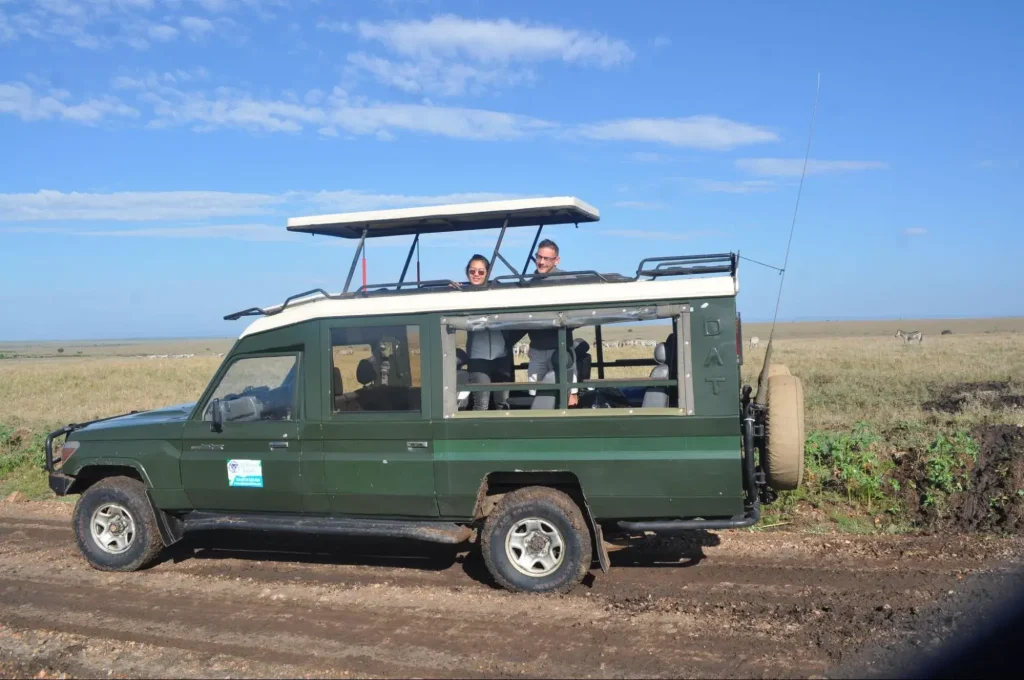 6. AfroChic Diani Beach - Kenya's Best Honeymoon Destination
AfroChic Diani is located in Ukunda (South of Mombasa), right at the heart of one of the best tropical beaches in Africa.
It is the newest addition to the famous Elewana Group of African Safari Lodges and a jewel for honeymooners. Honeymooners love this establishment for the intimacy and serenity it provides, and so will you. 
It does help that it is set in the midst of deserted beaches where you can take your loved one for walks, runs, or surprise picnics under the stars.
During your Kenya honeymoons with a stay at AfroChic Diani, you will fall in love with its manicured gardens, privately placed pagodas, and excellent dining which features an international menu that will have your taste buds exploding. 
You will also love its tasteful furnishings which a heavy African influence, as the name of the resort suggests. Enjoy endless romantic moments in your room, restaurant or on the beach. Fall in love all over again over sunsets and sunrises. 
Get a king's treatment from its amazing staff. And get transported to Italy, China, India or France with its delicious delicacies. 
Pro tip: AfroChic offers you untold privacy with only 10 guest rooms. Plan and visit anytime from April to June to enjoy best rates since this is the low season travel. July to December provide perfect weather and are the most expensive time to visit Kenyan coast.
For more details on planning Kenya Honeymoon safaris with a stay at AfroChic Diani, click here to talk with our Kenya honeymoon consultants.  Alternatively, email safarioffers@kenyaluxurysafari.co.uk or call or WhatsApp us via +254-704-532-105.
7. All-Inclusive Kenya Honeymoon Package - Baobab Beach Resort and Spa
Baobab Beach Resort & Spa is located along Diani Beach, 38 km south of Mombasa. 
The hotel beachfront paves for dreamlike views of the Indian Ocean and the 80 acres of lush tropical gardens that surround it. 
The guest rooms are designed with comfort and luxury in mind. 
Your room will either have a private terrace or balcony where you can watch the ocean currents wave or a dhow disappear in the distance.
The amenities in the room are all modern and WiFi is available in case you want to keep up with your family back home.
You will love the Baobab Beach Resort for its welcoming staff and stylishness. 
You will also love its professionally prepared meals and the way each detail of it is designed to suit you and your partner's needs.  
Take romantic evening strolls with your spouse. Toast to the good life in the delightful presence of sunset. Dance till your feet hurt. Go on evening swims. 
Or spend the day under the sheets reminding yourselves of why you said 'i do' in the first place.
8. Kenya Honeymoon Safari - Sarova Shaba Game Lodge
The Sarova Shaba is located in the Shaba Game Reserve near the famous wildlife conservationists Joy (famous for her book, "Born Free") and George Adamson. 
Fun fact, George accidentally shot and killed a lioness that was protecting her cubs – and He and Joy took the youngest cub home and brought her up, naming her Elsa. 
The lodge nestles on the banks of the all-season Ewaso Nyiro, which offers excellent views of the crocodiles that calmly float and swim through the waters. The hotel has a vast swimming pool that you can dive into during hot days. It serves a variety of drinks and dishes in its international restaurant.
Things to do during Kenya Honeymoons at Sarova Shaba Game Lodge
Some romantic things you can do at this lodge include game viewing and bush dining with your partner. After you have had enough of the outdoors, head to the Sarova Shaba Game Lodge spa, where you will get a couple's massage that will leave your pores open, and your muscles relaxed. 
Sarova Shaba Game Lodge is also one of the best safari honeymoon destinations in Africa. Other Kenya honeymoon destinations like Sarova Shaba Game Lodge include Basecamp Masai Mara, Angama Masai Mara, and Entim Masai Mara. 
9. Safari and Beach Honeymoon in Kenya - Hemingways Watamu
This iconic honeymoon destination is one of the gorgeous beach honeymoon destinations in Kenya. It is pristine, a thing that has made it a darling for both leisure travelers and people searching for the luxury Kenya honeymoons. 
Its staff is super friendly and welcoming, and the hotel's atmosphere is just perfect for you to relax with your partner. All rooms have either a terrace, sitting areas or an expansive balcony that gives a splendid view of the beach, the garden, and the outdoor pool.
Romantic activities while Hemingway's Watamu include:
Bird watching

Game viewing at Shimba hill's

deep-sea fishing

dhow trips,

and a visit to Gedi Ruins.
The gift shop is also not to miss where you can buy beautiful souvenirs that will remind you of this fantastic time in your life. I personally endorse Hemingways Watamu as the best destination for a honeymoon in Kenya. 
10. Kenya Honeymoon Destinations in Mombasa - Msambweni Beach House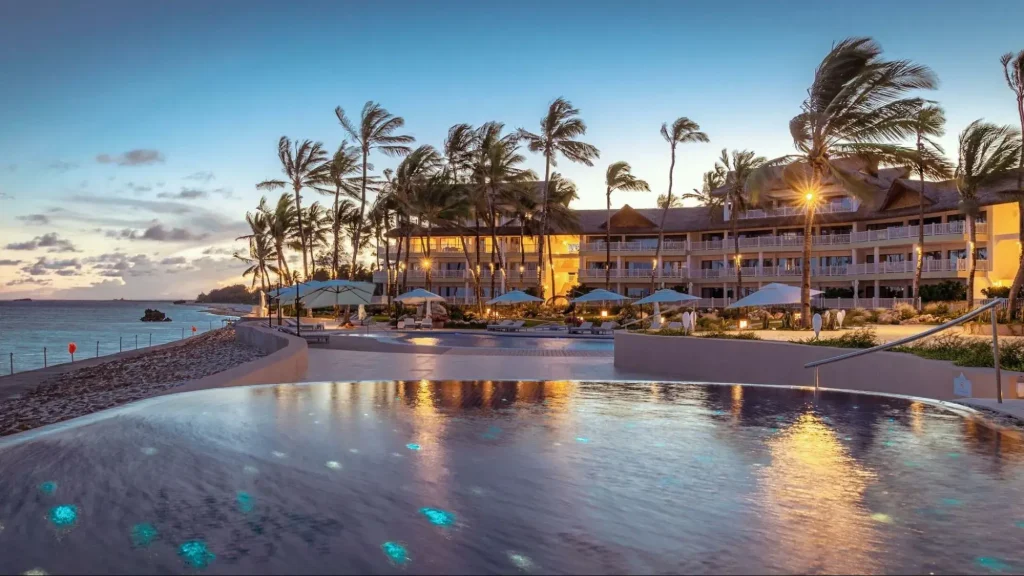 Set on 20 acres of scenic coast, the Msambweni Beach House embodies all that is breathtaking about African Honeymoons in Kenya. This beautiful property sits 28.7km from the Chale Marine National Park, and approximately 52 kilometers from the Shimba Hills National Reserve. 
The beach house is perched on a 40 feet clifftop that allows magnificent views of the Indian Ocean and the lush landscape all around it. Amazing ocean themed rooms, luxurious dining spaces, and contemporary amenities are just but a few reasons this space hits the mark for us.  
Beach Honeymoon Actitivites for Honeymooners AT MSAMBWENI House
That, and the intimately romantic ambience the space evokes. Some of the activities bound to create picture-perfect moments for you and your spouse include whale and dolphin watching, deep-sea fishing, scuba diving, and snorkeling. 
You can also play tennis on the property, hire bikes and enjoy romantic intimate moments under the beautiful trees at the gardens. The Msambweni Beach House also offers massage for couples, mud baths, beauty sessions, a sauna, and an indoor pool. 
How do I plan a Honeymoon Safari in Kenya?
We at KenyaLuxurySafari.co.uk have been providing tailor-made Kenya Honeymoons for more than 25 years. We are all born and bred in Kenya, and we promise to make your safari honeymoon the most special trip you will ever plan.
Get in touch with us and be on your way to the most amazing time of your life. Need any inspiration? Check out our 5 Days Honeymoon Trip in Mara, 14 Days High-End Honeymoon Trip in Kenya, and A Guide to the Ultimate Honeymoon Bliss.
Bye, and we hope to see you in Kenya soon.