Family Safari in Kenya - Top 10 Destinations, Travel Guide, & Family Packages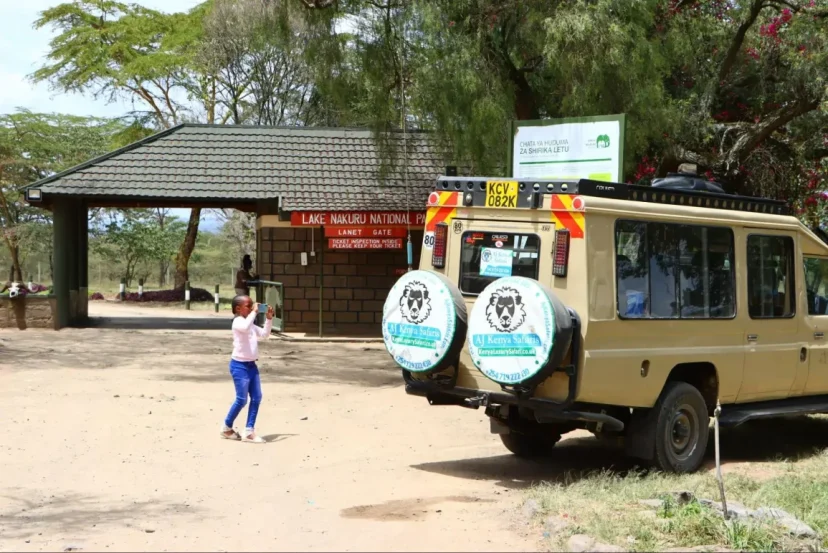 Family Safaris in Kenya provide you with the perfect opportunity to gather with your loved one, relax, and explore sensational destinations.
After all, the best gift you can give to your loved ones is a lifetime of adventure, and there is no better way than to experience Kenya family holidays.
Kenya is brimming with breathtaking landscapes, iconic wildlife, glorious weather, daring adventure, warm people, and unique attractions perfect for kids.
And you can have peace of mind that your children are safe and cared for during the game drives or the stay at the hotel while on a Kenya safari with Kids.
But what are the best family holiday destinations in Kenya that cater to families and children of all ages and interests?
Our experienced family holidays in Kenya consultants have looked at the top 10 family-friendly destinations you can visit with your loved ones.
Kenya with Kids: Book Your Kenya Family Safari Now
Our Most Booked Family Safaris in Kenya - Kenya Family Safari Packages
| Our Most Booked Family Safaris in Kenya | Price Per Person Sharing | View Detailed Itineraries |
| --- | --- | --- |
| Experience True Safari Luxury with this 3-Day Masai Mara Classic Safari | £645 | Detailed Itinerary |
| Unforgettable, 4-Day Trip to Masai Mara – Big 5 and More | £889 | Detailed Itinerary |
| Our Best Selling, 5-Day Masai Mara Safari | £1,084 | Detailed Itinerary |
| 4 Days Big 5 Safari in Lake Nakuru and Masai Mara | £1,042 | Detailed Itinerary |
| 3-Days Safari with a Stay at Jambo Mara Safari Lodge: Where Elegance Meets Immeasurable Natural Beauty | £718 | Detailed Itinerary |
| Blissful, 4-Day Keekorok Lodge Masai Mara Safari | £1,024 | Detailed Itinerary |
| ust the Vacation You Need – 4 Days at Base Camp Masai Mara | £933 | Detailed Itinerary |
| Masai Mara: Why this 5-Day Big 5 Safari is the Perfect Honeymoon | £1,178 | Detailed Itinerary |
| A Relaxed, All-Inclusive 6 Days Safari in Kenya | £1,748 | Detailed Itinerary |
| 7-Day Honeymoon Safari: This is All the Magic You Need | £1,678 | Detailed Itinerary |
| 7-Days Safari to Kenya's Most Breathtaking Destinations | £1,846 | Detailed Itinerary |
| Kenya Wildlife Safari:7-Day of Unsurpassed Bliss | £1,839 | Detailed Itinerary |
| Grand Heli Tour: 8-Day of Helicopter and Wildlife Adventure | £9,795 | Detailed Itinerary |
| The Perfect, 8-Day Kenya Honeymoon Safari | £1,732 | Detailed Itinerary |
| 8-Day Safari in Kenya – A Holiday with Purpose | £2,053 | Detailed Itinerary |
| 9-Day Helicopter Safari: An Exclusive Look into Kenya's Finest | £15,365 | Detailed Itinerary |
| 12-Day Kenya Safari and Beach Holiday – A Dream Vacation | £3,141 | Detailed Itinerary |
| 14-Day, Wildlife and Beach Honeymoon Safari | £4,815 | Detailed Itinerary |
| Beat the Wanderlust with This 14-Day Wildlife-Beach Honeymoon Safari | £3,698 | Detailed Itinerary |
Best Kenya Family Safari Destinations - Our Tour Consultants Top 10 Picks
Which is the best family getaway in Kenya? You cannot go wrong with one or a combination of the destinations below.
Kenya Safari with Children Destination #1 - Ol Pejeta Conservancy
The best legacy you can leave your children is happy memories, and what better way to create memories than the Ol Pejeta Conservancy.
Ol Pejeta is a 364 km² conservancy with a game-to-area ratio that is the highest in the country and is tucked away on the foothills of Aberdare and Mt. Kenya.
Hint: Ol Pejeta is the perfect destination for having family helicopter safari in Kenya of Mt. Kenya.
Thanks to its lush landscapes, over 10,000 mammals, and resorts, the conservancy is simply stunning.
It hosts the two only remaining northern white rhinos globally and a breathtaking diversity of elephants, black rhinos, giraffes, hippos, zebras, antelopes, and dik-dik.
You can enjoy horse rides, game drives, hikes, camel rides, game walks, bush dinners and lunches during your Kenya family safari tours in Ol Pejeta.
Kenya Safari for Families Destination #2 - Amboseli National Park
Amboseli National Park is an ideal family getaway in Kenya that offers massive tusked mammals, breathtaking vistas, deluxe hotels, and scenic landscapes.
It is located amidst Kenya's most gorgeous landscapes and was designed with families with kids in mind.
One of the major attractions you get to experience with your kids here includes Mt. Kilimanjaro, which creates a stunning background for wildlife viewing.
Other activities you can engage with your loved ones are picnics, game drives, hikes, and nature walk
You will want to spend all your days in the park surrounded by the 1600 elephants it is most known for and the Big Five, giraffe, buffalo, zebra, wildebeest, hippos, and 420 bird species.
Family Safari in Kenya Destination #3 - Masai Mara National Reserve
You will be enthralled by the otherworldly beauty of the Masai Mara when on family safaris in Kenya.
The park offers over 90 mammal species, 450 bird species, and a striking landscape that features sunburned grasslands, scattered acacias, woodlands, and riverine forests.
There are also hundreds of resorts, camps, and lodges within the park that are friendly for kids and adults.
They combine bespoke amenities and colourful backgrounds to create the perfect atmosphere for your family holidays in Kenya.
Masai Mara is ideal for game drives, hot air balloon safaris, nature walks, hikes, bush and lunch diners, and Maasai village visits.
Family Tours in Kenya Destination #4 - Lake Nakuru National Park
Treat your family to Kenya family holidays that incorporate the joys of tranquillity and impressiveness by visiting the Lake Nakuru National Park.
It has some of the most breathtaking waters you will ever see, a lot of which is thanks to the flamingoes that flock it.
The park also has beautiful wooded and bush grasslands, towering escarpments, drool-worthy ridges, several viewpoints and hills.
It is also home to over 56 different mammal species and countless bird species.
Your family will have fun spotting giraffes, hippos, buffaloes, zebras, white rhinos, rare black rhinos, lions, leopards, and hyenas.
Or you can go on a by-foot exploration of the breathtaking Makalia Fall and Out-of-Africa viewpoint.
The park is ideal for bush dinners, bush lunches, family picnics, hikes, game drives, and nature walks.
Family Tours in Kenya Destination #5 - Samburu Game Reserve
Samburu Game Reserve is for those families that prefer to get off the beaten track. A little introduction, shall we?
The reserve stretches across 165 km² of land, is awe-inspiring Samburu and is a striking mix of semi-aridness, wildlife, pristineness, and posh accommodation options.
You will appreciate how secluded the reserve is and how each view strives to outdo the next with its unique beauty when on a Kenya family safari.
One major attraction is River Ewaso Nyiro, a meeting point of the park's wildlife, palm groves, and riverine forests.
They all merge to create a gorgeous setting for your Kenya safari with kids. You shouldn't also miss the Buffalo Springs Reserve, just south of the park.
The reserve hosts elephants, zebras, giraffes, and the Samburu Special Five (reticulated giraffe, Beisa oryx, gerenuk, Somali ostrich, and Grevy zebra).
Kenya Family Safari Tours Destination #6 - Hells Gate National Park
You will love the Hell's Gate National Park for its otherworldly hues, unmistakable allure, and a distinctive trove of treasures.
The park forms part of the Great Rift Valley and is famous for its beautiful towering cliffs, gorges, volcanoes, and rock towers.
Although the park is not known for wildlife, you might come across antelopes, gazelles, giraffes, zebras, baboons, and different species of birds.
A family trip to Hell's Gate is best-done cycling or walking.
You can also enjoy some rock climbing or hiking.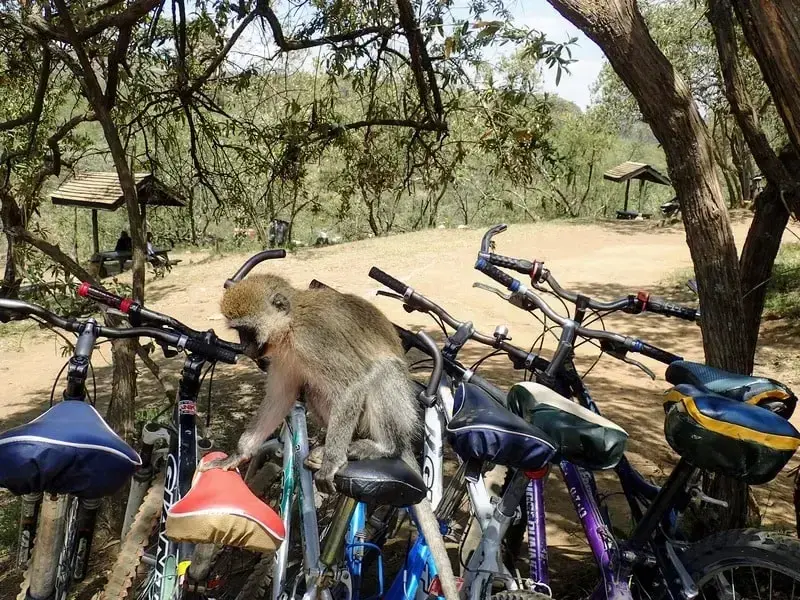 Family Safaris in Kenya Destination #7 - Diani Beach
Family memories made at the beach spun a lifetime and it helps when that beach is as stunning as Diani Beach.
It has got the makings of a perfect family vacation in Kenya and was voted Africa's best beach six times in a row.
This little slice of paradise nestles south of Mombasa in a region that boasts velvety sands, towering palm trees, turquoise waters, and incredible views.
It is the postcard destination for mind-blowing family tours in Kenya.
You and your family can enjoy long days on the beach surfing, deep-sea diving, swimming, and family dinners by the ocean.
Kenya Family Safari Destination #8 - Nairobi National Park
Nairobi National Park is the perfect example of the city's rare combination. A lot of Nairobi's magnificence lies in its ability to merge urbanity with natural wonders.
Now imagine visiting this beauty with your loved ones, which is only a short drive away from the CBD.
The park is hallmarked by unwinding grassy plains, scattered acacia, and a wide range of wildlife with the city's skyscrapers at its backdrop.
Wildlife includes giraffes, hyenas, the endangered black rhino, leopard, buffaloes, cheetahs, and over 400 bird species.
The park ranks top among Kenya family safari packages thanks to the Nairobi Animal Orphanage and Nairobi Safari Walk.
The orphanage which lies within the park offers refuge and rehabilitation for injured wild animals.
There are more than you can count including cheetahs, baboons, jackals, warthogs, lions, leopards, monkeys, buffaloes, and rare Sokoke cats.
Nairobi Safari Walk is a 7km wooden boardwalk that offers unobstructed views of the wild.
It offers you a glimpse of some of the country's most magnificent natural wonders, like the big cats, rare bongo, albino zebra, primates, white rhinos, antelopes, and 150 different species of local trees.
Kenya With Kids Safari Destination #9 - The Giraffe Centre
Giraffe Centre makes the cut for the best family holiday destinations in Kenya due to its lovely Rothchild giraffe.
But you should also visit the centre for its nature trail and wildlife conservation efforts.
The best part? Your kids get to feed giraffes from raised wooden platforms, which sends them berserk.
There is the nature trail, a gorgeous 1.5km trail bristling with birds, squirrels, dik-dik, and breathtaking scenery of the Gogo River.
Combine the Giraffe Centre with a stay at the Giraffe Manor and you are assured of enjoying refreshments and giraffe views from the Tea House and the Daisy Souvenir Gift Shop.
Family Holiday Destinations in Kenya #10 - David Sheldrick Animal Orphanage
David Sheldrick Animal Orphanage is humanity's way of giving back to the wild and is open for only one hour a day between 11 a.m. and noon.
The orphanage rescues wounded or orphaned elephant caves, rehabilitates them, and returns them to the wild.
It is the perfect way to teach your kids about the importance of environmental conservation, which is why it is featured on this list of best family getaways in Kenya.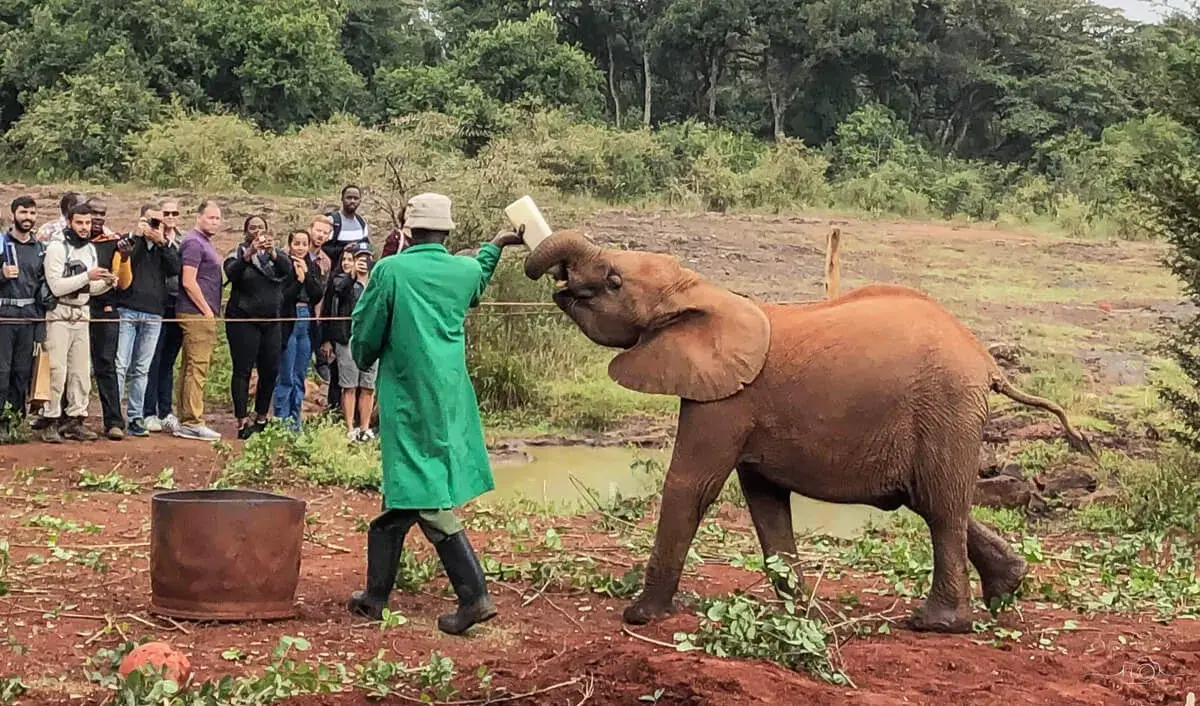 Kenya with Kids - Kenya Family Holiday Travel Guide
Kenya is an exceptional family holiday destination but travelling with family, especially with small kids, calls for a little extra caution and preparation.
Here are some of the frequently asked questions posed by those considering coming for a family getaway in Kenya.
1. How Do I Plan a Family Safari in Kenya?
Planning a family safari in Kenya can be a lot of things; daunting, nerve-wracking, stressful or, if you follow these tricks and tips, fulfilling.
First, your family vacation in Kenya is as good as your safari operator.
Working with a reputable company goes a long way into ensuring all your family's needs are met, and that's where KenyaLuxurySafari.co.uk comes in.
We can assist you to plan the perfect family safari to Kenya doing all the work like hotel booking, airport and destination transfers, meals, activities, and babysitting services.
Secondly, how old are your kids? There will be a lot of run-ins with wild animals if you wish to stay at a hotel/camp/lodge inside the park.
Due to that, some accommodations often set age limits for kids, usually 8-year and above, to prevent accidents from occurring.
Camps and lodges outside the park often welcome all children from age zero. One great thing is kids of less than 3-year don't pay during a family safari to Kenya.
2. Are Kenya Family Safaris Safe for Children?
We live by this motto 'to never take clients to destinations we ourselves wouldn't go to'. That said, all safari destinations in Kenya are largely safe and the people are welcoming.
But if you plan to visit destinations outside the safari areas, take the following precaution:
Get the recommended vaccines. These are Hepatitis A, malaria, meningitis, rabies, and yellow fever vaccines.
Never leave your luggage unattended.
Avoid travelling very late at night.
Avoid dark or secluded streets.
Beware of pickpockets.
3. Is Kenya a Good Family Holiday Destination?
Over 2 million tourists, a large number of them families with kids, visited Kenya in 2019 before covid-19 struck.
If that doesn't vouch for Kenya's credibility as a worthy family holiday destination, we don't know what will.
Kenya is insanely gorgeous and with it comes thousands of kid-friendly parks, museums, beaches, and recreation centres.
The country also has plenty of lodges and camps, a lot of which are well-equipped and adapted to meet your family's needs.
It doesn't stop there; the country's infrastructure is well-developed, and the security is better than average.
It comes as no surprise that the country is one of the most sought-after tourist destinations in the world.
4. Can Children Go on a Safari in Kenya?
Children of all ages can go on a safari in Kenya. A few lodges and camps inside the park might not allow kids of less than 8-year due to safety reasons.
But that is not a reason not to go for a safari in Kenya since most accommodations will accept all kids.
The best part is children of less than 3-year travels free of charge while those of up to 11.999-year pays half the adult price.
You can read more about the best time to go to Kenya and the best time to go to Masai Mara to plan your family safari accordingly.
5. How Much Does a Family Safari Cost in Kenya?
Family safaris in Kenya are awesome and fun. But at what cost does this awesomeness come at?
They can range from as low as £160 Per Adult Per Day or £80 Per Child Per Day to as high as £480 Per Adult Per Day or £240 Per Child Per Day.
This will depend on the package you choose and can be:
Budget family safari packages
Mid-luxury family safari packages
Luxury family safari packages
Budget Family Safari Packages - Group Family Safari
The budget safari for the family will start from £160 Per Adult Per Day or £80 Per Child Per Day.
We do not recommend you to go for this package since it involves staying at a budget hotel that might lack some basic things like a hot shower, varieties of meals, and other things.
Items Included in the Price Include:
Service of a professional safari guide
Transport costs to and from destinations using a safari van
Accommodation at a 3-star hotel on a full-board basis
Park entry fees and game drives
A group safari of 6-7 travellers
Mid-Luxury Family Safari Packages - Shared Family Safari
Mid-luxury safari packages are budget safari packages with a little more luxury.
The accommodation is usually more sophisticated, your travel options wide and chicer, and your meals a little more on the fancy side.
Their prices start from as low as £360 Per Adult Per Day or £180 Per Child Per Day.
Things Included in the Price Include:
Service of a professional safari guide
Mineral bottled drinking water during the safari
Transport costs to and from destinations using a safari land cruiser
Accommodation at a 4-star hotel on a full-board basis
Park entry fees and game drives
A group safari of 4-5 travellers
Luxury Family Safari Packages - Exclusive Family Safari
The luxury safari packages are the way to go if you want your loved one to have a memorable experience.
The packages can go from around £480 Per Adult Per Day or £240 Per Child Per Day.
Things Included in the Price Include:
Service of a professional safari guide
Mineral bottled drinking water during the safari
Local flights
Transport costs to and from destinations using a 4×4 safari land cruiser
Accommodation at a 5-star hotel on a full-board basis
Park entry fees and game drives
Exclusive family safari