The Classic 2 Nights 3 Days Amboseli Safari On All-Inclusive Basis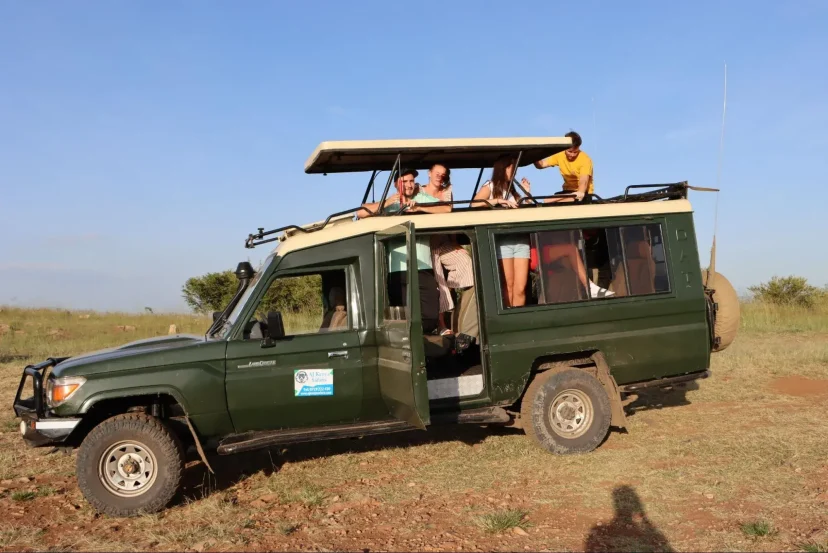 You will see the sunrise and the spectacular view of Mt. Kilimanjaro during you 3 Days Amboseli National Park Safari. You will also marvel at the giraffes, the slow, measured pace of their strides, and watch in awe as an antelope struggles to free itself from the jaws of a vicious lion.
And when the night takes over, you will lie silently and let the trumpeting elephants lull you to sleep. This 3-day Amboseli National Park safari is your one-in-a-lifetime shot at a truly magical experience. It's your chance to run away from it all, if only for a few days.
Reach US to Book Your Amboseli Safari with Us Now
Summarised, 3 Days Safari in Amboseli National Park
Details, 3 Days Amboseli National Park Safari Tour for UK Travellers
Day 1: Arrival in Nairobi, Trip to Amboseli, & Evening Game Drive
Our gold level safari guide will pick you up from the airport or designated pick-up point in the morning. Your guide will then welcome you, brief you on your safari, and off you go to the Amboseli National Park. 
Seeing that the ride is only 4 hrs long,  you should expect to be at Amboseli before noon and head to the hotel. We recommend booking flights that land in Kenya by 5 a.m. The early departure allows us to make the road trip from Nairobi to Amboseli. 
You will then check into your hotel for lunch, brief relaxation, and do the evening game drive. Evening game drives are of a different order of existence. For one, the temperatures and ambience are perfect, both for the wildlife and tourists, and the wilderness is at its most active. 
Keep those eyes peeled for sightings of the big five, wild dogs, leopards, dik-dik, zebras, giraffes, ostriches, lesser kudu, hyraxes, and hyenas. The park also houses over 600 species and has one of the largest bird populations in Kenya.
Day 2: Full-Day Game Drive in Amboseli National Park with Packed Lunch
It's impossible to resist the lure of an Amboseli morning. The sunrise is the best part of it all, and you get to catch it in the heart of the park, surrounded by insane amounts of wildlife.
Silently watch as Amboseli works her magic. The lush grasslands, the never-ending herds of elephants, lions, zebras, giraffes, and to cap it all, breathtaking views of Kilimanjaro.
Your morning game drive ends with a sumptuous lunch taken in the park's heart. There is stunning, and then there is an afternoon Amboseli safari. This leg of the safari will get you lost in the unspoiled wildlife paradise, surrounded by breathtaking sceneries. 
Think woodlands, savannahs, wetlands, and dried-up beds of Lake Amboseli. There's also an observation hill to discover, allowing exceptional views of the park in its entirety.  Your evening game drive ends at 6:00 p.m. No one returns from an evening game drive in Amboseli unchanged. 
The Amboseli sunset always finds a way to creep back into your memories. Watch the spectacle unfold with a glass of wine in hand- it's truly magical!
Day 3: Morning Game Drive and a Trip Back to Nairobi
This morning game drive is your one last hurrah. Your guide makes sure to make it worth your while. It lasts for two hours, after which you embark on a trip back to Nairobi.
Items Included in the Safari Price:
Pickup and drop-off at Nairobi (airport)

Service of a professional safari guide

Mineral bottled drinking water during the safari

All applicable park fees and government taxes

Exclusive use of a 4×4 safari land cruiser 

Evening game drive on day 1

Full-day game drive on day 2

Morning game drive on day 3

Full-board accommodation
Items Excluded from the Safari Price:
Easter, Christmas, & other holiday Supplements of £20-£50 Per Person Per Night

Gratuities and tips to the safari guide 

Local and international flight tickets 

laundry services 

Extra meals or drinks in the hotel, except typical lunch, dinner, and breakfast

Transfer fee when sending the money
The Total Safari Price Per Person Sharing
| Date/Month | Price Per Person Sharing |
| --- | --- |
| 1st Jan – 31st March | GBP 932 |
| 1st Apr – 30th June | GBP 864 |
| 1st July – 31st Oct | GBP 1112 |
| 1st Nov – 19th Dec | GBP 923 |
| 20th Dec – 1st Jan | GBP 1157 |
The price is based on two people travelling together and sharing the accommodation and safari vehicle. These prices are based on the 2023 seasons. It will be more affordable when you travel as a group.
The accommodation often gets packed during the migration season and is only confirmed upon making a deposit. Kindly book early to ensure you don't miss your prefered accommodation.