Giraffe Manor Kenya | Custom-made hotel packages | KenyaLuxurySafari.co.uk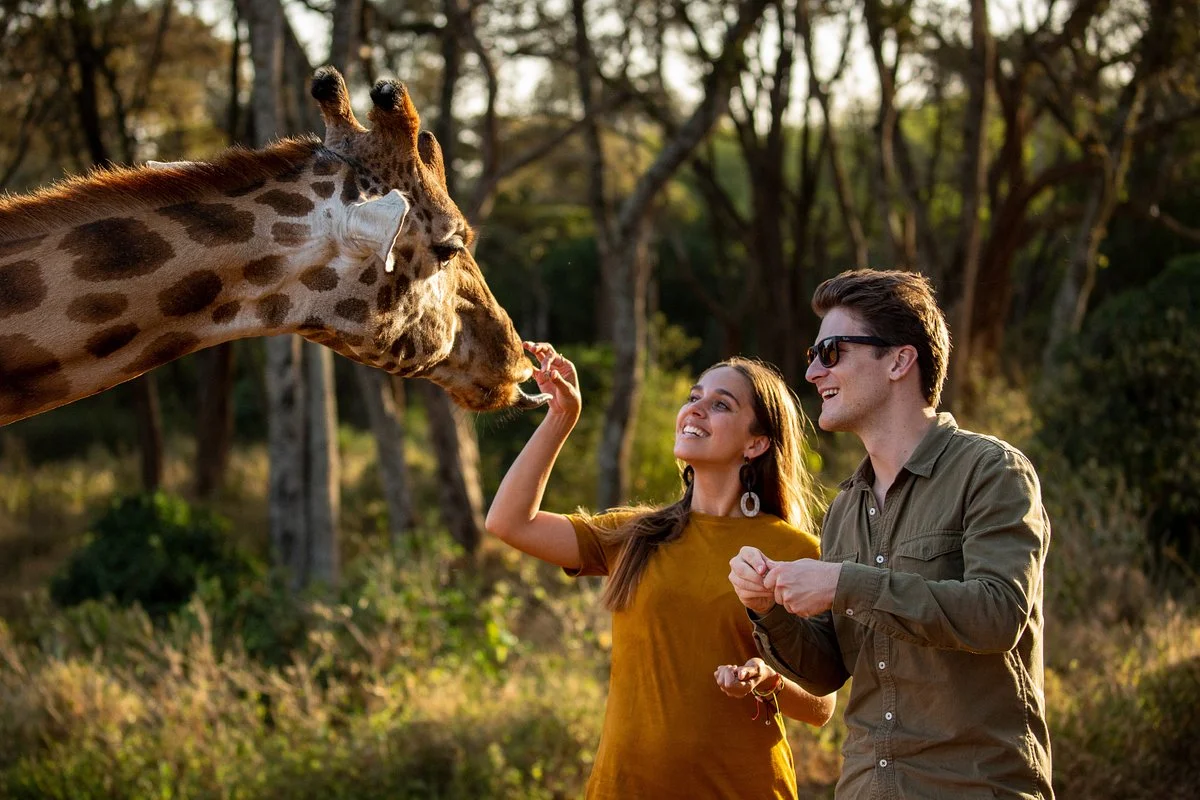 Nestled in the heart of Kenya's capital city, (Nairobi Kenya) the Giraffe Manor is an iconic boutique hotel run and operated by the safari collection. It is a sister website to other luxury Kenya safari camps and lodges including Sala's Camp (Masai Mara), Solio Lodge (Laikipia), and Sasaab Lodge (Samburu).
The hotel sits on over 12 acres of private land within a 140-acre indigenous forest and is outstanding for its lush gardens, sunny terraces, airy dining room, and splendid art deco features. The Giraffe Manor Nairobi is also popularly called the Giraffe Manor Kenya, The Giraffe Hotel Kenya as well as the Giraffe Hotel Africa. The Giraffe Manor Nairobi is a different property from the UK-based Giraffe Manor Uk.
Contact us to Book Your Giraffe Manor Holidays
Our Most Booked, Giraffe Manor Safaris and Other Safaris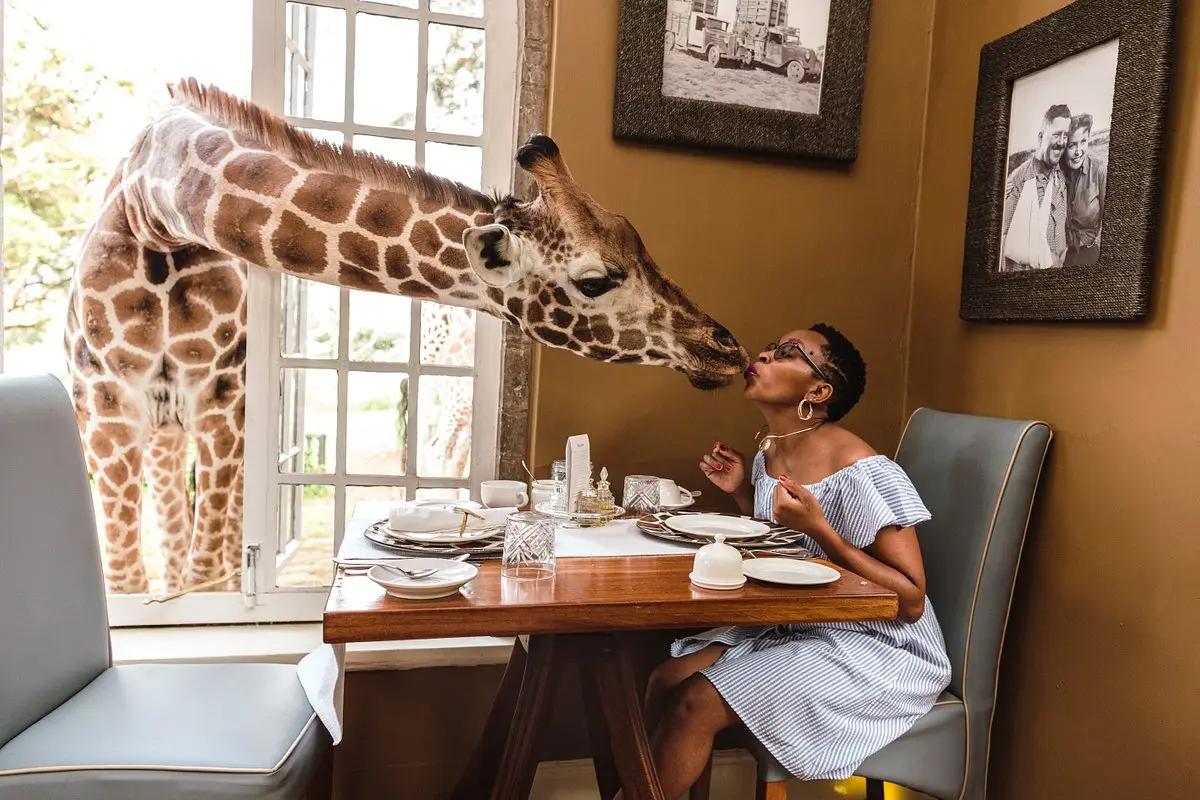 Things to do at the Giraffe Manor Nairobi
Some of the best things to do during your stay at giraffe manor include enjoying delicious meals at the on-site restaurant with the friendly giraffes. You can also take exclusive tours of the surrounding area. The Giraffe Manor offers a variety of luxurious accommodations, including single rooms and suites. Each room comes with sunny terraces and private balconies overlooking the forested landscape.
Fragrant and serene with over 150 growing orchids, the Orchid House is where to go if you are looking to read, meditate, or, relax. The house is also known to host deeply intimate dinners, so make sure to give that a shot.
Only a 4-minute walk away from the manor, a stay at Giraffe Manor is incomplete without stopping by the Giraffe Centre. Here, guests actually get to feed, pet, and even take selfies with Giraffes! Also within the Giraffe Centre grounds is a tea house and a gift shop where you can buy souvenirs.
Afternoon Tea at the Manor Gardens
In a place as exceptional as the Giraffe Manor, even something as simple as having tea is monumental. Why? You'll find that, as you have your tea/ meals in the garden, a giraffe or two will pop their long necks through windows, begging for a nibble at your cookies or fruits. Now, c'mon, don't be mean and share that food!
Have Breakfast with Giraffes!
In a world where you can do anything choose to have breakfast with giraffes! And no, it's not that complicated, all you have to do is sit still (by a large window, of course) and wait. P.S: Depending on which part of the manor you're staying in, breakfast is served either in the garden manor or the main manor.
Where is Giraffe Manor Located
The Giraffe Manor is located just a short drive from Wilson airport. The hotel gets fully booked way in advance. We recommend contacting us to book the Giraffe Manor at least 8 months in advance. Giraffe Manor holidays are perfect for families, couples, or honeymooners. Visitors can stay in one of the Giraffe Manor's luxury suites, which overlook the Giraffe Sanctuary, or they can take a giraffe safari to see these animals up close.
Giraffe Manor Nairobi also offers a Giraffe Experience program, which gives visitors the opportunity to feed and interact with these gentle giants. With its unique location and facilities, Giraffe Manor is the perfect place to learn about and connect with these amazing animals. So if you're looking for an unforgettable African safari, be sure to book your stay at this Kenya Giraffe Hotel.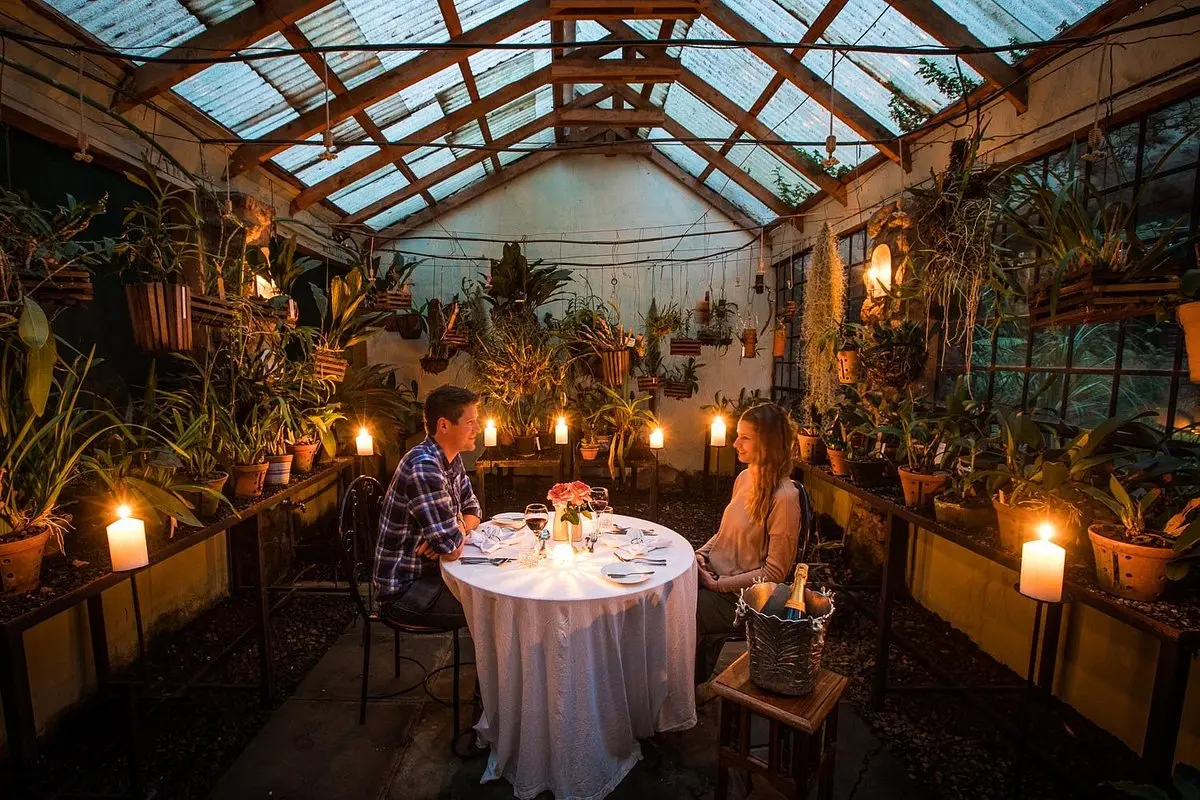 Key information - What is the Giraffe Manor
The Giraffe manor has two main buildings- the original manor house and the garden manor.
Built in 1932, the Manor house has six rooms- Betty, Lynn, Daisy, Marlon, Jock, and the Karen Blixen suite. Each room comes replete with romantic four-poster beds, exceptional 90s-inspired art deco features, a spacious lounge, fireplace, and writing desk.
Built-in 2011, the Garden Manor features six rooms including the Salma superior room, Kelly superior room, Edd superior room, the Finch Hatton suite, and the Helen superior room. Each room offers riveting views over the Giraffe manor's grounds and features a huge four-poster bed, an en-suite bathroom, and free WI-FI. P.S: All rooms have easy wheelchair access
Breakfast is served in the sunroom where the Giraffe leans on the windows. Depending upon the time of the meal the guest may have dinner at home or a private dinner.
In the evening, guests can unwind with a glass of wine at the bar or enjoy live music at The Giraffe hotel. For more formal dining options, there are several excellent restaurants located near the hotel.
Nearby Attractions to the Giraffe Manor House
Giraffe Manor hotel is located just a short distance from some of the top attractions in Nairobi. Some nearby attractions include Giraffe Center, Karen Blixen Museum, and Nairobi National Park. Whether you're looking for an unforgettable safari experience or simply want to experience the vibrant culture of Kenya, Giraffe Manor is the perfect destination. Next, we look at each of these destinations and things to do while there.
This museum is housed in the home of Karen Blixen (also known as Isak Dinesen), author of Out of Africa. Visitors to the museum can tour its historic rooms, gardens, and tea service area.
Located within walking distance from Giraffe Manor hotel, the Giraffe Center is a wildlife conservation project that aims to protect giraffes around the world. Here, visitors can take an interactive guided tour through the grounds, get up close and personal with giraffes at feeding time, or head to one of the center's classrooms for educational programs about these animals.
David Sheldrick Wildlife Trust
The David Sheldrick Wildlife Trust is one of the most unique wildlife experiences in the world. This Kenyan-based trust is open for one hour each day, allowing visitors to see baby elephants up close. During the one-hour visit, visitors can watch as the baby elephants play, feed, and socialize. The experience is both heartwarming and educational, providing a rare glimpse into the lives of these amazing creatures.
Arguably one of the most popular attractions in East Africa, the Nairobi National Park houses a large variety of wildlife, including lions, elephants, and rhinos. Visitors to the park can also enjoy views of the city skyline from the park's observation deck as well as game drives, camping, and the world-famous Nairobi safari walk.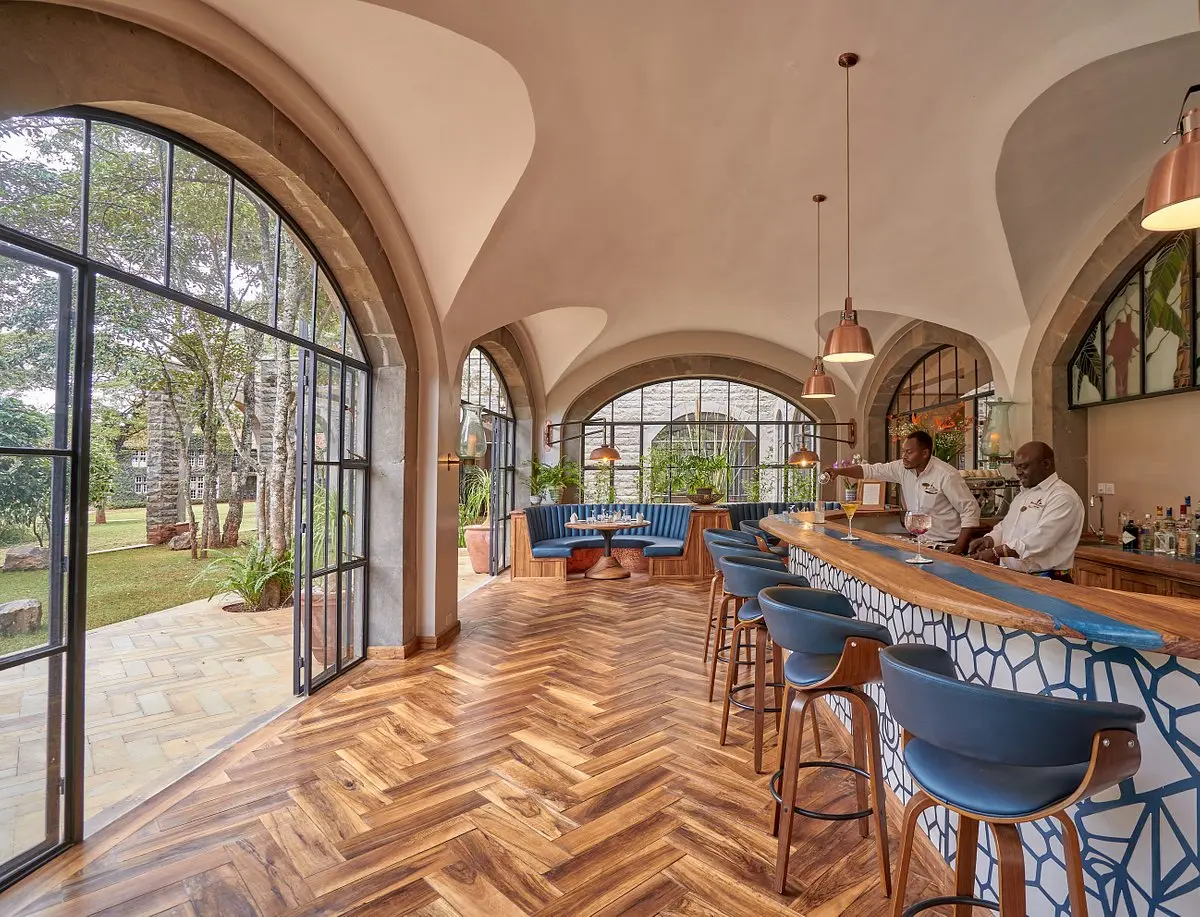 Other Iconic Boutique Hotels Similar to The Giraffe Manor in Kenya
Looking for more unique hotel experiences in Kenya? Check out these iconic boutique hotels:
Located in the heart of Meru National Park in Kenya, Elewana Elsa's Kopje is a luxury lodge that provides guests with an unforgettable African safari experience. The lodge is situated on a rocky outcrop and offers stunning views of the park and its wildlife. Guests can enjoy game drives, walks, and night drives in search of elephants, lions, and other African wildlife. The lodge also has a swimming pool, lounge, and library, and has a full board plan for interested guests. Meals are served in the dining room or on the outdoor terrace. Elewana Elsa's Kopje is the perfect place to escape the hustle and bustle of everyday life and immerse yourself in nature.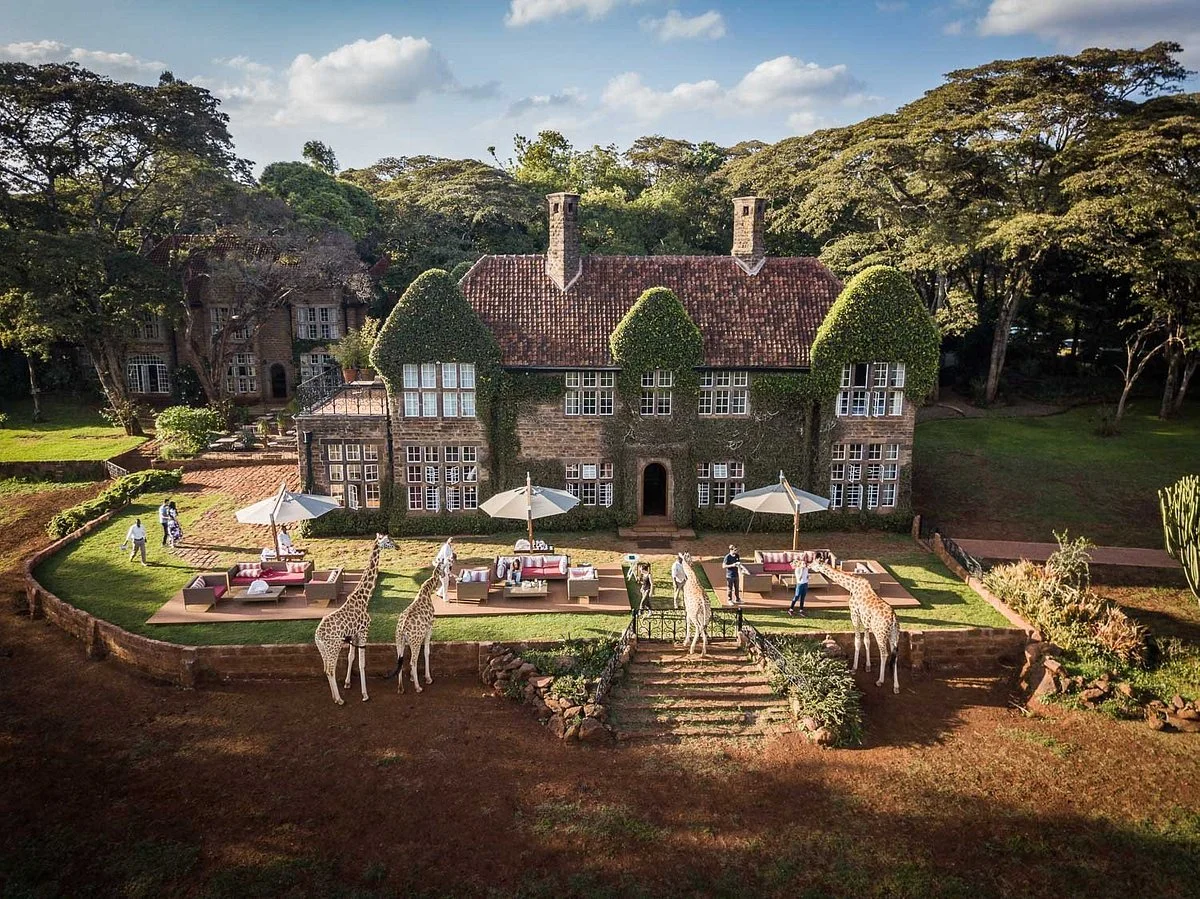 Mahali Mzuri is a luxury boutique hotel in the heart of Kenya's Maasai Mara. The hotel is bounded by River Mara on one side and the rolling plains of the savanna on the other, providing breathtaking views in every direction. Guests can enjoy private safari tours, nature walks, and thrilling game drives in search of elephants, lions, giraffes, and more. You can also request to have dinner in the heart of the park or a guided nature walk.
Other hotel amenities include an outdoor pool, spacious dining room, and a simi-olive garden restaurant.
Interesting Facts About Giraffe Manor
The Giraffe Manor is located a 28-minute drive away from Nairobi's CBD in the Langata area. Our packages to this Giraffe Hotel Kenya are all-inclusive. They cover everything including airport transfers from Wilson airport as well as JKIA to and from the hotel.
The hotel is home to a herd of adorable Rothschild giraffes, which guests can interact with during their stay here.
The Giraffe manor has a total of 12 rooms which are only available on a full board basis.
Built-in 1932, the manor is the oldest of all safari collection properties
You can actually feed giraffes from your bedroom window!
Whether you're seeking a romantic honeymoon spot or an exciting family vacation destination, Giraffe Manor has something for everyone. With its unique location and world-class facilities, Giraffe Manor offers visitors an unparalleled experience that allows them to connect with these amazing animals in new and exciting ways. Boasting two room types – Main manor rooms and Gardens manor rooms – as well as excellent dining options, the Giraffe Manor is truly a one-of-a-kind destination that you won't want to miss. So book your stay today and discover the magic of Giraffe Manor for yourself!