6-Day Kenya Luxury Safari - Package, Cost & Itinerary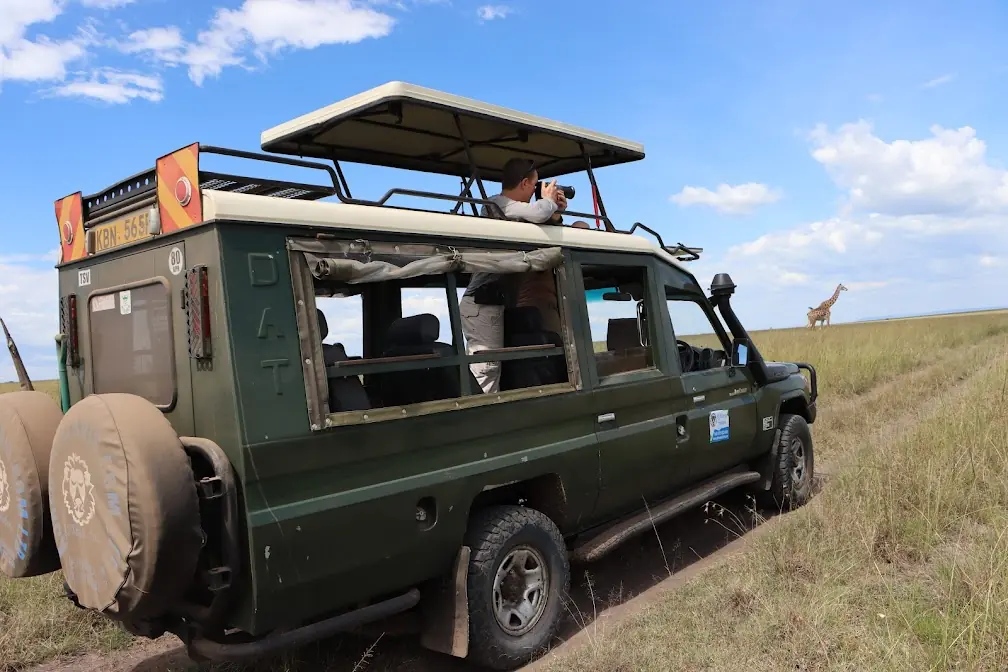 This 6-day Kenya luxury safari introduces you to some of Kenya's most magnificent attractions. Our plan on this trip is to have you delight in the uncompromising luxury of the Ololo Safari Lodge, thrill at the sheer majesty of the Masai Mara, and have your heartstrings tugged by the cute, baby elephants of David Sheldrick Elephant Orphanage. 
You'll also get a chance to feed, pet and even kiss Giraffes at the Giraffe Center. On this trip, you will see the big 5, the big cats, giraffes, zebras, and the different bird species that call Kenya home.  
In terms of accommodation, we will have you stay in the best of the best Kenya luxury safari camps. And of course, you will be travelling with us, a high-calibre team that is as affable as it is experience.
Photos of the Hotels We have Suggested for this 6 Days Kenya Safari Itinerary
Contact Us to Book or Start Planning Your Kenya Luxury Safari
Summarized 6-Day Kenya Luxury Safari
Highlights 

Details

Day 1

Pickup from JKIA & Transfer to Hotel

Overnight at Giraffe Manor 

Day 2

David Sheldrick Elephant Orphanage & Giraffe Center

Overnight at Giraffe Manor 

Day 3

Flight to Masai Mara & Afternoon Game Drive 

Overnight at Angama Mara 

Day 4

Morning and Afternoon Game Drive at Masai Mara

Overnight at Angama Mara 

Day 5

Morning and Afternoon Game Drive – Maasai Cultural Tour

Overnight at Angama Mara 

Day 6

Flight to Wilson Airport (Nairobi) & Transfer to JKIA

Items Included 

All pickups and transfers, All park fees, Nairobi National Park, David Sheldrick Elephant Orphanage, Masai Mara National Reserve, Cultural Tour, Shared game drives in 4×4 open-sided land cruisers, Local flights, Accommodation, Meals, and More

Items Excluded 

International flight, Visasa, Money transfer fee, Items of personal nature, high-end drinks, and Travel insurance 

Price Per Person

From GBP 6917 Per Person 
The Detailed 6 Days, 5 Nights Kenya Luxury Safari
What can you expect during your 6 days in Kenya? Here is the detailed itinerary of the safari.
Day 1: Pickup from JKIA & Transfer to Giraffe Manor
Upon arrival, we will pick you up from the JKIA and chauffeur you to the timelessly elegant Giraffe Manor. Here you will discover luxury never-ending, unwavering hospitality, and rooms that blend traditional detail with modern taste. 
You'll also discover a breathtaking series of freshly-manicured gardens, delightful courtyards, sunny terraces, and perhaps the best of them all, a dining room where you can share a meal with the endangered Rothchilds Giraffe.
Settle in, relax for an hour or two, and then join us for dinner with Giraffes. Now, we don't know about you, but dining with giraffes ranks up there on the list of some of the most exciting things one can ever do. And it isn't complicated at all. 
Just take a seat in the Manor's main dining area and the giraffes will find you. And no, it's not your bowl of salad they're after, the hotel provides you with some dried grass pellets.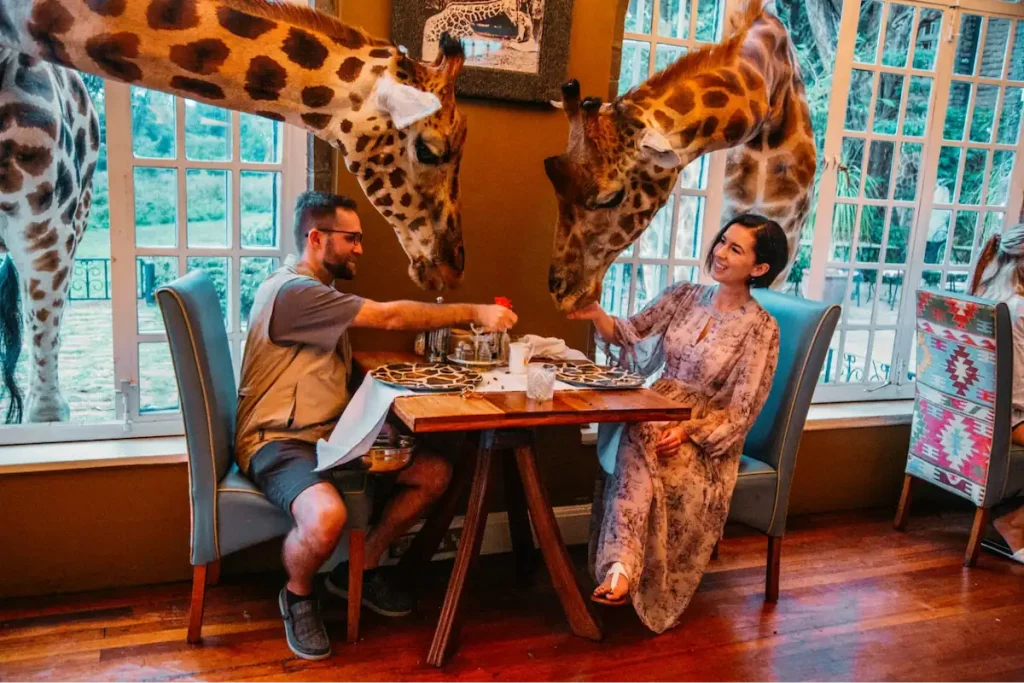 Day 2: Giraffe Manor, David Sheldrick Elephant Orphanage, & Giraffe Center
Breakfast with giraffes? Anyone? Begin your day with an exciting breakfast with giraffes and then head for some more giraffe action at the Giraffe Center. 
From raised wooden platforms, you get to kiss, pet, feed, and even take selfies with this 16 to 20 ft vision of beauty. You also get to learn of the centre's tremendous conservation efforts and, if you're up for it, you can adopt a giraffe!
At around 10:00 A.M we make a rush for the David Sheldrick Elephant Orphanage (it only opens from 11 am to noon). Here, you get to watch young adorable elephants feed and spray each other with muddy water. Like in the centre, you also get to learn about the orphanage's conservation efforts and witness firsthand the horrors of poaching. 
At midday we drive you back to the manor for lunch. Spend the rest of the day basking in the luxury it so generously affords.
Day 3: Flight to Masai Mara National Reserve & Afternoon Game Drive
Spend the early morning hours at the Manor and then catch a late morning flight to Masai Mara National Reserve. The flight takes only 45 minutes, and the aim is to be at the Angama Mara by noon to 1 pm. You will have lunch at the Masai Mara hotel and then head for an afternoon game drive.
We check you into the Angama Mara where you can choose to spend the rest of your day if you're feeling exhausted. Those who decide to go for the afternoon game drive will be rewarded with breathtaking grassland views, countless wildlife sightings, and the famous magical Mara sunset. 
An evening stay-in at the Angama Mara is a brilliant idea too! The camp is suspended above the Mara Triangle and offers an effortless bird's eye view of the park. The rooms are the very definition of sophisticated elegance and the hospitality here is unmatched.
Day 4: Morning and Afternoon Game Drive at Masai Mara
We are in the park at the first light of dawn ready for a morning game drive. The first is the morning game drive which, in essence, is the busiest and most remarkable of them all. Scattered across the lush Mara grasslands are thousands of wildlife each busy scanning the place for an early morning bite. 
Every wild animal you can think of you'll find here, from the elusive leopard to the zebra, lion, giraffe, elephant, wildebeest, dik-dik, antelope, waterbuck, bushbuck, and so much more. But it is not just about the wildlife. 
Mara morning game drives are a chance to witness the Mara landscape at its most pristine. The sunset, the lively singing of birds, and the cool temperatures all merge to turn this into such a surreal experience. 
The drive continues to late morning, the ideal time to head back to the hotel for lunch and rest.
Then comes the afternoon. Hot? Yes! Humid? Most certainly! But we know just the spot for you. All roads lead to the Mara River where, whichever time of the day it is, we are guaranteed innumerable wildlife sightings. 
The wildlife trickles in hundreds on a quest to quench their thirst. Wildebeests, zebras, giraffes, hippos, crocodiles, elephants, rhinos, lions- those are not an uncommon sight here. 
The river is also where the Great Migration happens but this experience is only limited for those who book this safari anywhere from late June to early October.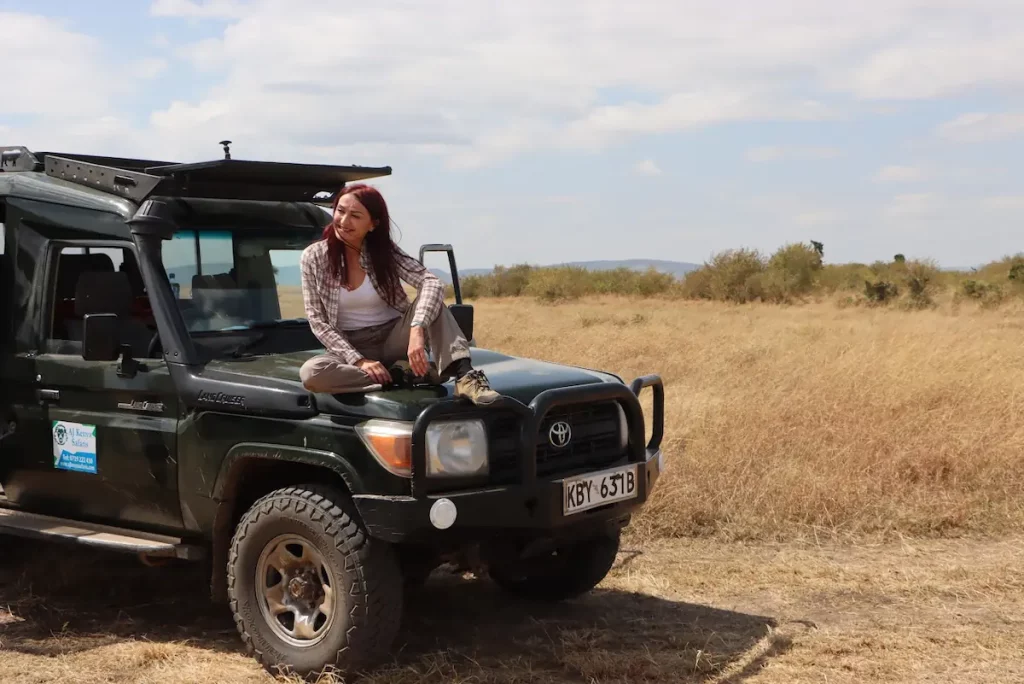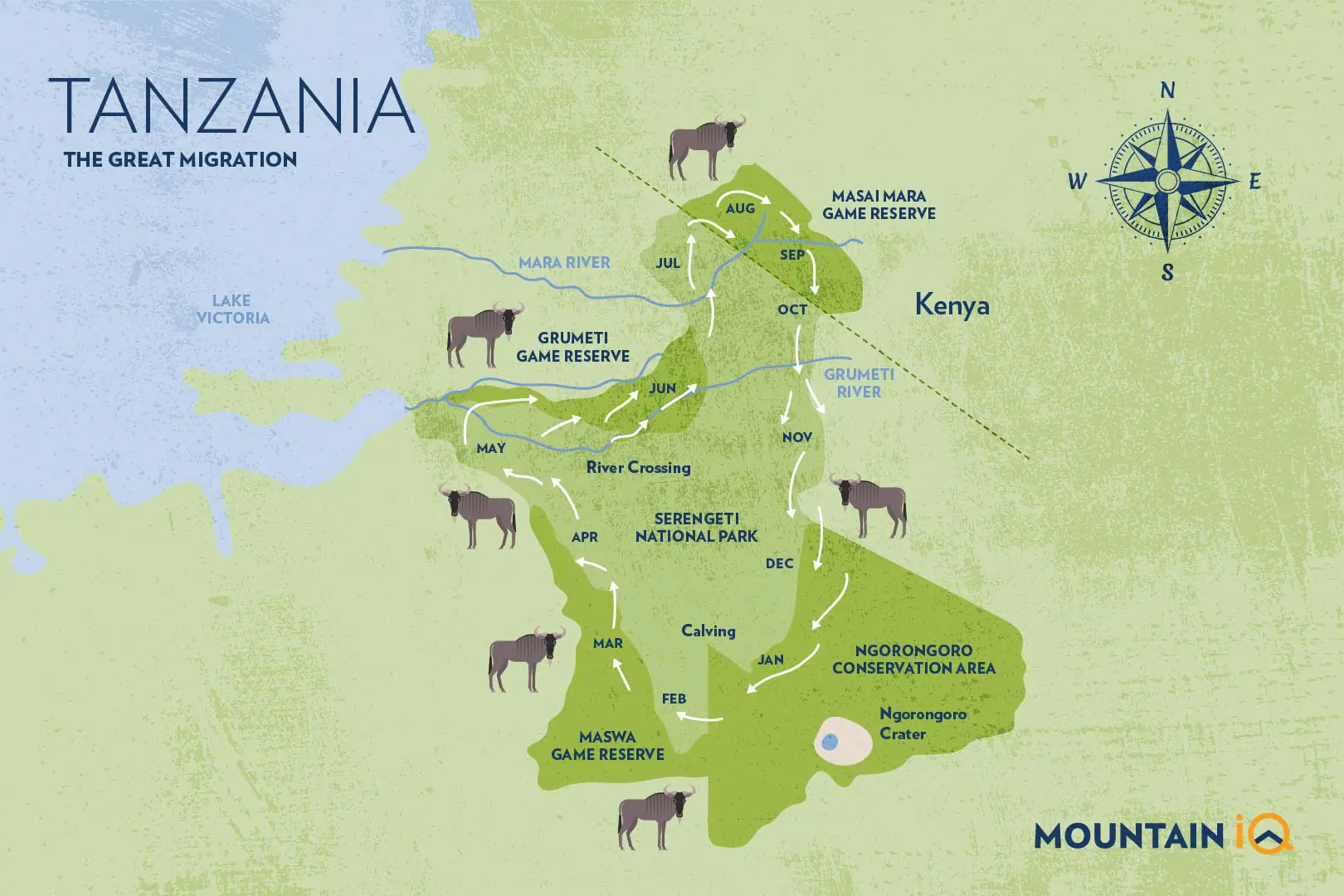 Day 5: Game Drives at Masai Mara & Maasai Cultural Tour
Today you will enjoy game drives at Masai Mara and also visit a Maasai village. The Maasai are one of the most interesting tribes you will ever meet. For one, they have managed to co-exist with the wild for centuries now. And for others, their houses are made from mud, sticks, human urine, and grass. Yeah, impressive, we know. 
Get to learn a wilderness survival trick or two from them. Learn their famous Adumu jumping dance or how to make fire by rubbing two sticks together. 
We drive you back to the lodge in time for lunch and later pick you up in the late afternoon for an afternoon game drive. 
As we put it earlier, " the Mara comes alive in the evening" and boy oh boy is it a sight to see. The wildlife that had once retreated from the hot afternoon sun now emerges in droves, hurrying for that last evening bite. 
Zebra munches on grass as lion stalks close by waiting for that perfect moment to strike. Elephant takes one last sip of water from the Mara River and giraffes elegantly scour across the grassland with nothing but acacia in mind.
We drive you back to the lodge just before nightfall in time for dinner.
Day 6: Morning Game Drive/ Flight Back to Nairobi
Sunrise finds us in the Mara grasslands; gawking, marvelling at all the wonders mother nature has to give. Lions, elephants, wildebeests, gazelles, dik-dik, giraffes- there's plenty of that to see- as well as a colourful array of birds (the park is home to over 450 bird species). 
We drive you back to the lodge for breakfast and check out, then, again, drive you to the Angama Mara Airfield or Kichwa Tembo Airstrip for a flight back to Nairobi. On arrival, you will be received by your safari director who drops you off at the JKIA for your flight back home.
Items Included In the Cost of this 6 Days Kenya Safari
Airport pick-ups and drop-offs

The services of professional guides and drivers

2-night accommodation at the Giraffe Manor 

All meals

House wines, house soft drinks, house beers, & house spirits

Laundry

Wireless internet access,

Entrance to the AFEW Giraffe Centre

Orchid House dining

Access to The Retreat during check-in and check-out times

Boules

Croquet 

Transfer to/from Wilson Airport and JKIA

3-night accommodation at Angama Mara

All guided safaris into the Mara Triangle

Guided walking safaris on the Rift Valley escarpment

All meals and drinks (excluding French Champagne & reserve wines)

Laundry service 

Free WiFi

All on-property guest experiences

Emergency medical evacuation insurance

VAT and all levies

 Transfers to and from Angama Mara Airfield or Kichwa Tembo Airstrip

A bottle of water for all game drives
Total Safari Cost of This 6 Days Kenya Safari Package
Travel Season 

Standard Season 

5th Jan – 30th June & 1st Oct to 22nd Dec

Peak Season

1st July to 30th Sep & 23rd Dec to 4th Jan 

Price Per Person 

GBP 6917

GBP 9517
Items Excluded from the Cost of This 6 Days Kenya Tour
International flights

Items of personal nature

Any activity not listed on the itinerary

Tips and gratuities

Passport and visa fees

High-end drinks and telephone bill charges

Money transfer fee