Kenya Wildlife Safari Packages and Best National Parks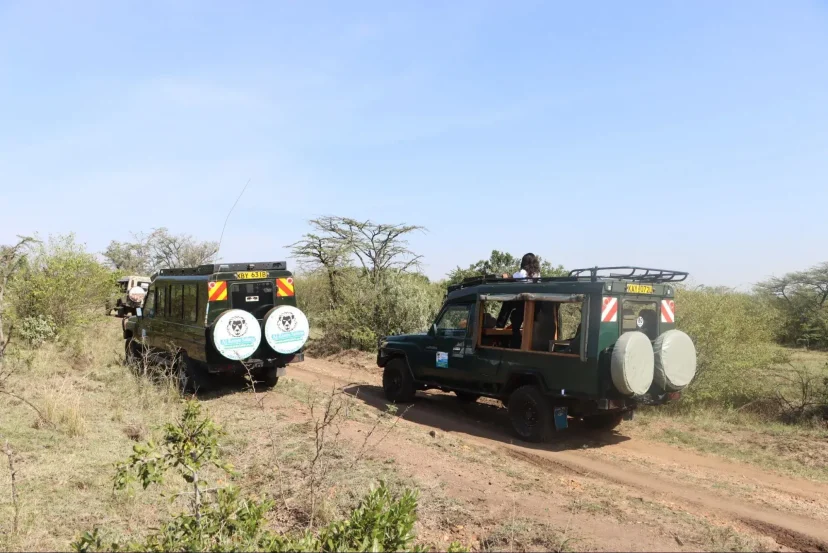 There are no shortages of Kenya wildlife safari packages that you can choose from; thanks to the countries wide-array of safari destinations.
Kenya's over 52 national parks offer over 1,000 wildlife species to discover and a little over 1150 recorded bird species, making it the best safari destination in Africa.
The best part? The country plays host to some of the most riveting sceneries globally, all of which combine to form a spectacular background for wildlife viewing.
This piece looks at the best national parks in Kenya that offer the chicest Kenya wildlife safaris.
Contact Us to Book Your Kenya Wildlife Safari Package - Best Destinations
Our Most Booked Kenya Wildlife Safari Packages and Other Itineraries
| Our Most Booked Kenya Luxury Safari Holidays | Price Per Person Sharing | View Detailed Itineraries |
| --- | --- | --- |
| Experience True Safari Luxury with this 3-Day Masai Mara Classic Safari | £645 | Detailed Itinerary |
| Unforgettable, 4-Day Trip to Masai Mara – Big 5 and More | £889 | Detailed Itinerary |
| Our Best Selling, 5-Day Masai Mara Safari | £1,084 | Detailed Itinerary |
| 4 Days Big 5 Safari in Lake Nakuru and Masai Mara | £1,042 | Detailed Itinerary |
| 3-Days Safari with a Stay at Jambo Mara Safari Lodge: Where Elegance Meets Immeasurable Natural Beauty | £718 | Detailed Itinerary |
| Blissful, 4-Day Keekorok Lodge Masai Mara Safari | £1,024 | Detailed Itinerary |
| ust the Vacation You Need – 4 Days at Base Camp Masai Mara | £933 | Detailed Itinerary |
| Masai Mara: Why this 5-Day Big 5 Safari is the Perfect Honeymoon | £1,178 | Detailed Itinerary |
| A Relaxed, All-Inclusive 6 Days Safari in Kenya | £1,748 | Detailed Itinerary |
| 7-Day Honeymoon Safari: This is All the Magic You Need | £1,678 | Detailed Itinerary |
| 7-Days Safari to Kenya's Most Breathtaking Destinations | £1,846 | Detailed Itinerary |
| Kenya Wildlife Safari:7-Day of Unsurpassed Bliss | £1,839 | Detailed Itinerary |
| Grand Heli Tour: 8-Day of Helicopter and Wildlife Adventure | £9,795 | Detailed Itinerary |
| The Perfect, 8-Day Kenya Honeymoon Safari | £1,732 | Detailed Itinerary |
| 8-Day Safari in Kenya – A Holiday with Purpose | £2,053 | Detailed Itinerary |
| 9-Day Helicopter Safari: An Exclusive Look into Kenya's Finest | £15,365 | Detailed Itinerary |
| 12-Day Kenya Safari and Beach Holiday – A Dream Vacation | £3,141 | Detailed Itinerary |
| 14-Day, Wildlife and Beach Honeymoon Safari | £4,815 | Detailed Itinerary |
| Beat the Wanderlust with This 14-Day Wildlife-Beach Honeymoon Safari | £3,698 | Detailed Itinerary |
Kenya Wildlife Safari Packages - Best Kenya Wildlife Destinations
The Kenyan allure is natural and here a here is a list of 10 best national parks in Kenya you can visit in Kenya.
Masai Mara National Reserve - Home of Wildebeest Migration
Replete with striking sceneries, over 99 different mammal species, and close to 450 bird species, Masai Mara offers magnificence front, back and center, making it perfect for Kenya jungle safaris
You can get a glimpse of this grandeur while on a game drive around the park, a rousing indulgence that introduces you to the Big 5, wildebeests, zebras, giraffes, antelopes, dik-dik, hippos, crocodiles, warthogs and over 450 bird species.
You should also not miss the jaw-dropping backgrounds that come with Mara game drives; from the murky slow-moving waters of the Mara River to the scattered acacias and sunburned grasslands.
Keep those eyes open, you never know when a crocodile at the river is going to lunge at an unsuspecting antelope.
Other activities to engage in include; camping, bird watching, sundowner, photography, and Masai village visits.
Lake Nakuru National Park - Home of Flamingoes
Somewhere between Lake Nakuru's shallow and tepid waters lies the Lake Nakuru National Park.
It is a tropical paradise hidden amongst an ever-changing terrain of woody and bushy grasslands.
Kenya animal safaris here are great and exciting; the park promises over 56 different mammal species, 450 bird species, and 550 other plant species.
Take game drives around the park for close and intimate interactions with white rhinos, waterbucks, buffaloes, antelopes, zebras, giraffes, lions, and hippos.
Go on a flamingoes-fangirling excursion around the lake and get a glimpse of these pink beauties for which the park is most known.
Take advantage of the Baboon Cliff and Out of Africa lookouts for top-of-the-cliff views of the wildlife and gorgeous panorama.
Meru National Park - The Complete Wilderness
Meru National Park is more than just luxuriant jungles, winding rivers, lush grasslands, and termite cathedrals.
It's a magical and intensely cathartic experience best experienced on a Kenya wildlife safari.
You'll find thousands of wildlife dotted across the savannah, some common, some rare, during your visit to Meru Game Park.
Keep an eye out for Grevy's zebras, elephants, reedbucks, buffaloes, hartebeests, cobras, pythons, elephants, puff adders, and more than 427 bird species.
You will also love the park's superior aesthetics and serenity, a rare combination that is the very reason this is one of the best safari parks in Kenya.
Take a walk around its open and wooded grasslands and get to experience the park's natural wonders intimately.
Go camping, scene viewing, and on game drives for a partaking of its enchanting thrills and spills.
Tsavo National Park - Home of Red Elephants
Tsavo National Park comprises Tsavo West and Tsavo East game areas separated by a Nairobi-Mombasa highway.
An astounding national park in its own right, this southeast Kenya masterpiece features some of the country's most striking and rewarding landscapes.
A Kenya animal safari here treats you to the best of these views, the most stunning being Tsavo East's 300km Yatta plateau, the Galana River, Lugard Falls, and a diverse assortment of wildlife.
These animals feature elephants, gerenuks, lions, rhinos, hippos, crocodiles and waterbucks.
Tsavo West is charming and evocative, too, its lush landscape punctuated by rocky ridges, numerous swamps, Lake Jipe, the Mzima Springs and Shetani Lava flows.
They all combine to form an effortless background for wildlife viewing. Join us on a Kenya jungle safari of Tsavo and experience surreality firsthand.
Watch in awe as crystal clear waters emerge from lava rock (Mzima Springs) and silently pour into the Shetani Lava Flows.
Discover the world's most significant lava flow (Yatta Plateau). And marvel at the dust red elephants of Tsavo East.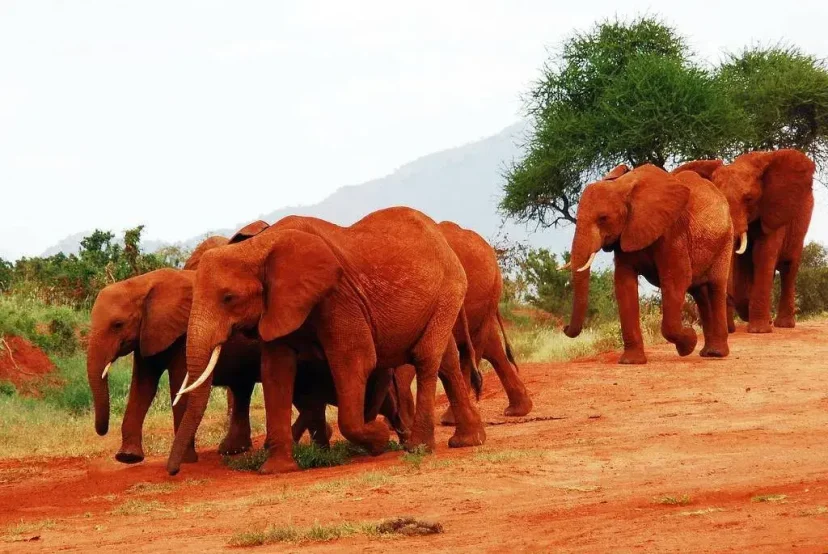 Aberdare National Park - Home of Majestic Peaks, Moorlands, and Intriguing Falls
The Aberdare is known for its otherworldly sceneries, and the Aberdare National Park is not excluded from this irresistibility.
Known for its striking ravines, open moorlands, and wildlife-adorned savannahs, this park is often tapped for rousing Kenya wildlife safari packages.
There is more to uncover on this charming preserve, bushbucks, hyenas, baboons, colobus monkeys, leopards, buffaloes, elephants, warthogs, black rhinos, duikers, and wild cats.
Explore these 189530 acres of riveting grounds through guided game drives, surrendering all stresses to its captivating waterfalls, wildlife, picturesque bridges, and river valleys.
Discover rarities like giant forest hogs, golden cats, civet cats, serval cats, and bongo during an Aberdare Kenya wildlife safari.
Or go on a guided birding excursion and discover the over 250 bird species resident of the park. Other exciting park activities include; picnicking, trout fishing, and camping.
Ol Pejeta Conservancy - Home of Last Two Northern White Rhinos
From its lush and scenic landscapes to its multitudes of wildlife and birds, the Ol Pejeta Conservancy has Kenya jungle safaris written all over it.
This dramatic park nestles between the foothills of Mt. Kenya and the Aberdare, and amongst its many charms is its high game-to-area ratio, the highest there is in the country.
There are over 10000 large mammals to discover here, and even more fascinating because it houses the only two remaining northern white rhinos in the world.
Other rarities in the park include the Big five, over 80 endangered black rhinos, six southern white rhinos, Jackson's hartebeests, and Grevy's zebras.
When you're not too spellbound by the conservancy, you can check out the Sweetwaters Chimpanzee Sanctuary, the only place in Kenya where you can see chimps.
Explore the park on horseback, go camping, or enjoy game drives.
Samburu National Park - Explore Samburu Special Five
Disconnect and purge in the wilderness at the Samburu National Reserve, a great destination known for its rich wildlife, effortless panorama, and serene ambience.
Over 900 elephants live in the park; a sight made even more fascinating by the thousands of other wildlife sprinkled all around the park.
These include wild dogs, lions, cheetahs, leopards, and oryxes.
But there's more. The Samburu is also famed for the Samburu Five, a rare quintet that features the Grevy's zebra, Beisa oryx, gerenuk, Somali ostrich, and Reticulated giraffe.
There are also more than 450 recorded bird species in the park.
Awake to the harmonious melodies of the wild in a lodge right at the heart of the park, go on a game drive for an intimate interaction with the wildlife or better yet, go for a guided walk around the park.
Other exciting activities include horseback riding, photography, bird watching, and sundowner.
Amboseli National Park - Home of White Elephants
With miles of astounding landscapes and beautifully diverse habitats, this splendid park offers an effortless background for Kenya wildlife safaris.
Simply moving around this 392 km2 park is a spectacle by itself, the bewildering park guests with views of Mt. Kilimanjaro, Africa's highest mountain.
Amboseli National Park offers five different habitats featuring woodlands, savannahs, wetlands, and the dried-out bed of Lake Amboseli.
The highlight? The park hosts the most prominent African elephant population in the region as well, as 56 other mammal species, including the Big Five, impalas, giraffes, dik-dik, lesser kudu, crocodiles, wild dogs, and cheetahs.
There is also an impeccable ambience to delight in, one that goes exceptionally well with bush dinners and sundowners.
Rough it up at a designated campsite within the park, or douse yourself in unspeakable luxury at the tastefully designed lodges.
Go on a morning, evening or afternoon game drive and watch as the park comes alive with crowds of wildlife.
Revitalise your body by walking around the park. Or go bird watching and let the over 450 bird species add some colour to your days.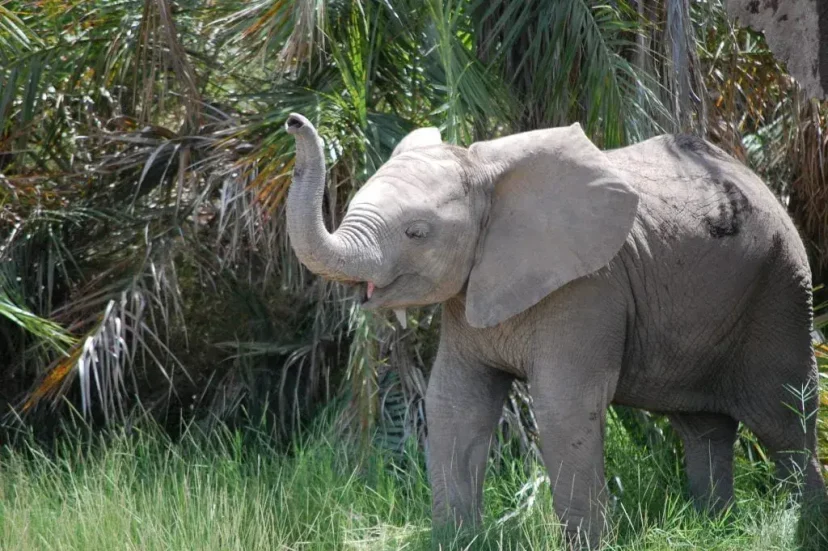 Hell's Gate National Park - Home of Cycling Safaris
Few places are as magical and alluring as the Hell's Gate National Park, and that is why the park has topped our list of best national parks in Kenya for ages.
The scenery is riveting, the ambience mysterious, and the park is in its most natural state, another reason the park is a favourite.
Occasionally you will find baboons, zebras, hartebeests, antelopes, reedbucks and elands in this fanciful playground, as well as a colourful explosion of birds that features swifts, eagles, buzzards, and vultures.
Its main attraction is spectacular scenery featuring towering cliffs, rock towers, scrubby volcanoes, and gorges.
Merge this scenery magnificence with the cycling, and you'll see why the park is an undefeated Kenya wildlife safari destination.
Other exciting activities you can engage in while in the park include; rock climbing, camping, photography, hiking, game viewing, and bird watching.
Nairobi National Park - Home of Capital Safari
Best known for its breathtaking city views and wildlife, this 117.21 km2 park is a classic example of the city-meets-nature kind of magnificence.
The park is a short drive away from Nairobi's CBD, making it perfect for quick Kenya wildlife safaris.
Wide-open grasslands, jaw-dropping city views, scattered acacias, and wildlife are all found at Nairobi National Park.
There are also immersing game drives and walks that introduce you to the hundreds of giraffes, black rhinos, elephants, cheetahs, lions, leopards, buffaloes, and hyenas within the park.
The second-best part? The Nairobi Safari Walk is a 7km wooden boardwalk that allows uninterrupted views of the park and all its attractions.
Discover more than 150 species of trees. Stroll through the park's lush grasslands and wildlife. And, when the sun sets, watch as the sun disappears behind the city's skyscrapers.