A Romantic 14 Days Honeymoon Safari in Kenya - Ultimate Honeymoon Bliss Guide & Price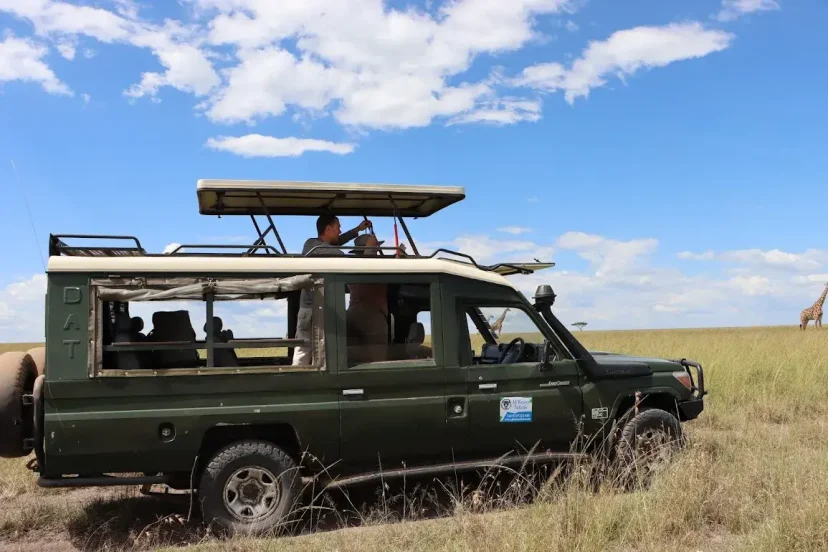 If you are anything like the 7 billion other people in the world, honeymoons to you mean beautiful sunsets, exotic lunches, and experiencing unforgettable adventures together. Lucky you, there's a striking country full of those. 
With its stunning shorelines and mind-blowing wildlife-packed wildernesses, Kenya is an unrivalled world-class honeymoon destination. Luxury, romance, and adventure are beautifully combined to ensure that your interaction with the country is nothing short of spectacular. 
To some, crowning Kenya as the best honeymoon destination in the world might seem bold. But walking down the magnificent shores of Diani with your spouse or a game drive in its parks will have you struggling to disagree. 
Welcome to Kenya, a prime safari destination among the few that strike a perfect balance between natural wonders, luxury, and spectacular panorama. And here is the best 14 days honeymoon safari in Kenya itinerary for you. It is the most romantic honeymoon bliss.
Talk to Our Team Now to Book Your 14-Day Honeymoon Safari
The Summarised 14 Days Honeymoon Safari in Kenya Itinerary
Detailed 14-Day Honeymoon Safari in Kenya Itinerary
Day 1: Arrival in Nairobi and Transfer to Hilton Garden Inn Airport Nairobi Hotel
The vision is to have you on the earliest flight out of London. But then again, what is KenyaLuxurySafari.co.uk if not flexible. You are welcomed with the widest of grins and firmest of handshakes. And if a brief tour of Nairobi is something you'd like, our guide is more than happy to oblige. 
If that doesn't fire up your imagination, our car seats are more than delighted to make your acquaintance. And off we go to the Hilton Garden Inn Airport Nairobi Hotel.
Day 2: Road Trip to the Ol Pejeta Conservancy and Evening Game Drive
The Emara morning sky is unparalleled and goes effortlessly with tempting breakfast and direct views of the Nairobi National Park. Our guide picks you up from the hotel an hour later, and off you go to the 4 hours away Ol Pejeta Conservancy. The road trip is your first introduction to the beauty that is Kenya.
We do not promise jaw-dropping sceneries, leave that for later, but even plain isn't that plain in Kenya. An hour is dedicated to lunch and bathroom breaks because of tired legs (duh!). 
We carry your luggage for you because that's how we roll and check you into the Sweetwaters Serena Camp. We leave you to revel in the luxury and sophisticated ambience of the Sweetwaters Camp, of particular charm being the plentiful wildlife surrounding it.
Take a dip in its pool for the thrill, laze around its artistically designed tents, take in the gorgeous panorama or cuddle the day away.
Day 3: Full Day Game Drive at the Ol Pejeta Conservancy with Packed Lunch
We rise with the birds and make our way to the wild for yet another day of mind-blowing adventure. The Ol Pejeta is effortless under the golden glow of sunrise; a sight made even more appealing by the massive assortment of wildlife speckling its plains. 
Our drive is as thorough as can be; our attention turned to these lands that host the Big Five as well as 10,000 other large mammals. Being that its morning, rest assured of excellent sightings of elephants, giraffes, hyenas, buffaloes, zebras, and hippos. 
We leave no ground of the 364sq km land unturned, our guide relying on his expertise to uncover elusive such as lions, cheetahs, hippos, leopards, wild dogs, and wildebeest. Couple that with the remarkable views of Mt. Kenya, and you have yourself the perfect honeymoon safari. 
Our packed lunch is taken at the heart of the conservancy, surrounded by great plains and distant wildlife sightings. Our afternoon game drive commences immediately after. Perhaps the fascinating thing about the Ol Pejeta is that East Africa's most prominent black rhino sanctuary lies within its walls.
On its list of bragging rights also lies countless southern white rhinos, 100 black rhinos, and two of the world's remaining northern white rhinos. We scour the Ol Pejeta grasslands marvelling at the rhinos' growls, trumpets, and mud bathing tactics. You will learn that both the white and black rhinos are grey.
For some chimp action, we head straight to the Sweetwaters Chimpanzee Sanctuary, where you get acquainted with William, a jolly mango and banana-loving darling. You get to learn of the horrors of the pet trade and the importance of creating safe environments for all living things in the world. 
You get to share the joy of a chimp receiving his breakfast of papaya and orange and witness the beautiful bonds shared with their caregivers. We still obsess over the wildlife and views for our evening game drive, this time joined by the captivating sunset. 
We end the night on a romantic note with some champagne, music, and a starlit dinner.
Day 4: Road Trip to the Samburu Game Reserve and Evening Game Drive
Love is best celebrated over exquisite breakfasts, slow romantic music, and gorgeous views of the African scenery. We leave the lovebirds to themselves for the rest of the morning, the remaining impressing left to the luxurious Sweetwaters camp. 
When the clock strikes 10, we do our magic, check you out, and have you on your way to the Samburu Reserve 3 hours away. Our journeying and arrival are as smooth as you'd imagine the impressing this time left to the similarly gorgeous Elephant Bedroom Camp. 
Witness the beauty of the unpredictable at this lodge perched on the banks of the River Ewaso.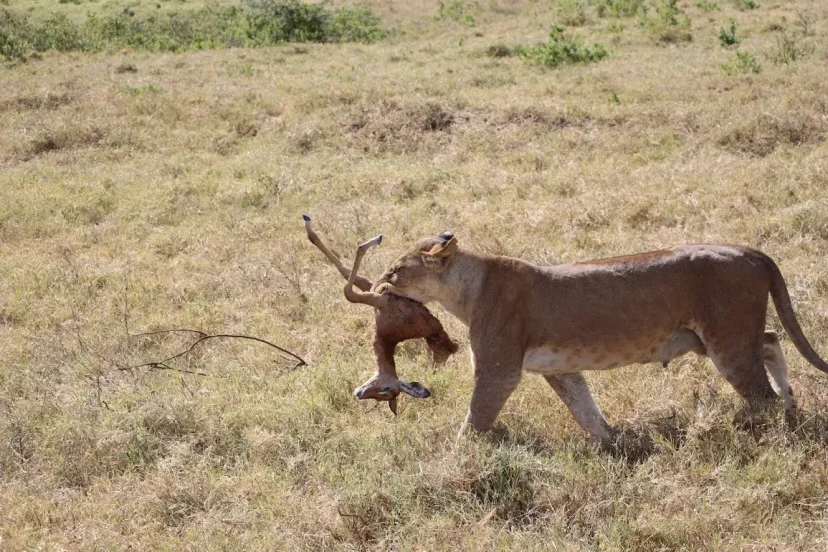 Day 5: Full-Day Game Drive at the Samburu Game Reserve with Packed Lunch
If you and your lover are looking to spend your morning wrapped in the surrealness of nature, a morning drive down the Samburu is a perfect start. Our morning exploration is conducted under the soft glow of sunrise; all our attention turned to the thick acacias under which browsers and grazers alike gather. 
That the Samburu is captivating is an understatement, and our drive, through and thorough, proves this statement true. We traverse its vast plains gaping at the wildlife, including rarities such as the Grevy's Zebra, reticulated giraffe, Somali Ostrich, and Beisa Oryx. 
And roam some more, seeking the benevolent company of elephants, wild dogs, antelopes, lions, cheetahs, and leopards. We will have to work harder for the sightings, but the beautiful scenery compensates us handsomely. 
Our exploration of the wild is brought to brief a stop by a romantic lunch taken a right at the heart of this wonder. You will quickly learn to look forward to the spontaneity of game drives because no two drives are ever the same. Our curious eyes are this time fixated on the banks of the Ewaso Nyiro. 
Spot elephants playing splash in the slow-moving waters, enjoy views of antelopes quelling the afternoon sun and watch predators creeping in the distance. For an incredibly exotic evening game drive, we drive through the park ticking off a few of the park's 450 bird species we're lucky to see. 
We stick around till sunset, which is when the predators are in full hunting mode. An outdoor dinner can be arranged upon request- the incredible stargazing and tasty meals make it all worth it.
Day 6: Morning Flight to Masai Mara and Evening Game Drive at Masai Mara National Reserve
Today you can spend the morning hours at the camp. We should check out by 10 AM and take a short flight to Masai Mara. The flight takes about 1½hrs, which means we will head straight to your chosen  Masai Mara Hotel for check-in and lunch.
You will meet our Masai Mara Safari Guide waiting for you at the airstrip to transfer you to your camp or lodge. Today we also have an evening game drive that starts from around 3 PM until 6 PM6 AM. It helps to introduce you to Masai Mara.
Day 7: Full Day Game Drive in the Masai Mara with Packed Lunch
We sweep you to the wild for what must be the most lux of safari experiences immediately after breakfast. The Masai Mara needs little introduction, so you've probably heard of it if you and your lover have a thing for mind-blowing safaris.  
Buried in ridiculous amounts of wildlife and scenic views, the Mara, you will see, is spectacular at sunrise. We take you through the golden hour with hopeful hearts, for wildlife is at its liveliest at that hour.
Expect nearly endless sightings of elephants, antelopes, zebras, elands, rhinos, giraffes, and even the shy lions, cheetahs, and leopards. We wander deep into its open savannah plains, highlighting every curve and edge of it while also taking in the sweeping panorama. 
We only take a break to enjoy the food, fruits, and water provided for our lunch. Our drives continue after that with a deep exploration of this effortless marriage of natural wonder and romance. 
We take you through the Siria escarpment for a bird's eye view of the park and to the Mara River for the spectacular Wildebeest Migration. Those who get to experience the migration talk non-stop of the thrill it presents. The spectacle occurring between July and October is graced by millions of wildebeests, zebras, and topi. 
Not even the predators would dare miss this one. The wildlife and views are still our seductresses till evening, and when the sunset lights the sky orange, we sit to admire with our wine glasses. It sounds like the perfect setting for a romantic dinner, don't you think?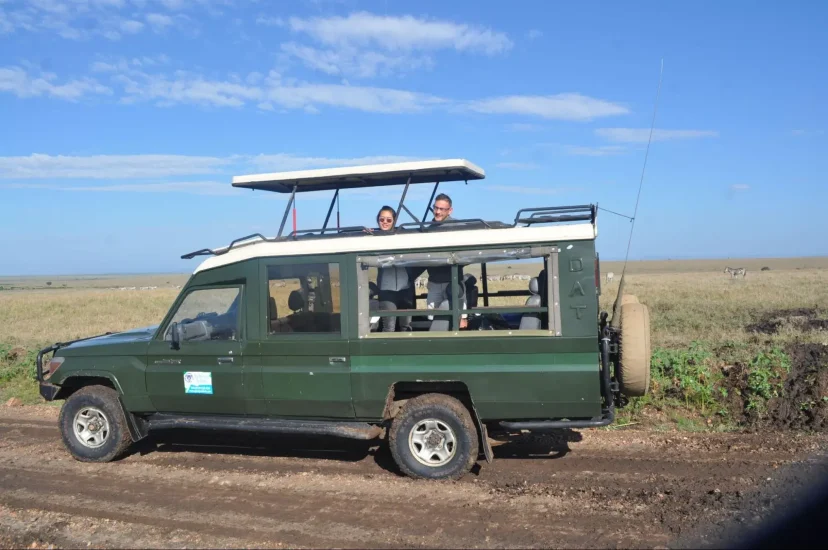 Day 8: Hot-air Balloon Safari/ Game Drive for the Rest of the Day
Name a perfect place to catch the sunrise than a hot-air balloon. We'll wait… yeah, we thought so. We pick you from camp at 5:00 A.M and drive you to the launch site in our 4×4 topless safari vehicle. 
The view of the Mara from the balloon is unparalleled and goes incredibly well with a glass of chilled wine. Over 12kms of the Mara are covered, and the pilot, with his magic, knows to safely lower you closer to savannah and wildlife for an otherworldly experience. 
Hold your partner tight as you cruise over the legendary beauty that is the Mara, and ask your guide to take pics while at it. The ride ends an hour later with a delicious breakfast cooked over the balloon's burners. We pick you up after landing and take you back to camp. 
The afternoon game drive begins at noon, and as you can already imagine, there's more of the plains to explore. The rarities are our focus, as well as those we missed during our last game drive. Birding couples will also be fascinated to know that the Mara is home to over 500 bird species. 
Surrounded by the rich wildlife and lush views, we toast to the colourful sunset as we watch it strike from our car window.
Day 9: Spend the Day as You Please
The Mara boasts an endless list of activities. Indulge in more game drives, guided nature walks, cultural Masai village visits, or simply laze around your hotel room with your partner. Whatever choice you make, you can never go wrong with a place as chic as the Mara.
Day 10: Morning Game Drive, Maasai Village Visit with Packed Lunch, and Flight to Diani
We start the day with a morning game drive from 6AM to around 10 AM, the perfect time to head for a Maasai Village. The world you've never experienced before awaits you in the mud and grass-thatched villages of the Maasai. 
The Maasai are people with more culture than bone. With them come tales of their survival in the wild and colourful traditions that might require you to dance.  Marvel at their artistic beadwork and buy some for your spouse- there is a wide array of colours to choose from. 
After that, in the afternoon, drive you to the airstrip within the park for a flight out to Diani Beach. Nestled in an area of unimaginable beauty, Diani is a 17km beach on the coast of Kenya, 30kms south of Mombasa. 
If turquoise waters, blinding white sands, and phenomenal views are your idea of a perfect honeymoon, then you lucked out with this one. The ambience Diani offers is unequalled, and you get a glimpse of it when we check you in to your rooms and leave you to yourselves. 
Take a quiet stroll down the beach, sample its cathartic waters, party at the Forty Thieves Diani, or enjoy a romantic beachfront dinner.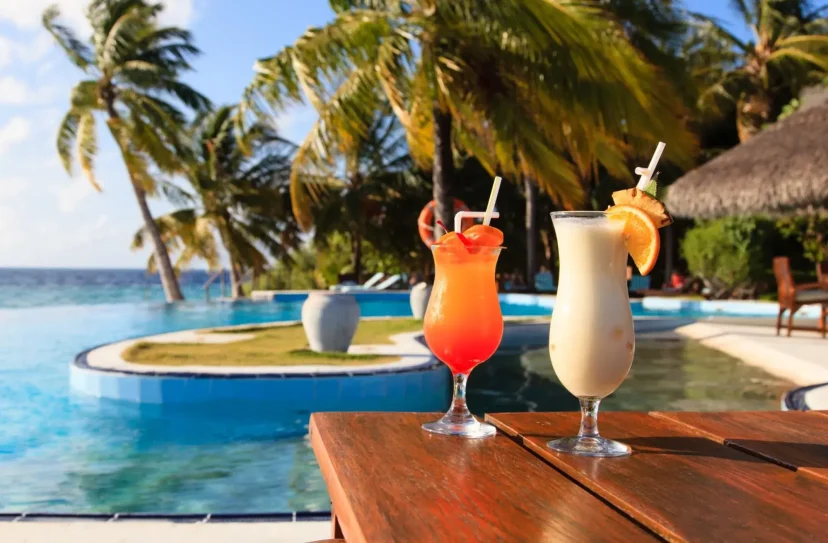 Day 11: Full-Day Trip to Wasini Island
Characterised by its otherworldly beauty and magical panorama, Diani sure does have the makings of a mind-blowing honeymoon destination. It is no surprise that the beach has dominated 'Africa's Leading Beach Destination" from 2014 to 2019.
Catch the sunrise on a relaxing walk down its beautiful shorelines, or enjoy a delicious breakfast with its surreal coast as your background. We let you thrive in the Diani magnificence for a while longer, after which we board you on a dhow to the Wasini Island. 
Although set apart by its magnificent beaches, awe-inspiring reefs, delectable foods, and distinctive architecture, Wasini Island remains surprisingly unblemished by tourism. You will love the beautiful Swahili culture within it and the perfect balance between views and natural beauty.   
Swim and snorkel in its calm waters, surf, dive, kite surf, enjoy Swahili cuisines, or lounge on its coastline and do nothing all day. You tour its marine-rich waters by a glass-bottomed boat or head over the Kisite Mpunguti National Park for a phenomenal showcase of the underwater. 
Sunset catches us on a dhow back to Diani Island.
Day 12: Spend Day by Yourself and Dinner on the Tamarind Cruise
There is simply no limit to the Diani variety. Your morning could start with a visit to its marine parks, a dive with dolphins, whale shark spotting, skydiving, or a drink at its bars. If you and your spouse are the adventure type, you could also take guided walks through the sacred forest for glimpses into the Diani wildlife. 
A trip to the wildlife-parked Shimba Hills can also be organised. We leave the decision-making to you on day 12, taking power back in time for dinner at the Tamarind Cruise. An experience of the Tamarind Cruise is simply out of this world. 
The cruise starting at 6:30 P.M exotically blends sunset, sensational ocean views, cocktails, and delicacies to bring you a wholesome romantic experience. Cocktails are served first as the dhow takes a sail towards Fort Jesus and delicious Swahili cuisines after you've settled in. 
The experience is for the books, the starlit skies, and soft jazz music, creating an impeccable ambience. You are back to shore by 10:30 P.M, from where we take you back to your hotel.
Day 13: Half-Day Deep Sea Fishing and Spend Some Quality Time in the Afternoon
Like is the norm, your morning will be fascinating. We know this because nothing beats the service and luxury at the Swahili Beach Resort. We spend the rest of the morning deep-sea fishing on a private boat. 
As well as exposing you to striking ocean views, deep-sea fishing is a chance to bond with your partner and test their patience level. We take you where the waters are a deep blue and provide you with the tools to succeed in this mission.
Nothing smells as inviting as a fish roast on the shorelines of the Indian Ocean. We leave you to yourselves for some TLC after our day's activities.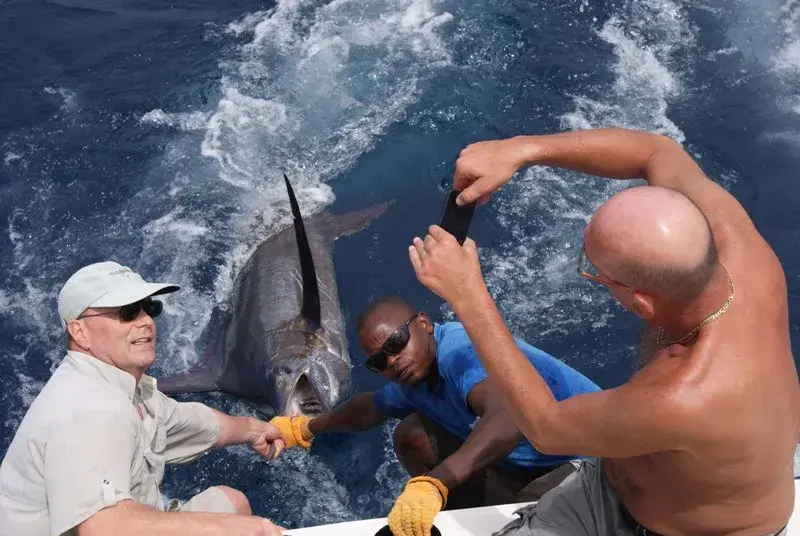 Day 14: Sunrise Camel Walk, Spend Afternoon by Yourselves, and Flight to the JKIA
Hold your partner close as you experience an early morning camel walk, whisper sweet nothings into their ears, and take in the effortless views of Diani. Camel morning walks are just the perfect way to bring your safari to a close, and we promise the thrill and excitement are worth it. 
Spend the rest of the afternoon frolicking at the state-of-the-art rooms, lounging on the beach with a glass of your best wine, or simply relieving your experiences. We check you out of the hotel late afternoon and drive you to Mombasa for a flight to the Jomo Kenyatta International Airport. 
We are welcomed to Nairobi by the team in charge of planning and executing your honeymoon safari. We make time for some coffee and pleasantries before placing you on a flight back home.
Things Included in the Price:
Airport pick up and drop off 
Service of a professional, silver or gold level safari guide 
Use of the safari vehicle for ten days (4×4 safari land cruiser)
Bottled, mineral drinking water during the safari
All applicable park fees and government taxes
1-night accommodation at Nairobi on a full-board basis 
2-night accommodation at Ol Pejeta on a full-board basis 
Game drives at Ol Pejeta Conservancy as outlined in the itinerary 
2-night accommodation at Smaburu on a full-board basis 
Game drives in Samburu National Reserve as outlined in the itinerary 
4-night accommodation at Masai Mara on a full-board basis 
Game drives at Masai Mara National Reserve as outlined in the itinerary 
Visit a Maasai Village at Masai Mara 
4-night accommodation at Diani on a full-board basis
Optionals, Flight Ticket, & SGR Prices for 8 Days Kenya Honeymoon Safari
Optionals, Flight Ticket, & SGR Prices for 8 Days Kenya Honeymoon Safari
| Particular | Cost Per Person in GBP |
| --- | --- |
| Hot Air Balloon Safari | £430 |
| Whale Shark Spotting | £225 |
| Dinner Cruise | £90 |
| Scuba Diving for 2 hrs | £162 |
| Wasini Day Trip | £105 |
| Glass Boat Ride | £27 |
| Deep-Sea Fishing | £430 Per Boat |
| Flight Tickets from Nairobi to Diani | £150 |
| Mombasa Day Trip + Haller Park + Lunch at Tamarind Restaurant | £100 |
Things Excluded from the Price:
Easter, Christmas, & other holiday Supplements of £20-£50 Per Person Per Night
Gratuities and tips to the safari guide 
Local and international flight tickets 
laundry services 
Extra meals or drinks in the hotel, except typical lunch, dinner, and breakfast
Transfer fee when sending the money
Price Per Person for the 14-Day Honeymoon Safari in Kenya
| Dates/Month | Price Per Person Sharing |
| --- | --- |
| 1st Jan – 31st March | GBP 7,322 |
| 1st Apr – 30th June | GBP 6,317 |
| 1st July – 31st Oct | GBP 8,458 |
| 1st Nov – 19th Dec | GBP 7,246 |
| 20th Dec – 1st Jan 2024 | GBP 8,674 |
The price is based on two people travelling together and sharing the accommodation and safari vehicle. These prices are based on the 2023 rates of a typical safari in Kenya. You can customise it by requesting honeymoon suites.
The accommodation often gets full during the migration season and is only confirmed upon making a deposit. Kindly book early to ensure you don't miss the said accommodations.