5-Day Honeymoon Safari in the Mara - Packages, Review, & Price
From game drives to hot-air balloon safari to luxury hotels and Masai Village visits- there is a nearly endless list of activities to appease your ideas of romance in the Mara. Known for its over 56 wildlife species, magnificent sunsets, mouth-watering cuisines and romantic hotels, the park was doubtlessly tailor-made for romantic getaways.
Experience ultimate wonder and sophistication as you watch the Great Wildebeest Migration unfold from your 4×4 open-topped van. Let the quiet ambience and swoon-worthy sights sweep you off your feet. And share a romantic candle-lit dinner with the charming open grassland and wildlife as your background.
Contact Us Now to Book Your 5-Day Honeymoon Safari in the Masai Mara
Summarised 5-Day Honeymoon Safari in the Mara Itinerary
The Detailed 5-Day Honeymoon Safari in the Mara Itinerary
Day 1: Arrival in Nairobi, Road Trip to Masai Mara, & Afternoon Game Drive
For logistics reasons, you are advised to book a flight that lands in the country by 6:00 A.M. This is not etched in stone, though, for we are a company that takes pride in its flexibility. Our guide picks you up upon arrival, gives you a brief of your safari over coffee, and off you are to the land of golden sunsets.
Our 5-hour trip is not without event, the spectacular Great Rift Valley Viewpoint taking our breaths away with its colourful bird arrays and lush escarpments. Narok taking our taste buds on an adventure of their own with its savoury delicacies. 
We are in the park four hours later, and you are checked into the Basecamp Masai Mara within half that time. For two hours, you and your lover are left to florrick in the cosiness of your room and the riveting views it affords.
We pick you up later for an exciting evening game drive of the Mara. Toast to colourful sunsets from your Land Cruiser, marvel at the nearly endless wildlife, and wrap yourself around each other, sharing in the beauty of the Mara landscape.
Day 2: Full-Day Game Drives in a 4×4 Open-Top Land Cruiser
In bed, at your room's terrace with the effortless sunrise as your background or at the restaurant offering soul-stirring views of the Talek River?  The choice of where to have your breakfast is up to you two. 
We are at your door a few hours later, ready to treat you to what we believe is the most exhilarating of safari experiences. Apart from the gripping sunrise, morning game drives are unparalleled when it comes to their wildlife. 
Thousands of species trample the savannah and skies alike, the Big Five, gazelles, antelopes, hippos, crocodiles, wildebeest, sunbirds, vultures, hornbills,  giraffes, etc. The morning game drive turns otherworldly for those who get to experience its magic between July to October. 
The Wildebeest Migration falls within these months and is an electrifying event that features over a million wildebeests, zebras, and a handful of bloodthirsty predators. Ours is to ensure that you are at a vantage point when the spectacle ensues. We take to the shade of one of Mara's acacia trees for our lunch. 
It makes zero sense how everything so breathtaking could be found in one place. From sunburned savannahs, scattered acacias, and plentiful wildlife, everything is remarkable here. Our afternoon game drive uncovers treasure after treasure worth mentioning the Oloololo viewpoint and the hippo favourite Mara River. 
The party continues into the evening when we are yet again charmed, speechless by the sunset. This is the moment when you wrap her around your arms and promise the earth.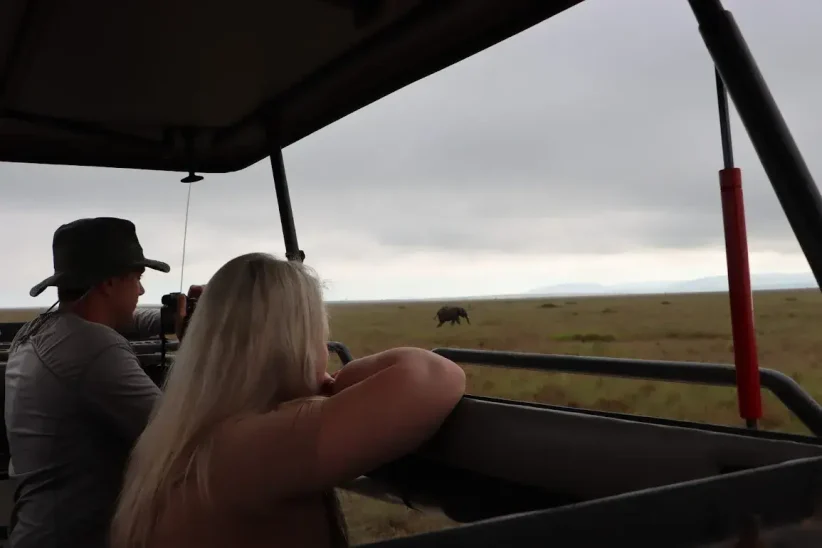 Day 3: Optional Hot-Air Balloon/Spend the Day by Yourselves
The Mara was made for you to explore, and towards this end is a rip-roaring hot-air balloon safari across its landscape. We pick you from camp at 5:00 A.M and drop you off at the ride's take-off point just in time for sunrise. 
Everything about this ride is effortless; the scenery, the close wildlife encounters, the way the cold air softly brushes against your skin. Everything! For an hour, you are given an out-of-the-world encounter of the Mara, and who better to experience this with you than the love of your life. 
Staying true to its luxe ways, the ride ends with a sumptuous breakfast served amongst the tall grasslands of the Mara. We pick you up after breakfast and drive you back to the camp. Escape to a world of total comfort and luxury in your room, or watch the Mara bustle with activity from your private balcony. 
If lush surroundings and breathtaking panorama sound like a plan, take a guided walk around the park. Soft jazz music, rose petals on the bed, a bottle of champagne, her favourite movie and her favourite meal: this is your chance to surprise her with a romantic dinner.
Day 4: Full-Day Game Drives in a 4×4 Open-Top Land Cruiser
Wake up to a symphony of bird songs next to the one you love, and join us on yet another euphoric morning game drive. You will find that no two game drives are alike- that the Mara always has a surprise up its sleeves.  
Our silver/gold-certified guides also know where in the Mara the action is packed, and so it's only fun and discoveries for your game drive. We wind our way through the open grasslands searching for the wildlife that escaped us in previous rides. Who knows, the highly elusive leopard might also decide to show up. 
Our game drives span the day, one of the highlights being a beautiful sundowner. When night falls, we gather around a bonfire, share stories, indulge in a couple of beers and stargaze. If you want a night away from the crowds, you can have dinner served in your room.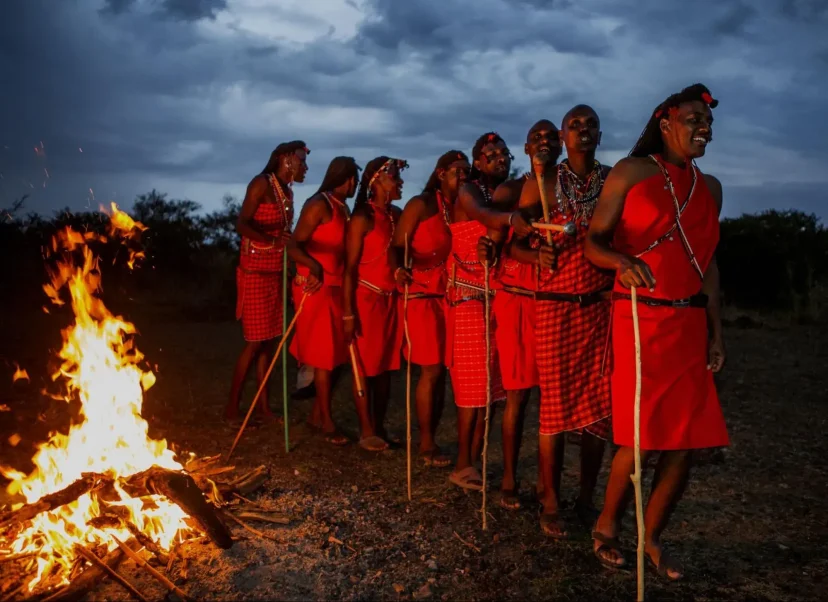 Day 5: Morning Game Drive, Masai Village Visit, & Trip Back to Nairob
The Mara is perfection at its best, and we yet again dedicate our early morning to its grandeur. We embark at the first light of dawn, our sights still set on its diverse wildlife and alluring scenery.
After breakfast, we check out the hotel and head out for this morning game drive at around 6 AM to about 10 AM, the ideal time to head to Maasai Village. A cultural tour of the Maasai villages exposes you to different cultural activities, beliefs and experiences. 
The Masai's cow dung and mud houses are a thing of beauty and their artwork and stories of survival. Participate in the Adamu( Masai jumping dance)and purchase their colourful beadwork and leatherwork. 
Our visit lasts for about two hours, after which we hop on our Land Cruiser and drive back to Nairobi. We are received by the masterminds behind our honeymoon itinerary with whom you indulge in a cup of coffee. Do tell us what you thought about the trip.
We bid you goodbye and see you off to your flight back home. You can check our 8-Day Kenya Honeymoon Safari if you wish to spend more time in this country.
Things Included in the Price:
Airport pick up and drop off 
Service of a professional, silver or gold level safari guide 
Use of the safari vehicle for 4 days ( 4×4 safari land cruiser)
Bottled, mineral drinking water during the safari
4-night accommodation on a full-board basis  
All applicable park fees and taxes for the 5 days 
Afternoon game drive on day 1
Full day game drive on day 2 with picnic lunch 
Full day game drive on day 4 with picnic lunch 
Picnic lunch during the full-day game drive 
Morning game drive on day 5
Visit a Maasai village on day 5
Transfer to Nairobi (JKIA) on day 5
Things Excluded from the Price:
Optional hot air balloon safari at £430 Per Person 
Optional bush dinner for 4-pax at £55 Per Person 
Gratuities and tips to the safari guide 
Local and international flight tickets 
laundry services 
Extra meals or drinks in the hotel, except typical lunch, dinner, and breakfast
Transfer fee when sending the money
5-Day Honeymoon Safari in Mara Cost Per Person
| Lodge/Camp/Hotel | Low Season | High Season | Peak Season |
| --- | --- | --- | --- |
| Sentrim Mara | GBP 1364 | GBP 1431 | GBP 1598 |
| Enkorok Mara Camp | GBP 1248 | GBP 1395 | GBP 1670 |
| Basecamp Mara | GBP 1418 | GBP 1629 | GBP 1868 |
| Mara Big Five Camp | GBP 1454 | GBP 1629 | GBP 1922 |
| Zebra Plains Mara | GBP 1382 | GBP 1683 | GBP 1922 |
| Mara Simba Lodge | GBP 1481 | GBP 1579 | GBP 1976 |
| Keekorok Lodge | GBP 1374 | GBP 1582 | GBP 2073 |
| Mara Legends Camp | GBP 1526 | GBP 1881 | GBP 2174 |
| Mara Serena Safari Lodge | GBP 1653 | GBP 1687 | GBP 2267 |
| Sarova Mara Game Lodge | GBP 1646 | GBP 1744 | GBP 2271 |
| Ashnil Mara | GBP 1495 | GBP 1661 | GBP 2278 |
| Ilkeliani Masai Mara Camp | GBP 1724 | GBP 1791 | GBP 2318 |
| Mara Crossing Camp | GBP 1823 | GBP 1953 | GBP 2390 |
| Mara Bush Camp | GBP 1823 | GBP 2079 | GBP 2444 |
| Entim Mara Camp | GBP 2066 | GBP 2133 | GBP 2642 |
| Mara Bush Private Camp | GBP 2048 | GBP 2241 | GBP 2894 |
| Elewana Sand River | GBP 2267 | GBP 2756 | GBP 3142 |
| Emboo River Camp | GBP 2256 | GBP 2763 | GBP 3376 |
The price is based on two people travelling together and sharing the accommodation and safari vehicle. These prices are based on the 2023 season for a typical safari in Kenya. You can request customisation to make your honeymoon special by upgrading to honeymoon suites.
The accommodation often gets packed during the migration season and is only confirmed upon making a deposit. Kindly book early to ensure you don't miss your prefered accommodation.