14-Day High-End Honeymoon Safari in Kenya - Packages, Review, & Price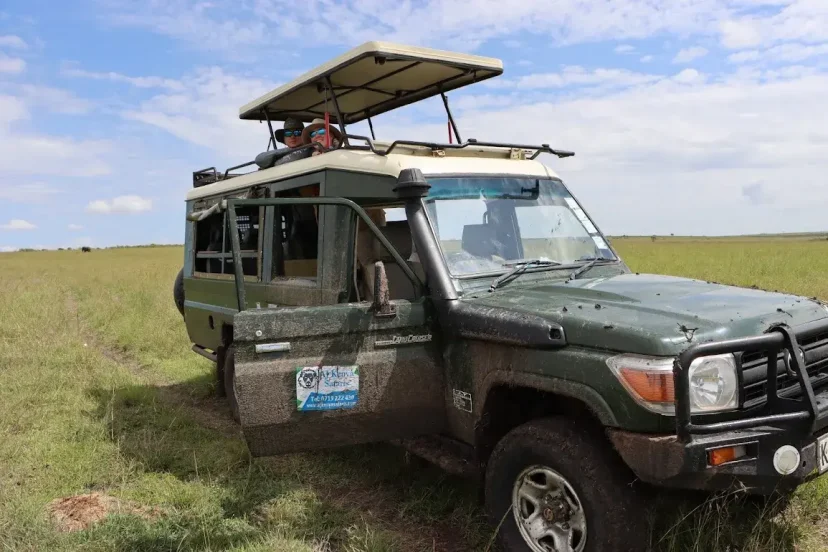 The 14-Day High-End Honeymoon Safari in Kenya is crafted to provide you with the romantic experience only found in Africa. It takes you from the inviting turquoise waters of the Diani to the life-bustling plains of the Mara to ensure you relax while having intimate memories.
The featured destinations expose you to tranquillity, luxury, and vistas like you have never seen before, with the cherry on top being your exclusive all-knowing gold-certified guide. Your high-end honeymoon safari in Kenya starts at Giraffe Manor and then takes you to Ol Pejeta, Lake Nakuru, and Masai Mara National Parks. 
The 14 days are not over until you spend some time relaxing at Africa's leading beach, Diani Beach. This beach has won several awards and you can bet it is among the best in the world. 
Book Your 14-Day High-End Honeymoon Safari with Us Now
Summarised 14-Day High-End Honeymoon Safari Itinerary
Detailed 14-Day High-End Honeymoon Safari Itinerary
Day 1: Arrival in Kenya and Transfer to the Giraffe Manor
Our professional safari consultants recommend our UK guests book a flight that lands in Kenya early in the morning, at around 4-5 A.M. However, this is not the case if you opt to book this 14-day high-end honeymoon safari to Kenya because we recommend landing any time from 10 A.M.  
That ensures you arrive just-in-time for the Giraffe Manor's 11:30 A.M check-in time. The Giraffe Manor is a spectacular hotel with posh interiors, lush gardens, charming terraces, and breathtaking courtyards. It is among the most Instagrammed hotels in the world.
The hotel makes an exceptional love nest if you have a taste for the most delicate things in life, like well-crafted menus, wildlife, and impeccable service. But that doesn't come close to scratching the surface regarding the Giraffe Manor's magnificence. 
The first thing that catches your eyes when you check into your rooms is the quaint yet exceptional architectural design.  The rooms are cosy, with excellent bathroom finishes, king-size beds, and private balconies by all standards. You cannot mention the Giraffe Manor without raving about the giraffes. 
The Rothschild Giraffes are a significant attraction at Manor – breakfast at the Main Manor guarantees you a one-on-one encounter with these soulful creatures. You get to feed them with dried pellets through the windows, or else they could end up sharing your breakfast.
Pet them and take a picture or two to capture this amazing time during your honeymoon in Kenya. Other activities to experience include a romantic candle-lit dinner at the serene Orchid house, a relaxing couple massage at masseuse, or drowning in superb Rhenish wines.
Day 2: Morning at the Giraffe Manor & Road Trip to the Ol Pejeta
You might have seen a few celebrities feeding giraffes from the Giraffe Manor's expensive picture windows. If not, search 'Ellen giraffes,' and you will see what we are talking about. The Giraffe Manor affords you such luxury and so much more! 
Today you will spend time at the hotel before your exclusive safari guide comes to pick you up at 10 A.M for transfer to Ol Pejeta. You will make a stopover at the Equator Marker while heading to the camp. Take pictures at this landmark. 
Ol Pejeta is the perfect destination if you want to relish in your newlywed bliss and is located in a region swarming with wildlife and soul-stirring sceneries. The drive from Manor to Sweetwaters Serena Camp, your honeymoon suite for the next two nights, is about 4.5 hrs.
This will see you check-in at the camp by 2 P.M. Sweetwaters Serena Camp comes complete with jaw-dropping views of Mt. Kenya, impeccable services, and gourmet delicacies, ushering you into a world of infinite luxury. 
Top that list with cosy rooms, a serene ambience, and stirring views of the Ol Pejeta plains, and you have yourself an unforgettable honeymooner's retreat.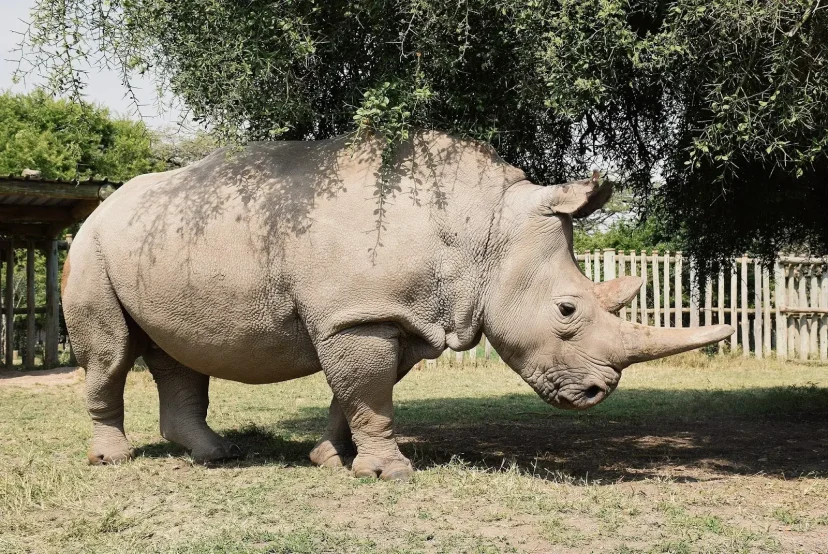 Day 3: Full-Day Game Drive at the Ol Pejeta with Packed Lunch
Nothing says I love you better than a romantic surprise breakfast overlooking gorgeous scenery. You only need your room's private balcony and sunrise to experience this magic, so let us know if this is something you'd love included in your itinerary.
After that, you experience the thrills and spills of the Ol Pejeta through a morning game drive and get the chance to see the Big Five, leopards, and the wild dogs. And your friendly safari guide is on hand to walk the talk with you to deliver a wholesome experience and make your honeymoon more exciting. 
The guide leaves no stone of the 36,400-hectare land unturned as you get to view the rarities of the conservancies like the Grevy's Zebra and the Jackson's Hartebeest. The morning game drive turns into an afternoon one, and this is the perfect time to enjoy your picnic lunch. 
The second leg of your honeymoon game drive begins immediately after lunch. This time you can take it easy and visit the only two northern white rhinos remaining in the world at their feeding area. It is also the perfect time to feed some chimpanzees.
Get to learn how to help the conservation efforts, watch Baraka, the one-eyed rhino, at close range, and interact with the other six southern white rhinos. 
Day 4: Road Trip to the Lake Nakuru National Park & Afternoon Game Drive
It's you and your lover, arms wrapped around your waist, on a horseback sunrise ride down the stunning plains of the Ol Pejeta at an additional cost. Or you could be in your rooms enjoying the sunrise over a delicious breakfast in bed. 
Whichever you choose, you can have the confidence that we will cover you in immeasurable luxury during your honeymoon. Your exclusive 4×4 safari land cruiser is deep in the jungle for one last game drive before heading to Lake Nakuru.
Take in the awe-inspiring views of Mt.Kenya, spot the wildlife, and enjoy the brief stop at the Sweetwaters chimpanzee sanctuary. The Sweetwaters chimpanzee sanctuary is the only place in Kenya where you get to spot the rescued creatures. Share in the joy of their newfound freedom with a selfie or ten.
From here, you enjoy the 3-hrs road trip from Ol Pejeta to Lake Nakuru National Park with a stopover at Nyahururu or Thompsons Falls. Take pictures at these falls before continuing with the road drive to Lake Nakuru National Park
The next part of your 14-day high-end honeymoon in Kenya will see you get to the "Cliff Hotel" inside the park in the afternoon. Perched on a 100-meter cliff that faces Lake Nakuru, the hotel is all glitz and glam when it comes to its ten luxury rooms.
Our guide will check you into the hotel and leave you to rest for the rest of the day while you enjoy the enthralling views and ambience of the accommodation.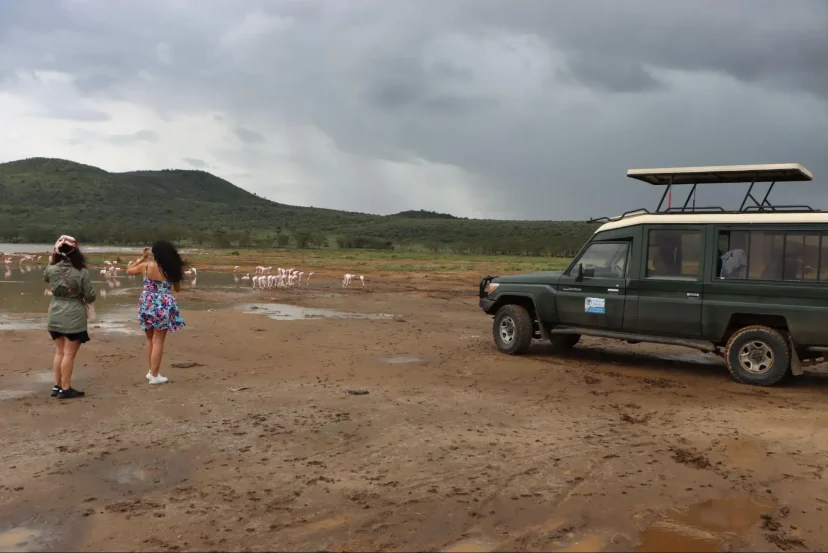 Day 5: Spend a Full Day at the Lake Nakuru with Packed Lunch
The Cliff offers you a bird's eye view of Lake Nakuru's beauty while still providing the higher comforts necessary for a successful honeymoon. A sunrise corridor breakfast is one way to partake in this splendour, but if it's the wild you want, we've got a game drive on the cards.
You head out while sunrise still looms for a game drive into the savannah woodlands of the park. Let the magical vistas take your breath away as you simultaneously delight at views of the Big five (except the elephant), leopards, buffaloes, and giraffes. 
Watch out for hippos and the occasional sighting of the cheetah, not forgetting the hundreds of pink flamingoes. Your drive only stops to make way for an intimate, packed lunch in the park, and even so, the scenery continues to steal your attention. 
The afternoon game drive commences after lunch, and you experience an instagrammable moment whenever you go. The guide drives you to the top of the hill for stellar views of Lake Nakuru in its entirety and later to the Baboon Cliffs for the baboons and more sensational vistas. 
You drive spans into the evening, and when sunset strikes, we have no option but to sit still and amaze at its wonder. You can end the day with a glass of your favourite wine, music and some delicious cuisines during a sundowner.
Day 6: Morning to Yourself and Midday Drive to Masai Mara
The Cliff has a setting that has it all: breathtaking panorama, volcanic hills, woodlands, and European-style rooms you can never tire of.  Enjoy a quiet private morning in the infinity pool, unwind in the spa, enjoy excellent cuisines in the restaurant or reminisce at the bar. 
You will check out the hotel by 10 A.M and head 247km south towards the Masai Mara. The drive will see you make a stopover at Narok Town for lunch. From there, the guide will take you to Masai Mara's accommodation for check-in and leave you to relax.
You and the love of your life will fall in love with its well-thought-out design, cosy rooms, services, and delicious meals.
Day 7: Full-Day Game Drive at the Masai Mara with Picnic Lunch
It's hard to imagine a game drive more rewarding than a Mara morning game drive. The sunrise and gorgeous scenery combine to present romantic vibes that are impossible to tear yourself away from.
That combines with the fact that the wildlife is most active during the morning hours to make your 14 days honeymoon safari in Kenya worth every second. Your game drive starts at sunrise in your exclusive 4×4 open-sided Land Cruiser. 
The guide cruises through the vast wonderland of wildlife and vegetation, ticking off the list of the Big Five, wildebeests, zebras, gazelles, giraffes, buffaloes, and jackals.  Who knows, the leopard might also feel generous enough to grace your presence and make your honeymoon complete.
Today you take lunch in the jungle. Honestly, there is no way to tell which one you will enjoy more: the lunch, the view, or the delightful company. The afternoon game drive begins immediately after lunch, and this time the guide heads toward Mara River.
It is the perfect way to follow the animal with this hunch likely to bring you to the presence of most of the 56 wildlife species found in Masai Mara. Do keep your eyes open! The rosy-throated longclaw, secretary bird, and the Kori bustard are just a few of the 450 soft feathered friends you might cross off your list.
The guide continues to warp you in unmatched sceneries, wildlife, and exciting ambiences for the rest of the afternoon. A lantern dinner overlooking the beautiful Sand River is the romantic note unto which you can end your day.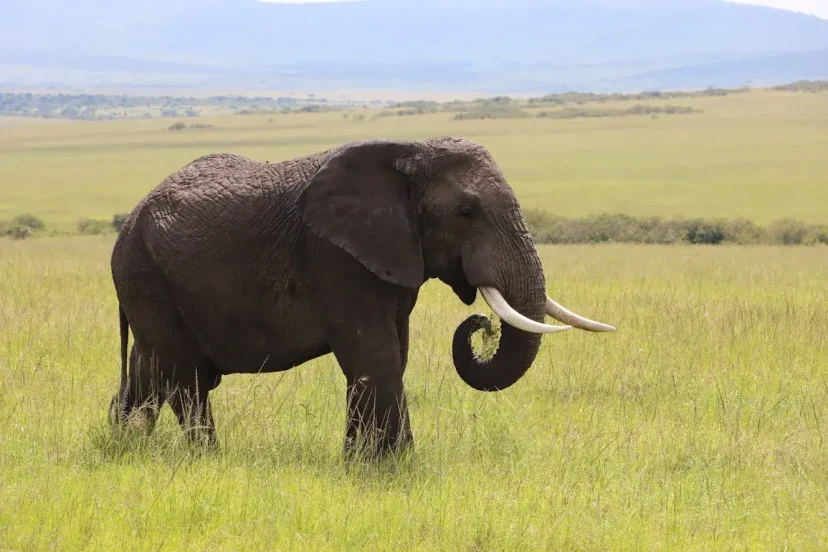 Day 8: Optional Hot-Air Balloon Safari/Game Drives at the Masai Mara & Visit a Maasai Village
We take your vision to new heights and introduce you to romance as you'll never experience elsewhere with a balloon safari of the Mara. The safari starts at the first light of dawn and introduces you to phenomenal fly-on-the-wall reserve views.
The park shows you why it's the most popular attraction in the country for an hour or so. Your pilot knows when to lower or raise the balloon for that surreal experience –  sit back and enjoy the view.
You cover an average of 8 miles while in the air, after which you enjoy a delicious breakfast right in the jungle. This breakfast is usually accompanied by champagne. Your morning is not done as you enjoy a game drive on the way back to the camp.
In the afternoon, you will have a first-hand encounter with the Maasai people in their village. It is the opportunity to take your honeymoon photos with the Maasais, learn their way of life, and even purchase their ornaments.  
Day 9: Morning Game Drive and Flight to Diani
Today you can spend the morning in the hotel to around 10 A.M. – the recommended check out time. You will enjoy one final game drive at Masai Mara until 1 P.M. and then head to the airstrip for your 3 P.M flight to Diani. 
Our Diani team will meet you and transfer you to the resort. The chosen resort is sensational, and you can never get enough of its mind-blowing ocean views, atmospheric rooms, and serene ambience.
We leave you lovebirds to get acquainted with your love nest for the rest of the evening.
Day 10: Spend Morning by Yourself and Tamarind Dinner Cruise
Picture a place where the most eye-catching turquoise waters are natural.  A place where towering palm trees grow on a coast with blinding white beach sands. Picture that place, and you've successfully pictured Diani. 
A favourite with honeymooners, the Diani is so surreal that it has managed to be voted as Africa's best beach for five consecutive years. Today you and your spouse have the morning by yourself to get time to discover this beauty and spend time together.
Go on a romantic sunrise stroll down its beach, swim, snorkel, deep-sea dive, windsurf or have a lazy day lounging by the beach.  We only interrupt your day when our guide come to pick you up for a 1 hour 30 minutes drive to Mombasa for the dinner cruise. 
Here you will sail on the ocean while enjoying some of the best Swahili dishes and drinks at the Nawalilkher and Babulkher restaurants. Nawalilkher and Babulkher are floating restaurants that combine Swahili architecture, romantic ambiences, and delicious cuisines to give you an unforgettable honeymoon experience.
Your dinner starts at 6:30 P.M with a Dawa cocktail from our hospital staff, after which a barrage of delicious Swahili cuisines follows. Watch as the boats glide you over a spectacular sunset and eye-catching city lights towards Fort Jesus. And hey, we know it's easy to get distracted, but seafood is best served hot. 
Dance some more and share a kiss under the lights of a thousand stars.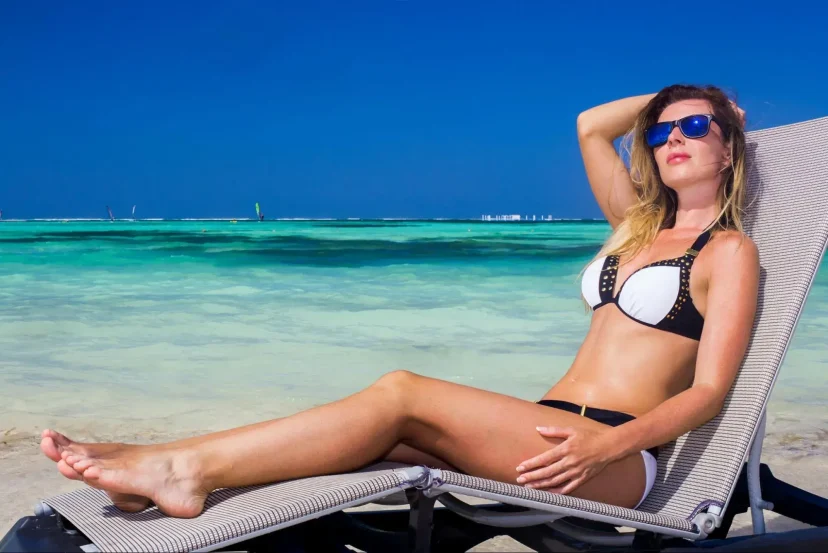 Day 11: An Amazing Day Diving in Diani
Show us activity as thrilling and memorable as diving in Diani, and we'll show you a lie. A dive into the cathartic waters of Diani opens you up to beauty you've never seen before. The experience promises an explosion of colour and fish varieties, and let's not even get started on the stunning corals. 
If you are not feeling excited yet, there's the reef shark and whale shark (earth's most significant fish) to get you started.  And yes, good visibility of up to 30 meters deep is promised.
Let the Diani underwater excite you till midday, from where you head back to the hotel for the rest of the day.  You can enjoy massages, spas, and other hotel related activities today or even spend time at the sandy beaches of Diani.
Day 12: A Full-Day Exploration of the Water Wonders of Wasini Island
A resort sunrise breakfast makes the food taste better.  After, our guide will pick you up for your transfer to Shimoni at 7:30 A.M, a journey that will take you a little over an hour. You take a dhow to Wasini Island from Shimoni.
Wasini Island is a 7km coastal strip still held secret from the world that offers a great attraction for lovers. A day here promises you and your spouse memories you will hold dear for life. Swim, snorkel, deep-sea dive, lounge at the beach, or ask a professional photographer to take pics of you two. 
When you are done exploring its waters, let your taste buds go on an adventure of their own with mouth-watering cuisines. You then go on a dolphin tour back to the Shimoni on the dhow. 
And even though dolphin sightings are not guaranteed, the incredible stretch of blue water does more than compensate. You can end your day at the hotel with scented candles, a relaxing bubble bath, rose petals from the shower to the bed, champagne, and delicious food.
Day 13: Full-Day Deep-Sea Fishing
Today our guide will pick you up after a delicious breakfast and take you to the sea to explore and catch some of the famous fish in the Indian Ocean. The journey takes you to Mlango (Swahili for a door), the passage to the open sea. From Mlango, the captain sails anywhere from 15 to 30 minutes into the open ocean.
It's magic the moment that hook, line, and sinker hit the water. You are invited into a world of excitement; you love birds barely containing your joy at the prospect of catching something 'valuable.' Don't worry if you have no fishing skills because the captain is at your beck and call. 
You have the opportunity to take pics with your catch, and if you're feeling benevolent, you could return the captured fish to the sea or cook it on board. Coffee and tea are served on board and delicious local cuisines.
Day 14: Morning by Yourself and Flight to Nairobi
Spend a pleasant morning partaking at the wonders the hotel has to offer.  Enjoy sea views from the comfort of your rooms, go on a relaxing walk in its tropical forest, or spend a fantastic morning on the beach. 
After that, you check out the hotel and get a transfer to the airstrip for your flight to Nairobi.  You can book an international flight from Mombasa instead of returning to Nairobi.
We also have a Guide to Ultimate Honeymoon Bliss – 14 Days Safari and 7 Days Honeymoon Vacation to Kenya.
Things Included in the Price:
Airport pick up and drop off 
Service of a professional, silver or gold level safari guide 
Use of the safari vehicle for 9 days (4×4 safari land cruiser)
Bottled, mineral drinking water during the safari 
All applicable park fees and taxes
Full-board accommodation at Nairobi for 1-night
Full-board accommodation at Ol Pejeta for 2-night 
Full-day game drive at Ol Pejeta Conservancy with packed lunch on day 3
Morning game drive at Ol Pejeta Conservancy on day 4
Full-board accommodation at Lake Nakuru for 2-night 
Full-day game drive at Lake Nakuru National Park on day 5
Full-board accommodation at Masai Mara for 3-night 
Full-day game drive at Masai Mara National Reserve with packed lunch on day 7 
Game drives at Masai Mara National Reserve on day 8 
Morning game drive at Masai Mara National Reserve on day 9
Half-board accommodation at Diani for 5-nights
Optionals, Flight Ticket, & SGR Prices 14-Day High-End Honeymoon Safari
The optional, flight ticket, & SGR would cost the following:
| Particular | Cost Per Person in GBP |
| --- | --- |
| Hot Air Balloon Safari | £350 |
| Whale Shark Spotting | £225 |
| Dinner Cruise | £90 |
| Scuba Diving for 2 hrs | £162 |
| Wasini Day Trip | £105 |
| Glass Boat Ride | £27 |
| Deep-Sea Fishing | £430 Per Boat |
| Flight Tickets from Nairobi to Diani | £150 |
| Mombasa Day Trip + Haller Park + Lunch at Tamarind Restaurant | £100 |
Things Excluded from the Price:
An optional hot air balloon safari at £430 Per Person 
Optional bush dinner for 4-pax at £55 Per Person 
Easter, Christmas, new year, & other holiday Supplements of £20-£50 Per Person Per Night
Visa application fee £55
Gratuities and tips to the safari guide 
Local and international flight tickets 
Laundry services 
Extra meals or drinks in the hotel, except typical lunch, dinner, and breakfast
Transfer fee when sending the money 
Local and international flight tickets 
Activities at Diani (only half-board accommodation is included in the price)
14-Day High-End Honeymoon Safari Cost Per Person
| Date/Month | Price Per Person Sharing |
| --- | --- |
| 1st Jan – 31st March | GBP 5670 |
| 1st Apr – 31st May | GBP 5086 |
| 1st June – 30th June | GBP 5700 |
| 1st July – 31st Oct | GBP 6452 |
| 1st Nov – 19th Dec | GBP 5670 |
| 20th Dec – 1st Jan | GBP 6752 |
The price is based on two people travelling together and sharing the accommodation and safari vehicle. These prices are based on the 2023 seasons. The accommodation often gets packed during the migration season and is only confirmed upon making a deposit. Kindly book early to ensure you don't miss your prefered accommodation.