7 Days Kenya Honeymoon Safari Vacation - Review, Itinerary, Price, & More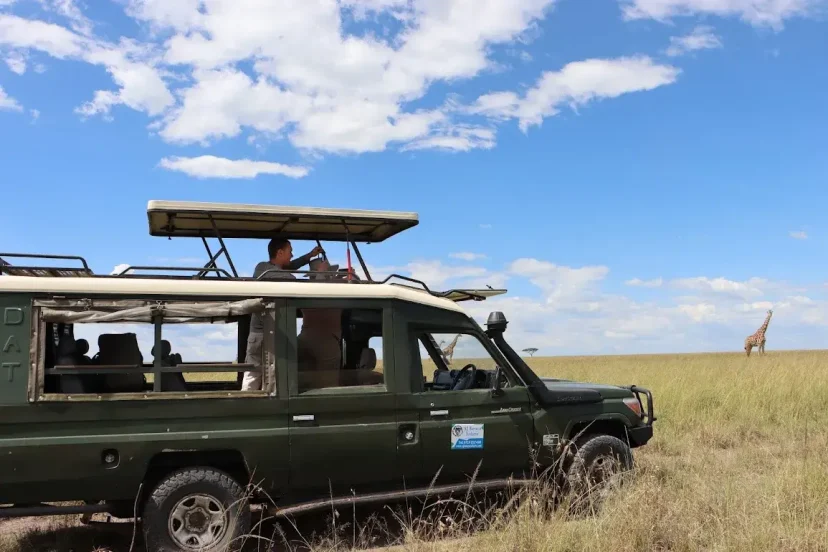 Our 7 days Kenya honeymoon vacation takes you and your lover from the elephant swamped wilderness of the Amboseli to the rugged and wild open plains of the Masai Mara. We start by taking you to Amboseli National Park for a spectacular view of the "white" elephants, Lake Amboseli, and Mt. Kilimanjaro from the observation hills. 
You do that while sipping your favourite drink from the hill, making your Kenya honeymoon vacation memorable. We then take you to Lake Nakuru National Park. We get you toasting to sunsets overviews of the flamingoes-speckled lake while you interact with different animals and birds.
Your 7 days Kenya honeymoon vacation is not complete until we take you to Masai Mara National Reserve, where you sip champagne after a morning hot air balloon safari over the savannah. You can bet we don't leave any chance for a middle ground for honeymoon safaris in Kenya -they are either perfect or perfect. 
And no, romance doesn't get more sophisticated, exciting, and memorable than this. That's because our honeymoon packages are all about wine-stained glasses, a lantern flickering in the wind, the distant trumpet of an elephant, and romance-inspiring sceneries.
You get to experience over 1000 wildlife species, breathtaking sceneries, surreal ambiences, chic accommodations, and tantalising meals during your Kenya honeymoon.
Book Your 7 Days Kenya Honeymoon Safari Vacation Now
The Summarised, 7 Days Kenya Honeymoon Safari Vacation
The 7 Days Kenya Honeymoon Safari Vacation Detailed Itinerary
Day 1: Airport Pick Up, Drive to Amboseli, & Afternoon Game Drive at Amboseli National Park
Your honeymoon starts when our professional, gold-level safari guide/driver picks you from the airport. We pick you up with big smiles and wide-open arms, and we recommend you book a flight that lands at JKIA at 4-5 am.
And no, we don't waste even a minute of your time since we arrive at the airport 1-hr before your plane lands. The guide brief you about the safari and whisk you away for an exciting 4.5-hr road trip to Amboseli. 
Your first encounter with the Amboseli magnificence is when we settle you into the exquisitely built Tortilis Camp or any other accommodation you prefer. And your second, you will not have to wait too long for this one, is when we take you out for the evening game drive.
Romance in the Amboseli is spelt by spectacular sunsets, elephant encounters, and a fantastic ambience. All of which you get to enjoy during your game evening drive.  We give you a quick tour of its open plains, marshland, and swamps, making sure to leave some fun for the next day.
A romantic dinner can be arranged upon request at a bonfire site. 
Day 2: Full-Day Game Drive in the Amboseli National Park with Picnic Lunch
The Amboseli and Mt. Kilimanjaro sceneries are poetry during the sunrise if we are to be modest. And going on a morning game drive in the open plains of the Amboseli is the best way to enjoy these attractions. 
Amboseli National Park is dubbed home to the African elephant with over 1500 individuals recorded, not to forget the over 80 different mammals on offer. We let you take views of these majestic creatures over sunrise, our experienced guide driving you to areas where the population is high. 
Your chances of spotting predators are also relatively high, seeing that the morning cool hours are a hunt time in the wild. During the drive, expect up-close and excellent sightings of gazelles, buffaloes, giraffes, and elephants. 
You might also see rhinos, leopards, wild dogs, lions, and cheetahs if it is your lucky day. Compliment this by taking advantage of the breathtaking Kilimanjaro backdrop by taking some stunning photos before the wow of sunset fades.
We then continue with the game drive, our guide combining the wildlife with the sceneries to make sure there's never a dull moment. You will particularly love Observation Hill.  With it comes an effortless showcase of the Amboseli and the lake Amboseli under it is a grazing and drinking point for animals and birds.
This hill makes the perfect setting for enjoying your packed lunch with a clear view of Mt. Kilimanjaro and a 365 view of the park. After that, we embark on a game drive that promises a lot of wildlife and sunset, much like the morning hours.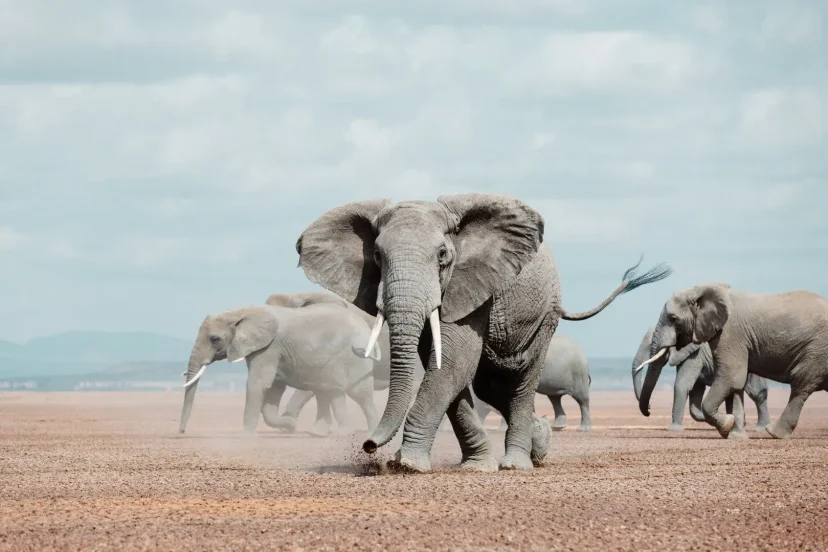 Day 3: Amboseli to Lake Nakuru National Park & Evening Game Drive
How do rose petals, sunset, delicious coffee/tea, and magnificent views of Kilimanjaro sound for breakfast? It is your special occasion, and our 7 days Kenya honeymoon safari vacation gives you just that. 
We check you out of the hotel after breakfast and embark on the 6-hour road trip to the Lake Nakuru National Park by 6:00 am. About 5-hrs later, we make a stopover at the Great Rift Valley Viewpoint while going to Lake Nakuru to let you take some photos. 
We then continue with the road trip, our estimated arrival time being a few minutes to 1 pm. We check you into the chosen hotel and leave you to take lunch. Later we hit the park for an evening game drive at Lake Nakuru National Park.
The park is nestled at the foothills of the Great Rift Valley in an area surrounded by bushy grasslands, making it a thing of beauty. Its diversity runs wide, featured on its list of attractions: the charming lake, scenic valley ridges, and substantial wildlife assortments.
Our evening game drive gives you an introduction to this beauty that include over 56 mammal species, 450 bird species, and unique vegetation. The chances of spotting rhinos in Lake Nakuru are higher than in other parks, and animals such as waterbucks, zebras, baboons, lions, and giraffes are on display.
Birders on a honeymoon safari to Kenya will also have a fantastic time spotting the birds, including the greater and lesser flamingoes,  pelicans, and other aquatic species. 
Day 4: Morning Game Drive at Lake Nakuru National Park & Transfer to Masai Mara
Dubbed the Pink Lake for its vast populations of the greater and lesser flamingoes, Lake Nakuru is beauty redefined. Our morning drive presents you a better chance to view the morning animals like the elusive predators or even their hunt. 
We introduce you to the Lion Hill, Baboon Cliff, and Out-of-Africa viewpoints, allowing you and your spouse a bird's eye survey of the park. Our trips down the Enasoit, Honeymoon and Lion Hills are also quite memorable. You should look forward to taking some keepsake photos that the dramatic sceneries allow. 
Having checked out of the Camp in the morning, we make a final stop at the Makalia Falls before zooming off to the 6-hours away Masai Mara. Today we make a stop at Narok town to let you take lunch and do final shopping before proceeding to Masai Mara. 
We should be in the camp by 3-4 pm. We let you lovebirds have the evening to yourselves at the Basecamp Masai Mara.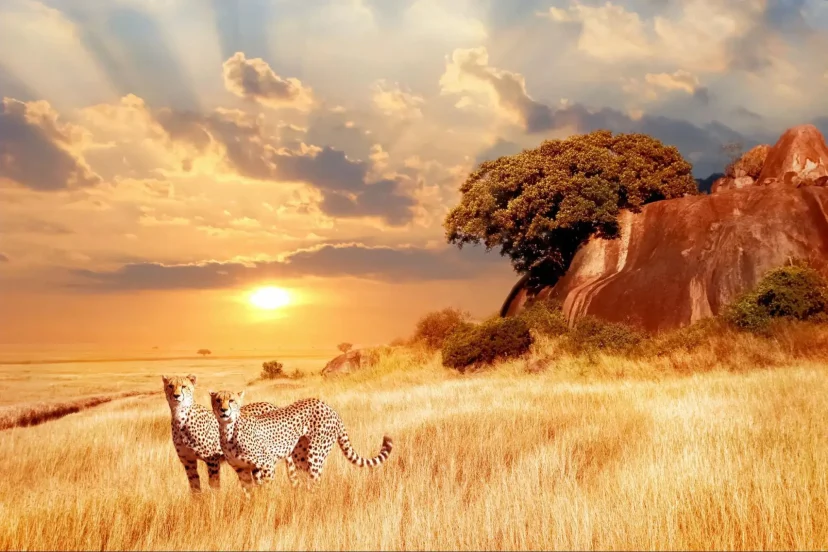 Day 5: Full-Day Game Drive in Masai Mara with Picnic Lunch
Masai Mara National Reserve is the place to be if you are looking for the ideal honeymoon destination, thanks to its abundant wildlife, picturesque sceneries, and surreal ambience. The day starts early with a signature breakfast, after which we elope you to the wild in search of the gifts it has to offer. 
Today we aim to show you the best of Mara by searching for the Big Five and the over 450 animal species speckling the plains of the Mara. We have the advantage of the morning, which increases your chance of spotting leopards, lions, and other predators. 
We can almost guarantee you spot the buffaloes, elephants, giraffes, antelopes, zebras, hippos, cheetahs, and rhinos. The Great Migration is a sure winner if your 7 days honeymoon safari vacation falls between July to October.
The once Wonder of the World is a jaw-dropping spectacle that features over a million wildebeests, elands, and zebras moving from Serengeti to Mara, Every group of prey is accompanied by a group of blood-thirsty predators, making the migration spectacular. 
The morning turns into the afternoon, and within minutes is lunchtime. We look for a place to set the picnic lunch under the few trees found in Masai Mara. Your game drive continues after lunch. Our guide makes an effort to cover as much of the Mara landscape as possible in the afternoon.
Highlights include the Mara River, which hosts the Wildebeest Migration and the mesmerising African sunset. The park is more subdued at this point, with the predators rising from their hiding spots for some water and a final kill. 
The prey sightings are also handsome, with elephants, gazelles, elands, zebras, and giraffes more than willing to make your acquaintance. We stick to the park for the sunset and isn't she wondrous. The orange fade of sunset goes incredibly well with a romantic sundowner accompanied by a glass of wine and some music.
Day 6: Optional Hot Air Balloon Safari, Game Drives, & Optional Walking Safari
There is nothing as wondrous as a hot air balloon safari over the magical landscape of the Mara: maybe a Kenya Helicopter Safari comes near. The adventure begins before sunrise, and for an hour-and-half, you and your spouse are slowly glided over the animal-filled landscape of the Mara.
It takes little effort to fly you an arm's reach over the treetops or several feet away from the elephants and rhinos grazing down below. And it's the epitome of photography surrealism when this happens!
If anything, the ride is magical, the Mara River and the wildlife-shrouded grasslands seeming more fantastical than real. More than 12 km of the Mara are covered, and after the ride, a delicious breakfast is served with champagne. 
What is £430 when you get to experience such glamour? We pick you up from the breakfast site, taking advantage of the short drive to showcase more of the Mara awesomeness.  The rest of the morning is spent marvelling at breathtaking views of the Talek River from the comfort of your Camp. 
However, we interrupt with an optional evening walk to the park, giving you a raw perspective and close encounters with wildlife. We explore the bush's finer and exciting details, such as identifying wildlife by its dung and footprints. The pictures will be magnificent too!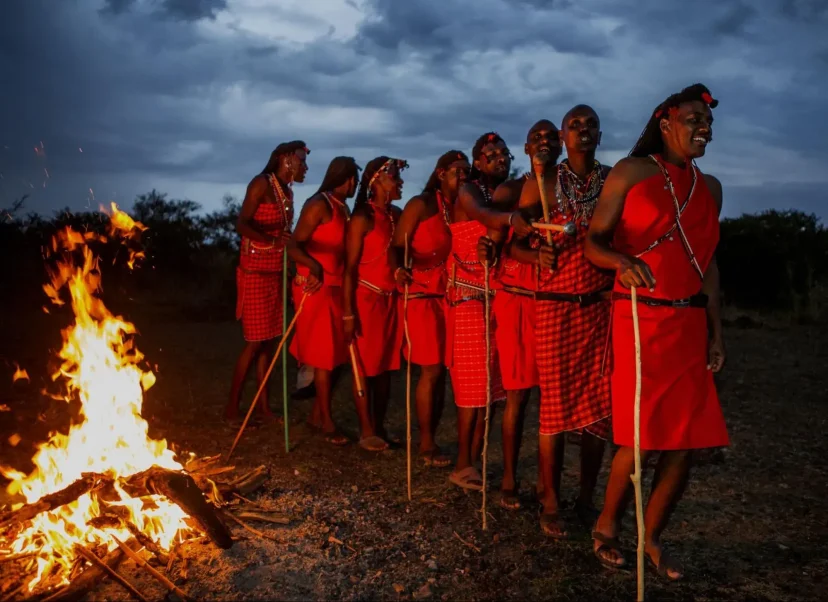 Day 7: Morning Game Drive, Visit a Maasai Village, & Drive to Nairobi
Everyone collides for beautiful run-ins with the wild at the rough and exciting wilderness of the Masai Mara. We are no different, and today we start early. We welcome you to your 4×4s safari land cruiser by the first light of day following the gentle whisper of the spirit of the wild. 
You will find out that no game drive equals the other, and there is a chance of spotting an elusive animal with every adventure. Today's game drive continues to around 10 am, the perfect time to head to a Maasai village to interact with the Ma community. 
Though only an hour-long, the interaction with the cheerful and artistic Maasais spans a lifetime. Tales of their century-old interactions with the wild are told over dances, singing, jumping, and more.
You also get to admire their beadwork and pottery, some of which you can buy as souvenirs. All roads lead home at 11 am, and again we gleefully take you through the Kenyan countryside's diverse scenery. 
We will take you to the airport for your international flight home which we recommend to be past 9 pm. 
Things Included in the Price:
Airport pick up on day 1

Service of a professional, silver or gold level safari guide 

Use of the safari vehicle for 7 days (4×4 safari land cruiser)

Bottled, mineral drinking water during the safari 

All applicable park fees and taxes

2-night accommodation on a full-board basis at  Amboseli 

Evening game drive at Amboseli National Park on day 1

Full-day game drive at Amboseli National Park with packed lunch on day 2

1-night accommodation on a full-board basis at Nakuru 

Evening game drive at Lake Nakuru National Park on day 3

Morning game drive at Lake Nakuru National Park on day 4

3-night accommodation on a full-board basis at Masai Mara

Full-day game drive at Masai Mara National Reserve with picnic lunch on day 5

Full-day game drive at Masai Mara National Reserve with picnic lunch on day 6

Morning game drive at Masai Mara National Reserve on day 7

Visit a Maasai Village on day 7 

Transfer to Nairobi (JKIA) on day 7
Things Excluded from the Price:
Hot air balloon safari at £430

Easter, Christmas, new year & other holiday Supplements of £20 – £50 Per Person Per Night

Gratuities and tips to the safari guide 

Local and international flight tickets 

Extra meals or drinks in the hotel, except typical lunch, dinner, and breakfast

Transfer fee when sending the money
The Total Safari Price Per Person Sharing
| Date/Month | Price Per Person Sharing |
| --- | --- |
| 1st Jan – 31st March | GBP 2405 |
| 1st Apr – 31st May | GBP 2016 |
| 1st June – 30th June | GBP 2252 |
| 1st July – 31st Oct | GBP 2970 |
| 1st Nov – 19th Dec | GBP 2338 |
| 20th Dec – 1st Jan | GBP 3076 |
The price is based on two people travelling together and sharing the accommodation and safari vehicle. These prices are based on the 2023 seasons and accommodation . The accommodation often gets packed during the migration season and is only confirmed upon making a deposit.