Big 5 Safari: Everything You Need to Know About Africa's Most Prized Animals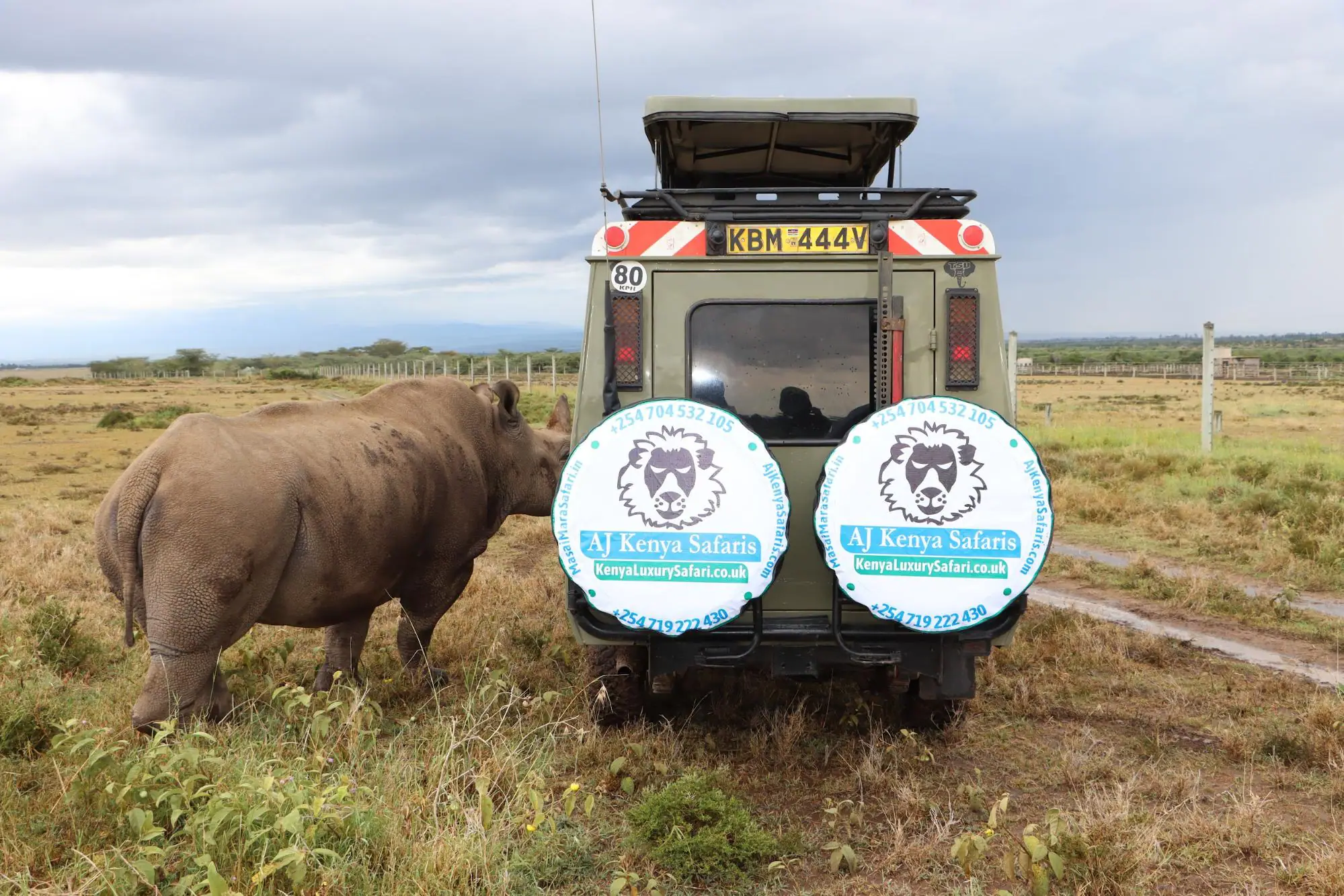 Ask any ardent safari goer what the highlight of any of their trip is and chances are you'll get the same answer: the Big 5 safari.
They (the Big 5) are revered and cherished but sadly, that wasn't always the case.
In the 1800s, the term 'Big 5' referred to wildlife trophy hunters considered the most difficult and dangerous to hunt on foot.
And while thankfully, times have changed and hunting is no longer the primary safari activity, the phrase 'Big 5' has remained in use in reference to the five most iconic and sought-after animals in Africa.
We think it's time you met the sensational big five… But first, 
Here's where to reach us to start planning your Big Five safari.
Call or WhatsApp us at +254-704-532-105 or send us an email at safarioffers@kenyasafariholidays.uk, safarioffers@ajkenyasafaris.com, or james@ajkenyasafaris.com. 
And Here's a Sample of Some of our Best Kenya Safaris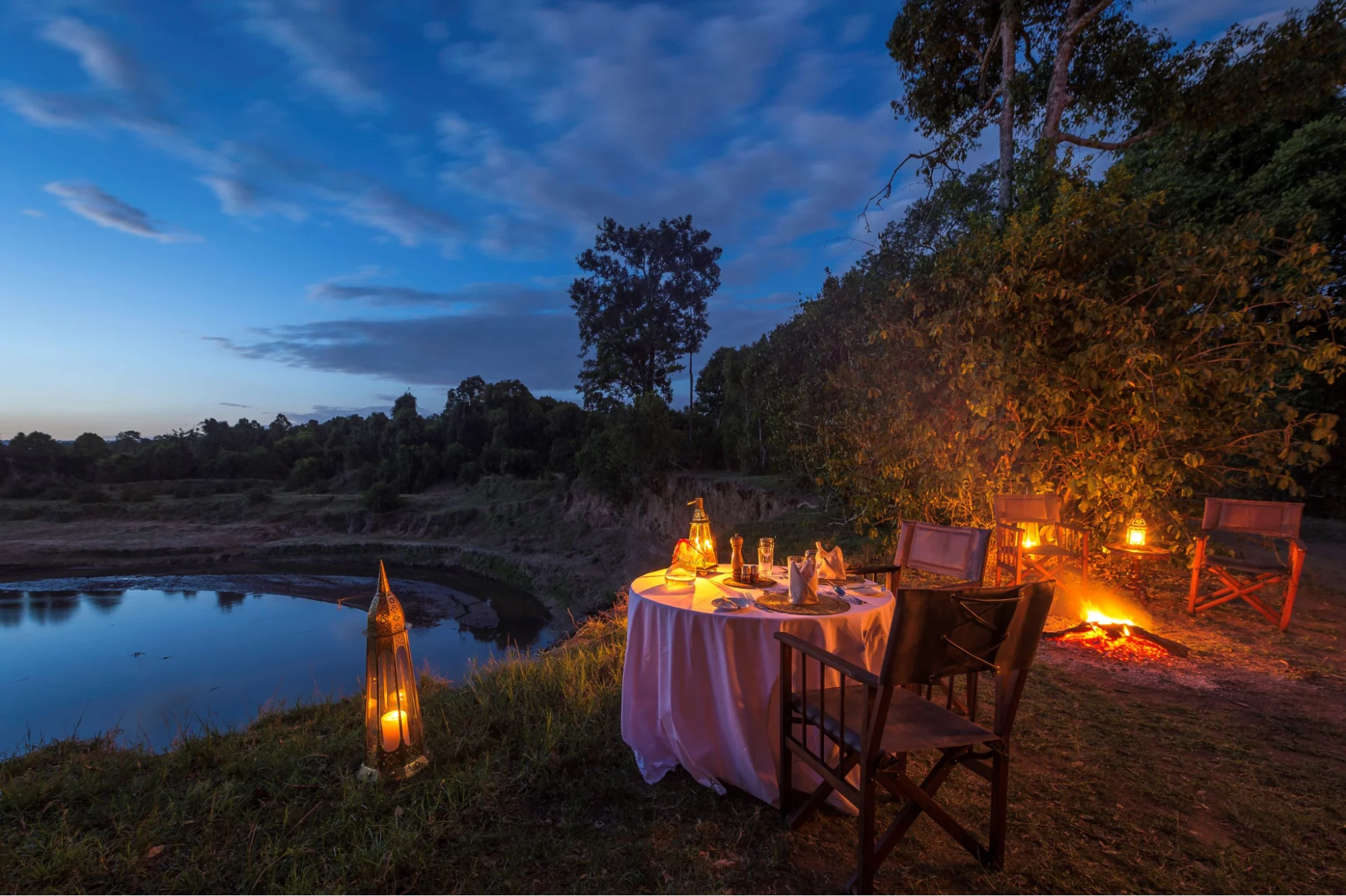 No matter how many times you've read about or seen a lion on your TV, witnessing one in its natural habitat feels revolutionary.
And it's not just the fact that this is the king of the jungle. It is the beautiful asymmetrical nature of its mane, the graceful measure of its stride, and the sheer power of its roar.
That said, here are 5 amazing facts about the African lion.
On average, female lions weigh almost 126kg while male lions weigh about 190kg
It is the female lion, not the male one, who's in charge of the pride
Lions are very social creatures and live in groups called 'prides'.
Like in the human world, the tall, dark, and handsome female preference is also in full swing in the lion world. The darker the lion's mane, the more action he gets.
The lion is the only social big cat
Last and very tragic is the recent news that the African lion has joined the list of some of the most critically endangered animal species. Only 1,400 subspecies are remaining in Africa.
African Elephants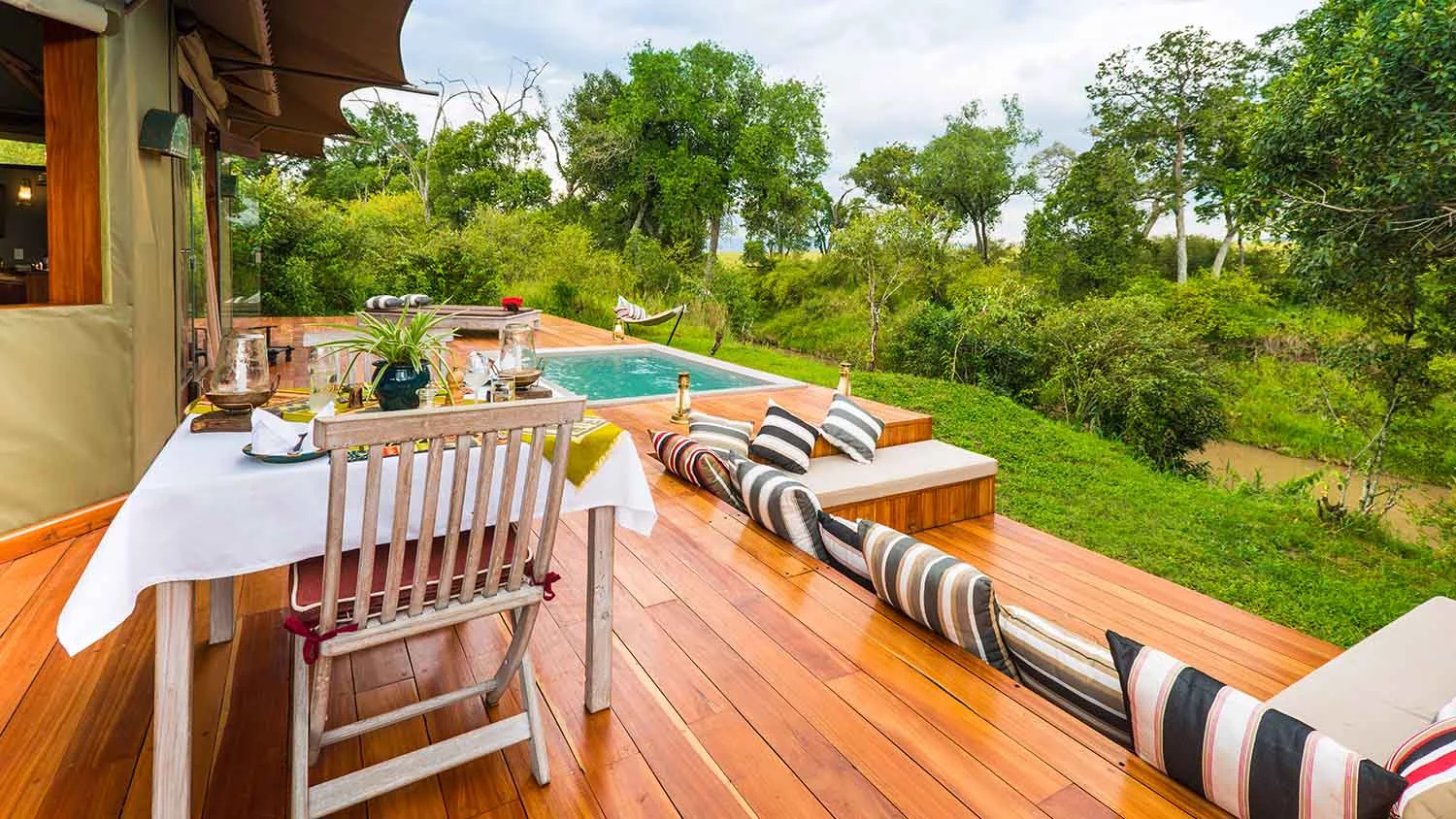 The African elephant is the largest land mammal in the world. It is also one of the world's most intelligent and fascinating animals.
But did you also know that…
An elephant never forgets. An elephant never forgets a face, especially that of a foe so choose your enemy wisely.
Forget that exterior tough-guy demeanor, elephants are emotional creatures. They mourn their beloved, laugh when ticked, and express love, joy, and compassion.
There are 3 species of elephants, the African savanna elephant, the African forest elephant, and the Asian elephant.
Elephants spend 80% of their day eating which explains their weight (we're not body shaming anyone here).
Speaking of weight, an adult male African elephant can weigh up to seven tons.
The Cape Buffalo (African Buffalo)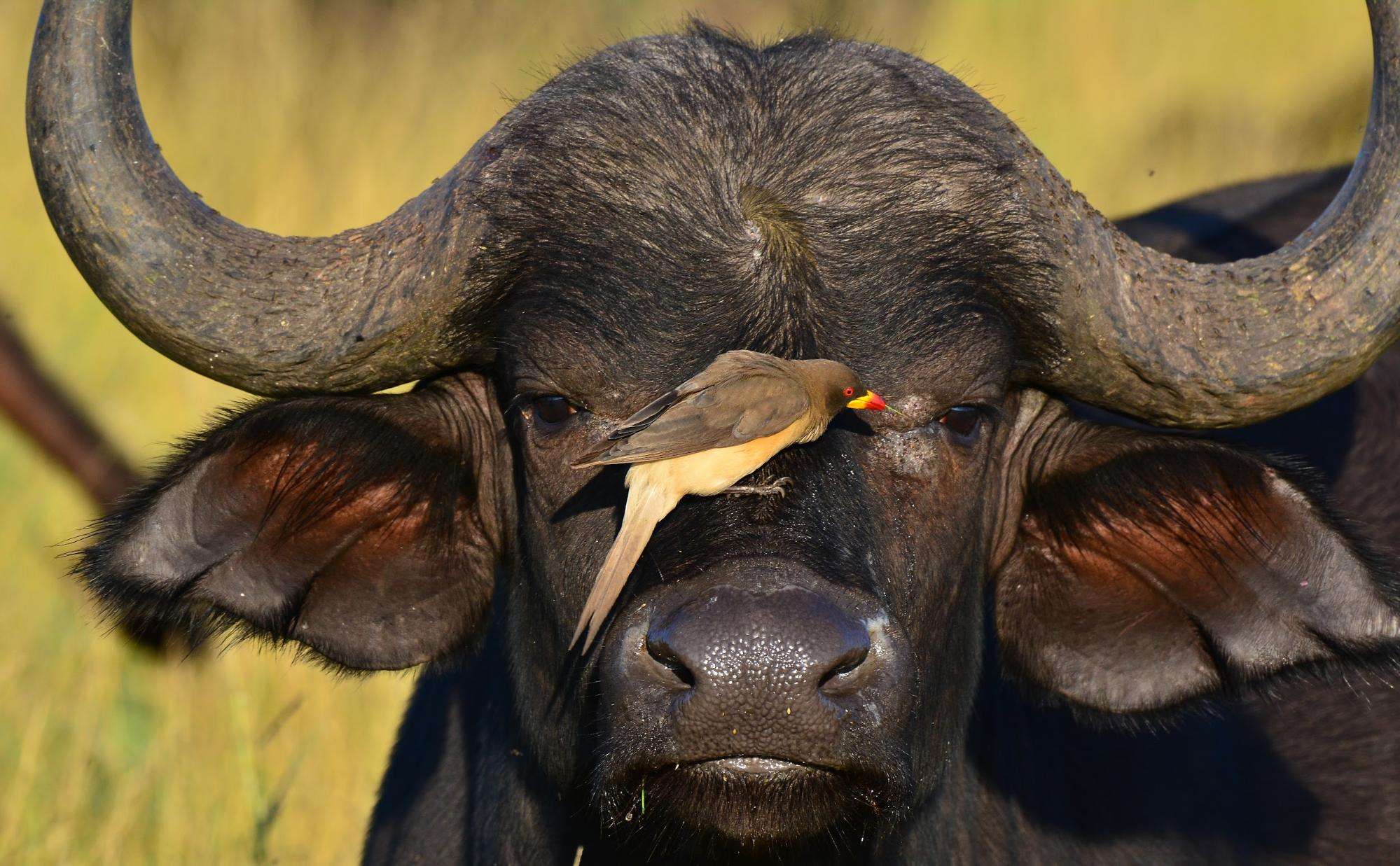 Do not be deceived by their cow-like appearance, cape buffaloes are actually one of the world's most dangerous animals. They also hold grudges, can charge at a speed of up to 57 kph, and will literally snap you into half with their murderous horns. So, yeah, stay away from cape buffaloes.
Here are more fascinating facts about the cape buffalo
These cow-like animals are not cowy at all- they will attack you just for staring at them too long.
Both the male and female buffalo have horns but the main difference is that the horns of males curve upward and fuse in the center to form a solid bony plate called the boss.
There are five species of African buffalo. The cape buffalo is the heaviest and most common. Other species include the Mountain buffalo, Nile buffalo, and Sudanese buffalo.
By forming large groups (herds) buffaloes are able to protect themselves from predators.
Buffaloes have a permanent social hierarchy and like to stick with the same group of animals for their whole lives.
The African Leopard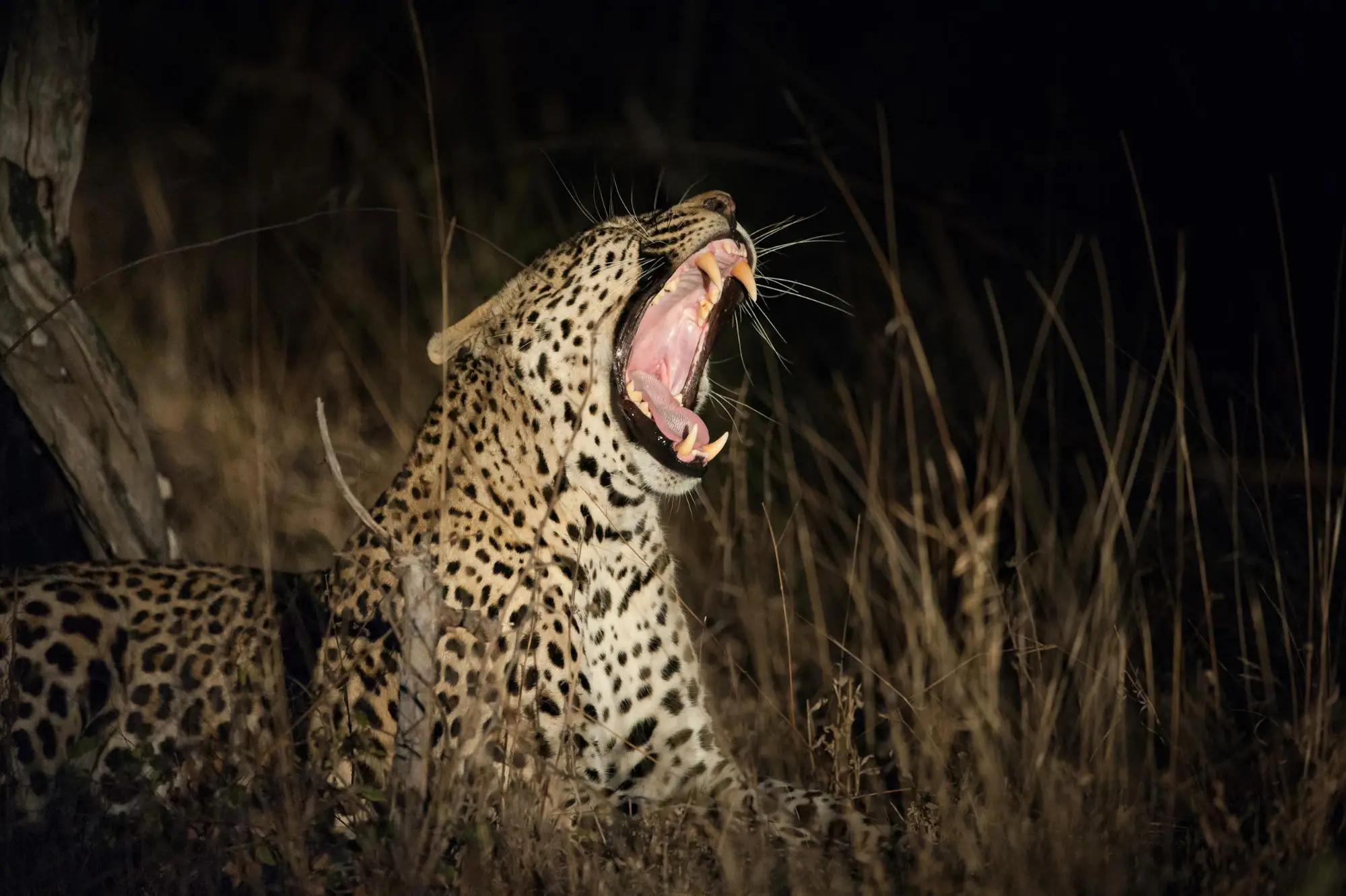 Dubbed 'ninja cats' for their elusiveness, the African leopard is one of nature's most magnificent creations. Now, most people confuse leopards and jaguars but here's how to tell the difference.
Leopards boast a subtle, light-colored coat with distinctive dark spots known as rosettes. The exception is the black leopards who have much darker coats.
These solitary big cats are incredibly fast and can run up to speeds of about 54 km/h. They are also incredibly strong and can lift prey three times heavier than themselves.
The White and Black Rhinoceros of Africa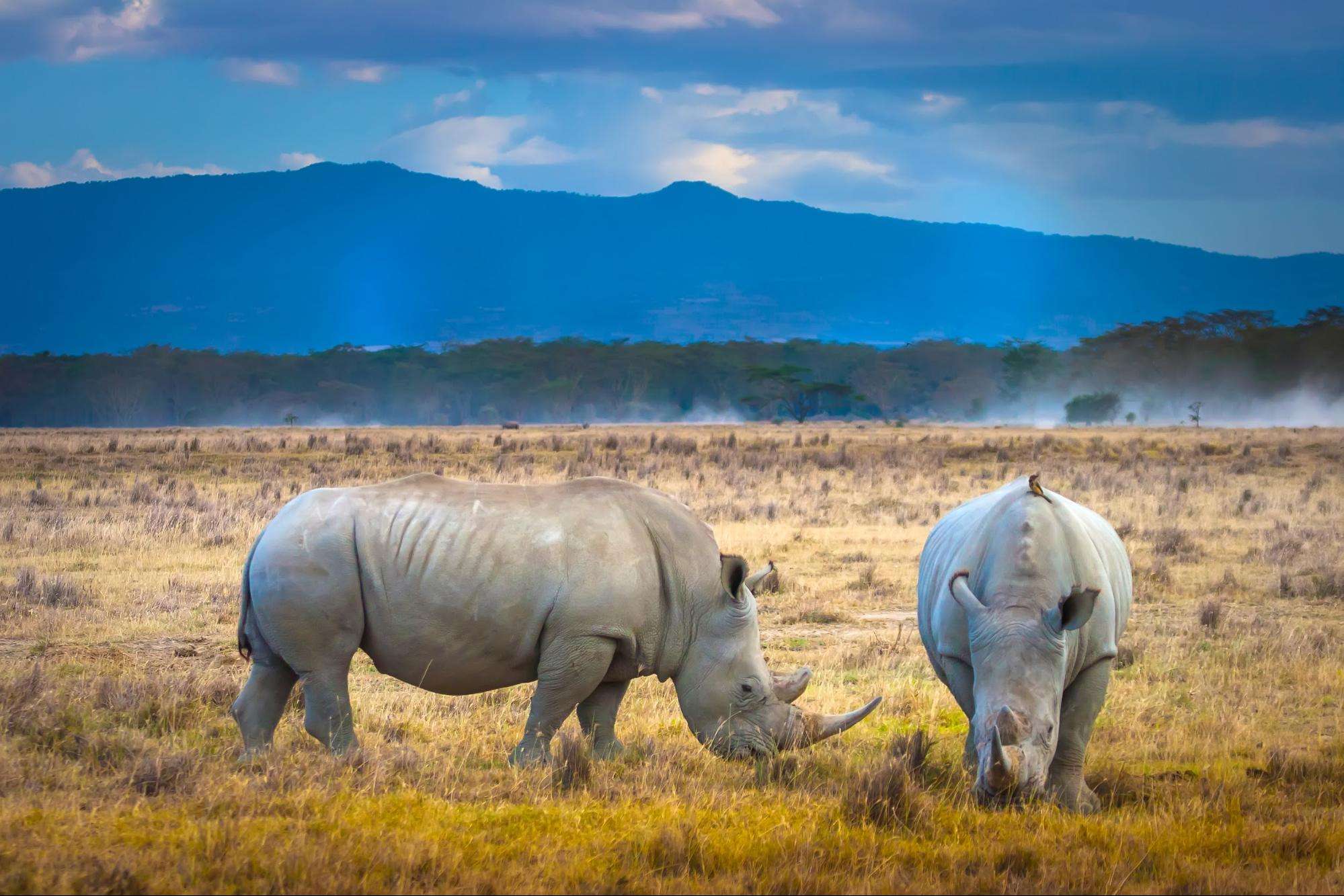 There are two species of rhinos in Africa- the black rhino and the white rhino. Between these two (the white and black rhinos) are five subspecies including the northern white rhino, southern central black rhino, eastern black rhino, southwestern black rhino, and the southern white rhino.
Now, only two females remain of the northern white rhino subspecies worldwide, both of which can be found in the Ol Pejeta. This, sadly, makes the subspecies functionally extinct.
In southern Africa, about 20,000 southern white rhinos remain while in Eastern and Southern Africa, only about 6,195 black rhinos despite rigorous conservation efforts.
Also, did you know that the white rhinoceros is the largest species of rhino? Or that black rhinos eat up to 220 different types of plants? Now you know!
The Best Safari Destinations for a Big Five Safari
If we had to choose only 10 destinations, here are the ones we'd recommend for Big 5 safari tours.
Kruger National Park
Country: South Africa
Big 5 safaris at the Kruger national park are more than just exciting. They are also transformative and for sure some of the best experiences you'll ever have.
Here, you'll discover thousands of wildlife (including all the Big 5), diverse bird species, and incredibly gorgeous landscapes. What's more, the list of things to do here is never-ending, including game drives, nature walks, camping, bird watching, lion tracking, and bush dining experiences,
Masai Mara National Park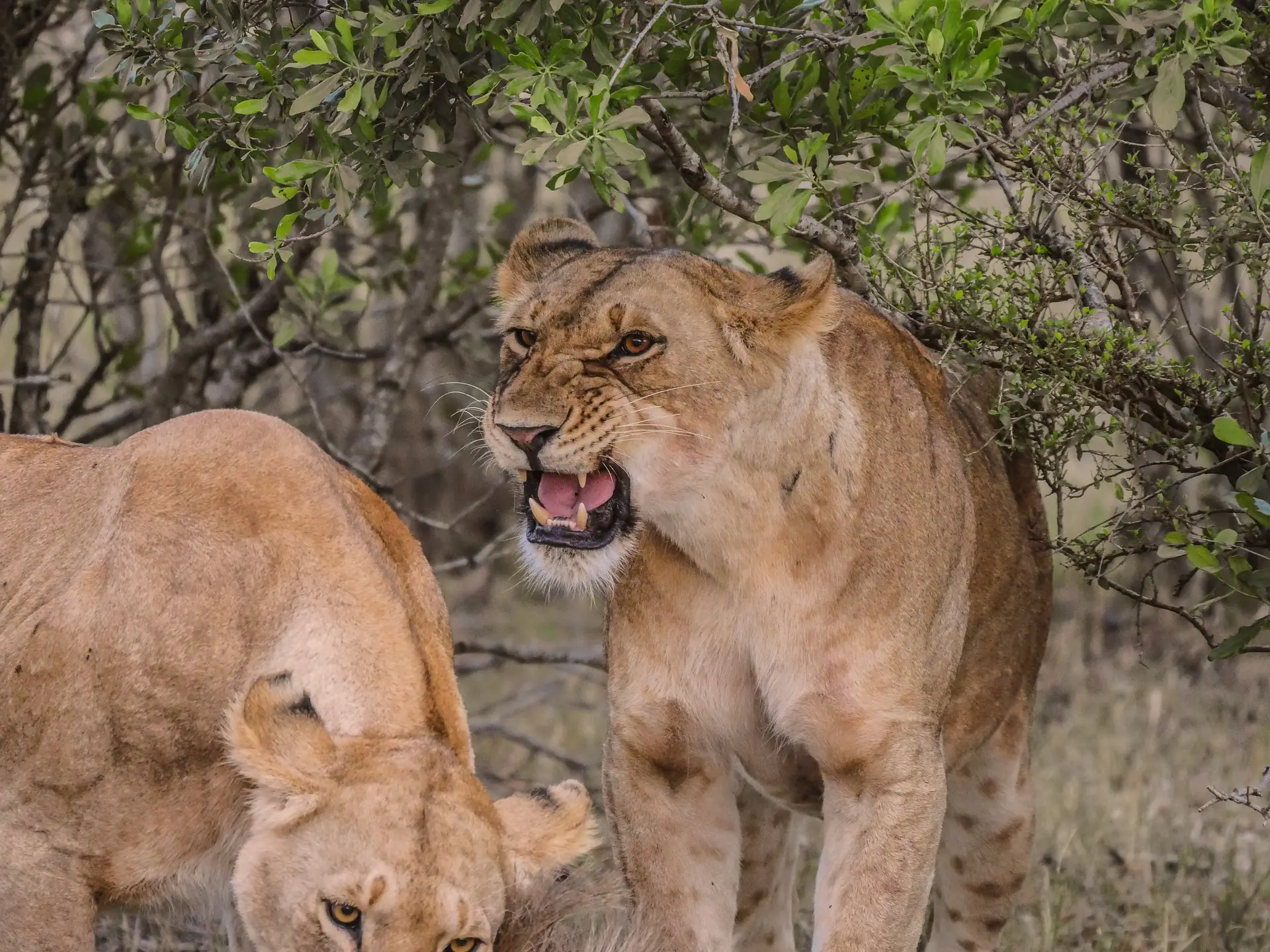 There truly isn't a more perfect destination than Kenya's Masai Mara. From hosting all of the big five to boasting an incredibly rich bird population this game reserve is beyond perfection.
To also discover in its lush unwinding grasslands are 90 other wildlife species including wildebeests, the leopard tortoise, dik-dik, hartebeests, waterbucks, gazelles, you name it.
Sabi Sand Game Reserve
Located in the 180 km² Sabi Sand Reserve which is set against a breathtaking backdrop of granite hills and vibrant vegetation, the Sabi Game Reserve promises unforgettable Big 5 safaris.
Here you can expect to see exceptional wildlife populations including all of the Big 5 and an additional 148 mammal species. There's also an incredibly gorgeous landscape to be enjoyed and a unique range of activities including horseback riding, bush walks, and helicopter flights.
Moremi Game Reserve
And then there's the Moremi, one of Africa's most diverse and spectacular game reserves. The reserve lies in the Okavango Delta and is home to over 500 bird species and an incredible wildlife population including the Big 5.
Go on a game drive and treat yourself to an exceptional showcase of her riveting lagoons, floodplains, and savannahs. Relax to exciting morning game drives
Take a Mokoro ride down the Okavango Delta. Or try out fishing because why not.
Chobe National Park
Chobe is for the adventurous at heart. It's for those with a penchant for iconic wildlife and breathtaking scenery. To discover in this Botswana-based park are the incredible Savuti Marshes, the Makgadikgadi Saltpans, and of course the Chobe River.
The park also hosts all of the Big 5 and huge populations of hyenas, wild dogs, leopards, cheetahs, and the African lions.
Things to do at the park include game drives, hiking tours, boat safaris, bush walks, and photography.
Lake Nakuru National Park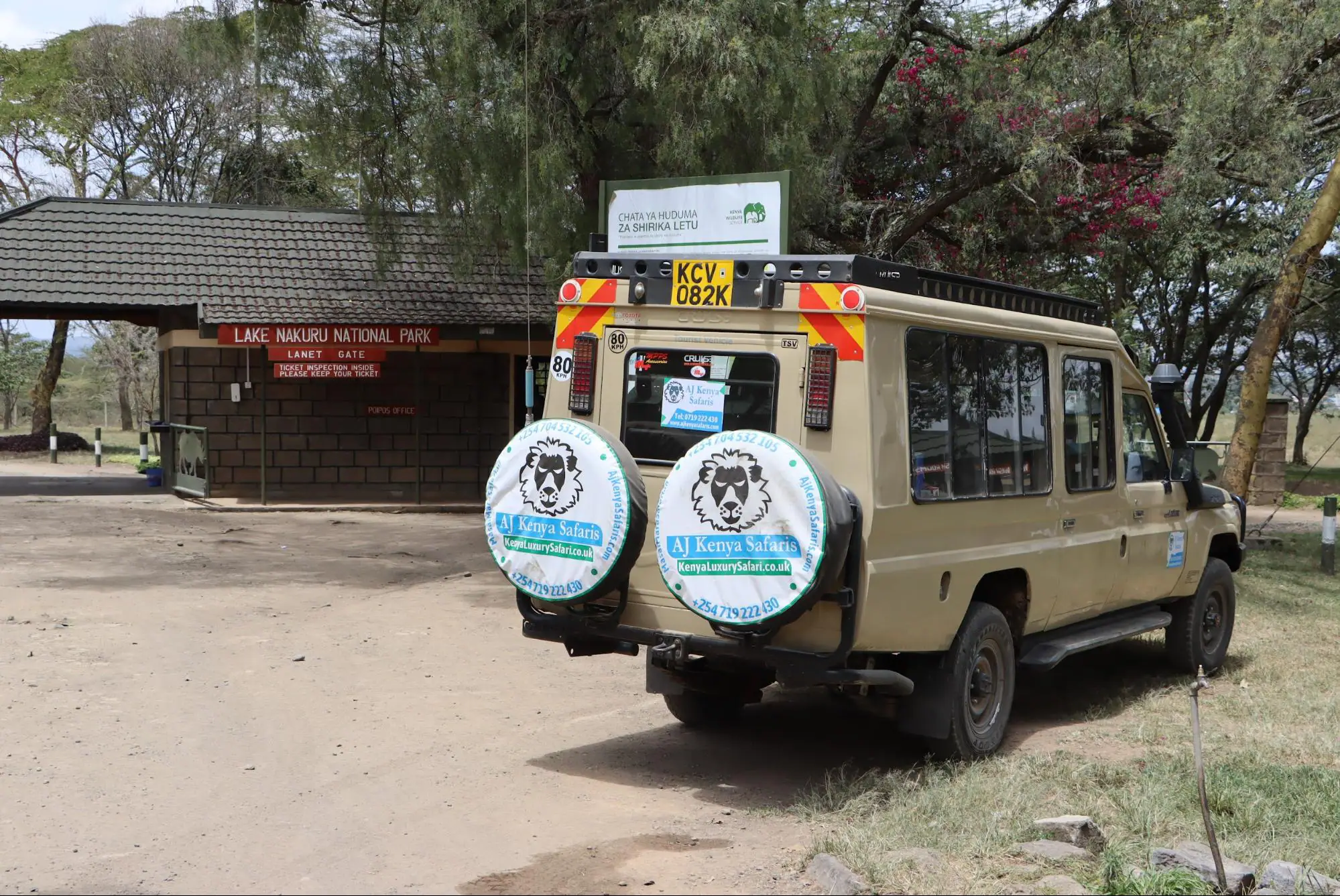 This iconic Kenya safari destination hosts all of Africa's Big 5 except the elephants. It also boasts breathtaking scenery, hundreds of other wildlife including giraffes, zebras, and warthogs, and an impressive bird population.
Visit the park and have the time of your life going on game drives, guided walking safaris, sundowners, picnic lunches and dinners, and camping.
Ngorongoro Conservation Area
Arguably one of the most famous protected areas in the world, the Ngorongoro Conservation Area, has seen all manner of tourists come through its gates.
The attraction, as well as hosting the world's largest intact caldera (the Ngorongoro Crater), houses over 30,000 animals including the famous Big 5.
It also holds one-third of the world's lion population and over 500 bird species. Those on a safari here can treat themselves to exciting game drives, bush walks, bush dining experiences, camping, picnics, and sightseeing tours.
The Amboseli National Park
Crowned by Mt. Kilimanjaro and home to some of the most stunning savannah woodlands and grasslands, the Amboseli National Park has all the hallmarks of a perfect safari destination.
You can find all the Big 5 here as well as over 56 wildlife species including giraffes, wild dogs, the dik-dik, lesser kudu, crocodile, and mongoose.
Even better, the park's landscape is stunning and features attractions such as swamps, an observation hill, and dried-up beds of Lake Amboseli.
Mana Pools National Park
The tranquility of this one-of-a-kind African destination is simply unparalleled. Set in the majestic Zambezi Valley, the Mana Pools National Park boasts an exceptional array of wildlife including all of Africa's Big 5 and over 350 bird species.
On a game drive at Mana Pool, you can expect to see some pretty cool sights like the hippo pools, sandbanks along the Zambezi River, and plenty of game grazing. Exciting activities here include game drives, fishing trips, canoeing safaris, bush walks, and camping.
The Okavango Delta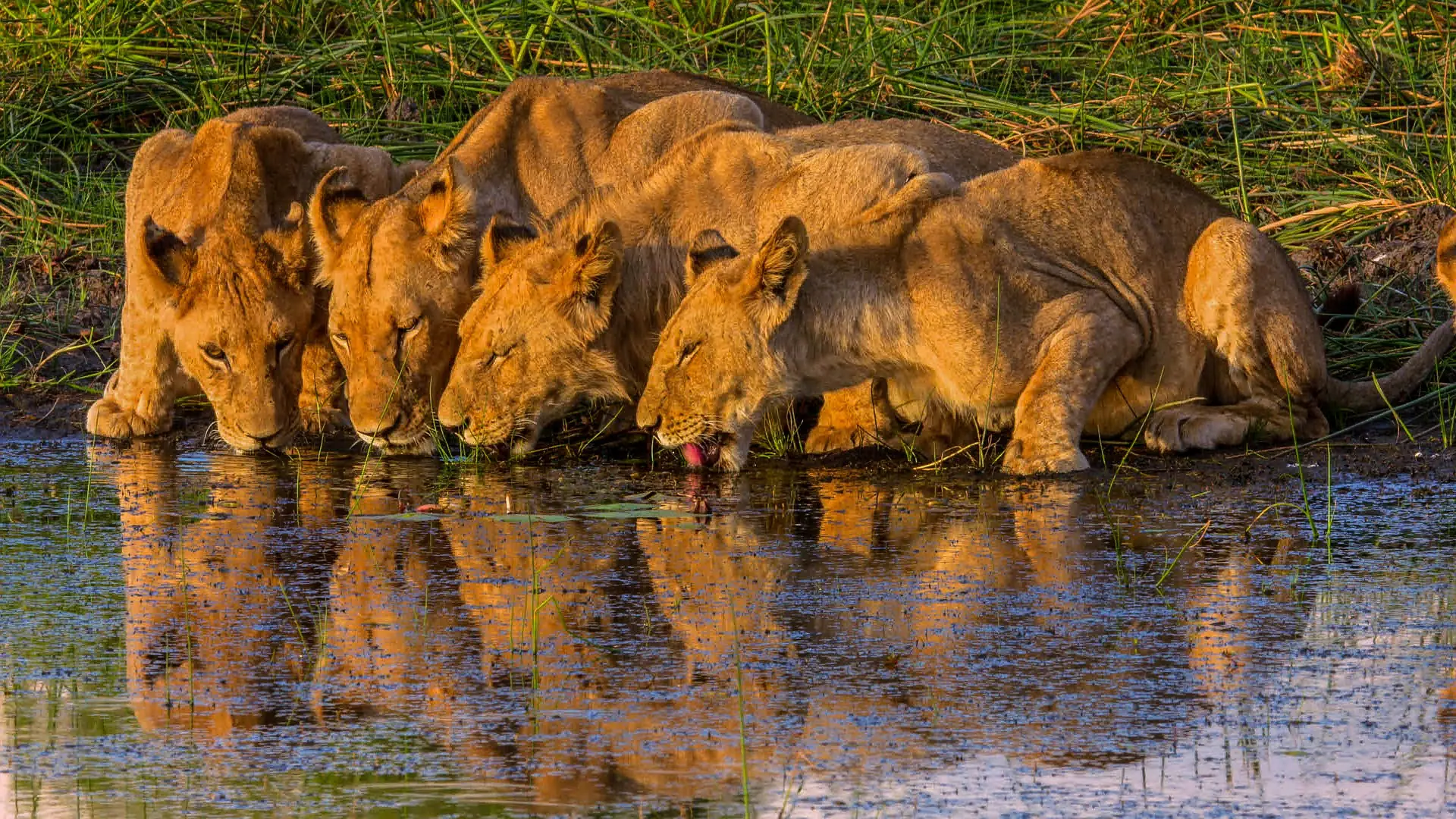 There's a high chance that you've seen pictures of the Okavango Delta somewhere on the internet. And if you haven't, we'd bet that you've read about it before.
Granted, this incredible wonderland is the largest inland delta in the world which explains the hype. That, plus the fact that the delta houses all of the big five make it a seamless choice for Big 5 safaris.
Visitors to this stunning destination can enjoy spectacular mokoro rides, game drives, fishing trips, bush walks, and boat safaris. They can also go on sightseeing tours for a peek into Okavango's striking landscape.
Best Time to go on a Big 5 Safari
The best time to go on a Big Five safari tour in Africa is during the dry season which runs from mid-July to late October in most parts of the continent.
During this time, wildlife is fairly easy to spot due to the lack of vegetation. The temperatures and weather conditions also tend to be moderate allowing for comfortable game drives and other activities.