Mega 4 Days Basecamp Masai Mara Safari Package - Review, Itinerary, & Prices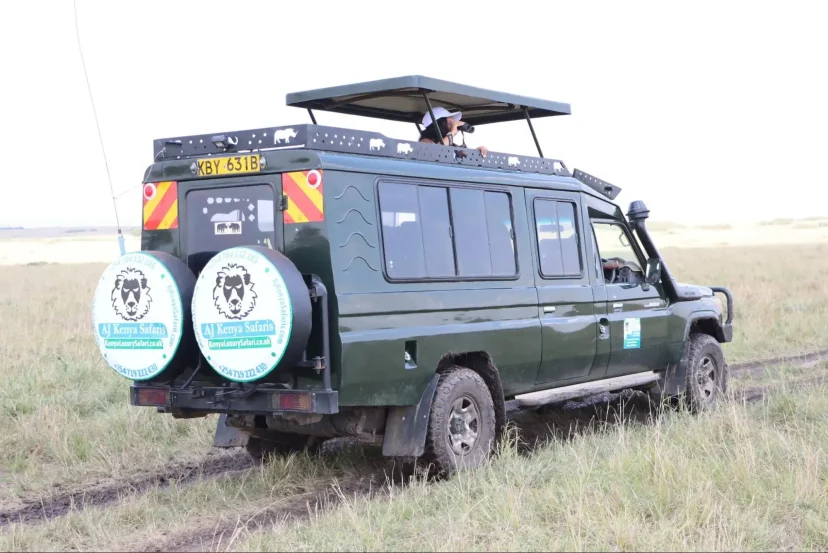 We have planned this trip to give you an awe-inspiring exploration of the Mara while simultaneously submerging you in the luxury of the Basecamp Masai Mara. Basecamp Explorer Masai Mara is among the few hotels located inside the Mara, and there is no shortage of mesmerising sceneries and wildlife here.
Immerse yourself in this Kenyan paradise that features 17 double riverfront tents fitted with hot showers, flush toilets, and scenic terraces. Or even spend your day marvelling at Mara's diversity and your evenings thriving in the impeccable services, delicious meals, and unlimited comforts of the Basecamp Masai Mara.
It combines that with world-class hospitality to make your 4 days safari to Masai Mara National reserve a memorable one. It's even made better by our knowledgeable safari guide, who knows where to look for the elusive animals during your game drive.
Contact Us Now to Book Your 4-Day Basecamp Masai Mara Safari
The Summarised, 4 Days Basecamp Masai Mara Safari Itinerary
Detailed 4 Days Basecamp Masai Mara Lodge Safari Itinerary
Day 1: Welcome, Trip Briefing, Drive from Nairobi to Masai Mara, & Evening Game Drive
Welcome to Kenya! You will meet your designed gold-level safari guide waiting for you at the airport to welcome you to Kenya. And our guide doesn't just pick you up; they do it on time with the bubbliest attitude you've ever seen.
After greeting, the guide briefs you of what to expect from your 4-days Basecamp Masai Mara Safari Lodge Package, and then the journey begins. The aim is to make the break for this 7-hour drive at around 6 a.m., and that's why we recommend you book a flight that lands in Kenya by 4-5 a.m.
This journey sees you enjoy some stopovers along the way, with one such being the Great Rift Valley Viewpoint. The viewpoint gives you breathtaking takes of the Rift Valley, a moment best commemorated by pics.
We also stop at Narok for a well-deserved stretch of legs and some last-minute shopping and then resume our road trip to allow us to get to the camp in time for lunch. Basecamp Masai Mara Safari Lodge offers Rooms with a modern flair, mesmerising views of the Mara landscape, and top-notch facilities.
We leave you to partake in the lodge's magnificence, only disrupting the party with a 3:00 P.M evening game drive. Not to worry, though: the Masai Mara game drives are every bit as captivating as the Basecamp Masai Mara Camp.
On the menu this evening is the 580sq mile plain that features some of the most rewarding wildlife and scenery. The scenery unfolds right before your eyes as you feast them on over 58 animal species on offers, including the Big Five, wildebeests, zebras, jackals, gazelles, giraffes, and buffaloes.
Keep your eyes open! The evening game drives are also rewarding for predator sightings.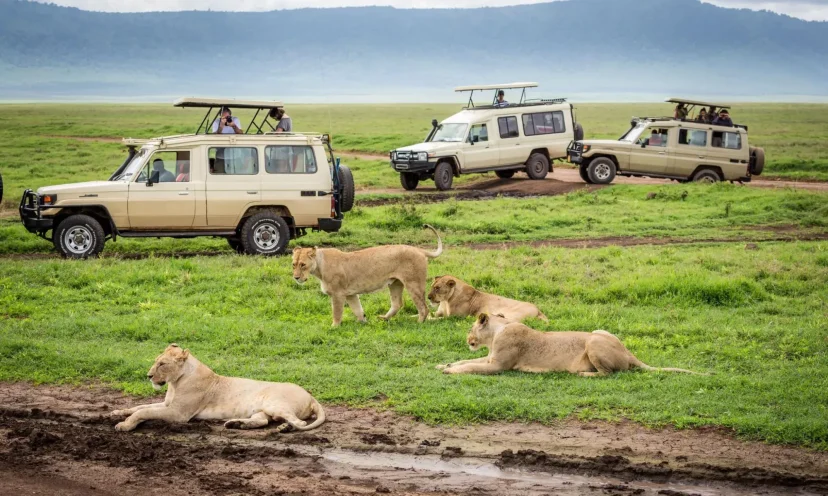 Day 2: Full-Day Exploration of the Mara with a 4×4 Safari Land Cruiser and Packed Lunch
Your day 2 of the Basecamp Masai Mara Lodge package features a full-day game drive with a picnic lunch. It begins with early breakfast to ensure that you are deep into the wild by 6:00 A.M, ready to uncover the secrets morning game drives hold.
You will love the ridiculous amounts of wildlife, which is easy to spot during the morning game drive when the weather is favourable. The experienced guide helps us spot even the rarities while impressing you with his deep knowledge of the Mara savannah.
Keep your camera close: you will want to capture the arresting beauty of the Mara. The drive stops briefly at noon at a designated picnic spot to enjoy a packed lunch from Basecamp Masai Mara Hotel.
The second leg of your game drive begins after lunch. The Mara never runs out of wonders to marvel at, a thing that makes it a prime safari destination for young families, friends, and honeymooners alike.
You yet again find yourself fully immersed in the wildlife and scenery of the Mara, the sheer range of it taking your breath away. The guide keeps you close to the herds and shares in the thrill of spotting the antelopes, leopards, zebras, gazelles, and lions.
You will be awed when sunset finally strikes during your evening game drive. Watch some of the over 450 bird species in the park form creative patterns in the sky through your binoculars.
Watch as a leopard cunningly stalks its prey or a family of mongoose chatter happily with each other. Here is a reason to head back to Basecamp Masai Mara Lodge in the evening: double tents come with private decks that give spectacular views of the Masai Mara landscape.
Day 3: (Optional Hot Air Balloon Safari ) Full-Day Exploration of the Mara with a 4×4 Safari Land Cruiser
Every meal served in the Basecamp Masai Mara hotel comes with some captivating scenery to munch on. That's what you enjoy for breakfast before heading out for the full-day game drive.
Every day in the Mara comes wrapped in mystery: our day 3 Basecamp Masai Mara Safari Lodge package is no different. As always, our silver-certified guides do their magic when it comes to wildlife spotting; their attention turned to wildlife that escaped us in previous drives.
You spend the morning astonishing at Mara's variety. The drive only stopping for a quick lunch in the heart of the wild. It is all sunburned grasslands, rivers, fantastic lookouts, and acacias from then, all of which form magnificent backgrounds for wildlife watching.
The game drive can end with sunset watching, music, and a glass of wine at hand at Basecamp. You can also end the day with a brilliant night of star-gazing and storytelling around a campfire.
Some Tips: You can begin the day with a morning hot air balloon safari and then continue with the game drive for an additional £350.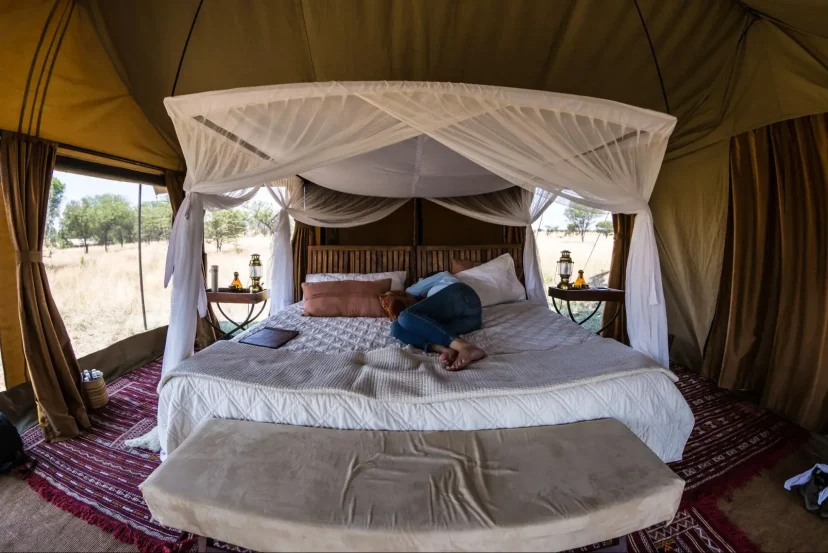 Day 4: Morning Game Drive, Maasai Village Visit, & Trip Back to Nairobi
Today we check you out of the Basecamp Explorer Masai Mara after breakfast and head straight to the wild. Our morning game drive starts at 6:00 A.M, and as always, look for the wildlife, scenery, and ambience.
We spend three hours in the jungle, our guide trying to be as exhaustive for the last day of your Basecamp Masai Mara Safari Lodge package. Later, we head to a Maasai village. Expect culture, entertainment, and art, as well as tales of the Maasai's interaction with the wild.
Marvel at the architectural genius of their mud, cow-dung, human urine, and stick grass-thatched houses and join them in a dance or two. Do you think you can beat a Maasai in a jumping contest? How about they prove you wrong?
After, we start the long drive from Mara to Nairobi, ending your 4 Days Basecamp Masai Mara package. Our guide will drop you at the airport and say goodbye.
Things Included in the Price:
Airport pick up and drop off
Service of a professional, silver or gold level safari guide
Use of the safari vehicle for 4 days (safari van or 4×4 safari land cruiser)
Bottled, mineral drinking water during the safari
3-night accommodation on a full-board basis at Basecamp Masai Mara
All applicable park fees and taxes for the 4 days
Afternoon game drive on day 1
Full day game drive on day 2 with picnic lunch
Full day game drive on day 3
Picnic lunch during the full-day game drive
Morning game drive on day 4
Visit a Maasai village on day 4
Things Excluded from the Price:
Optional hot air balloon safari at £350 Per Person
Optional bush dinner for 4-pax at £60 Per Person
Easter, Christmas, new year, & other holiday Supplements of £20-£50 Per Person Per Night
Gratuities and tips to the safari guide
Local and international flight tickets
laundry services
Extra meals or drinks in the hotel, except typical lunch, dinner, and breakfast
Transfer fee when sending the money
4 Days Basecamp Masai Mara Safari Cost Per Person
| Date/Month | Price Per Person Sharing |
| --- | --- |
| 1st Jan – 31st March | GBP 1368 |
| 1st Apr – 30th June | GBP 1233 |
| 1st July – 31st Sep | GBP 1625 |
| 1st Oct – 21st Dec | GBP 1368 |
| 22nd Dec – 2nd Jan 2024 | GBP 1625 |
FAQ Section About Basecamp Masai Mara
You can learn more about Basecamp Masai Mara from the section below:
1. Is Basecamp Masai Mara Lodge Popular with Families?
Basecamp Masai Mara is designed to exceed your expectations by offering tailor-made services and amenities unique to family needs. It has a lush lawn that allows families with kids to engage in exciting butterfly catching, arrow making, and wildlife spotting.
The camp also provides free and paid services that cater to kids like face painting, storytelling, lion lectures, etc. Also within the lodge is a family camp with two separate wings, each fitted with a double bed, a slightly viewing deck, and shared bathroom facilities.
2. Which Popular Attractions are Close to Base Camp Masai Mara Lodge?
The Basecamp Masai Mara is one of the few hotels located inside the Masai Mara. This not only exposes you to breathtaking sceneries but also ensures your cup never runs out in terms of attractions to marvel at.
Go on guided walks of the park, engage in thrilling game drives, visit the Maasai villages, or let the view from the the room blow your mind.
3. What are Some of the Property Amenities of the Basecamp Masai Mara?
Basecamp Masai Mara always manages to surpass the wildest imagination of any travellers thanks to its amenities. Below are the amenities featured in their hotel.
Free parking
Free breakfast
24-hour customer service
Free WI-FI
Airport transportation
Gift shop
Open-air baths
Bar and restaurant
Outdoor fireplace
Picnic area
Books, board, and puzzle games for kids' entertainment
4. Can I Stay at Basecamp Masai Mara When Visit Kenya for a Long Safari?
5. Which is the Basecamp Masai Mara Official Website?
The price is based on two people travelling together and sharing the accommodation and safari vehicle. These prices are valid for the 2023 seasons. It will be more affordable when you travel as a group.
The accommodation often gets packed during the Migration (Peak) Season and Festive (High) Season and is only confirmed upon making a deposit.