The Mega, Fun-Filled, 4-Day Masai Mara Safari Package - Review, Itinerary, & Prices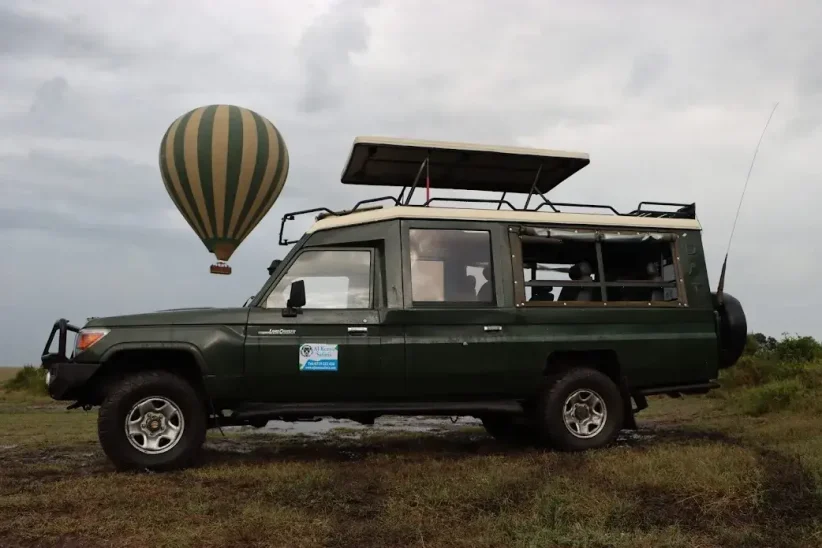 Masai Mara National Reserve is among Africa's most popular conservation areas with a varied and rich collection of wildlife. This 4-Day Masai Mara Safari Package offers you a fantastic safari adventure with quality accommodation in camps and lodges and game drives in reserve. 
The package is ideal for all UK citizens arriving on dawn flights from the UK or Europe into Nairobi as you will not require an overnight stay in Nairobi before the safari.  You can check out 5 Days Maasai Mara Safari Packages if you wish to spend a night at Kenya's capital before proceeding with the Mara adventure. 
The 4 days Masai Mara safari package includes the typical itinerary and prices. The prices depend on the camp/lodge you choose, and the month you travel. April-June is the low season, July-October is the peak season, and November-March is the high season, excluding holidays and festive season. 
Masai Mara is proof of nature's majesty thanks to its over 56 wildlife species, stunningly diverse sceneries, and never-ending strings of soul-stirring activities you can enjoy. That's why we believe you should experience the other-worldly glow and captivating sunsets of this gem nestled in the southwest of Kenya.
Contact Us Now to Book Your 4-Day Masai Mara Safari
The Summarised 4-Day Masai Mara Safari Itinerary
Detailed 4-Day Masai Mara Safari Itinerary
Here is the detailed 4-day itinerary to Masai Mara National Reserve that gives you an idea of what you can expect during the safari. You can opt for the 3-Day Masai Mara Safari from Nairobi Package if you are limited in travel duration.
Day 1: Airport Pickup, Road-Trip to Masai Mara, & Afternoon Game Drive
We recommend you book a flight that lands in Kenya (JKIA) by 4 am to ensure that you start your safari by 6 am. This has an advantage in that you avoid spending more money on accommodation in Nairobi.
Your assigned gold-level safari guide picks you up minutes within landing, does a briefing of your safari, and commences the 6-hour drive to the Masai Mara.  About 1.5-hrs later, you get to take pictures for your Instagram at the Great Rift Valley Viewpoint. 
The viewpoint is a portal into a breathtaking world of verdant valleys adorned by some of the most colourful bird arrays known to man. Your guide lets you soak up the wonder and variety that comes with the viewpoint before continuing with the rest of your trip.
The next stop is 3-hrs later at Narok Town, where you can do some final shopping and stretch your legs before continuing with the next 2.5hrs of the road trip to Mara. If things go as planned, you should be at your chosen Masai Mara camp or lodge by noon. 
This is the perfect time to take lunch and rest for a few hours before the later afternoon game drive. Your guide will pick you up at 3 pm from the camp using your exclusive 4×4 safari land cruiser for this game drive.
Cooler temperatures and sunset combine to create the perfect wildlife viewing experience at this time of the day. The predictors begin to get more active during this time of the day, continuing with that trend until sunrise. 
Your experienced guide roams the open plains, allowing you great views of the rhinos, elephants, gazelles, impalas, buffaloes, and giraffes to around 6 pm.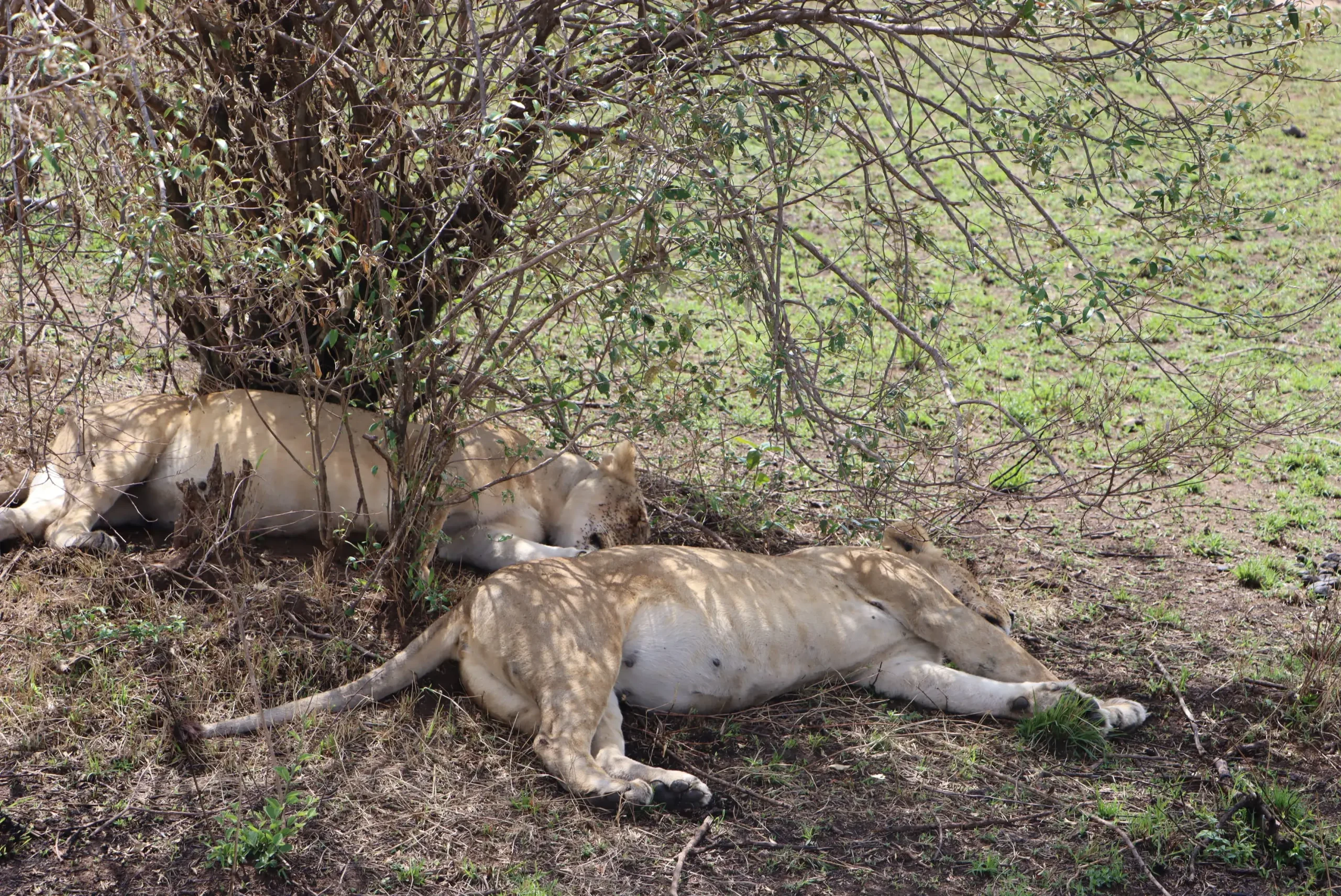 Day 2: Full-Day Game Drive with a Picnic Lunch and an Optional Transcendent Bush Dinner
Sunrise finds you in the park, a sight worth its weight in gold when combined with the breathtaking scenery and wildlife. Mara morning game drives are the most popular for teeming wildlife and tranquil ambiences.
Wildlife is easier to catch, and the prey and predators alike look for their day's meal due to reduced temperatures. The Big Five, hippos, wildebeests, giraffes, gazelles, hyenas, impalas, zebras, wild dogs, and buffaloes scatter all over the plains.
Your morning game drive pours into the afternoon, and it is then the guide take advantage of the slightly plains to set you a picnic site to have your packed lunch.  A more profound exploration of the park follows after lunch with your guide leaving no inch of the 1,510km2 park unturned. 
The Oloololo Escarpment Mara's Olare Orok (Inside Mara Triangle), Mara's Olare Orok, and Ol Kinyei Conservancies offer more wildlife. However, the conservancies require you to book a hotel within the triangle.
Day 3:Optional Hot-Air Balloon Safari & Game Drives
Your day 3 of Masai Mara is dedicated to the rarities of Mara, its remarkability, and the wildlife that escaped you the previous days. The adventure begins at dawn and only stops when the wanderlust is quenched at dusk. 
Today expect a plain overflowing with wildlife, rarities such as the leopard, and delicious lunch served at the heart of the wild.  A hot-air balloon safari is another worthwhile indulgence if you do not mind parting with an extra £430.
The world as you know it is brought to a standstill by the hour-long ride, the wildlife, and the panorama, being the best part of it all. This experience is often made worth every pound, thanks to the delicious breakfast you enjoy after landing. 
Expect champagne and everything you would dream of for a memorable bush breakfast.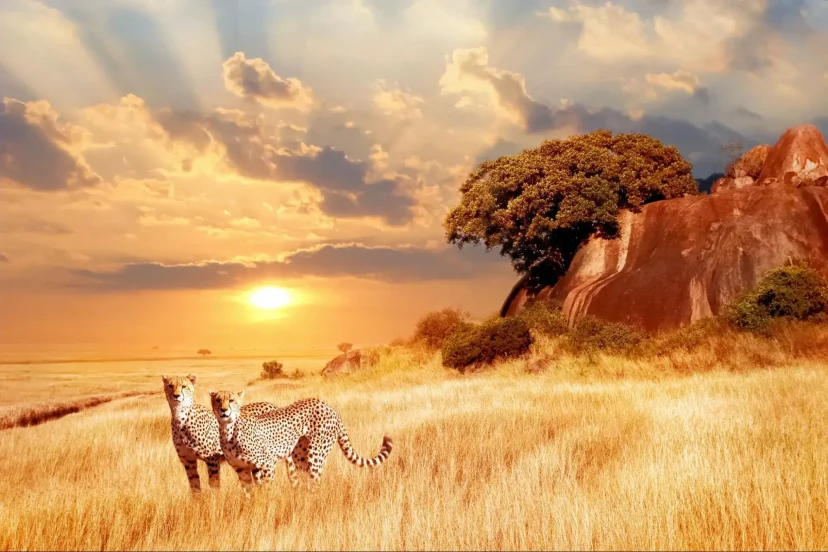 Day 4: Morning Game Drive, Maasai Village Visit, and Trip Back to Nairobi
The beauty of game drives lies in their spontaneity, and this game drive or even a Masai Mara Migration Safari is no different. The day starts with a morning breakfast, and then the guide takes you to the jungle after the hotel checks out. 
The game drive lasts until approximately 10 AM, the ideal time to head to a Maasai village. The Maasai Villages is the first stop on your way to Nairobi.  Famous for their dances and colourful attire, the Maasai is a tribe that shares the Mara with hundreds of wildlife. 
Their huts built of mud, sticks, cow dung, and human urine are a sight to behold, as is their eye-catching beadwork. Learn how to make fire by rubbing sticks together, learn the Adumu dance, and let their tales of the wild fill you with wonder and admiration. 
You are on the way back to Nairobi an hour later, a trip that will take you 6 hours to complete. Depending on your needs, we either see you on a flight back home or check you into a nearby hotel from where you depart by boarding your flight early the following day. 
Some Recommendation: We have a detailed 12 Days Kenya Safari for travellers who want to explore more Kenya offers.
Things Included in the Price:
Airport pick up and drop off 
Service of a professional, silver or gold level safari guide 
Use of the safari vehicle for 4 days (4×4 safari land cruiser)
Bottled, mineral drinking water during the safari
3-night accommodation on a full-board basis  
All applicable park fees and taxes for the 4 days 
Afternoon game drive on day 1
Full day game drive on day 2 
Full day game drive on day 3 with picnic lunch 
Morning game drive on day 4
Things Excluded from the Price:
Optional hot air balloon safari at £430 Per Person 
Optional bush dinner for 4-pax at £55 Per Person 
Visa application – £55
Easter, Christmas, new year & other holiday Supplements of £20-£50 Per Person Per Night
Gratuities and tips to the safari guide 
Local and international flight tickets 
Laundry services 
Extra meals or drinks in the hotel, except typical lunch, dinner, and breakfast
Transfer fee when sending the money
4 Days Masai Mara Safari Cost Per Person Sharing
| Lodge/Camp/Hotel | Low Season | High Season | Peak Season |
| --- | --- | --- | --- |
| Sentrim Mara | GPB 1122 | GBP 1184 | GBP 1323 |
| Enkorok Mara Camp | GPB 1022 | GBP 1157 | GBP 1377 |
| Basecamp Mara | GBP 1161 | GBP 1332 | GBP 1526 |
| Mara Big Five Camp | GBP 1188 | GBP 1332 | GBP 1566 |
| Zebra Plains Mara | GBP 1134 | GBP 1373 | GBP 1566 |
| Mara Simba Lodge | GBP 1220 | GBP 1294 | GBP 1607 |
| Keekorok Lodge | GBP 1129 | GBP 1297 | GBP 1680 |
| Mara Legends Camp | GBP 1242 | GBP 1521 | GBP 1755 |
| Mara Serena Safari Lodge | GBP 1349 | GBP 1375 | GBP 1825 |
| Sarova Mara Game Lodge | GBP 1344 | GBP 1418 | GBP 1828 |
| Ashnil Mara | GBP 1208 | GBP 1356 | GBP 1833 |
| Ilkeliani Masai Mara Camp | GBP 1391 | GBP 1454 | GBP 1863 |
| Mara Crossing Camp | GBP 1454 | GBP 1575 | GBP 1917 |
| Mara Bush Camp | GBP 1454 | GBP 1670 | GBP 1958 |
| Entim Mara Camp | GBP 1647 | GBP 1710 | GBP 2106 |
| Mara Bush Private Camp | GBP 1634 | GBP 1791 | GBP 2295 |
| Elewana Sand River | GBP 1798 | GBP 2177 | GBP 2481 |
| Emboo River Camp | GBP 1790 | GBP 2183 | GBP 2657 |
The price is based on two people travelling together and sharing the accommodation and safari vehicle. These prices are based on the 2023 rates for the low, high, and peak seasons. It will be more affordable when you travel as a group. The accommodation often gets packed during the Migration or Peak season and is only confirmed upon making a deposit.