12 Days in Kenya | 12 Days Kenya Safari - Price, Itinerary, & Package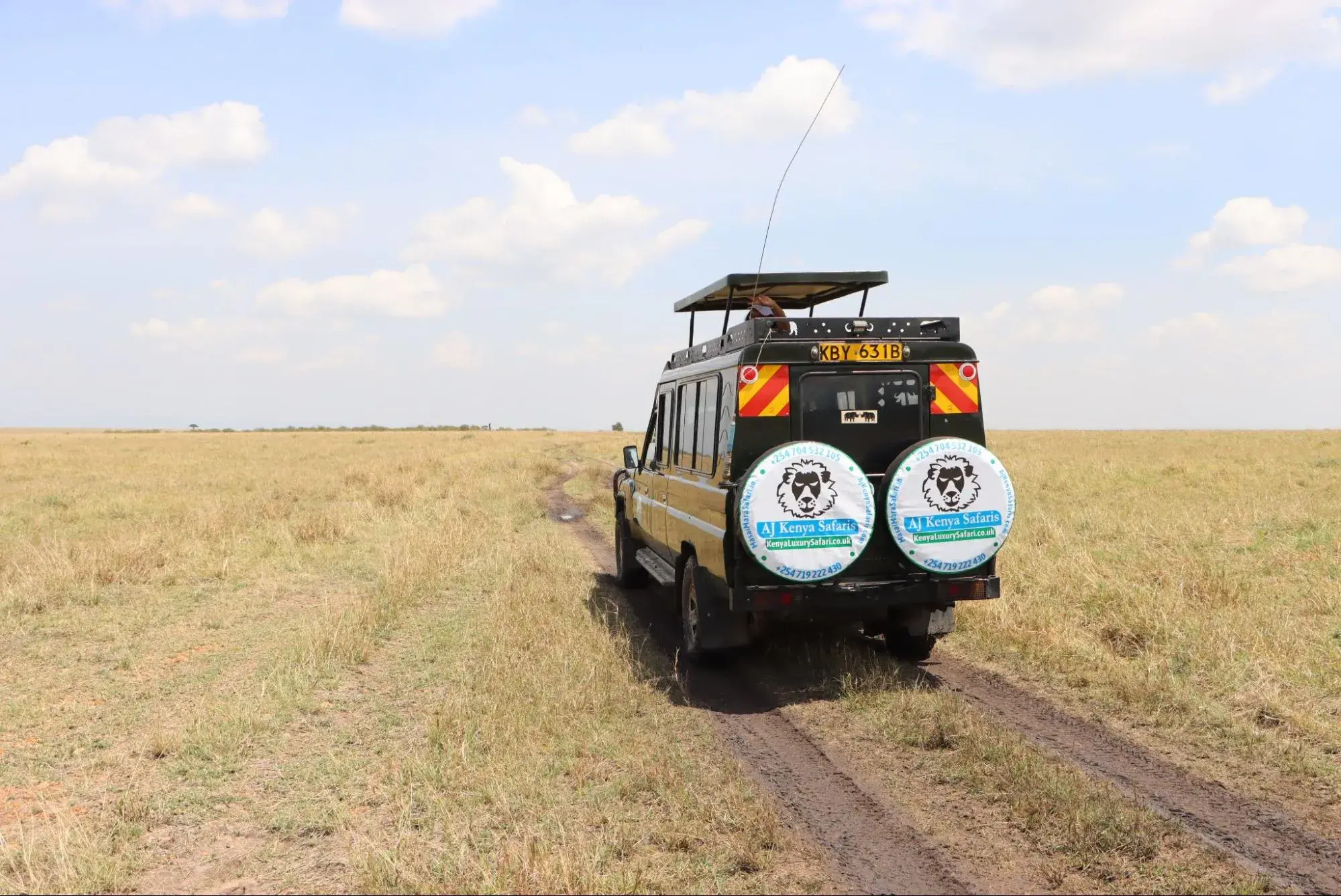 We have created the 12 days Kenya safari that captures some of Kenya's beauty to showcase to you the best of Africa Safari.
We take you from the magnificent coastline of Diani to the wildlife to the effortless sceneries of Masai Mara and then to the alluring waters of Naivasha's Crescent Island.
Also included in this Kenya itinerary 12 days is the deeply evocative Amboseli and the scenic, wildlife-teeming Tsavo.
How to Book this 12 Days Kenya Safari with KenyaLuxurySafari.co.uk
The Summarised, Kenya Itinerary 12 Days - 12 Days Kenya Safari Summary
The Detailed 12 Days Kenya Safari Itinerary for UK Travellers
We can customise this 12-day itinerary to meet your travel needs and expectations.
Kindly also check out our 14-Day High-End Honeymoon Safari if you would like to celebrate this special occasion in Kenya.
Day 1: Welcome to Kenya, Transfer to Mombasa Via SGR, & Transfer to Diani Beach
We know that a small cheer and a great welcome make a merry feast, so we go out of our way to make the cheer grand and the welcome even grander.
We are at the airport an hour before your flight lands, armed with the spirit of adventure and loads of personality and professionalism to match.
After a brief briefing about the safari, off we go to the Nairobi SGR terminus for a four-and-a-half train ride to Mombasa.
The train leaves at 8 am. We recommend you book a flight that lands in Kenya by 4-5 am so you can catch this train.
Cosy with some of the best views of the Kenyan countryside, SGR train rides are perfection in motion.
With them, the world lays its soul bare right in front of your eyes, the ride offering stunning views of Nairobi National and Tsavo National Park.
That, capped off with SGR's excellent services, makes the experience even more worthwhile.
Day 2: Spend Time at Hotel/Beach & Optional Evening Dinner Cruise
The Serena Beach Resort is nestled along the alluring coastline of Diani Beach, and it guarantees to take your breath away.
Each of its rooms comes with stunning ocean views and an ambience so surreal you have to experience it to believe it.
Take the zen vacation vibes up a notch with a sumptuous breakfast overlooking the ocean, and, for a sampling of the absolute Diani goodness, head to the beach.
Swim, snorkel, bask under the sun, deep-dive, go for long refreshing walks along the beach, and then, when it's evening, join us for an exquisite Tamarind dhow dinner cruise.
The Tamarind dhow is where luxury meets sophistication to create a transcendent dinner-under-the-stars experience for all. You'll find nothing but chic vibes on this wooden dhow, which sets sail from the Tamarind Pier at sunset.
It's elegance and sublimity everywhere you look, from the ambience of the dhow itself down to the majestic views. Sip on a house cocktail as you take in the gorgeous ocean views, which turn even more spectacular when you get to the Tudor Creek (Old Town and Fort Jesus can be seen from here).
Let the live band music transport you to a world of your own, and the sumptuous delicacies remind you why life is beautiful.
The dinner dhow is two hours long, after which we return you to the resort for an overnight.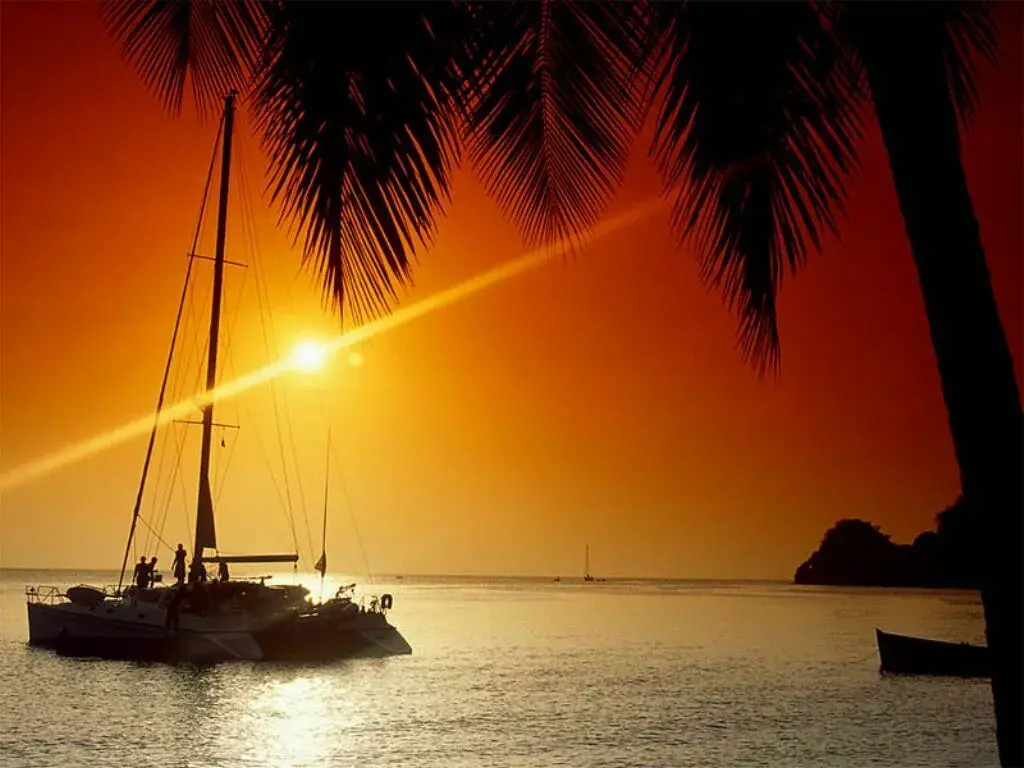 Day 3: Full Day Trip to Wasini Island with Lunch
Every room in the Swahili Beach Resort boasts insane ocean views. A view that is truly phenomenal to wake up to.
Today you will enjoy a delicious breakfast on the deck before taking a one-and-a-half car ride to Wasini Island.
Wasini is unique and chic combined to create a perfect haven for those whose idea of perfect is blinding white sands, inviting turquoise waters, and gigantic palm trees.
We let you take it all in; the ambience, dolphins you can swim with, delicious Swahili cuisines, and the Kisite Marine National Park.
Go diving in Kisite if you want to explore the deep waters. There are no words that can describe the variety and sheer beauty of it all.
Day 4: Transfer from Diani to Tsavo West with Stopover at Fort Jesus & Evening Game Drive
Our drive to Fort Jesus follows after the scenic sunrise breakfast on day four of our 12 days Kenya Safari.
The drive is everything around the Kenyan coast is all about from hot and truly captivating scenes. We are at Fort Jesus one and a half-hour later.
The Portuguese built Fort Jesus in the 16th century, and what was then Mombasa's protection centre is now its most historic, crowd-drawing attraction.
We cover it all, every inch of its 2.36 hectares, introducing you to the artefacts, ceramics, pottery, and Portuguese frigate that make it the powerhouse it is today.
To also explore is the Swahili Cultural Centre, an ode to the rich Swahili culture, and the Mombasa Butterfly House, which displays tropical butterflies in their natural habitat.
We are back in our Landcruiser 30 minutes later, for a 5-hour drive to the Tsavo West.
The Tsavo National Park is a feast for every sense. It's so wondrous and enormous that it had to be divided into the Tsavo East and West.
We head to the west part of this attraction, and after arriving, we check you into a lodge and leave you to take lunch.
At around 3 p.m., we head out for the evening game drive. The park offers different wildlife, although it is less popular than Masai Mara or Amboseli due to the thick vegetation.
However, the landscape with exciting hills and several volcanic craters make up for this challenging landscape.
We will do the game drive until late in the evening.
Day 5: Full Day Game Drive at Tsavo West National Park
A full-day game drive at Tsavo West lets you explore this historically famous park for Maneaters of Tsavo.
These were two maneless lions that had a taste for human flesh during the 1900s and were eventually killed in 1989 by Patterson after having killed, as he claimed, 130 people.
The attraction is tranquil and is known for its famous red-coloured elephants, a colour they get from the red coloured soil of the area.
The park has interesting geological features that you will explore on this day caused by volcanic eruptions.
Its wildlife, including lions, buffalos, leopards, hippos, rhinos, elephants, birds, and others, is massive and spread out in the bushes.
A walking safari is highly encouraged when exploring this savannah, especially when reaching the Shetani Lava flow.
You can also opt for a boat safari at Lake Jipe. However, our primary focus is Mzima Springs, which provides about 350M litres of fresh water every day for the animals and Mombasa city.
We will set camp here and take lunch before continuing with the afternoon game drive until late in the evening.
Take in the Tsavo West ecosystem, including acacia woodlands, scrublands, open grasslands, rocky ridges, and riverine vegetation.
Day 6: Transfer from Tsavo West to Amboseli with a Stopover at Lake Challa & Evening Game Drive
After breakfast, we head out for a 3-hour drive to Amboseli National Park.
We will make a stopover at Lake Chala or Challa for a drink. Those who crave perfection will appreciate the 100m-high beauty that is Lake Chala.
The picture-perfect lake is the pinnacle of scenic beauty, its azure waters providing a spectacular background.
Head to the top of the crater for more soul-stirring views.
We continue with the journey after taking in the view. We should arrive in Amboseli at around noon, check in, take lunch, and then head out for an evening game drive until 5 p.m.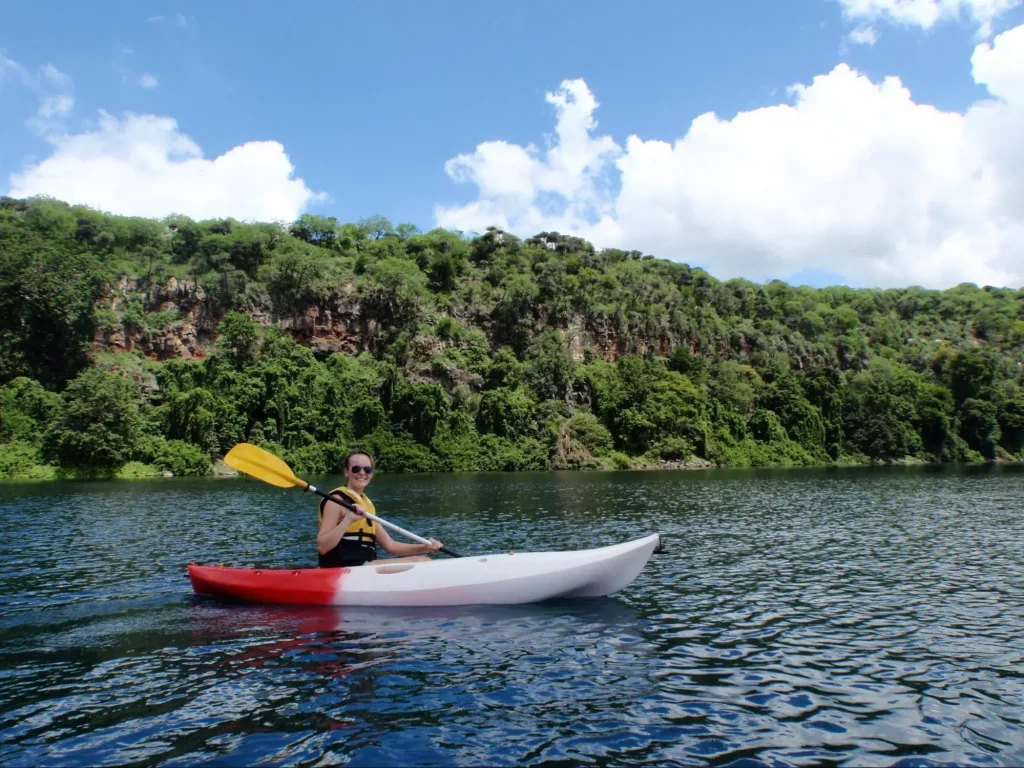 Day 7: Full Day Game Drive with Picnic Lunch in Amboseli National Park
Combine the gorgeous, awe-inducing views of Kilimanjaro with the tranquil vibe the Amboseli permeates, and there you have the perfect morning game drive.
We are in the park at sunrise, watching as the ecosystem comes to life with hundreds of wild animals, birds, and flora.
There will be lots of elephants, herds upon herds, seeing that the park is home to over 1,000 individuals.
You will also see many wild dogs, leopards, cheetahs, crocodiles, mongooses, zebras, buffaloes, giraffes, and dik-dik.
Our exploration continues to the observation hill, which provides 360-degree views of the heart-warming Amboseli landscape.
We take advantage of the views to set up a delicious lunch, allowing you to marvel at the views while downing the nicely prepared meal.
We are back to the Landcruiser after lunch, our focus this time being the five different habitats of the Amboseli.
To keep you mesmerised are woodlands, wetlands, savannahs, and the wet bed of Lake Amboseli.
Our game drive ends with a sundowner.
Day 8: Transfer from Amboseli to Naivasha with Stopover at Great Rift Valley View Point & Afternoon Rest
You are to have breakfast on your room's viewing deck, after which we check you out of the lodge and begin a 5-hour drive to Lake Naivasha at around 10 a.m.
The drive we will see us make a stop at the Great Rift Valley View Point. Here you can buy jewellery or just enjoy the view.
This perfect v-shaped land offers dotted vegetations, attractive sun's ray stretching wide and far, and mountains in the vicinity.
The main activities here are bird watching and sightseeing. We will then proceed to Naivasha for check-in and late lunch.
We spend the rest of the afternoon at the hotel, enjoying the offered facilities.
Day 9: Morning Wildlife Horse Safari and Afternoon Boat Ride at Lake Naivasha & Walking Safaris in Crescent Island
Nothing prepares you for the beauty and pristineness of Lake Naivasha at sunset. Everything is perfect as if the lake exists to steal our breaths away.
We start the day at around 9 a.m. by visiting Sanctuary Farm for a Wildlife Horse Safari. Sanctuary Farm is a 21st-century paradise.
A horse wildlife safari at this farm allows you to ride among impalas, waterbucks, wildebeest, and zebras.
Sometimes you might find buffalos roaming around this 45-acre conservancy. There are also jackals, serval cats, foxes, hyenas, and hippos, mostly seen at night.
It is the perfect place for horse riding among friendly wild animals. Two hours are enough, and Buffalothis will see us head back to the hotel for lunch.
In the afternoon, we visit Lake Naivasha for boat rides and Crescent Island for walking safaris.
First is the lake itself, a beautiful mass of blue thriving with hippos, waterbucks, and other aquatic animals and birds.
The second attraction is Mt. Longonot, an extinct volcano whose view is fascinating to catch from the lake.
The third is this 30-minute boat ride to Crescent Island. Crescent Island sits within the Great Rift Valley on the eastern side of Lake Naivasha.
With acres upon acres of lush greenery to admire, and waters as blue as the sky, this Island begs to be explored.
Our walking safari around the Island exposes you to its wildlife, including zebras, hippos, monkeys, giraffes, and its colourful array of birds.
There is also a fantastic ambience to relish in, one that goes effortlessly with drinks or a glass of champagne.
We stick around the Island till sunset to catch that brilliant reflection of its rays on the water.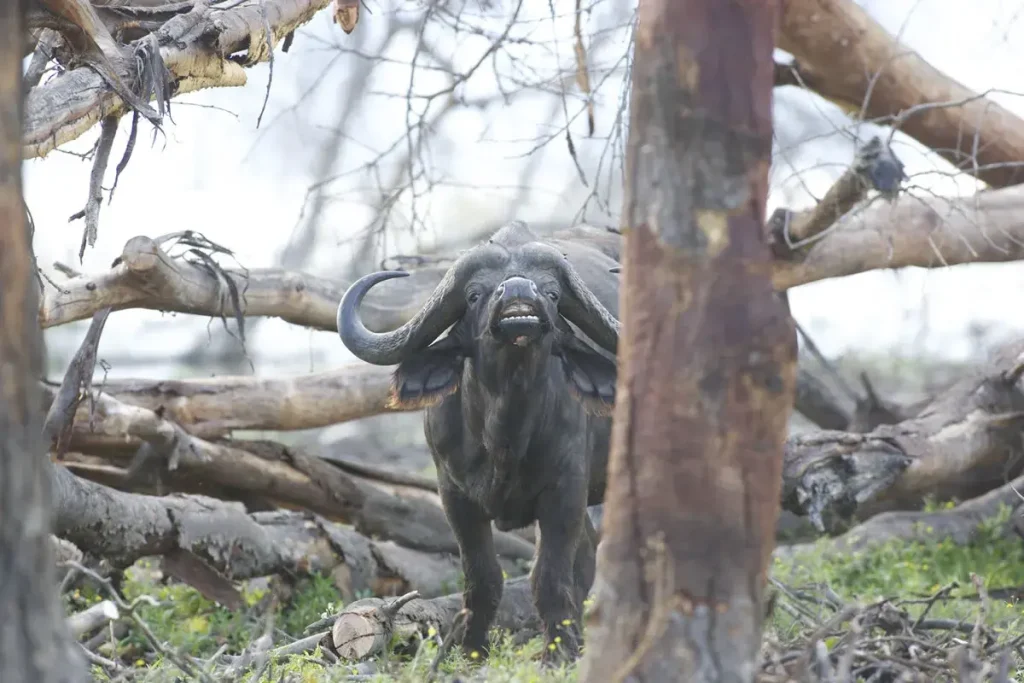 Day 10: Transfer from Naivasha to Masai Mara & Evening Game Drive
The magic of the Masai Mara begins right here, on this early morning road trip from Lake Naivasha.
There is everything to love, from the beautifully diverse Kenyan landscape to the ambience and excitement of it all.
Sit down to delicious Kenyan cuisine at the Masai Mara, and then, when you're well-rested, join us for an evening game drive.
The Mara greets you gently, beautifully, and with an eye-pleasing explosion of natural wonders.
You will appreciate just how deep Mara's wealth runs with its vast wildlife, gorgeous scenery, and birdlife as you progress through the open savannah.
Expect to see the Big 5, giraffes, rhinos, dik-dik, gazelles, buffaloes, hippos, zebras, monkeys, wildebeests, hartebeests, impalas, and gazelles.
Our game drive ends with an epic sundowner.
Day 11: Full Day Game Drive in Masai Mara with Packed Lunch
The Mara is where vast rolling grasslands and wildlife collide, creating an unbelievably beautiful space.
We are in the park at the first light of dawn, ready to share in its magnificence.
Now, everything looks better with a little bit of sunrise, and the Mara landscape is no different.
We catch the show from our Landcruiser; the wildlife, the birds, the green, and the landscape, and my, will you be bewildered.
There are over 90 different mammal species to look forward to and almost 450 bird species, so there's never a dull moment.
When it's lunchtime, we find a shady spot in the park and munch on our delicacies as we continue to take in the views.
The Mara River is the place to be in the afternoons because almost half of the Mara congregate here to try and beat the hot afternoon sun.
That, and the fact that the Great Wildebeest Migration unfolds here, makes for a great site.
We stick around for a while and then head to the heart of the park for the evening game drive.
Our game drive ends with a sundowner.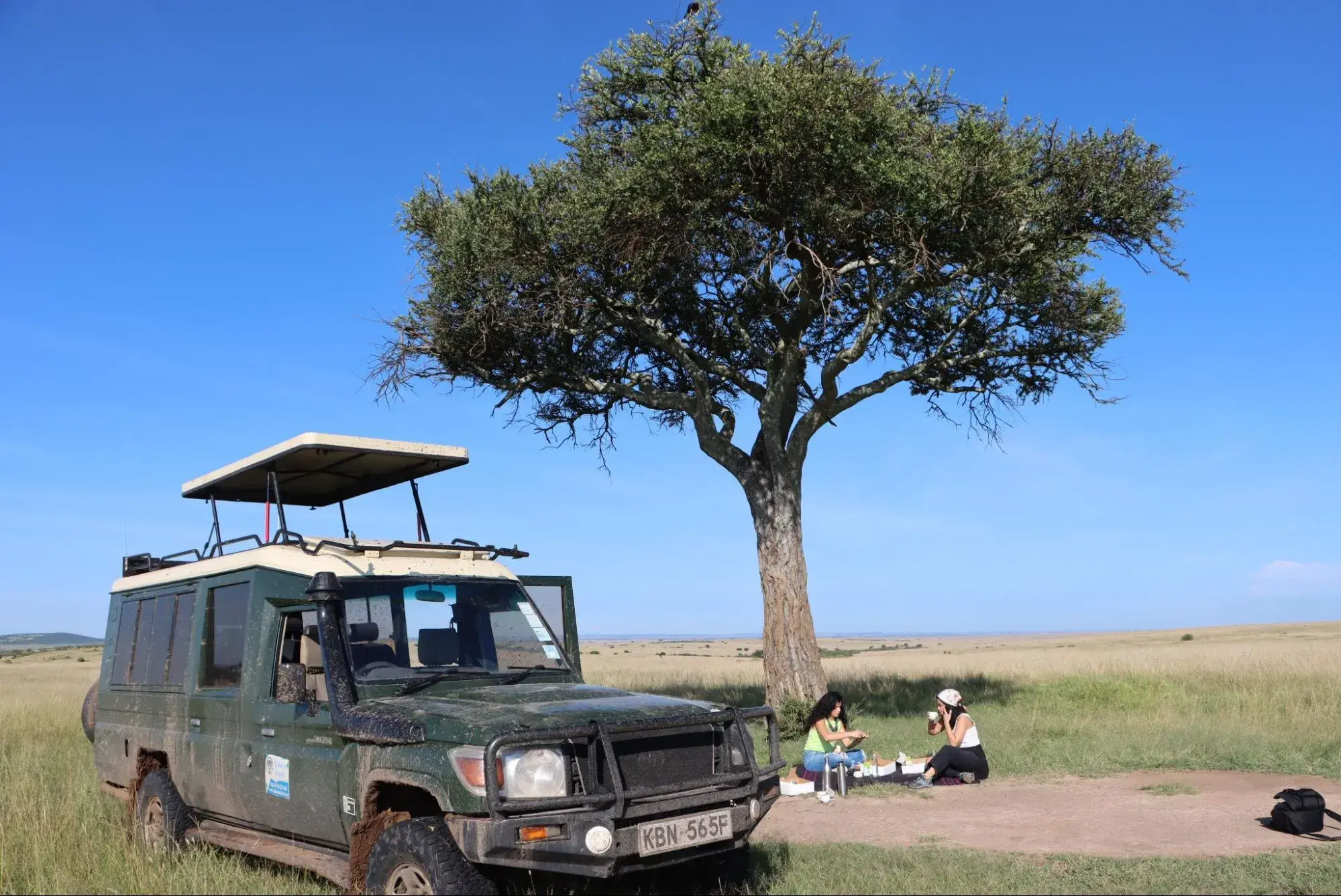 Day 12: Early Morning Game Drive, Masai Village Visit, & Transfer to Nairobi (Airport)
The Mara's early morning game drives bring on an undeniable charm thanks to sunrise and the increased wildlife sightings (wildlife loves to graze/hunt when the temperatures are excellent).
We head out at first light, our sights focused on spotting the animals we might have missed on previous game drives.
The game drive continues to around 10 a.m, the perfect time to visit a Maasai village. No 12 days Kenya safari is complete without visiting the Maasai villages.
The Masai are natives known for their vibrant dances, unique architecture, and dressing.
You learn from the villages that a house made from cow dung, mud, and sticks can withstand the harsh wild.
That there's no problem dancing and singing can't solve, and that you can make fire by rubbing a stick to the earth.
Our visit lasts for an hour, after which we begin the six-hour road trip back to Nairobi.
Items Included in the Package Cost
Airport pickup on day 1

Service of a professional, silver or gold level safari guide

Use of the safari vehicle during the game drive safari

Bottled, mineral drinking water during the safari

All applicable park fees and taxes

All transfers to/from Mombasa/Diani

3-night accommodation at Serena Beach Resort and Spa on a half-board basis

Evening game drive at Tsavo West National Park on day 4

2-night accommodation at Kilaguni Sarena Safari Lodge on a full-board basis

Full-day game drive at Tsavo West with packed lunch on day 5

Evening game drive at Amboseli National Park on day 6

2-night accommodation at Amboseli Serena Safari Lodge on a full-board basis

Full-day game drive at Amboseli with packed lunch on day 7

2-night accommodation at Kiboko Luxury Camp on a full-board basis

Morning visit of Sanctuary Farm for Wildlife Horse Safari on day 9

Afternoon visit of Lake Naivasha (boat ride) and Crescent Island (Wildlife Walking Safari) on day 9

Evening game drive at Masai Mara National Reserve on day 10

2-night accommodation at Mara Serena Safari Lodge on a full-board basis

Full-day game drive at Masai Mara with packed lunch on day 11

Morning game drive at Masi Mara on day 12

Visit a Maasai village on day 12

Transfer to Nairobi (JKIA) on day 12
Optional Activities Price Per Person
The optional flight ticket, hot air balloon & SGR would cost the following:
| Particular | Cost Per Person in GBP |
| --- | --- |
| Hot Air Balloon Safari | £320 |
| Bush Dinner – Request 4 Pac | £40 |
| Dinner Cruise | £83 |
| Scuba Diving for 2 hrs | £143 |
| Wasini Day Trip | £90 |
| Camels Ride | £38 |
| Deep-Sea Fishing | £345 Per Boat |
| Flight Tickets from Diani to Nairobi | £150 |
| SGR Madaraka Train from Nairobi to/from Mombasa | £7.5 for economy class, £22 for first-class |
Things Excluded from the Price:
Gratuities and tips to the safari guide

Local and international flight tickets

Easter, Christmas, & other holiday Supplements of £20-£50 Per Person Per Night

Activities at Diani (only half-board accommodation is included in the price)

laundry services

Extra meals or drinks in the hotel, except typical lunch, dinner, and breakfast

Transfer fee when sending the money
12 Days Kenya Safari Price Per Person Sharing
| Travel Season | Price Per Person Sharing |
| --- | --- |
| Low | £3,141 |
| High | £3,851 |
| Peak | £4,793 |
*The price is based on two people travelling together and sharing the accommodation and safari vehicle.
*These prices are based on the 2022 seasons.
*The accommodation often gets packed during the migration season and is only confirmed upon making a deposit.
*Kindly book early to ensure you don't miss your prefered accommodation.