Tsavo East and Tsavo West National Parks Safari - Itinerary & Price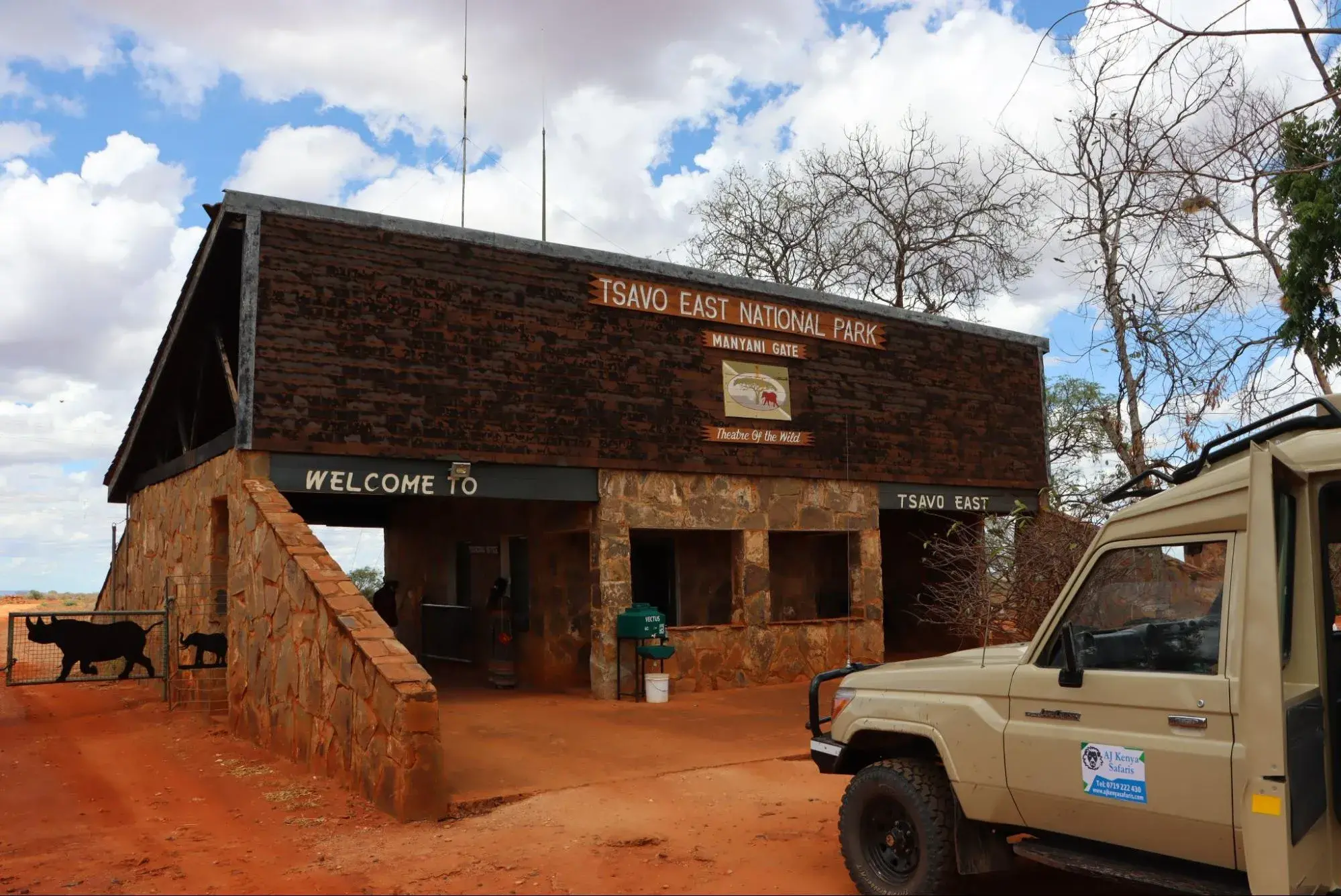 Imagine yourself walking around the Tsavo East and West National Parks on a 3-day Tsavo National Park safari.
You allow your mind to wander, immerse yourself at the moment, and feel the rustling of grass in the wind while the sun's warm caress across your face.
Now, slowly drift back to reality, and let us explain why Tsavo is your best chance at a mind-blowing African safari.
The Tsavo East is beautiful, wild, and exciting, and generally the flatter and drier of the two.
Its highlights include the breathtaking Galana River and the Yatta Plateau, the world's largest lava flow.
Tsavo West, on the other hand, is wetter and more mountainous. It brims with swamps and water bodies, case in point Lake Jipe and the Mzima Springs.
Book Your Tsavo National Park Safari with Us Today
Summarised, 3 Days Safari in Tsavo National Park - East & West
The Detailed 3 Days Safari to Tsavo West and Tsavo East National Parks
Day 1: Arrival in Nairobi, Transfer to Tsavo West, and Afternoon Game Drive
Your safari guide will pick you up when your flight lands at the airport.
He will proceed to brief you on your safari, after which you begin your 6-hour drive to the Tsavo West National Park.
Say you begin your road trip at 6 a.m…
This means you'll get to the park at approximately noon. Your guide checks you into your resort and leaves you to relax and explore for an hour or two.
Your evening game drive begins at 3 p.m. Evening game drives entrance us all, and you, dear reader, will not be an exception.
Watch as the park comes to life with wildlife diverse and unique- from leopards to cheetahs, wild dogs, elephants, rhinos, giraffes, crocodiles, dik-dik, crocodiles, and lesser kudu.
Your evening closes with an epic sundowner and a chilled glass of wine.
Day 2: Morning Game Drive from Tsavo West to Afternoon at Tsavo East
Watching the sunrise is always a good idea. But because we're all about the good life, we take it a notch higher- a game drive at sunrise.
Listen to the calming whooshing of the Mzima Springs and watch her waters find their way to the Shetani Lava Flow.
Take in the spectacular scenery, the open grasslands, woodlands, scrublands, riverine forests, and rocky ridges.
Be in awe of the wildlife, from leopards, rhinos, cheetahs, wild dogs, zebras, lions, crocodiles, buffaloes, lesser kudu, porcupines, and elephants.
Or watch the birds, all 600 species of them, and let them soothe your soul with their sweet melodies.
The Tsavo West National Park safari turns to Tsavo East National Park safari as the day continues.
The Tsavo East is the largest national park in Kenya, and as they say, the bigger, the better.
Your afternoon game drive begins after you've had lunch in the jungle. Now, the Tsavo East is different… Beautifully different.
It's home to large mammals like elephants, rhinos, buffaloes, hippos, waterbucks, and gerenuks.
It houses over 500 bird species. And it is home to the Yatta Plateau, which is the world's most enormous lava flow.
No inch of the park is left unexplored on this afternoon game drive.
We take you to the Galana River and introduce you to its crocodiles, hippos, and beautiful midnight blue waters.
To the Lugard Falls to view the rock patterns that resulted from cooled lava.
And when it's evening, the guide takes you for the hotel check-in and night rest.
Day 3: Morning Game Drive and Transfer Back to Nairobi
Embark on another morning game drive to get a clearer picture of how deep the Tsavo East magnificence runs.
This one is more special because it's your last, so, by all means, do not bat that eyelid. After, the guide will transfer you to Nairobi.
Items Included in the Safari Price:
Pickup and drop-off at Nairobi (airport)

Service of a professional safari guide

Mineral bottled drinking water during the safari

All applicable park fees and government taxes

Exclusive use of a 4×4 safari land cruiser

Evening game drive on day 1

Full-day game drive on day 2

Morning game drive on day 3

Full-board accommodation
Items Excluded from the Safari Price:
Easter, Christmas, & other holiday Supplements of £20-£50 Per Person Per Night

Gratuities and tips to the safari guide

Local and international flight tickets

laundry services

Extra meals or drinks in the hotel, except typical lunch, dinner, and breakfast

Transfer fee when sending the money
The Total Safari Price Per Person Sharing
| Travel Season | Price Per Person |
| --- | --- |
| Low | £848 |
| High | £1101 |
| Peak | £2707 |
*The price is based on two people travelling together and sharing the accommodation and safari vehicle.
*These prices are based on the 2022 seasons. It will be more affordable when you travel as a group.
*The accommodation often gets packed during the migration season and is only confirmed upon making a deposit.
*Kindly book early to ensure you don't miss your prefered accommodation.