Ol Pejeta Conservancy Tours - Safari in Ol Pejeta, Itinerary, Cost, and Package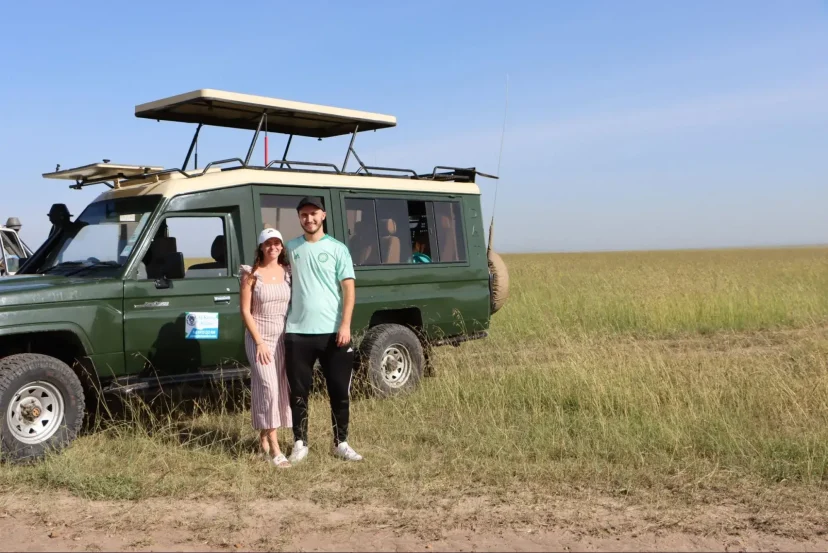 Ol Pejeta Conservancy Safari provides you with something exciting and different to quench your thirst for an  Africa Safari. It is a 364 sq. km wildlife conservancy located between the foothills of Aberdares and Mt. Kenya, and its animal-to-area ratio tops the charts in Kenya.
The conservancy offers over 10000 large mammals, and it's the only place you can see the big 5 and chimpanzees at one location. It's also where you can see northern white rhinos, southern white rhinos, and black rhinos. 
And a safari in Ol Pejeta Conservancy with KenyaLuxurySafari.co.uk includes game drives and safari walks, camel rides, horse rides, and more. We can also help organise a night game drive to give you a better chance of spotting the leopard and other nocturnal animals. 
You can enjoy all that and more when you book our 3 Days Ol Pejeta Conservancy Safari. But how do you book this safari?
Book Your 3 Days Safari in Ol Pejeta Conservancy with Us Today
The Summarised, 3 Days Ol Pejeta Conservancy Safari Tour
The Detailed 3 Days Ol Pejeta Conservancy Safari for UK Citizens
Day 1: Arrival in Nairobi, Trip to Ol Pejeta, & Evening Game Drive at the Conservancy
You hate to be kept waiting. New places make you nervous. And being out of your comfort zone is a little uncomfortable for you. We know that, and that is why our guide is always an hour early to pick you up. You know, in case that plane lands early. 
Speaking of planes, we recommend booking a flight that lands in the county by 5:00 a.m. to make it easier to start the safari by 6 a.m. The guide then gives you a short briefing of your Ol Pejeta safari, and off you start your 4.5-hr drive in your exclusive 4×4 safari land cruiser.
This drive involves making a stopover at the Equator Market in Nanyuki, where you can pay a small fee to have the Coriolis Effect experiment done. Ol Pejeta is warm, inviting, and lush. The air smells like dried grass, sometimes like a juicy steak or rhino dung, depending on where you are in the park. 
The guide checks you into the Sweetwaters Serena Camp, leave you to yourself to explore and indulge and then takes you out for an evening game drive at 3 p.m.  Evening game drives bustle with wildlife, birds, and colour seeing that they happen when the temperatures are milder. 
Keep those eyes open, for that vicious lion creeping up on a zebra, that rhino rolling in the mud, elephant taking a sand bath, or giraffe browsing on acacia leaves. The guide sticks around for the sunset that sets a magical ambience for sundowners and, upon request, bush dinners.
Day 2: Full-Day Game Drive at Ol Pejeta Conservancy with Packed Lunch
It's 6:00 a.m. You have no work to go to. No deadline to meet. No urgent call or email to make/reply. It's just you and the undeniably gorgeous African wilderness. And just when you thought it couldn't get better, the sun begins to rise while you are in the jungle. 
Ol Pejeta is gorgeous, from its unique wildlife selection to its lush vegetation and beautiful scenery. Drive through the grasslands and scattered acacia to uncover a mysterious world where giraffes, elephants, zebras,  rhinos, hyenas, buffaloe, wildebeests, and hippos collide. 
Take in the serene ambience, the views, and the sun. And, when the clock strikes midday, sit for a sumptuous lunch at the heart of the park. Your afternoon game drive begins after lunch. 
Did you know that Ol Pejeta hosts two of the world's only remaining northern white rhinos? No? Yes? Well, anyway, the guide dedicates your afternoon to these lovely beasts. Your game drives continue into the dusk. Ol Pejeta evenings are calm and breathtaking. They also pair nicely with a cold glass of wine. 
Make sure not to bat an eyelid lest you miss that magical sunset!
Day 3: Morning Game Drive, Drive to Nairobi, & Transfer to the Airport
How about sunrise and a delicious plate of the best Kenyan delicacies for breakfast? The guide checks you out of the camp after breakfast, drive to the conservancy for one last game drive, and commence your trip back to Nairobi at 10 a.m.
Items Included in the Safari Price:
Pickup and drop-off at Nairobi (airport)

Service of a professional safari guide

Mineral bottled drinking water during the safari

All applicable conservancy fees and government taxes

Exclusive use of a 4×4 safari land cruiser 

Evening game drive on day 1

Full-day game drive on day 2

Morning game drive on day 3

Full-board accommodation at Ol Pejeta
Items Excluded from the Safari Price:
Easter, Christmas, & other holiday Supplements of £20-£50 Per Person Per Night

Gratuities and tips to the safari guide 

Local and international flight tickets 

laundry services 

Extra meals or drinks in the hotel, except typical lunch, dinner, and breakfast

Transfer fee when sending the money
The Total Safari Price Per Person Sharing
| Date/Month | Price Per Person Sharing |
| --- | --- |
| 1st Jan – 31st March | GBP 923 |
| 1st Apr – 30th June | GBP 864 |
| 1st July – 31st Oct | GBP 1090 |
| 1st Nov – 19th Dec | GBP 923 |
| 20th Dec – 1st Jan | GBP 1135 |
The price is based on two people travelling together and sharing the accommodation and safari vehicle. These prices are based on the 2023 seasons. It will be more affordable when you travel as a group.
The accommodation often gets packed during the migration season and is only confirmed upon making a deposit. Kindly book early to ensure you don't miss your prefered accommodation.