3 Days Safari to Aberdare National Park - Itinerary and Price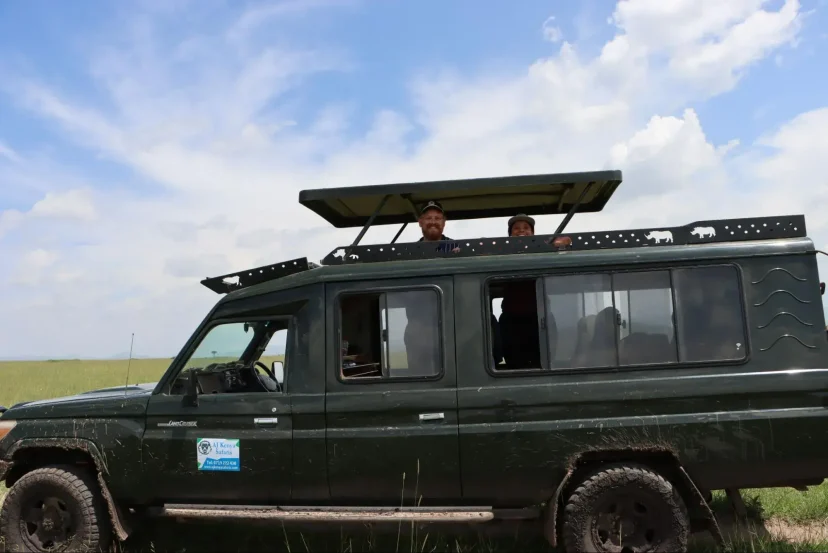 When's the last time you took a little time for yourself?  We suggest you book this 3-day Aberdare National Park Safari if you can't recall. Aberdare National Park is outstanding, wild, insanely captivating, and, by all accounts, exciting. 
It is a birders' paradise with over 250 species and a photographer's haven with picturesque waterfalls, valleys, grasslands and sunsets. It's where wildlife enthusiasts converge for a showcase like no other; one that features lions, elephants, buffaloes, rhinos and elephants (the famous Big Five).  
It also offers waterbuck, leopards, antelopes, hyenas, dik-dik, reedbucks, and forest hogs. And the generous amounts of wild cats, civet cats, duikers, serval cats, and genets. It's where loners seek the quiet life escape, seeing that the park lies within an isolated volcanic range, 100kms or so from Nairobi.  
And Aberdare National Park houses the second largest population of rhinos in Kenya.
Book Your Luxury Abderdare Safari Tours with Us Now
Summarised, 3 Days Aberdare National Reserve Safari
Aberdare Safari - Details 3 Days Aberdare National Park Safari
Day 1: Arrival in Kenya, Transfer to Aberdare & Evening Game Drive at Aberdare National Park
You will never have to feel stressed, disappointed, or worried with us because our guides are always on time for pick-up. They then do a safari briefing, and off you start the 3-hr road trip to Aberdare National Park in your exclusive 4×4 safari land cruiser. 
We recommend you book a flight that lands in the country by 5:00 a.m. so you can start the safari in the morning. By our estimations, you will be in Aberdare by 11 a.m. Take some time to get acquainted with the place and take lunch.
You have your first game drive at the park in the afternoon. If anything, an afternoon game drive around the Aberdare will charm you. It's sensational. The forested ravines, moorlands, waterfalls, river valleys, and captivating ridges. 
Let the view of the free-roaming wildlife bewilder you (there are over 50 different species in the park). Listen to the birds chirp the evening away. And keep an eye open on the rhinos (the park hosts the second largest population of endangered rhinos in the country).
Day 2: Full-Day Game Drive at Aberdare National Park with Packed Lunch
From elephants to rhinos, leopards, monkeys, buffaloes, zebras, and bushbucks wildlife thrives at the Aberdare. While that alone is fascinating, you should see the park's scenery and the unmistakable allure it conjures.
You are at the park's heart for your morning game drive at dawn. Your bronze certified guide gives you a wholesome tour of the park. There are over 50 wildlife species to admire. A captivating scenery to obsess over, the Chania and Karuru waterfalls included. 
And a colourful vibrance of over 250 bird species for birders' to spot. The game drives continue until lunchtime, when you have it in the jungle. You then continue with the game drive after lunch. While you'll still spot generous amounts, high temperatures make wildlife harder to spot in the afternoons.
Not to worry, though; the Aberdare scenery more than compensates for this. Take it all in; the clear cascading waters, scattered acacias, forested ravines, and open moorlands.
Day 3: Morning Game Drive, Trip to Nairobi, & Transfer to the Airport
Aberdares at sunrise is perfection. The eerie whoosh of the wind. The chirping of crickets. Sunrise. And the random sightings of wildlife. Experience this beauty on an early morning game drive and then get a transfer to the airport.
Items Included in the Safari Price:
Pickup and drop-off at Nairobi (airport)

Service of a professional safari guide

Mineral bottled drinking water during the safari

All applicable conservancy fees and government taxes

Exclusive use of a 4×4 safari land cruiser 

Evening game drive on day 1

Full-day game drive on day 2

Morning game drive on day 3

Full-board accommodation at Aberdare 
Items Excluded from the Safari Price:
Easter, Christmas, & other holiday Supplements of £20-£50 Per Person Per Night

Gratuities and tips to the safari guide 

Local and international flight tickets 

laundry services 

Extra meals or drinks in the hotel, except typical lunch, dinner, and breakfast

Transfer fee when sending the money
The Total Safari Price Per Person Sharing
| Date/Month | Price Per Person Sharing |
| --- | --- |
| 1st Jan – 31st March | GBP 986 |
| 1st Apr – 30th June | GBP 941 |
| 1st July – 31st Oct | GBP 1076 |
| 1st Nov – 19th Dec | GBP 1031 |
| 20th Dec – 1st Jan | GBP 1076 |
The price is based on two people travelling together and sharing the accommodation and safari vehicle. These prices are based on the 2023 seasons. It will be more affordable when you travel as a group.
The accommodation often gets packed during the migration season and is only confirmed upon making a deposit.  Kindly book early to ensure you don't miss your prefered accommodation.