3 Days Masai Mara Safari from Nairobi - Review, Itinerary, & Prices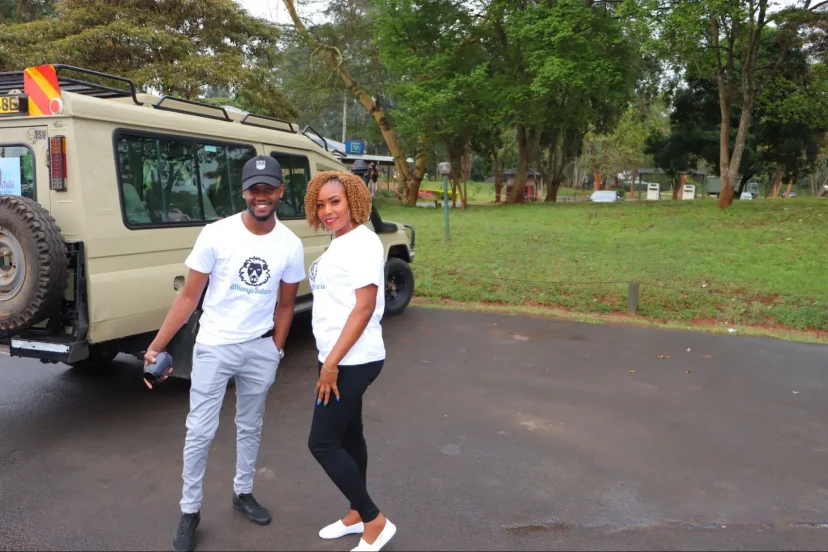 Are you looking for a 3 day Masai Mara Safari from Nairobi? We at KenyaLuxurySafari.co.uk have the perfect Kenya safari tour for you. A 3 day Masai Mara safari package, tailor-made to give you insider access to the wonders of the Masai Mara. All while staying in the best Maasai Mara safari lodge that offers both local and international cuisines.
Some of the amazing safari moments you can expect during this 3 days Masai Mara itinerary include game-viewing drives using 4×4 safari land cruisers, Masai village visit for cultural tours, and hot air balloon safaris. You can also opt to do game walks, sundowners, bush dinners and bush breakfasts.
Our Kenya safari guides – all Kenyan born and bred – know the Masai Mara like the palm of their hands. We will effortlessly take you to the best spots in the park for spotting lions, elephants, cape buffalos, black and white rhinos, crocodiles, and other safari animals. You will also have the best chance to explore the over 450 bird species that call Masai Mara home, all while staying in posh tented camps or safari lodges.
Next, we will look at the day-by-day activities of this 3 day's Masai Mara safari from Nairobi. But before then, we invite you to contact us to start planning your private safari to Masai Mara.
Contact Us To Start Planning Your 3 Days Masai Mara Safari Package
Looking for Inspiration? See Our Best Safaris to Kenya - Packages and Cost
The Summarised, 3 Days Masai Mara Safari from Nairobi Itinerary
3 Days Masai Mara Safari from Nairobi Detailed Itinerary
Here is a description of what you can expect when you book this 3-day Masai Mara safari from Nairobi with us.
Day 1: Arrival in Nairobi, Drive to Masai Mara, & Evening Game Drive
Our professional, English-speaking safari guide is always an hour earlier to pick you up from the airport/hotel/residence of any other agreed location. We recommend you book a flight that lands in Nairobi before 4:00 am. 
Early arrivals allow enough time to squeeze in the day's schedule and provide room for flexibility. After pick up, the guide briefs you about the safari and then start the 6-hr drive to Masai Mara National Reserve. 
The road from Masai Mara to Nairobi is paved with some eye-catching topographies and sceneries, case in point the Great Rift Valley Viewpoint. We make the first stop at this viewpoint to provide you with the opportunity to view the scenery and take some photos for your Instagram feed. The relaxing break at the great rift valley lasts for about 15 minutes.
Two hours later, we will be in Narok Town. Narok is the last place with nice shopping malls. so, do last-minute shopping for personal items, stretch your legs, visit the washroom, and then get back to the vehicle for the next 3-hrs of the road trip.
If our estimations are correct, and they always are, you will be at Masai Mara at around noon. We check you into your hotel and leave you to get some lunch and well-deserved rest.
The First Afternoon Game Drives in Masai Mara
At 3:00 pm, your guide picks you up for an afternon game drive. Masai Mara is quite classic when it comes to evening game drives. Scorched grasslands, occasional wildlife spotting, sweeping expanses, and sunset combine to create a dreamy storybook setting for you. 
Be on the lookout for elephants, gazelles, giraffes, warthogs, wildebeests, zebras, impalas, lions, cheetahs, and leopards, if you're lucky. You return  to your lodge at sunset in time for dinner.
Day 2: Full Day Game Drive in Masai Mara with Picnic Lunch
Day two of your private safari in Masai Mara starts with an early breakfast. The aim is to start game-viewing drives by 6 a.m. before the sun rises. The plan is for us to catch some of the morning hunters. 
You'll find no distracting fleets at this time of day; only views upon views, wildlife, and an ambience beyond belief. Our gold-certified guide takes you through the Masai Mara National Reserve in its entirety, introducing you to its diverse vegetation, the Mara River, wildlife and topography. 
Be on the lookout for African wild dogs, leopards, cheetahs, big cats and more. These shy creatures love to take advantage of the quiet for a quick kill. Morning game drives are pretty rewarding. Animals love to hunt or nibble in the mornings when it's cool. 
The guide finds a shady place, preferably at a vantage point, when it's lunch o'clock. There's nothing like a nice lunch with some magnificent views to chew on. 
You continue with the game-viewing drives till the evening after lunch (probably drive towards the Mara River), returning to your tented camp after enjoying the colourful
East Africa sunset.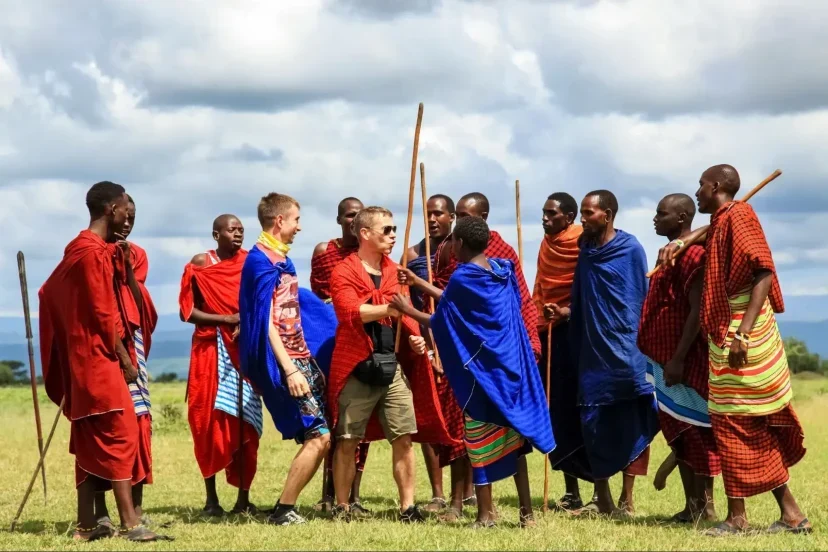 Day 3: Morning Game Drive, Maasai Village Visit, & Drive to Nairobi
The safari guide checks you out of the Kenya safari camp immediately after breakfast and depart with our bags. There is time for one last thrill, and nothing does it quite like an early morning game drive. Any wildlife you would have loved to spot on previous game drives but didn't? 
Well, that is what this game drive is for! Please sit back, keep your eyes peeled, and leave the search to your guide. Kenya Masai Mara has an incredible density of Africa's big 5. So, even the two hours game drive is worth every second.
You exit the park by around 10:30 am and head to the Maasai Villages, the final stop of our 3day Masai Mara Safari from Nairobi. Songs, dances, colourful beadwork, and more songs and dances! Time spent with Maasai people introduce you to the unique, beautiful and somewhat surprising way of life of this nomadic warrior tribe. 
To meet us at the gate is a group of dancing mamas (women) and boys who whisk us away towards their semi-permanent huts made from cow dung, human urine, sticks and mud. They call these huts manyattas, and from these manyattas, you get to learn how to light a fire from sticks. You will also meet Maasai herdsmen and learn how they co-exist with the wildlife.
We embark from Masai Mara to Nairobi after the Maasai village visit.  You will be in Nairobi by 4:00 pm if everything goes as planned. We will then drop you at the selected hotels in Nairobi city, Nairobi airport or your residence and bid you goodbye. 
Pro Tip: Here is a 4 Days Masai Mara Lake Nakuru safari and a 4 Days Masai Mara safari for travellers who wish to spend more time in Kenya.
Items Included in the Safari Price
Pick-up from the Jomo Kenyatta International Airport in Nairobi, residence, hotel, etc

Services of a professional, Gold level safari guide.

Exclusive use of the safari land-cruiser for the 3 days (For those on budget safari, sharing safari vehicles is one way to push the cost down).

Mineral water and cold beverages during game drives in Masai Mara

Meals accommodation on a full-board basis in the chosen Masai Mara hotel

All applicable park fees and government taxes 

An evening game drive on day 1

A full-day game drive with picnic lunch on day 2

A morning game drive on day 3. You get unlimited game-viewing drives with us.

A visit to a Maasai village on day 3 

Safari bottled drinking water throughout the safari.

Drop off at the airport, hotel or residence at the end of the safari.
Items Excluded from the Tour Price
An optional, Masai Mara hot air balloon safari at £430 Per Person. 

Optional bush dinner for 4 pax at £55 Per Person 

Easter supplement, Xmas supplement, new year & other holiday Supplements of £20-£50 Per Person Per Night

Visa application fee £55

Gratuities and tips to the safari guide 

Local and international flight tickets 

laundry services 

Alcoholic and soft drinks in the hotel.

Transfer fee when sending the money

Kenya visa costs

Credit card surcharge

Items of personal nature.

Nairobi hotel for those who wish to spend a night in Nairobi at the start or end of the safari.
The Total Safari Price - Per Person Price Based on Two People Travelling Together.
| Lodge/Camp/Hotel | Low Season | High Season | Peak Season |
| --- | --- | --- | --- |
| Sentrim Mara | GBP 878 | GBP 936 | GBP 1050 |
| Enkorok Mara Camp | GBP 798 | GBP 818 | GBP 1085 |
| Basecamp Mara | GBP 905 | GBP 1035 | GBP 1184 |
| Mara Big Five Camp | GBP 923 | GBP 1035 | GBP 1211 |
| Zebra Plains Mara | GBP 887 | GBP 1062 | GBP 1211 |
| Mara Simba Lodge | GBP 959 | GBP 1010 | GBP 1238 |
| Keekorok Lodge | GBP 883 | GBP 1012 | GBP 1286 |
| Mara Legends Camp | GBP 959 | GBP 1161 | GBP 1337 |
| Mara Serena Safari Lodge | GBP 1045 | GBP 1064 | GBP 1383 |
| Sarova Mara Game Lodge | GBP 1042 | GBP 1093 | GBP 1385 |
| Ashnil Mara | GBP 921 | GBP 1052 | GBP 1389 |
| Ilkeliani Masai Mara Camp | GBP 1058 | GBP 1116 | GBP 1409 |
| Mara Crossing Camp | GBP 1085 | GBP 1197 | GBP 1445 |
| Mara Bush Camp | GBP 1085 | GBP 1260 | GBP 1472 |
| Entim Mara Camp | GBP 1229 | GBP 1287 | GBP 1571 |
| Mara Bush Private Camp | GBP 1220 | GBP 1341 | GBP 1697 |
| Elewana Sand River | GBP 1330 | GBP 1598 | GBP 1821 |
| Emboo River Camp | GBP 1324 | GBP 1602 | GBP 1938 |
The price is based on two people travelling together and sharing the accommodation and safari vehicle. These prices are based on the 2023 season. It will be more affordable when you travel as a group. The accommodation often gets packed during the migration season and is only confirmed upon making a deposit.  Kindly book early to ensure you don't miss your prefered accommodation.
Masai Mara Packages from Nairobi Travel Guide - FAQs
Masai Mara National reserve is one of the world's most popular parks thanks to its sweeping expanses, abundant wildlife varieties, high-end tented camps, and natural wonders. This FAQ section will walk you through all you need to plan the best safaris to Masai Mara national reserve.
1. How Do You Get from Nairobi to Masai Mara?
There are two ways to get from Nairobi to Masai Mara: air or road. You can take public transport or car hire in Kenya if you travel by road. You can board the matatu from River Road, and it will cost you anywhere between £5 to £7. 
On the other hand, car hire prices start from £75 for ordinary cars or £195 for a safari land cruiser. The road trip from Nairobi to Masai Mara is quite long and can take up to 6-hr. 
However, it is still exciting since you get to experience the countryside and even make some stops at the major attractions like the Great Rift Valley and Narok town. But if you want to arrive fast, a direct from Nairobi's Wilson Airport to Masai Mara is highly recommended. 
KenyaLuxurySafaris.co.uk team ensures you get to Mara by road or flight without any hassle when you book our Masai Mara safaris. Our road trip to Masai Mara is usually made using a 4×4 Safari Land Cruiser or a Safari Van for people who go for the budget option.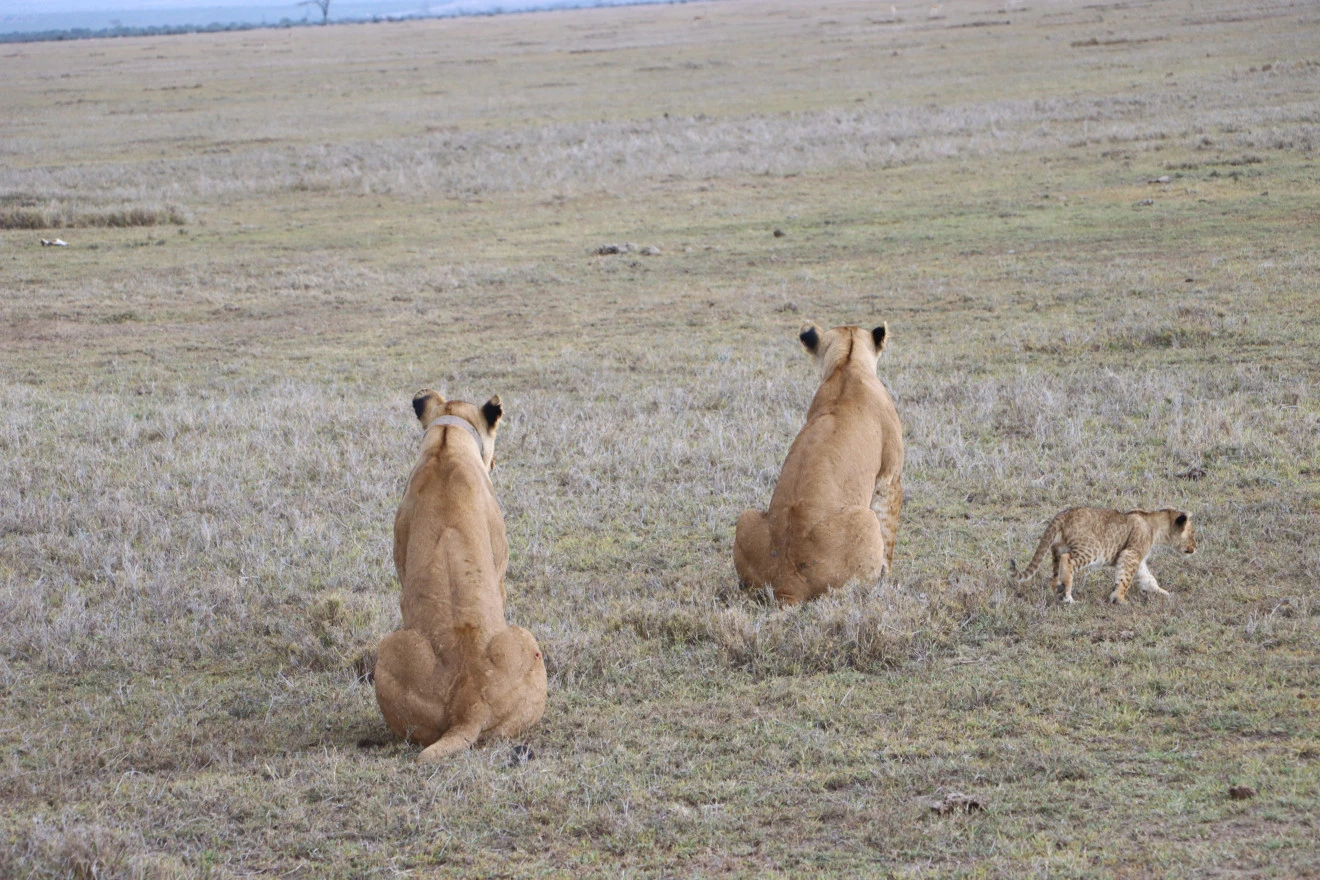 2. How Much Does it Cost to Fly from Nairobi to Masai Mara?
Flights to the Masai Mara are accessible through Wilson Airport. It is only 5km away from JKIA. And there are several airstrips within the Masai Mara, including Keekorok, Mara North, and Serena airport. The flight cost from Nairobi to Masai Mara varies from season to season, averaging about £150(one-way flights) to £290 (return flights).
We recommend you speak to our team to get the best flight cost when flying to Masai Mara from any destination in Kenya. We handle all the bookings and transfers for free when you book this 3 days Masai Mara package from Nairobi.
3. How Long Does it Take to Travel from Nairobi to Masai Mara?
This entirely depends on the mode of transport you're using. A flight to the park should take you an hour or so. Car drives can last up to 6 hours if you get into the park through the Sekenani, Talek and Oloolaimutia gates. It takes an additional 30 minutes to access the park through the Musiara and Oloololo gates. 
Using a one-way flight saves time for those with limited time and who want to book a 3-day Masai Mara itinerary. The 3 days, 2 nights Masai Mara safari from Nairobi by road allows only one day of a full-day game drive. This, however,  is enough time to give you a quick overview of the park.
4. How Far is Mara from Nairobi?
The distance from Masai Mara to Nairobi is approximately 279km, a distance covered within 6 to 7 hours. The drive is a little quicker for those who approach the park through the Sekenani, Talek and Oloolaimutia gates.
It takes a while longer for those who choose to access Masai Mara through Musiara and Oloololo gates.  Those who book flying Masai Mara tours get to the park within one hour.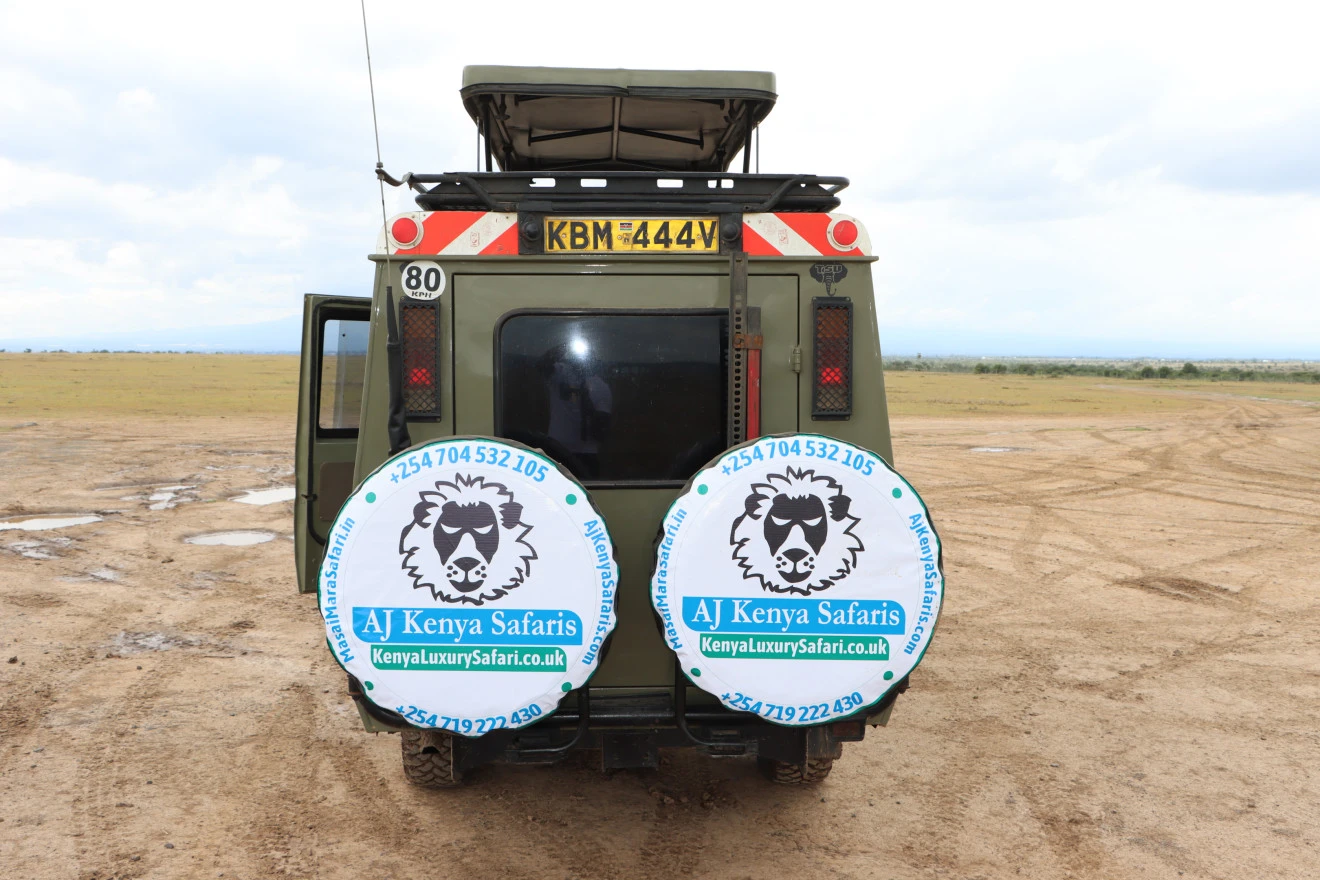 Masai Mara Distance from Nairobi - The Best Route to Follow
The best and shortest way to cover Masai Mara distance from Nairobi is to head out using the A104 highway and drive towards the B3 just before Limuru junction. For those departing from the JKIA, we suggest that you use the Southern Bypass onto the A104 in Kikuyu Town. 
Once you've reached Narok, take the C12 road to get to Sekenani, Oloolaimutia or Talek gates. If you have booked Masai Mara packages with a stay around Musiara or Oloololo gates, at Narok town, take the C13.
The C13 road is more challenging to navigate than the former.
5. How Much Does it Cost to Go to Masai Mara from Nairobi?
This depends on the mode of transport you use to go from Masai Mara to Nairobi. Public means are far cheaper than flights to Mara (from Wilson Airport Nairobi). Masai Mara from Nairobi by road costs about £11.
Car hires are your second-best option if you are looking for means cheaper than flights but much more convenient and comfortable than matatus. A self-drive safari to Masai Mara national reserve is more affordable than escorted tours. However, you would need a rugged all-wheel drive vehicle and good knowledge of the Mara landscape.
Hiring a 4×4 safari vehicle will cost anywhere from £75 depending on the make of the car you go for.  Laying an estimate for flights is difficult due to the constantly changing price. 
We, however, have a rough estimate you can work with: £150 for one-way flights) and around £295 for round trips. This amount includes residence government taxes. It is an all-inclusive cost for the flight from Masai Mara to Nairobi.
6. How Many Days Do You Need for a Masai Mara Safari from Nairobi?
We recommend a minimum of 3 days and two nights for a Masai Mara safari from Nairobi. This will give you ample time to explore the wildlife, landscape and all the natural wonders the park has to offer. Our 3-day Masai Mara safari allows you time to move to and from the park, an evening game drive, a full-day game drive, a morning game drive and a Masai Mara village visit.
7. Best Time to Book a 3 Day Masai Mara Safari from Nairobi
The Masai Mara offers excellent wildlife viewing opportunities all year through. Even so, those looking to catch the Great Wildebeest Migration should visit Masai Mara from July to October. These are the peak wildebeest migration months. July and October is also when you are most likely to see the Mara river crossing.
But there's a catch: these months record a peak in visitors, causing the park to be a little overcrowded and the hotels a little bit pricier. We recommend booking during the short rainy season of November and December if you want to spot considerable wildlife in a relatively less busy park.
8. Masai Mara from Nairobi - The Cost of Safari to Masai Mara
The idea of saving big bucks on Masai Mara tours from Nairobi is far-fetched. This is due to a combination of factors. First, the reserve is a leading tourist destination, and quality accommodation doesn't come cheap. 
Low-budget Masai Mara tours from Nairobi fall within the £220 range per person sharing per day, while mid-luxury terms fall within the £270 range per person sharing per day.  Luxury Masai Mara safaris, on the other hand, can cost as high as £364 per person sharing per day. These costs include accommodation on a full-board basis in the selected tented camps, game drives, and park entry fees. Those who choose luxury safari lodges in the Mara Triangle or Mara north conservancy are able to do game drives.
Masai Mara Safari from Nairobi - Other Destinations to Explore
Travellers with more days in Kenya can add Great rift valley lakes to game viewing in Masai Mara. The best lakes to include in your Masai Mara safaris include Lake Naivasha, Lake Nakuru National Park and Lake Bogoria. Multi-destinations safari to Masai Mara increases the solo person safari price.
Primary because you need to pay park entrance fees for each destination and you will need to book accommodation with different safari lodges in the various destinations. For those who opt to skip the Great rift valley lakes, a safari from Nairobi to Masai Mara can be combined with 2 nights in Amboseli National Park. Amboseli national park is the best place in East Africa for elephant safaris. While in Amboseli, you can go on cultural tours and learn about the culture of the local Maasai people.