6 Days Kenya Safari Itinerary - Packages, Review, & Price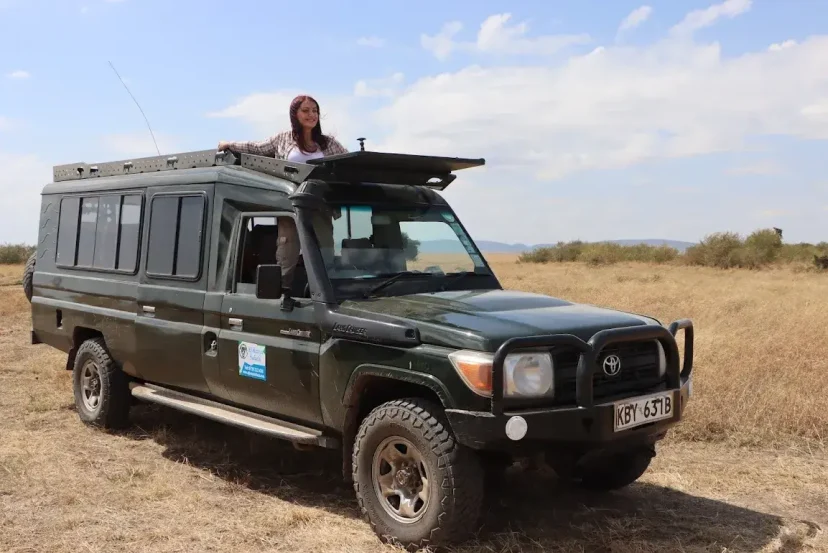 Have your mojo, inspiration, and psyche been running exceptionally low lately? This 6 days Kenya safari itinerary might be the perfect vacation to give you the much-need boost. The itinerary taps into Amboseli, Lake Naivasha, and Masai Mara to give you a Kenya safari trip that leaves your mind relaxed and body energised. 
The Mara makes the cut for its effortless scenery and wildlife, Amboseli for its near magical allure and elephants, and Lake Naivasha for its meticulous blend of natural wonders. And you leave everything to us, including the booking, travel, food, luggage, and everything, all included in your 6 days Kenya Safari itinerary. 
We are all Kenya-born and raised with a vast knowledge of the land. Our gold-level safari guides are also very professional, engaging, and fun to interact with.
How to Book this 6 Days Kenya Safari Itinerary
Summarised 6 Days Kenya Safari Itinerary - Amboseli, Naivasha, & Mara
The Detailed 6 Days Kenya Safari Itinerary to Amboseli, Naivasha, and Maasai Mara
You will find the detailed 6 days Kenya safari itinerary below. Other recommendation: You can try out this 7 Days Kenya Safari if you would like to include a walking adventure in your safari.
Day 1: Arrive in Nairobi, Transfer to Amboseli, & Afternoon Game Drive
We recommend you book a flight that lands in Kenya by 4-5 a.m. so you can avoid the hassle of booking accommodation in Nairobi. After all, you come from places of towering buildings and sparkling lights that can't be compared to Nairobi – there is little to see at the capital. 
Your assigned guide will be at the airport to pick you up an hour before your arrival time, brief you about the safari, and then welcome you to your exclusive 4×4 land cruiser. The 4-hour drive to the Amboseli reveals astonishing landscapes, far-distanced jagged mountain peaks, and a skyline that is not to be missed. 
There are two stops or more, depending on the frequency of your bathroom and snacking needs. If everything goes as planned, you should be relaxing at your chosen camp or lodge in Amboseli by noon. 
The first game drive of your 6 days Kenya safari itinerary starts in the afternoon, at around 3 p.m., when the conditions are favourable. Amboseli National Park is packed to the rafters with elephants, so it is crowned home of the African elephant. 
Your evening game drive reveals these marvellous creatures that coexist with 56 other mammal species. Marvel at the Big Five, hippos, buffaloes, ostriches, waterfowls, Egyptian gooses, zebras, and the myriad of other bird species who make their way to the park every year. 
The first day of our Amboseli safari ends with an optional sundowner at an additional cost.
Day 2: Full Day Game Drive in Amboseli National Park with Packed Lunch
While the Amboseli elephants take credit for being the park's most popular attraction, Mt. Kilimanjaro takes the flame for being the most striking. Your Amboseli full day game drive begins with an early breakfast before the sun rises. 
You are in the park not too long after, in time to catch the stunning view of the sunrise over Mt. Kilimanjaro. The morning game drives are undoubtedly the most rewarding since the wildlife is most active at these hours.
Today your drive creates a vivid tapestry, taking you from the dried-up bed of Lake Amboseli to its wetlands, lush savannahs, and woodlands. Expect to find wildlife at every turn, with the more frequent ones being the elephants, Buffaloes, zebra, dik-dik, hyrax, cheetahs, and giraffes. 
At around noon, the guide takes you to the observation hill for an unobstructed view of the gorgeous Amboseli landscape and the lake below. Here you have your packed lunch and then descend for the next part of the game drive – the afternoon game drive.
This game drive is as exciting as the morning one, with an incredible ambience, sunset, wildlife, and far-distance views of Kilimanjaro. No inch is left unexplored from the swamp below the observation hill to the Sulphur springs in the wetlands.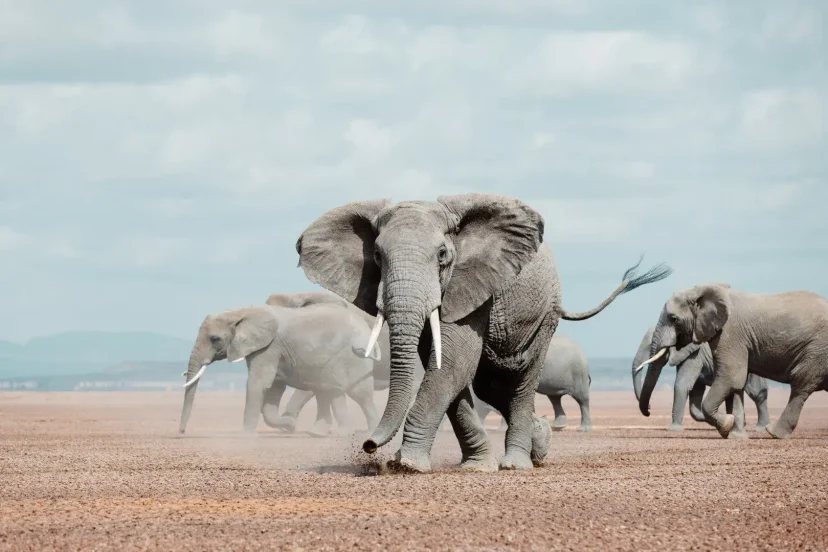 Day 3: Drive from Amboseli to Naivasha & Afternoon Visit to Crescent Island.
The road trip to Lake Naivasha starts at around 6 a.m. after taking your breakfast and checking out of the hotel. While the views and wildlife sightings on your way is a thing of beauty, it is this 6-hour road trip that will catch your fantasy. 
Your first stop is at the Great Rift Valley Viewpoint, a sensual, sprawling setting whose panorama features striking valleys, lush vegetation, birds, and water bodies. Take a breather here as you enjoy a cold drink, take some pics, and let this unique landscape take your breath away. 
You arrive in Naivasha a little past noon, which is the ideal time to check-in at the hotel, take lunch, and rest for a while. Your day is not done until you explore Lake Naivasha and Crescent Island in the late afternoon. 
Naivasha is a lake of hippos, a myriad of freshwater fish, buffaloes, antelopes, monkeys, giraffes, and warthogs. While the lake's scenery and views are breathtaking, it's Crescent Island that offers more than just an enjoyable boat ride.
You get to the island by boat, which is also a fantastic way to explore the lake and its surroundings. But we must warn you; you will fall for the beautiful ways in which Crescent Island seems to pair its vast ecological diversity and landscapes. 
First on its list of attractions is its wildlife which features zebras, giraffes, impalas, wildebeests, elands, kongoni, and hippos. There are also vast avian species, including lily-trotters, fish eagles, herons, and black cranes. 
Soak up the beauty of this island with a glass of wine. Take a picture or ten of the sunset from your boat. And, to close your Lake Naivasha safari in style, enjoy a delicious dinner with a view of the lake at the hotel. 
Day 4: Drive from Naivasha to Masai Mara National Reserve Afternoon Game Drive
Today you will take breakfast early to ensure that you are inside your 4×4 land cruiser by 6 a.m. for the road trip to Masai Mara. It is a 5-hr drive that will see you experience the best of Kenya's countryside, although there are areas where the terrain is a little more on the rough side.
If everything goes as planned, you should be checking in the camp by noon. Our guide will leave you to take lunch and relax for a while before the later afternoon game drive. The Masai Mara is the perfect definition of picture-perfect postcard beauty- where thousands of wildlife and birds throng a perfectly pristine landscape. 
The guide tears you from the comfort of your hotel for an evening game drive. Charmingly beautiful and home to over 100 mammal species, an evening game drive is ultimately one of the most alluring.  You scour the vast landscape admiring the wildlife that comes out in droves at this time owing to reduced temperatures. 
Look out for the Big Five, wildebeest, zebras, giraffes, hyenas, dik-dik, topi, impalas, gazelles, wild dogs, and over 450 bird species. Your first Masai Mara safari game drive ends with an optional epic sundowner.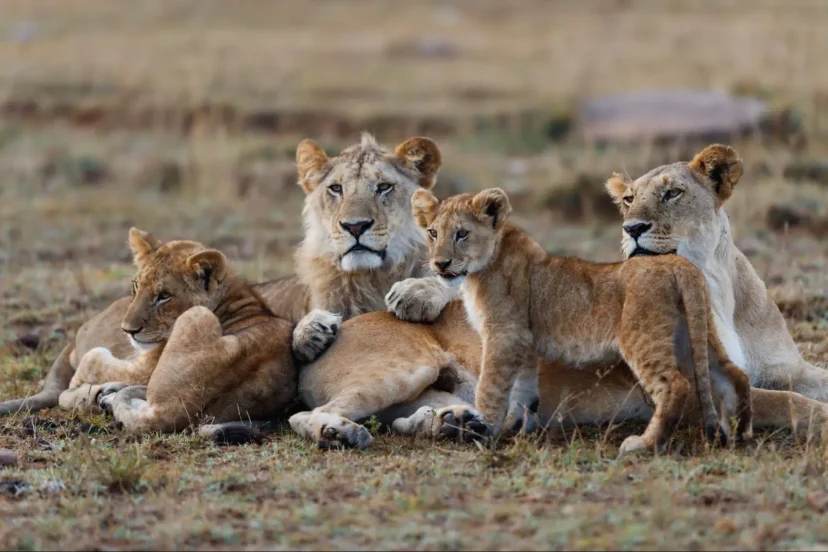 Day 5: Full Day Game Drive at Masai Mara National Reserve with Picnic Lunch
A little plushness is essential for your Masai Mara safari, and nothing is as plush as a sunset breakfast overlooking the gorgeous Mara landscape. You are deep into the wild by 6:00 a.m., surrounded by the breathtakingly dramatic landscapes of this 1,510km2 park. 
Expect sunrise, wildlife and more, combined with an ambience that makes a strong case for the park being one of the best destinations for a Kenya safari trip. Your guide knows where the scenery is at its most beautiful and where the views are at their optimal best, so rest assured of an exciting time. 
The drive stretches till midday when you sit at a shady and scenic spot in the park for some lunch. The second leg of your Masai Mara safari continues after lunch. Like the morning game drive, wildlife is also very active during the evening.
You will find herds upon herds grazing on the landscape and the rest quenching their thirst in the Mara River. No park is left unexplored, from the Oloololo escarpment to the Talek and Mara River.
Day 6: Morning Game Drive, Visit a Maasai Village, and Road Trip to Nairobi for International Flight to the UK
To mark the end of your Masai Mara safari is a quick morning game drive that gives you a chance to spot wildlife you might have missed on previous game drives.  You are already checked out of your hotel at this point; all left for you to do is enjoy the views. 
After the game drive comes a visit to the Maasai village. The Maasais are a native community known for their colourful beadwork, traditional regalia, and unique culture. You will be impressed by their mud-houses and even more when you learn they are made from cow dung, mud, human urine, and sticks. 
Join in their Adumu (a traditional jumping dance). Learn how to make fire by rubbing two sticks together. And listen to their tales of their somewhat dangerous interaction with the wild. 
The visit lasts for an hour, after which you begin your journey back to Nairobi. The guide returns you to the airport on arrival, marking the end of your 6 days Kenya safari itinerary.
Items Included in the Package Cost
Pick-up from the Jomo Kenyatta International Airport in Nairobi

Services of a professional, Gold level safari guide. 

Exclusive use of the safari land-cruiser for the  6 days. 

Mineral water  during game drives 

Meals and accommodation on a full-board basis for 5 nights 

All applicable park fees and government takes 

An afternoon game drive at Amboseli on day 1

A full-day game drive at Amboseli on day 2 with packed lunch 

An afternoon boat ride at Lake Naivasha and visit the Crescent Island on day 3

An evening game drive at Masai Mara on day 4

A full-day game drive at Masai Mara on day 5 with packed lunch 

A morning game drive at Masai Mara on day 6

A visit to a Maasai village on day 6

Return to the airport, hotel or residence at the end of the safari.
Items Excluded from the Price
An optional hot air balloon safari at £430 Per Person 
Optional bush dinner for 4-pax at £55 Per Person 
Easter, Christmas, new year, & other holiday Supplements of £20-£50 Per Person Per Night
Visa application fee £55
Gratuities and tips to the safari guide 
Local and international flight tickets 
Laundry services 
Extra meals or drinks in the hotel, except typical lunch, dinner, and breakfast
Transfer fee when sending the money
The Total Safari Cost Per Person Sharing
| Date/Month | Price Per Person Sharing |
| --- | --- |
| 1st Jan – 31st March | GBP 2718 |
| 1st Apr – 31st May | GBP 2234 |
| 1st June – 30th June | GBP 2636 |
| 1st July – 31st Oct | GBP 3222 |
| 1st Nov – 19th Dec | GBP 2636 |
| 20th Dec – 1st Jan | GBP 3333 |
The price is based on two people travelling together and sharing the accommodation and safari vehicle. These prices are based on the 2023 seasons, and it will be cheaper if you travel as a group of 4-6 people. The accommodation often gets packed during the migration season and is only confirmed upon making a deposit.