7 Days in Kenya Package & Safari - Review, Itinerary, & Price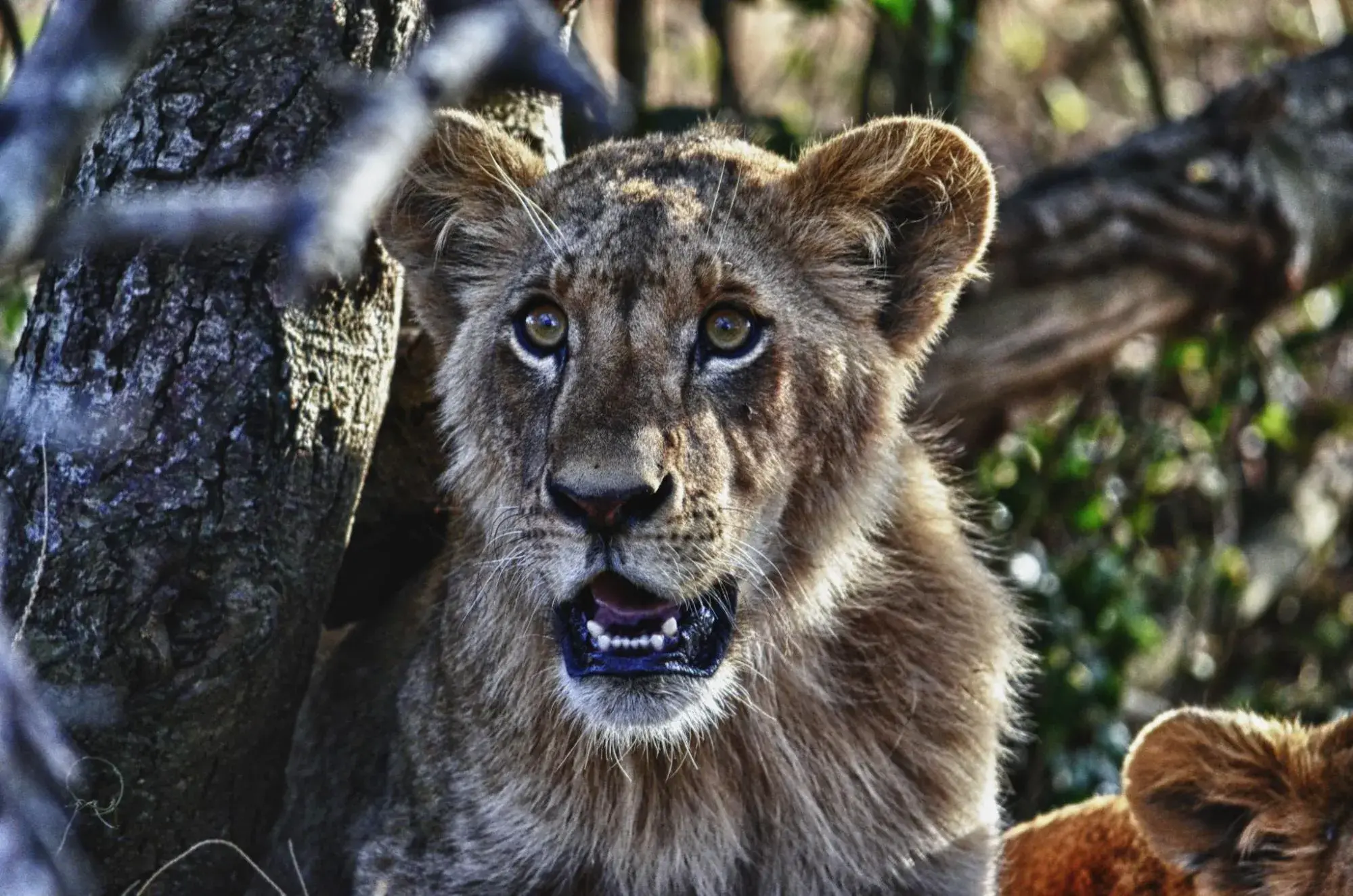 This 7 Days Kenya Safari Package takes you from the gigantic elephants of the Amboseli to the eye-catching views and diverse wildlife of the Masai Mara. Each destination in the 7 days Kenya safari itinerary is as impressive as the next and is located in an area with striking sceneries and great hotel selections. 
And your one week in Kenya will see you doused in ultimate levels of luxury, elegance and tradition in some of the top accommodations. You can also count on the pleasant company of over 1000 different wildlife species, unparalleled views of the Hell's Gate rock formations, and jaw-dropping views of the famed Lake Naivasha. 
The second-best part? All this glitz is capped off with excellent and timely services from your gold-certified guides and readily available safari experts.
Contact Us Now to Customise Your 7 Days in Kenya Travel Itinerary
The Summarised 7 Days Kenya Safari Package Itinerary
Detailed 7 Days Travel Itinerary in Kenya from Nairobi to Mara
Your 7 days safari to Kenya involves visiting great locations as outlined in this day-by-day itinerary. 
Day 1: Welcome to Kenya, Transfer to Amboseli, & Afternoon Game Drive
Your one-week safari to Kenya starts with our professional guide welcoming you to Kenya at JKIA upon landing.  This private safari guide will be at the airport an hour before your plane lands, fully armed with safari niceties and Africa's signature hospitality.
After greetings and trip briefing, the 4.5hrs road trip from Nairobi to Amboseli National Park starts with a few stopovers along the way. We recommend you book an international flight that lands in Kenya by 4 a.m so you can start with the drive at 6 a.m.
The 216 km drive will take you a little over four hours to complete, but hey, you'll understand why it's worth the trouble once you see the beauty and natural wonders in this place. Depending on when we arrive at the park, which is often noon, we take you out on an afternoon game drive after check-in and lunch. 
Expect nothing but magnificent views of the Kilimanjaro, elephants, sunsets and breezy winds for this one and, if you're lucky, all the Big Five. Not to worry, if you don't check all the Big Five off your list, you'll have more than enough time on the second day of your 1-week Kenya itinerary.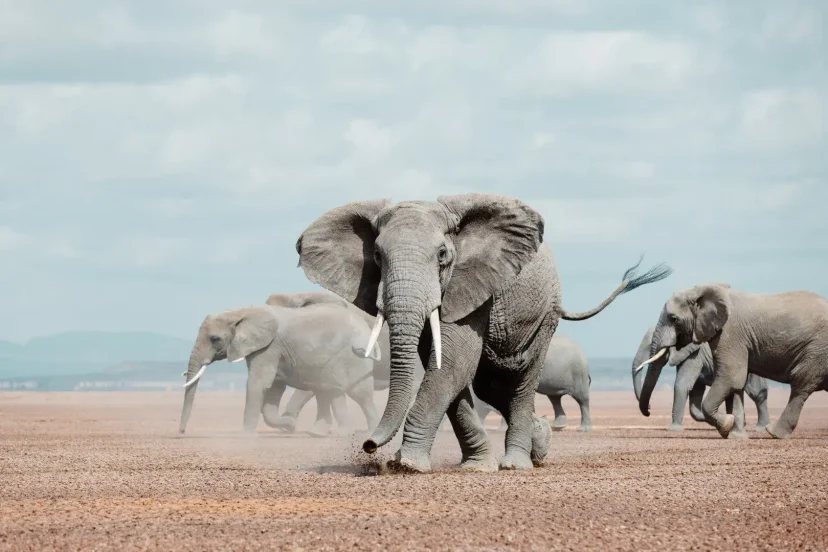 Day 2: Full-Day Game Drive in Amboseli National Park with Packed Lunch
While known as the home of the African elephant, Amboseli also houses an impressive range of natural habitats, birds, picturesque backgrounds, and wildlife. Our day starts at 6:15 am with a scenic sunrise breakfast that merges views of the Kilimanjaro with a bird's eye view of the wildlife. After that, we head to the park for a full-day game drive. 
From the dried-out beds of Lake Amboseli to the woodlands and savannah, this game drive introduces you to the beauty and plenty of the Amboseli. To make it even better is a wide variety of wildlife, ranging from wild dogs, crocodiles, dik-dik, mongoose, porcupine, and hyrax to the big five.    
We make sure you've had your fill of this awesomeness before settling on a shady spot in the park for some lunch and more at-a-distance wildlife viewing. We resume the second leg of our game drive at 2:00 pm. 
Like the day before, our afternoon game drive is all sunset and natural wonders. Did you know that game drives are more rewarding at first light and around dusk? Why? This is the best time to spot nocturnal predators like leopards and cheetahs. Wildlife also loves to graze and hunt at this time due to the cool temperatures.  
We can organize bush dinners on request.
Day 3: Transfer to Naivasha & Afternoon Boat Ride to Crescent Island
Think Dumb and Dumber when it comes to this six-hour road trip to the Lake Naivasha (with a little less drama and more scenery, of course). Of course, we make some much-needed stops along the way, the most notable being the Great Rift Valley stop. 
Innumerable birds, photo-worthy sites and lush greenery scatter the valley, making it look like a scene straight out of Disney. Your options are limitless here. Take dozens of pictures, stay put and take in the splendid scenery or enjoy birdwatching. 
If our estimations are correct, they are never wrong; we will arrive at the lake by 1:00 pm, the second agenda of the day being a scenic lunch by the lake. The first is checking you into your hotel room.  At 2 pm, we whisk you away on a scenic boat ride to Crescent Island.  
Exuding peak splendour in one-of-a-kind ways, the Crescent Island nestles east of Lake Naivasha in an area with more scenery than anything else. The island is also an oasis of giraffes, zebras, hippos, impalas, waterbucks, elands and wildebeests, as well as an impressive array of flora. 
The best bird selection also shelters the island, our favourites being lily-trotters, cormorants, pelicans, fish eagles and ospreys. When you are not marvelling at the flora or fauna, you can indulge in boat riding, hiking, mountain climbing, rock climbing or biking. 
The third day of your 7 days safari in Kenya ends with some sunset viewing, music and a glass of wine.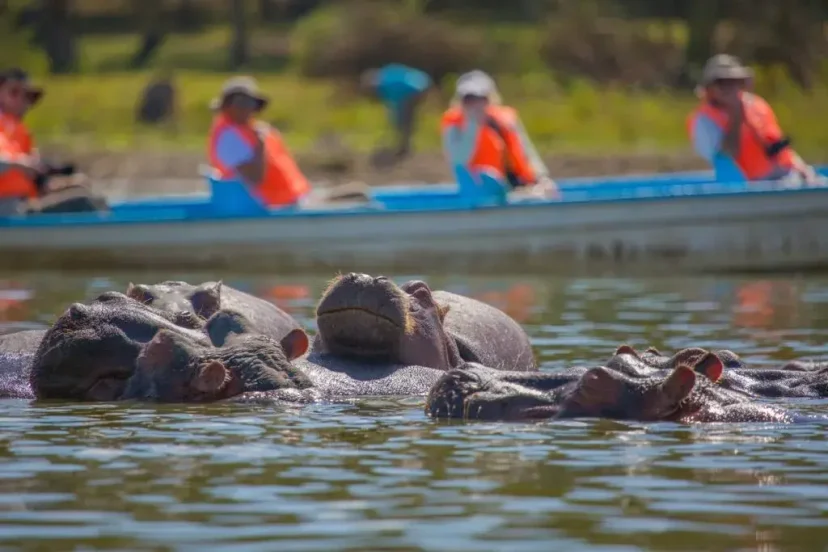 Day 4: Full-Day in Hell's Gate National Park
We make your 7-day safari in Kenya feel like a vacation and field trip all at once by making a 46-minute drive to Hell's Gate National Park. Famed for its spectacular scenery, wildlife and white plumes of geothermal steam, this park is where wild meets sublime. 
Our wild walk through the park introduces you to its towering cliffs, water-dredged gorges, scrubby volcanoes, and unique rock formations. Hike, walk or take a bike ride down around the park as you take in the colourful array of natural wonders the park presents. 
Indulge in some rock climbing for an aerial view of the park in its entirety. Go on a by-foot discovery of the biodiversity all around the park. Or learn a thing or two at the Olkaria Geothermal Spa. 
Fun fact: the Hells Gate National Park was/is the real-life inspiration for the movie Lion King.
Day 5: Transfer to Masai Mara & Afternoon Game Drive
Just outside the southwest border of Kenya, 210 km from the Hell Gate National Park, lies serenity, luxury, and nothing close to the safari experience you've experienced before. Some call it the Masai Mara, others the Mara, but one thing's for sure, the park is undoubtedly one of the world's finest. 
The fifth day of your 1-week Kenya itinerary starts with an early breakfast and is succeeded by the Hells Gate to Mara road trip that will take us anywhere between five and six hours. We will make a stop at Narok, where we enjoy the town's calm and hospitality and stock up on toiletries. We are in the park less than three hours later.
Your guide settles you into your hotel room, welcomes you to a sumptuous lunch, and, if you aren't too tired, takes you out on an evening game drive.  Now, there are limited ways to say perfect; the Masai Mara is one of them. 
The game drive gives you a sunset perspective of the park, the wildlife and open grasslands, bathed in a flattering orange. Look out for the Big Five, zebras, topi, wildebeests, dik-diks, antelopes, gazelles, hyenas, crocodiles, foxes, wild dogs and giraffes.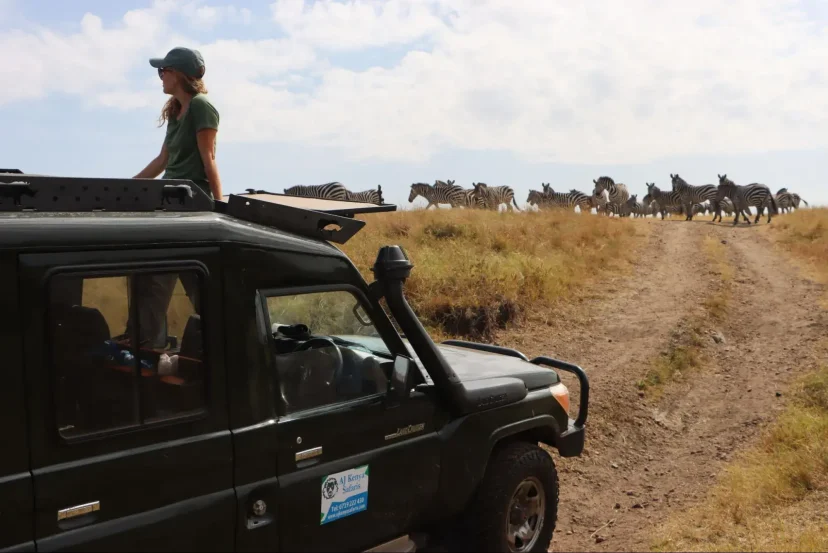 Day 6: Full-Day Game Drive in Masai Mara with Picnic Lunch
Scenic breakfasts, sunsets, wildlife, and sunburned grasslands are what Masai Mara morning game drives are made of- the 6th day of your 7 days Kenya safari package is no different. We roam the landscape together in complete awe of the serenity and variety Mara mornings presents. 
Did you know that it is easier to spot wildlife in the morning than at any other time of day? Yes? Be on the lookout for elusive wildlife like leopards and cheetahs. Our morning game drive spans the 1510 square kilometres of land and only stops for lunch in a shady but scenic spot in the park. 
Our evening game drive commences after lunch. Sunset is the star of the show this time, as well as the wildlife that speckles the Mara grasslands. Our gold-certified guide leads the way, making sure there's no picturesque site or wildlife missed. Do not forget to take as many pics as you can while at it!
Day 7: Early Breakfast, Morning Game Drive, Maasai Village visit, & Drive to Nairobi
Breakfast in bed or breakfast on a viewing deck that allows spectacular views of Mara during sunset? Well, a classic case of a no-brainer.  6:15 am finds us checked out of the hotel and well on our way to the park for the last game drive of your 7 days Kenya safari package. 
As is the norm, it's all views and wildlife for this one. Your guide helps you look for those animals you might have missed on previous drives, and knowing how good they are, it's easy-peasy for them. We head out to the Maasai villages at 10:00 am. 
Perhaps the only community in the world that is still in tune with its culture and traditions, the Masai are a people you will love to know. Nothing is modest about this community, from their cow dung houses to their songs, dances, and colourful beadwork. 
Learn a dance or two from the Masai women and Moran. Learn how to make fire from twisting a stick on the ground. Admire and purchase their excellent beadwork. And listen to their surviving-the-wild tales. 
We exit the village at noon, start our journey back to Nairobi, unwind with a cup of coffee, and return our guests to the airport. 
Some Hint: Check out our Masai Mara Migration Packages here.
Items Included in the Package Cost
Pick-up from the Jomo Kenyatta International Airport in Nairobi
Services of a professional, Gold level safari guide. 
Game drives in a luxurious 4×4 safari cruiser 
Exclusive use of the safari land-cruiser for the  7 days. 
Mineral water  during game drives 
Meals and accommodation on a full-board basis for 6 nights 
All applicable park fees and government takes 
An afternoon game drive at Amboseli on day 1
A full-day game drive at Amboseli on day 2 with packed lunch 
An afternoon boat ride at Lake Naivasha and visit the Crescent Island on day 3
A full-day at the Hell's Gate National Park on day 4
An evening game drive at Masai Mara on day 5
A full-day game drive at Masai Mara on day 6 with packed lunch 
A morning game drive at Masai Mara on day 7
A visit to a Maasai village on day 7
Return to the airport, hotel or residence at the end of the safari.
Items Excluded from the Price
An optional hot air balloon safari at £430 Per Person 
Optional bush dinner for 4-pax at £55 Per Person 
Bike hire at Hell's Gate National Park at £4 – £8 Per Bike 
Easter, Christmas, & other holiday Supplements of £20-£50 Per Person Per Night
Visa application fee £55
Gratuities and tips to the safari guide 
Local and international flight tickets 
Laundry services 
Extra meals or drinks in the hotel, except typical lunch, dinner, and breakfast
Transfer fee when sending the money
The Total Safari Cost Per Person Sharing
| Date/Month | Price Per Person Sharing |
| --- | --- |
| 1st Jan – 31st March | GBP 2152 |
| 1st Apr – 31st May | GBP 1945 |
| 1st June – 30th June | GBP 1977 |
| 1st July – 31st Oct | GBP 2526 |
| 1st Nov – 19th Dec | GBP 2097 |
| 20th Dec – 1st Jan | GBP 2638 |
The price is based on two people travelling together and sharing the accommodation and safari vehicle. These prices are based on the 2023 seasons and it will be cheaper if you travel as a group of 4-6 people. The accommodation often gets packed during the migration season and is only confirmed upon making a deposit. Kindly book early to ensure you don't miss your prefered accommodation.