Five best destinations for a 2022 Kenya Safari Holiday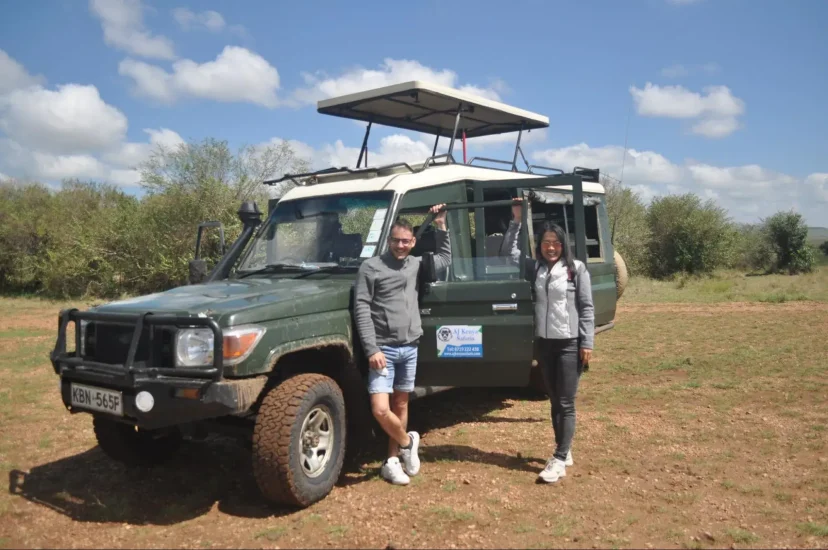 Our all-inclusive Kenya safari holidays from the UK are crafted to bring you one on one with the undeniable charms of Kenya.
Our plan is to rock your world with destinations as effortless as Diani Beach, Aberdare National Park, Amboseli National Park, Lake Nakuru, Masai Mara and more.
In other words, a 2022 Kenya safari from the Uk with us is more than just a holiday.
It is a transformative experience that will take you to new heights and introduce you to new cultures and perspectives.
We are the local experts of kenya travel from the UK. We promise to show you our country, better than anyone else.
We invite you to call or whatsapp via +254-704-532-105 to start planning the best 2022 Kenya safari holiday. You can also email us via safarioffers@kenyaluxurysafari.co.uk.
Since this website is fully owned and managed by AjKenyasafaris.com ltd, you can also reach us via james@ajkenyasafaris.com.
Our Most Booked, All Inclusive Kenya Safaris Packages from the UK
| Our Most Booked Kenya Luxury Safari Holidays | Price Per Person Sharing | View Detailed Itineraries |
| --- | --- | --- |
| Experience True Safari Luxury with this 3-Day Masai Mara Classic Safari | £645 | Detailed Itinerary |
| Unforgettable, 4-Day Trip to Masai Mara – Big 5 and More | £889 | Detailed Itinerary |
| Our Best Selling, 5-Day Masai Mara Safari | £1,084 | Detailed Itinerary |
| 4 Days Big 5 Safari in Lake Nakuru and Masai Mara | £1,042 | Detailed Itinerary |
| 3-Days Safari with a Stay at Jambo Mara Safari Lodge: Where Elegance Meets Immeasurable Natural Beauty | £718 | Detailed Itinerary |
| Blissful, 4-Day Keekorok Lodge Masai Mara Safari | £1,024 | Detailed Itinerary |
| Just the Vacation You Need – 4 Days at Base Camp Masai Mara | £933 | Detailed Itinerary |
| Masai Mara: Why this 5-Day Big 5 Safari is the Perfect Honeymoon | £1,178 | Detailed Itinerary |
| A Relaxed, All-Inclusive 6 Days Safari in Kenya | £1,748 | Detailed Itinerary |
| 7-Day Honeymoon Safari: This is All the Magic You Need | £1,678 | Detailed Itinerary |
| 7-Days Safari to Kenya's Most Breathtaking Destinations | £1,846 | Detailed Itinerary |
| Kenya Wildlife Safari:7-Day of Unsurpassed Bliss | £1,839 | Detailed Itinerary |
| Grand Heli Tour: 8-Day of Helicopter and Wildlife Adventure | £9,795 | Detailed Itinerary |
| The Perfect, 8-Day Kenya Honeymoon Safari | £1,732 | Detailed Itinerary |
| 8-Day Safari in Kenya – A Holiday with Purpose | £2,053 | Detailed Itinerary |
| 9-Day Helicopter Safari: An Exclusive Look into Kenya's Finest | £15,365 | Detailed Itinerary |
| 12-Day Kenya Safari and Beach Holiday – A Dream Vacation | £3,141 | Detailed Itinerary |
| 14-Day, Wildlife and Beach Honeymoon Safari | £4,815 | Detailed Itinerary |
| Beat the Wanderlust with This 14-Day Wildlife-Beach Honeymoon Safari | £3,698 | Detailed Itinerary |
2022 All-Inclusive Kenya Safaris from the UK - The Best Destinations
Beautiful, ecologically diverse, secluded, tropical, and luxurious- it's a matter of picking your poison with these 5 luxury safari destinations.
Spectacular, different, diverse, charming, wild, serene – many words spring to mind when describing the Mara- and yet, strangely, each word is truer and more accurate than the next.
The Mara is like a painting come to life, only this time, the colors are more vibrant and the awe indescribable.
Spend your all-inclusive Kenya holiday from the UK here, and have a glimpse of its wildlife – there are over 90 different mammal species from the big five to giraffes, cheetahs, dik-dik, gazelles, zebras, warthogs, wildebeest and more.
The park also hosts a lot of birds – over 450 different species of them- the most endemic being the Aberdare cisticola, Clarke's weaver, William's Lark, and Sharpe's pipit.
What to do in Masai Mara?
There are many activities it's almost overwhelming, from game drives to nature walks, hot-air balloon safaris, Masai village visits, bush dinners, breakfasts and lunches, as well as a sundowner.
Best lodges for your 2022 Kenya safari packages Masai Mara.
Luxury is the acute focus of Masai Mara lodges and resorts and looking at this trio, you'll struggle to disagree.
Our all-inclusive Kenya safari holidays from the UK are about savoring the moment- there's nowhere better than the Angama Mara to do this.
The resort rests high above the floors of the Rift Valley, a vantage position that allows guests spectacularly beautiful views of the Mara.
We guarantee it – you won't even know where to look when you get inside the resort.
The décor is exquisite, and the tented suites – there's 15 – the second-best thing that will ever happen to you (we're being considerate here).
They are spacious with a 24/7 power supply, floor-to-ceiling windows, spacious viewing decks, massage treatments, red-rocking safari chairs and modern bathroom amenities.
Basecamp Masai Mara or Basecamp Explorer, you can call it whatever you like, but one thing's for sure- there has never existed a more enamouring Masai Mara resort. The resort lies along the Talek River, so you can bet on the views being grand.
But there's something else you'll love; the tented suites, all 17 of them with their modern bathrooms, spacious viewing decks, and beautiful décor.
Unparalleled and underrated luxury best describe this incomparable haven for its sweeping savannah views, huge wildlife populations, serene ambience, and luxurious accommodations.
This Kenya vacation destination is so good we're sure it'll feature on all our all-inclusive 2022 Safari Holidays to Kenya from the UK.
The park lies 5.4km from Nairobi and has drawn in guests for the longest time with its dreamlike views of Mt. Kilimanjaro and generous elephant populations.
Your options are limitless here; you can go for a game drive, nature walks, hike or stay indoors and immerse yourself in the luxury Amboseli resorts so generously offer.
Now that we're speaking of wildlife, there are over 90 different mammal species here, the most common being elephants, leopards, cheetahs, zebras, giraffes, and buffaloes.
There's a staggering 600 species of birds to match, too, so do keep those eyes open.
Safari holidays in Kenya from the UK: Where to Stay in Amboseli
These two Amboseli lodges capture the beauty of Amboseli in an exceptional way.
The Amboseli Serena Lodge
Venture into Amboseli and lose yourself in the not-so-subtle decadence of the ASL, a stunning all-inclusive resort just a stone's throw away from the heart of the park. The location of this resort is mesmerizing, and so are its 92 exquisitely designed rooms.
Disconnect in the numbing beauty of its panoramic terraces, first-class restaurants, and delicious cocktails. Have your sexy-girl-in-a-bikini moment in its pool. Or, we highly recommend this, let loose and go wild on the bar's dance floor.
Framed by views of the lush landscape of the Amboseli and serenity money can't buy, the Kilima Safari Camp is an easy choice for our luxury safari holidays from the UK. There are 45 effortless rooms to choose from and, listen to this, a vast outdoor pool that we can confidently crown as the resort's highlight.
The ambience here is ethereal, and so are its 2 bars, restaurant and sauna.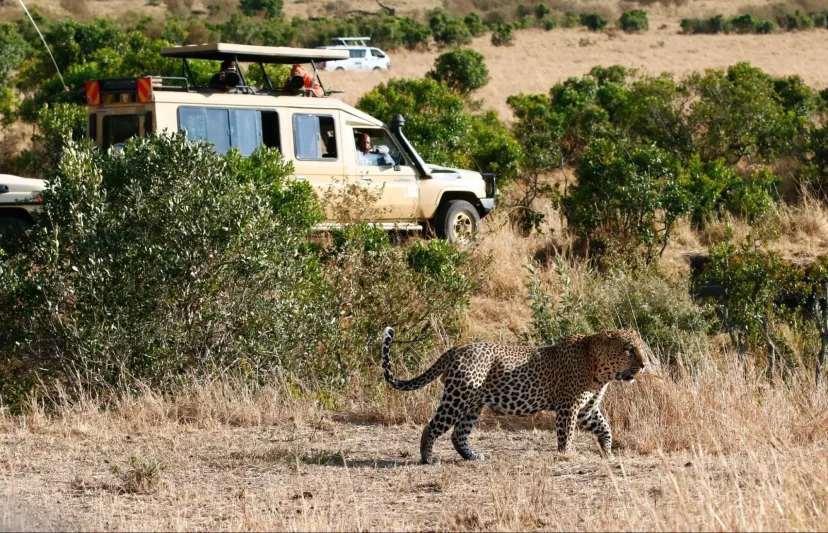 Nowhere epitomizes the Hakuna Matata lifestyle like Ol Pejeta. Home to the Big five, two of the world's only remaining northern white rhinos, black rhinos, lions, hyenas, cheetahs, giraffes, zebras, and buffaloes, this park will quite literally knock you off your senses.
To best get an idea of the city's beauty, embark on a 3-day tour of the place and explore everything from the Sweetwaters Chimpanzee Sanctuary (the only park in Kenya with chimps) to the Morani Information Center, where you can learn about wildlife behaviour.
There are activities you can engage in, too, countless of them, the very best being game drives, lion tracking, horseback riding, nature walks, and dog tracking.
All-inclusive Kenya safari holidays from the UK
: Best all-inclusive Resorts in Ol Pejeta.
Ol Pejeta is simply paradisiacal, and these two camps are all the evidence you need.
Beautifully isolated and with a fantastic ambience to boot, the very stunning Sweetwaters Serena checks all the boxes of a perfect luxury resort.
Decadence abounds here: the resort features 17 tents, all of which come complete with views of Mt. Kenya, modern bathroom amenities, and décor that artfully reflects the spirit of Africa.
For a taste of the finer things in life, there is a restaurant that offers flavorful cuisines and a swimming pool with jaw-dropping views of Ol Pejeta.
It's hard not to fall in love with Porini and her sophisticated ways. This stunning property lies on a secluded valley on the banks of a seasonal river, a location that is in every least bit captivating.
There are eight spacious tents for guests to choose from, and each comes complete with ensuite bathrooms, spacious decks, and 24-hour room service.
Dining facilities are equally outstanding, and the views are as magical as the place itself.
Inside Samburu, an impressive population of over 30 mammal species rages on, the most notable being the Samburu Five (Beisa Oryx, reticulated giraffe, Gerenuk, Somali Ostrich, and Grevy's zebra).
It is this impressive number and the park's pristineness that lures many in.
Our luxury safari holidays from the UK introduce you to this park and the many wonders it holds: its spectacular views, laid-back ambience, world-class resorts, and fun activities.
These activities include game drives, nature walks, bush dinners and lunches.
All-inclusive Kenya safari holidays from the UK: All-inclusive resorts in Samburu
These two Samburu lodges magnify the beauty of Samburu with their faultless modern amenities, impeccable ambiance, and beautiful interior decor.
erfect for quiet mornings watching the sunrise and introspective days spent reflecting on your favourite meditations, the Sarova Shaba merges the natural wonders of Samburu and its world-class amenities to create a masterpiece.
There are over 85 rooms to get lost in, each offering spacious terraces, modern bathroom amenities, and views fit for the books. Its restaurant is something too, and my, will you love the delicacies here.
The resort also offers;
A swimming pool

Bar and lounge

24-hour room service

Laundry services

Babysitting services
Sitting at the heart of Samburu and boasting riveting views of Mt. Ol Olokwe is the Ashnil Samburu Camp, an idyllic resort that encapsulates the spirit of Kenya safaris. There are 30 luxury tents for you to choose from, all of which boast splendid views of the River Ewaso Nyiro.
For a deeply intimate and mind-blowing experience, head to the lodge's restaurant, where meals come with awe-inspiring river views to chew on.
You can also take a plunge in the pool. Lounge at the bar as you marvel at the African Savannah. Or go for game drives, nature walks, sundowner and bush dinners/lunches.
Ashnil Samburu Camp is a dream come true for nature lovers. I would not mind take the 5 hours road trip from Nairobi just to spend a night here.
Lake Nakuru National Park
For the ultimate 2022 Kenya safari from the UK experience, use the splendid Lake Nakuru National Park as your base. The park lies on the floors of the Great Rift Valley in an area that is all woody and bushy grasslands, wildlife and scenic views.
There's a wide ecological diversity to enjoy here and varied habitats featuring Lake Nakuru and picturesque escarpments.
For some added drama, please stop by Lake Nakuru, a world phenomenon known for its vast pink flamingo populations. The flamingoes are so pink and countless that the lake has been dubbed the pink carpeted lake- it's a delight to watch.
There's also the Big Five to discover, countless giraffes, zebras, rhinos, lions, baboons, and the eye-catching Makalia Falls.
All-inclusive Kenya safari holidays from the UK: Where to Stay in Lake Nakuru
Let these Lake Nakuru lodges be all the motivation you need to book an all-inclusive Safari holiday in Kenya 2022.
Sarova Lion Hill Game Lodge
For those whose only desire is to vacation in Kenya and to vacation in style, this right here is your answer. The Sarova Lion Hill Lodge sits on Lake Nakuru's Lion Hill, a vantage position that exposes guests to incredible views of the lake and its national park.
Its 67 stylish rooms are also a thing of beauty, each featuring spacious terraces, classic aesthetics and easy-on-the-eye designs.
This splendid experience will have you dining in a Michelin-starred restaurant, drinking from a panoramic bar terrace and unwinding in a captivating organic garden. The lodge also has a swimming pool and spa.
Spend your all-inclusive Kenya safari holiday from the UK at the Lake Nakuru Lodge, a stunning resort that sits at the heart of the park. This extraordinary experience grants you access to the park's wildlife without even leaving your room, an ordeal that turns magical when coupled with the resort's chic amenities and ambience.
There're 95 spacious deluxe rooms to choose from, all of which feature glass sliding doors, ensuite bathrooms, private verandahs, and a sitting room.
The resort also offers;
A swimming pool

Free wi-fi

Bush BBQs

Gift shop

A spa