9 Days Helicopter Tours and Wildlife Safaris in Kenya - Review, Price, & Package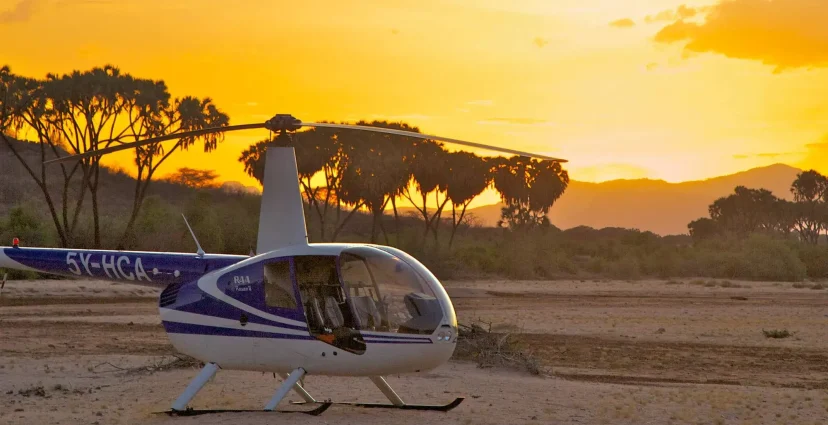 The Mega 9 Days Helicopter Tours and Wildlife Safaris in Kenya lets you experience the best of sky and ground safaris in Africa in just over a week. It takes you to spectacular and pristine destinations such as Mt. Kenya, Masai Mara, and Ol Pejeta, making it one of the best helicopters' rides you will ever have. 
Expect to drop into valleys, soar over mountains, and view different wildlife with the wind blowing your face for the ultimate exhilaration. It's like having wings and the freedom to explore Kenya's wildest, most extreme, and most spectacular parts. 
Places inaccessible by the most potent 4×4 safari land cruiser and untouched by travellers suddenly open up thanks to the 9 days helicopter tours and wildlife safaris in Kenya. It's an ethereal excursion that combines phenomenal landscapes, gorgeous cliffs and arches, evocative architecture, exquisite accommodation, and euphoric activities
Book Your 9 Days Helicopter Safari to Kenya Today!
The Summarised, 9 Days Helicopter Tours and Wildlife Safaris to Kenya
The Detailed 9 Days Wildlife and Helicopter Safari to Kenya - Day-by-Day Activities
Day 1: Welcome to Kenya (JKIA), Transfer to Amboseli, & Afternoon Game Drive at Amboseli National Park
An early start is a perfect start, and that is why we recommend an international flight that lands at 4-5 a.m. Your exclusive safari guide will be at the airport 1-hour before your plane lands (because who wants to be the tour company that leaves their guests stranded anyway). 
After the greetings and safari briefing, the guide welcomes you to your exclusive 4×4 safari land cruiser and start the road trip to Amboseli. The journey can take up to 4.5 hrs with a few stops on the way. Upon arrival, you check in the camp, take lunch, and head out for an afternoon game drive at Amboseli National Park.
Amboseli sits on 243 square km in an area that is arguably one of the most spectacular in the region. It has a vast wildlife assortment that features over 1000 elephants for your eyes to feast on while you move around. That is the highest concentration of elephants in Kenya. 
The park also offers over 50 other mammal species, including wildebeests, lions, cheetahs, zebras, and over 47 bird species.Let us take you through it all; the wildlife, the landscape, the birds, and when you think it couldn't get better, standstill because the sunset is about to steal the show.  Your afternoon game drive ends at 6 p.m.
Day 2: Full-Day Game Drive at Amboseli National Park with Packed Lunch
The magic of Amboseli, best experienced through game drives, begins at sunrise and sticks around till nightfall. We leave for the park at the first light of dawn with a packed lunch in tow, some Maasai blankets for the cold, and hot water bottles depending on the climate. 
Today you are about to meet the phenomenal world of never-ending tranquillity, wildlife, and birds. The bizarre world our gold-level-certified guide helps you explore.  You get the whole experience of the park's signature wetlands, Sulphur springs, Lake Amboseli, and Mt. Kilimanjaro.
These sites form a stunning background for wildlife viewing with umbrella trees, savannah grassland, and the observation hill. The game drive stops at noon when we take advantage of the elegant surroundings to set a scenic lunch in the heartbeat of the park – preferably the observation hill. 
Expect to be floored by the observation hill, which gives a bird's eye view of the park, the lake below, and the fantastic array of wildlife gathering around it for water. Sundowner is yet another highlight of the day and can be complemented by romantic or intimate candle-lit dinners in the park at an additional fee.
Day 3: Transfer from Amboseli to Ol Pejeta
Today we have a long drive from Amboseli to Ol Pejeta. The aim is to check out the camp by 7 am and start this 6hrs journey. This drive takes you past Nairobi toward the central region of Kenya. Be on the lookout for coffee and tea plantations.
We can make a stopover at one of the plantations where you will learn more about tea or coffee through a prior arrangement. The next stop is the equator marker at Nanyuki town. It is a great place to stretch your legs as you see the local scientist at work for a small donation.
Someone will demonstrate the Coriolis Effect. You will be thrilled by the difference a few metres can make. 
It will only cost you around £3.5 to have a practical on Coriolis Effect and even get a certificate. The equator market is also a great place to take photos for memories and buy some survivors from the curio shops. 
Only remember to pay a ⅓ of the said price for every piece of jewellery. We will then continue with the drive to arrive at the lodge or camp at around 2 pm. There are no other activities on the agenda today to let you relax.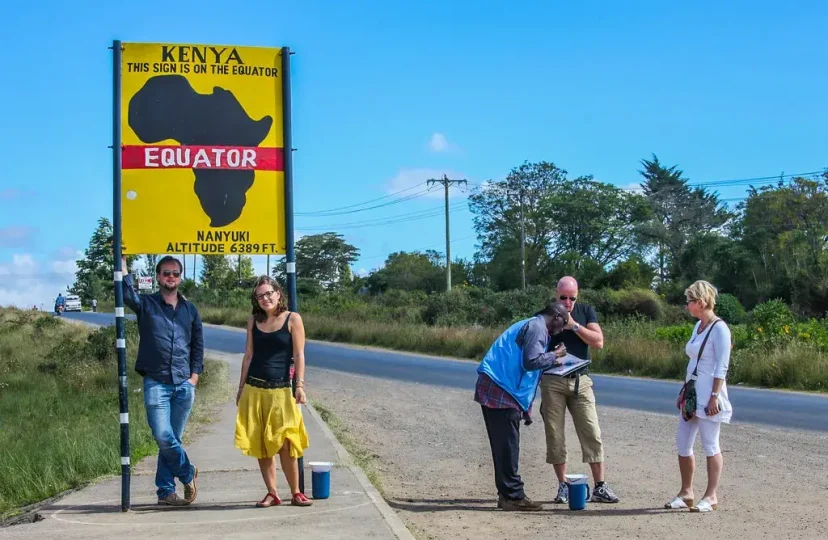 Day 4: Morning Mt Kenya Helicopter Excursion & Game Drives at Ol Pejeta Conservancy
Today you get to combine the rustic charms of Ol Pejeta with the grandeur of helicopter rides with this Mt. Kenya helicopter package. It is a 2-hr flying safari that will see you start the adventure at 7 a.m, before the sun gets warm. 
The flight departs early in the morning when it's neither too foggy nor windy for a helicopter ride. The wildlife, lushness, and never-ending flatness of the Ol Pejeta plains are captured on this Mt. Kenya tour with a helicopter. 
Mt. Kenya is not left out of this excursion, with us landing at Lake Michelson for breakfast and trout fishing. The enticingly lush forest all around you, as well as the lake's piercing blue waters, add an unmistakable allure to this landing.
We head back to camp after the 2 hours have elapsed, leave you to enjoy your lodge's facilities for a few hours, and then head out for an evening game drive at around 2:30 p.m. The Ol Pejeta houses two of the world's only remaining northern white rhinos, over 10,000 large mammals, including the big 5, and over 80 black rhinos. 
We ferry you across the scenic landscape with a 4×4 Landcruiser in line with the true Kenya Luxury safari style. You only need to feast on the views from the open-top or the window. Our game drive ends at 6 p.m. with an optional epic sundowner for an additional fee.
Day 5: Morning Game Drive at Ol Pejeta Conservancy and Transfer to Lake Nakuru
Ol Pejeta is every inch deserving of the buzz it gets and is sandwiched between Mt. Kenya and the Aberdare Ranges. You are yet again its besotted guest on day five with a morning game drive after breakfast and check-out.  Our focus turns to its wildlife and unique vegetation. 
Did I mention that the Ol Pejeta houses two of the world's only remaining northern white rhinos? Yes? They're so mind-blowing you'll want to see them again.  The conservancy is also known for its effort to conserve Chimpanzees. They are mainly rescued from Congo and other places and then given a second chance here. 
You will love interacting with these creatures – hopefully, we can be around during feeding time. This game drive lasts until around 10 a.m, after which we head out of the conservancy and drive to Lake Nakuru. 
The drive will see you make a stop at Thomson's Falls or Nyahururu Falls while on the way to Nakuru. It is a scenic waterfall on the Ewaso Ng'iro River. The fall is 74M high and only a few km away from Lake Ol Bolosat. You can view it from above or wall down the trails to the bottom. 
This fall has appeared in the 1988 film "The Man in The Brown Suit", and its upstream forms the highest hippos pool in Kenya. You should be in Nakuru at around 2 p.m. Perfect time for check-in at the hotel, take lunch, and rest for the rest of the day.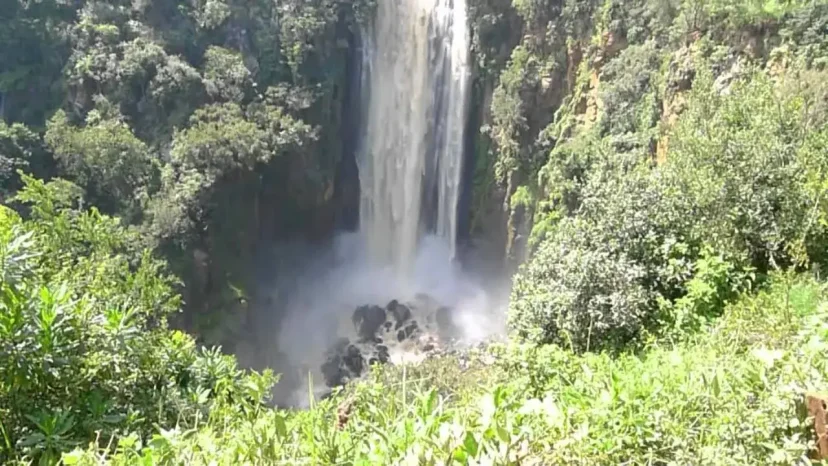 Day 6: Full-Day Game Drive at Lake Nakuru National Park
Lake Nakuru settles on the floor of the Great Rift Valley in an area that is primarily bushy grasslands and wooded overgrowths, making it a tourist magnet in its own right. The game drive starts at sunrise and lets you marvel at its vast ecological diversity and wide-range habitats like ridges, Lake Nakuru, and vegetation-covered escarpments. 
You can't miss uncovering the wildlife thanks to over 56 different mammal species that call this home. They include waterbucks, white rhinos, giraffes, zebras, lions, baboons, and gazelles. The park also hosts over 450 species, the star of the show being the flamingoes. 
Your exploration halts for a moment when we stop to dine at a scenic spot within the park but not for too long, for we are back to the game drive an hour later.  There are more than enough attractions to keep you occupied, from the Enasoit, Lion Hill, and Honeymoon observation Hills to the Baboon Cliffs and Out-of-Africa viewpoints.
You also get to visit the Makalia falls, which is romantic perfection, and the Lake Nakuru, which draws hundreds of pink flamingoes, thus earning the name the pink lake. The game drive ends at 6 p.m. with an optional glass of your best wine and sundowner at a small cost. 
Day 7: Transfer from Lake Nakuru to Masai Mara & Evening Game Drive at Masai Mara National Park
The Magic of Masai Mara begins with a magical road trip that promises to be your most scenic yet. It can take up to 5 hrs to get to Mara with a deserved stop at Narok town that gives you the opportunity to stretch your legs and engage in some final shopping. 
The drive from Narok takes about 2-hr, and you should be at the camp at around noon. This is the perfect time to grab lunch and relax before heading out for an evening game drive. Evening game drives begin at 3 p.m. and are rife with all the niceties needed to make your adventure memorable.
Wildlife? Check. There's more than you can count, from the Big Five to the hippos and jackals. Outstanding sceneries? Check. The vast open grasslands are a thing of beauty, as well as the scattered acacias and riverine forests. 
Zen vibes? Check. The park is tranquil, especially in the evening when the golden sun sleeps.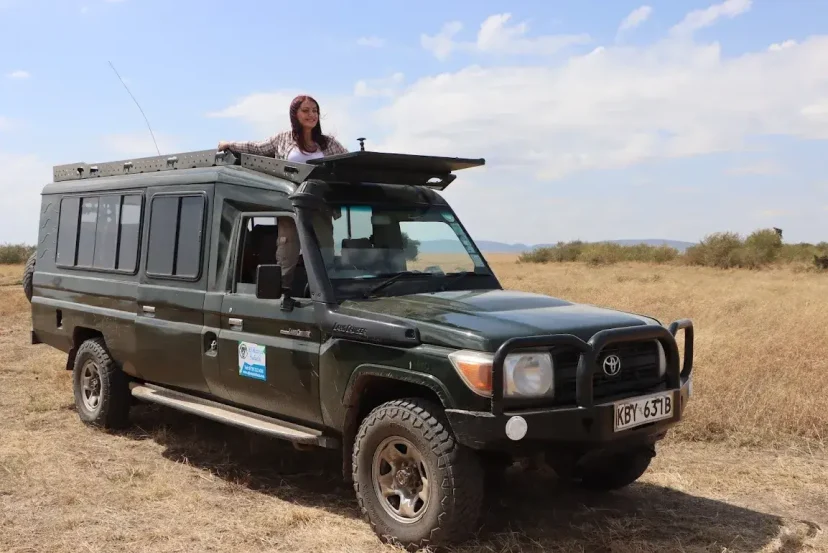 Day 8: Lake Victoria Helicopter Excursion
The Lake Victoria Helicopter Excursion is a 5-hr activity that sees the heli pick you up from the lodge at 10 a.m. It leads you to the striking Mara escarpments and right above the sugarcane fields and small villages of Lou for a sampling of the Kenyan countryside. 
The flight continues to Ruma National Park (famous for housing the Roan antelope, Rothchild Giraffe, and black rhino), Homa Bay, Mfangano Island, and Rusinga Island. The pilot lands the helicopter at Rusinga Island, where you have your lunch while enjoying fishing. 
You also get to explore the island and then head back to Masai Mara.  Spend the rest of the day enjoying all the amenities the lodge has to offer.
Day 9: Morning Game Drive at Mara, Visit a Maasai Village and Transfer to Nairobi
The Mara was made for game drives and offered various wildlife and breathtaking and wide-ranging sceneries. You can bet on sunrise when it comes to making game drives spectacular, so we set out at first light for this one. 
Over 90 mammal species and 450 birds are expected, and an ambience so serene the park has been crowned Africa's best for six years in a row. The game drive continues to around 11 am, the perfect time to head to a Maasai village. (Today, we carry packed lunch from the hotel in the morning and take it in the car).
The Maasai villages are rife with culture, dance, and experiences that surprise locals like us. The first is that they live in houses made from cow dung, mud, sticks, and grass, and the second is that they live in the park, an area known for dangerous housing animals. 
You get the chance to marvel at their catchy songs and dances, vibrant beadwork, and entertaining stories. After the Maasai Village visit, you catch a flight that lands at Wilson Airport in Nairobi. You will meet our team waiting to transfer you to JKIA for your international flight.
Things Included in the 9 Days Safari
Pick-up from the Jomo Kenyatta International Airport in Nairobi on day 1

Services of a professional, Gold level safari guide

Game drives in a luxurious 4×4 safari cruiser 

Exclusive use of the safari land-cruiser for the  9 days

Mineral water  during game drives 

Visa application fee

Flying Doctor Cover – Maisha Short Term Platinum for 30 days

Meals and accommodation on a full-board basis for 8 nights 

All applicable park fees and government takes 

Exclusive use of Helicopter for the Heli excursions 

Evening game drive at Amboseli National Park on day 1

Full-day game drive at Amboseli National Park with packed lunch on day 2

Morning Mt. Kenya Helicopter safari on day 4

Afternoon game drive at Ol Pejeta Conservancy on day 4

Morning game drive at Ol Pejeta Conservancy on day 5

Full-day game drive at Lake Nakuru National Park on day 6

Evening game drive at Masai Mara National Reserve on day 7

Mid-morning Lake Victoria Heli excursion on day 8

Morning game drive at Masai Mara National Reserve on day 9

Visit a Maasai village on day 9

Packed lunch from the hotel on day 9

Flight from Masai Mara to Nairobi on day 9
Things Excluded from the 9 Days Safari
An optional hot air balloon safari at £350 Per Person

Optional bush dinner for 4-pax at £60 Per Person

Easter, Christmas, new year, & other holiday Supplements of £20-£50 Per Person Per Night

Gratuities and tips to the safari guide

International flight tickets

Laundry services

Extra meals or drinks in the hotel, except typical lunch, dinner, and breakfast

Transfer fee when sending the money
Total Safari Price Per Person Sharing
| Travel Season | Price Per Person Sharing |
| --- | --- |
| 1st Jan – 31st March | GBP 8,774 |
| 1st Apr – 30th June | GBP 7,685 |
| 1st July – 31st Oct | GBP 9,631 |
| 1st Nov – 19th Dec | GBP 8,829 |
| 20th Dec – 1st Jan 2024 | GBP 9,631 |
The price is based on two people travelling together and sharing the accommodation, helicopter, and safari land cruiser. Due to the bad foggy climate, It might be impossible to do the Helicopter safari during July and August.
These prices are based on the 2023 seasons, and it will be cheaper if you travel as a group of 4-6 people. The accommodation often gets packed during the migration season and is only confirmed upon making a deposit.