Mt. Kenya Helicopter Tour - Ol Pejeta, Mt.Kenya, Samburu, and Masai Mara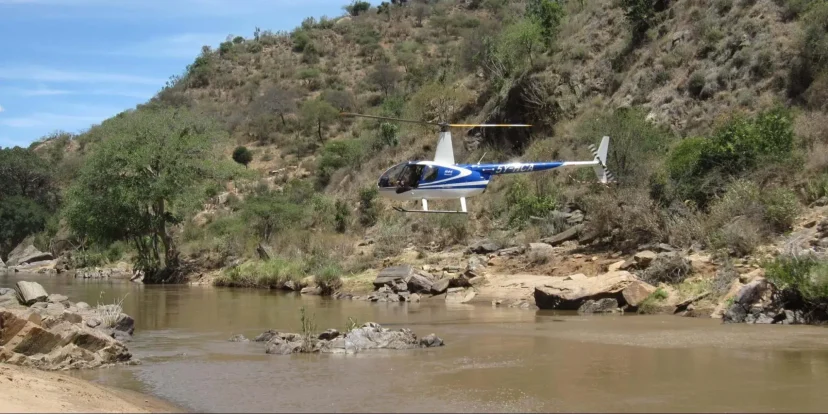 Kenya is undoubtedly at its most breathing best from a helicopter window, thanks to its exceptional sceneries, natural attractions, and multitudes of wildlife. That's precisely what you get from this Mt.Kenya helicopter tour that takes you to the lush and spectacular as Ol Pejeta, wildlife-swamped Masai Mara, and the pristine Samburu Reserve.
We have curated a list of mind-blowing Mt. Kenya helicopter ride destinations, some expected, others surprising, but every bit worthwhile. Expect to be thrilled, thoroughly entertained, and captivated by this Mt. Kenya heli safari.
How to Book Your Mt. Kenya Helicopter Tour - Book Now
It is easy to book or even customise this Mt. Kenya Helicopter tour. Kindly contact our team through email, phone call, or WhatsApp:
Phone No. +254-704-532-105

WhatsApp +254-704-532-105
You can also fill out the "Book a Safari Form", and we will get back to you within 12 hours.
The Summarised, Mt. Kenya Helicopter Ride - Daily Activities
The Detailed, Mt. Kenya Heli Safari to Ol Pejeta, Samburu, and Mara
Day 1: Welcome to Kenya, Transfer to Ol Pejeta, & Evening Game Drive at Ol Pejeta Conservancy
We are not sure it gets more surreal than a Mt. Kenya helicopter safari, and that is why we recommend that you land early for this one, preferably by 5:00 a.m. Your gold-level safari guide will have arrived an hour before, and after a short safari briefing and welcoming you aboard the safari vehicle, begin the 5-hour drive to Ol Pejeta.
Ol Pejeta has the markings of a perfect Mt. Kenya heli safari destination thanks to its wildlife, a thing that has seen it solidify its position as a worthy bucket list attraction. We should arrive at Ol Pejeta late in the afternoon, from where we check you into camp and leave you to relax as you enjoy some lunch. 
Stunning as it is, several things are more rewarding than relaxing at your 5-star lodge, such as an evening game drive. We are in the Ol Pejeta wild by 3 p.m., deeply engrossed in the beautiful array of natural wonders that marry to create this beauty. 
First are the two northern white rhinos, the only of their kind remaining in the world. Then there's the Big Five, black rhinos, wild dogs, hartebeests, hippos, impalas, cheetahs, giraffes, hyenas, monkeys, impalas, and elands. 
The last comes as our day comes to a close: sundowner, an occasion we celebrate with champagne and a couple of your favourite ballads.
Day 2: Morning Mt. Kenya Helicopter Excursion & Game Drives at Ol Pejeta Conservancy
This excursion begins at 7:00 a.m. when the weather is perfect, and the scenery is still recovering its breath from sunrise. The 2-hour Mt. Kenya helicopter ride flies you above sites as spectacular as Mt. Kenya, and just when you thought you'd had your fill of pleasant surprises, you land at Lake Michelson.
Here you commemorate breakfast over stirring sceneries and exciting activities like fishing. We do not operate this excursion in the afternoon due to weather conditions, and July/August can be difficult with cloud cover.
We head back to camp after the 2 hours lapse and leave you to marvel at the delights your lodge avails. But not for too long, we head out for another evening game drive at around 2:30 p.m. until 6 p.m.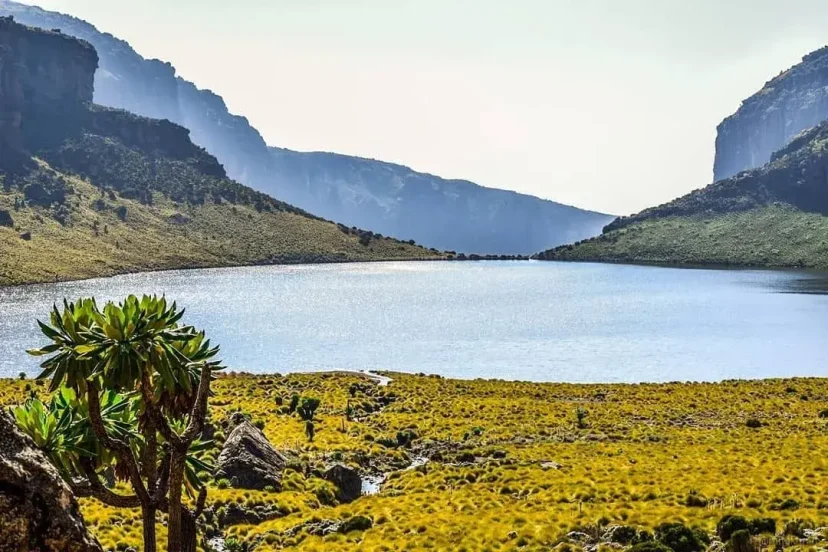 Day 3: Morning Game Drive at Ol Pejeta, Transfer to Samburu, & Evening Game Drive
Morning game drives embody pristineness and refined luxury, and it's easy to see why when you're catching sunrise and wildlife from the comfort of your 4×4 Landcruiser. We drive amongst the over 10,000 mammals characteristic of the conservancy, introducing you to those you might have missed during the evening game drives. 
Nothing is out of the question here, from leopards to lions to wild dogs and jackals. Our ride continues to around 10 a.m., after which we drive out of the conservancy for the trip to Samburu. Today we also enjoy an evening game drive at Samburu Game Reserve from 3 p,m to around 6 p.m.
Day 4: Morning Samburu (Ololokwe) Helicopter Excursion and Afternoon Game Drive at Samburu National Reserve
The Samburu is an away-from-it-all destination that merges enormous wildlife with eye-catching sceneries to create a seamless destination for Samburu helicopter excursions. We arise at sunrise for a helicopter ride that flies us over the Samburu National Reserve, famous for its vast elephant herds and the striking, life-giving Ewaso Nyiro River. 
Our ride continues to Ololokwe, a soul-stirring giant flat-topped summit known to host hundreds of giant cycads and birds. We make a stop at Naitodo; a brilliant granite outcrop extensively featured on David Attenborough's Africa series. 
The Samburu helicopter excursion spans a total of 2.5 hours, after which we head back to camp for a relaxing meal. We then head out for an evening game drive at the reserve at 3 p.m. for evening game drive.
Expect to catch an abundance of rare wildlife species such as the Gerenuk, Grevy Zebra, Beisa Oryx, Somali Ostrich, and Reticulated Giraffe. There are also  over 900 elephant heads, large predator populations, and over 450 bird species, 
This drive is all-natural wonders and attractions, a statement that is even more true when sunset graces us at 6 p.m.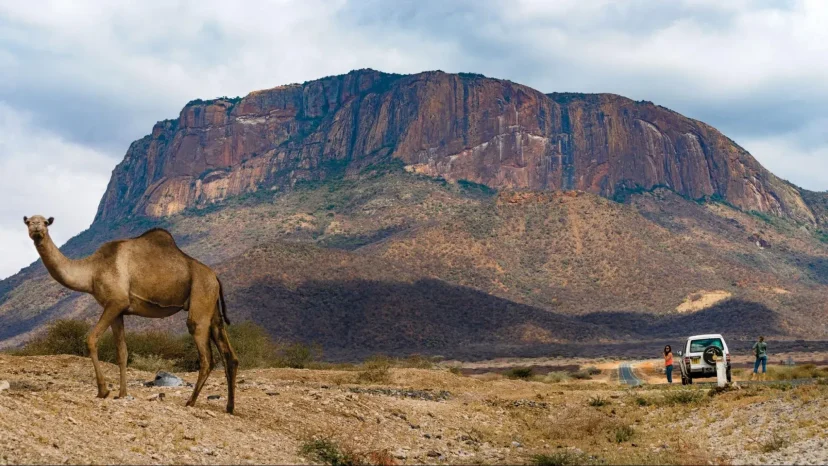 Day 5: Full-Day Game Drive at Samburu National Reserve with Picnic Lunch
Samburu's pristineness and huge ecological diversity make it an ideal place for game drives, where days are spent marvelling at its rarities from open-topped Landcruisers. Our day 5 commences at sunrise when we yet again find ourselves amidst the postcard beauty of Samburu. 
We traverse the semi-arid landscape, searching for those niceties that make this park stand out. Be on the lookout for wild dogs and vulnerable bird species such as the Great Egret, Yellow-billed Ox-pecker, Martial Eagle, and the African Darter. 
When the clock strikes noon, we settle at a shady and scenic spot in reserve for a picnic lunch. Eat to your heart's content but do not let the delicacies deter you from the gorgeous scenery surrounding you. 
Our game drive picks up pace again at 3 p.m., the highlight of this one being, of course, the wildlife and sunset.
Day 6: Flight from Samburu to Masai Mara & Afternoon Game Drive at Masai Mara National Reserve
After breakfast, we check out of the camp and catch a morning flight from Samburu to Masai Mara. The astonishing Mara, gently hidden away in the open grasslands and scattered acacias of Southwest Kenya, faultlessly captures the sophistication and grandeur of the region. 
We check you into your lodge/camp after landing, leaving you to relax and enjoy the abundance before picking you up in the afternoon for a game drive. Replete with over 90 species of large mammals, over 450 species of birds, and striking scenery, there's nowhere better than the Masai Mara for an afternoon game drive. 
We traverse the lush grasslands in search of its thrills and spills. You should look forward to seeing the Big Five, wildebeests, zebras, hippos, antelopes, dik-dik, giraffes, crocodiles, monkeys, hyenas, and foxes. There is an impeccable ambience to be enjoyed, and this goes well with a sundowner and a glass of wine.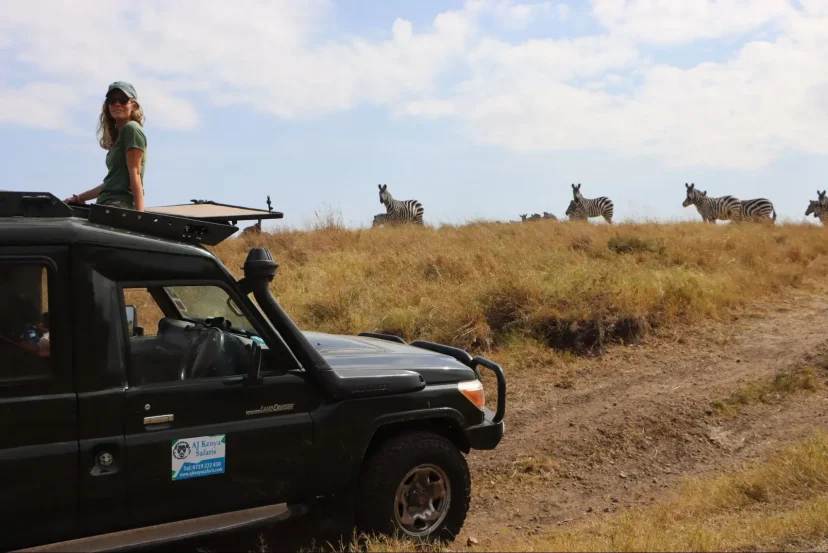 Day 7: Full-Day Game Drive in Masai Mara National Reserve with Picnic Lunch
This 8-day Mt. Kenya heli safari has got you covered whether you are a wildlife enthusiast looking to explore as much wildlife as you can or a nature lover looking to spend time outdoors. Our full day game drive starts in the wee morning hours when it's all sunrise, tranquil environs, and wildlife across the Mara landscape. 
You'll find wildlife easier to spot at this time of day, a lot of which is thanks to the mild morning temperatures. The experience looks like this: sunrise, lions, roaming the landscape searching for prey, elephants wallowing in the mud, and hyenas scavenging the plains for leftovers. 
To top it all is a lunch served at the heart of the wild, right there amongst the beasts and vicious cats that roam the savannah (at a safe distance, of course). The game drive continues after lunch; our sights focused on something much more fascinating this time; the Mara River, which is where the wild congregates for a drink in the afternoon.
Thousands of stories are told on these lush banks: a newborn calf narrowly escapes the crocodile's jaws, a lion catches prey for her starving cubs, hippo basks in the sun, elephant welcomes her first calf, and so much more.  It's at sunset when we finally leave the park but not before indulging in a glass of wine and one last game drive.
Day 8: Morning Game Drive in Masai Mara, Afternoon Visit to a Maasai Village, & Evening Flight to Nairobi
Mara mornings are a collection of everything that makes the park effortless, from sunrise to tranquil ambiences to wildlife. With your bags and a packed lunch, you leave the lodge and head out to the park for one last hurrah. 
This game drive comes with many exciting sceneries, wildlife, birds, and experiences like all the previous ones. Your guide makes sure you have your fill of these attractions before heading to the Maasai Villages. 
From the moment you arrive to the moment you leave, the Maasai never run out of songs of dances. You are met at the village gate by a crowd of dancing Moran and women and taken to their huts where the learning begins. 
Have you ever wondered how to make fire from rubbing two sticks together? Here's the place to learn. You get to learn about their food, colourful beadworks, how they manage to live in the wild, and how they make their huts from cow dung, sticks, and mud. 
You head straight to the Mara Serena Airport from the village for a flight back to Nairobi.
Things Included in the Price
Airport pickup on day 1

Service of a professional gold-level safari guide 

Exclusive use of a 4×4 safari land cruiser 

Bottled mineral drinking water while aboard the land cruiser

All applicable park fees and government taxes

 Visa application fee and free service 

Flying Doctor Cover – Maisha Short Term Platinum for 30 days

Afternoon game drive at Ol Pejeta on day 1

2-night accommodation at Ol Pejeta on a full-board basis

Morning Helicopter Excursions at Mt. Kenya on day 2

Afternoon game drive at Ol Pejeta Reserve on day 2

Morning game drive at Ol Pejeta Resreve on day 3

Afternoon game drive at Samburu National Reserve on day 3

3-night accommodation at Samburu on a full-board basis 

Morning Heli Exercusions at Samburu on day 4

Afternoon game drive at Samburu National Reserve on day 4

Full-day game drive at Samburu National Reserve on day 5

Flight tickets from Samburu to Masai Mara on day 6

Afternoon game drive at Masai Mara National Reserve on day 6

2-night accommodation at Masai Mara on a full-board basis

Full-day game drive at Masai Mara National Reserve  with Packed Lunch on day 7

Extra lunch from the camp on day 8

Morning game drive at Masai Mara National Reserve on day 8

Visit a Maasai village on day 8

Flight tickets from Masai Mara to Nairobi on day 8

Transfer to the airport on day 8 for your international flight
Things Excluded from the Price
An optional hot air balloon safari at £350 Per Person 

Optional bush dinner for 4-pax at £60 Per Person 

Optional sundowners 

Easter, Christmas, & other holiday Supplements of £20-£50 Per Person Per Night

Gratuities and tips to the safari guide 

International flight tickets 

Laundry services 

Extra meals or drinks in the hotel, except typical lunch, dinner, and breakfast

Transfer fee when sending the money
Total Safari Price Per Person Sharing
| Dates/Month | Price Per Person Sharing |
| --- | --- |
| 1st Jan – 31st March | GBP 10,462 |
| 1st Apr – 30th June | GBP 9,454 |
| 1st July – 31st Oct | GBP 11,272 |
| 1st Nov – 19th Dec | GBP 10,458 |
| 20th Dec – 1st Jan 2024 | GBP 11,272 |
The price is based on two people travelling together and sharing the accommodation and safari vehicle. Due to the bad foggy climate, It might be impossible to do the Helicopter safari during July and August.
These prices are based on the 2023 seasons, and it will be cheaper if you travel as a group of 4-6 people. The accommodation often gets packed during the migration season and is only confirmed upon making a deposit. Kindly book early to ensure you don't miss your prefered accommodation.