The Best 10 Days, 9 Nights, Family Holiday in Kenya | Classic Kenya Family Tour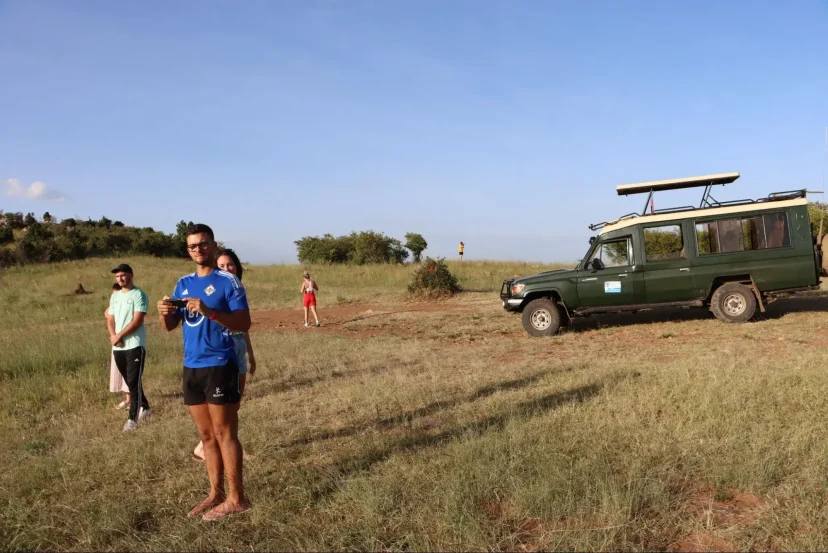 This 10 Days Family Holiday in Kenya is more than just a chance to relax and unwind. It is a transformative trip that will change how you relate and bond as a family. Our main aim on this trip is to take you to the best family holiday destinations in Kenya and to help you create beautiful and lasting memories. 
On top of the list of things to do during your 10 Days Classic Family Safari in Kenya are game drives in Aberdare National Park and Ol Pejeta Conservancy. You also enjoy boat rides and wildlife horse safaris at Lake Naivasha and Sanctuary Farm. Our guide then have you hiking Mt. Longonot before heading to Masai Mara for Big 5 safaris and hot-air balloon rides. 
Of course, your stay will be in some of the best family-friendly resorts in Kenya. We have made a conscious effort to ensure that they come complete with kid-friendly amenities and activities.
Contract Us to Book Your 10 Days Family Holiday to Kenya
Summarised 10 Days, 9 Nights Classic Family Holiday in Kenya
The Detailed 10 Days, 9 Nights, Classic Family Tour in Kenya
Day 1: Pick Up from the Airport, Transfer to Aberdare, and Afternoon Game Drive
Our safari guides are as passionate about timekeeping as creating unique family tours. In this spirit, your private safari guides will be at the airport in time to welcome you to Kenya. The guide welcomes you to Kenya, give you a short briefing on the trip, and off you go to Aberdare National Park onboard a luxurious 4×4 safari land cruiser.
The drive from Nairobi to Aberdare National Park is about 4 hrs long and genuinely one of the most scenic family road trips you'll ever do.  Upon arrival, your guide will check you into your chosen family resort and leave you to have some lunch for an hour or two. 
You will then head out for the first game drive in Aberdares at around 3 pm. Aberdare National Park is a stunning introduction to the beauty and grandeur of afternoon game drives and is known for its picturesque ravines and open moorlands.
You are introduced to a different kind of perfect. One that features cascading waterfalls, wildlife, birds, lush grasslands, river valleys, rocky ridges, and moorlands. The game drive ends when the sun sinks.
Day 2: Full-Day Game Drive in Aberdare National Park with Packed Lunch
You set out at sunrise with the kids after a hefty breakfast, ready to partake in the thrills of morning game drives in Aberdare National Park. No one can ever accuse Aberdare of being soulless as it is packed to the brim with awe-inspiring peaks, deliciously fresh moorlands, eye-catching falls and wildlife.
The first on its list of wonders is wildlife. It is an impressive catalogue featuring elephants, lions, leopards, reedbucks, hyenas, monkeys, leopards, zebras, buffaloes, warthogs, bushbucks, baboons, bongos, and duikers. 
The second is its flora which ranges from sub-alpine pine vegetation, sub-montane forests, grasslands, and xeromorphic evergreen forests. The park also hosts over 250 species of birds, most of which are easily seen around the waterfalls.
Your game drives only stops at lunchtime, an event marked with a sumptuous lunch taken at the park's heart. The second leg of your drive, the afternoon game drive, begins after lunch. Nature and serenity reign supreme at Aberdare, and this afternoon game drive is proof. 
Once again, you are at the mercy of the park's effortless scenery, your guides doing all they can to showcase it all. From the moorlands to the waterfalls, ridges, and lush grasslands, nothing is left an explored, an adventure that lasts you till sunset. You will return to your camp in early evening for dinner and a night's rest.
Day 3: Transfer to Ol Pejeta Conservancy & Afternoon Game Drive
What do you do when you're in the heart of a fascinating park in Kenya? You set up an intimate family breakfast. That is how you start day 3 of your family holiday to Kenya for you. The guide will leave you to enjoy your breakfast as a family and then check you out.
You will be on the way to Ol Pejeta by 8 am.  Sandwiched between Mt. Kenya and the Aberdare Ranges, Ol Pejeta is among the best safari destinations in Kenya. Combined with its distinctly luxurious accommodations and a vast range of activities, it is ideal for family safaris.
The guide checks you into one of its posh resorts and lets you settle for a meal. You also have an afternoon game drive today. You'll find more than 50 wildlife species decked out in the lush beauty of Ol Pejeta.  
Two of the world's only remaining northern white rhinos are the most stirring. Marvel at them and the Big 5, wild dogs, cheetahs, giraffes, zebras, black rhinos, buffaloes, hyenas, and hippos.  The guide sticks around till sunset for an epic sundowner in the jungle.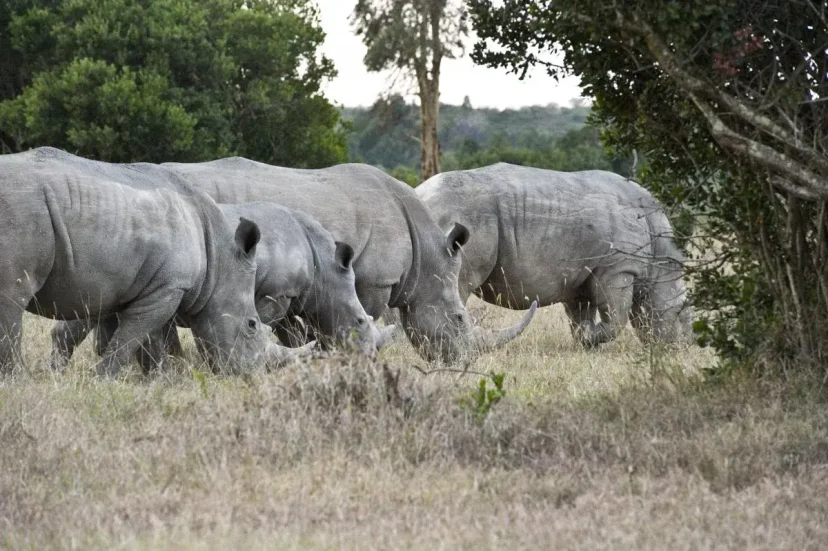 Day 4: Full-Day Game Drives at Ol Pejeta Conservancy with Packed Lunch
You can always count on alluring views and wildlife while at Ol Pejeta Conservancy. One such experience is the 20-minute hippo hide walk on camouflaged shelters erected at the heart of the conservancy.  You and your family can observe wildlife closely from these shelters without disturbing them. 
Your next stop is the Sweetwaters Chimpanzee Sanctuary, a rescue known to host orphaned and injured chimpanzees. There are 40 or so chimps in the sanctuary, each with a backstory as fascinating as the creature itself.  Some have broken bones, some with a few bullets still lodged in their bodies, others critically ill, and others still battling demons from their past. 
Spend your morning with Poco and the others like him who've learned to walk, clap, spit and even smoke like humans!  Watch them devour their fruit meal, play with them, and learn how you can help push this honourable cause further. 
Besides rehabilitating chimpanzees, Ol Pejeta is home to over 140 critically endangered black rhinos. You spend the afternoon following the rhinos around, only stopping for a delicious packed lunch in the park.  Your game drive resumes an hour later and continues till sunset.
Day 5: Transfer to Naivasha & Visit Sanctuary Farm and Crescent Island
Today, you will check out of the hotel after breakfast and then get a transfer to Lake Naivasha, about 3-hrs away. Lake Naivasha is the perfect option for families looking for a scenic yet pristine getaway. The lake lies within the Great Rift Valley region and is unmatched in creating a haven for families to bond and make memories. 
You start by visiting the Sanctuary Farm for a 2-hr wildlife horse safari. It is an adrenaline-packed indulgence that allows you to explore Naivasha in style.  You are introduced to these murky waters known to host thousands of flamingos, hundreds of other bird species, animals, reptiles, and varying vegetation.
From here, you head to a child-friendly resort for check-in, have some lunch, and then leave to explore Naivasha from another section. This time you enjoy some boat safari while going to Crescent Island. You walk around the island, allowing you to interact with its flora and fauna intimately. 
Enjoy sighting giraffes, hippos, buffaloes, wildebeests, waterbucks, gazelles, impalas and zebras. The ambience is also to die for and couples exceptionally well with a glass of wine and soft, slow music.
Day 6: Half-Day Hike of Mt. Longonot & Afternoon at the Hotel
The dramatic landscapes of Mt. Longonot have, from time immemorial, lured hikers to brave through a somewhat challenging climb for a glimpse of their beauty. This 4-hour hike allows you to unlock this mountain's gems, from its crater lake to its forested surroundings.  
But there's a catch; Longonot's official hiking age for kids is 7-year, so we have to leave the kiddos behind for this one. Not to worry because we only go to resorts with excellent babysitting services. 
We depart from the park's entry gate at 7 a.m. and begin what is to most the most challenging summit they've ever been on. We'll admit it, this 9km climb is no joke, especially if you're unfit. Those who brave the climb are, in turn, rewarded with jaw-dropping views of Longonot's volcanic terrain, noteworthy being its bubbling geysers and arresting Rift Valley's cliffs. 
You can also catch views of Lake Naivasha and sight wildlife such as Grant's gazelles, bushbucks, giraffes, elands, buffaloes, leopards, and lions.
Day 7: Transfer to Masai Mara & Relax in the Afternoon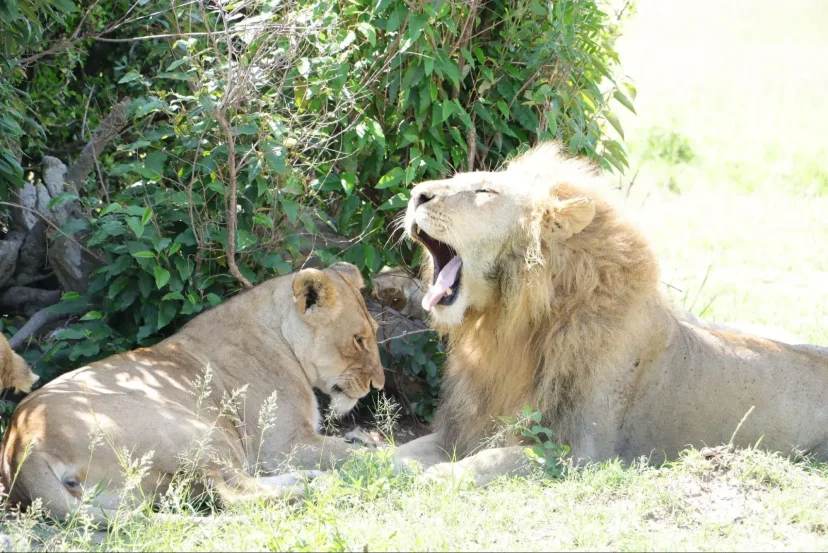 Day 8: Full Day Game Drive at Masai Mara National Reserve with Packed Lunch
The safari guide takes advantage of the morning calmness to stage an early morning game drive, an exciting activity made even more surreal by sunrise.  The tranquil scenery is almost always the first to capture the senses. Its quietness, lushness, variety, and beauty. 
The wildlife is a close contender partly because it's liveliest in the mornings and partly due to its type and huge numbers. Keep those eyes peeled for the Big 5, giraffes, dik-dik, hyenas, buffaloes, cheetahs, leopards, rhinos, wild dogs, wildebeests, impalas, gazelles, and hartebeests. You should also watch out for the over 470 bird species found at this reserve.
You stop briefly for a delicious lunch inspired by Mara's effortless scenery, and then you continue with the drive. Afternoon game drives allow you better, uninterrupted views of the Mara landscape though less rewarding in terms of wildlife sightings. 
From the Mara River to the Oloololo Escarpments, no inch of the park is left unexplored, an activity that goes on till evening. Wildlife comes out of hiding in droves when evening comes, mind-blowing aesthetic combined with a sundowner.
Day 9: Optional Hot Air Balloon & Full-Day Game Drive at Masai Mara with Packed Lunch
A Mara hot air balloon safari introduces you to a mesmerising world of lush wildlife thronged grasslands, meandering rivers, and scattered acacias. It also gives you a fresher perspective of the Mara, one that, if we do say so ourselves, is the best one of them all. 
What's more? The balloon can be manoeuvred to meet varying needs, that is, lowered to view wildlife closer and flown higher for panoramic views. The ride ends an hour later with a sumptuous breakfast served in the heart of the wild. 
We dedicated the rest of the day to game drives.
Day 10: Visit a Masai Village Visit & Trip Back to Nairobi
The Masai love to sing and dance, and contrary to 98% of Africa, they have managed to stay true to their roots. You are in the villages by 8 a.m.  You will be completely taken by how colourful the Maasai beadwork is, their catchy songs, and their near-supernatural jumping abilities. 
Their huts are hard to miss, too, a cluster of small surprising strong structures made of cow dung, sticks, mud, human urine, you heard that right, and grass. Learn how to make fire by rubbing sticks, listen to their near-death encounters with wildlife or sing and dance with them. 
You are back in the Landcruiser an hour and a half later for your 6-hour drive back to Nairobi.
Things Included in the Price
Airport pickup on day 1

Service of a professional, silver or gold level safari guide 

Use of the safari land cruiser during the game drive safari 

Bottled, mineral drinking water during the safari 

All applicable park fees and taxes

2-night accommodation at Aberdare on a full-board basis 

Afternoon game drive at Aberdare National Park on day 1

Full-day game drive at Aberdare National Park on day 2 with packed lunch 

2-night accommodation at Ol Pejeta Conservancy on a full-board basis 

Afternoon game drive at Ol Pejeta Conseravancy on day 3

Full-day game drive at Ol Pejeta Conseravncy on day 4 with packed lunch

2-night accommodation at Naivasha on a full-board basis 

Visit Sanctuary Farm for horse wildlife safari on day 5

Horse hire charges 

Visit Lake Naivasha for boat safari on day 5

Boat hire charges 

Visit Crescent Island for a wildlife walking safari on day 5

Half-day Mt. Longonot hike on day 6

3-night accommodation at Masai Mara on a full-board basis 

Full-day game drive at Masai Mara National Reserve on day 8 with packed lunch

Full-day game drive at Masai Mara National Reserve on day 9 with packed lunch

Visit a Maasai village on day 10 

Transfer to Nairobi for your international flight on day 10
Things Excluded from the Price:
Hot air balloon safari at £425 Per Person

Gratuities and tips to the safari guide 

Local and international flight tickets 

Easter, Christmas, & other holiday Supplements of £20-£50 Per Person Per Night

Laundry services 

Extra meals or drinks in the hotel, except typical lunch, dinner, and breakfast

Transfer fee when sending the money
10 Days Classic Family Safari Price Per Person - 2024 Rates
Dates/Month
Price Per Adult Sharing
Price Per Child Sharing
1st Jan – 31st March
GBP 3080
3-12 Years –   GBP 910

12-17 Years – GBP 1705
1st Apr – 30th June
GBP 2842
3-12 Years  –  GBP 828

12-17 Years – GBP 1530
1st July – 31st October
GBP 4170
3-12 Years – GBP 1050

12-17 Years – GBP 1986
1st Nov – 19th Dec
GBP 3335
3-12 Years – GBP 910

12-17 Years – GBP 1705
20th Dec – 2nd Jan
GBP 4215
3-12 Years – GBP 1050

12-17 Years – GBP 2070
The price is applicable for 2 adults traveling with a child (children). 2 children of 12-17 years can share a room for this safari. Children 3-12 years share a room with an adult.
The accommodation often gets packed during the migration season and is only confirmed upon making a deposit. Kindly book early to ensure you don't miss your prefered accommodation.