Kenya Safari 8 Days | Kenya Itinerary 8 Days - Itinerary, Review, & Price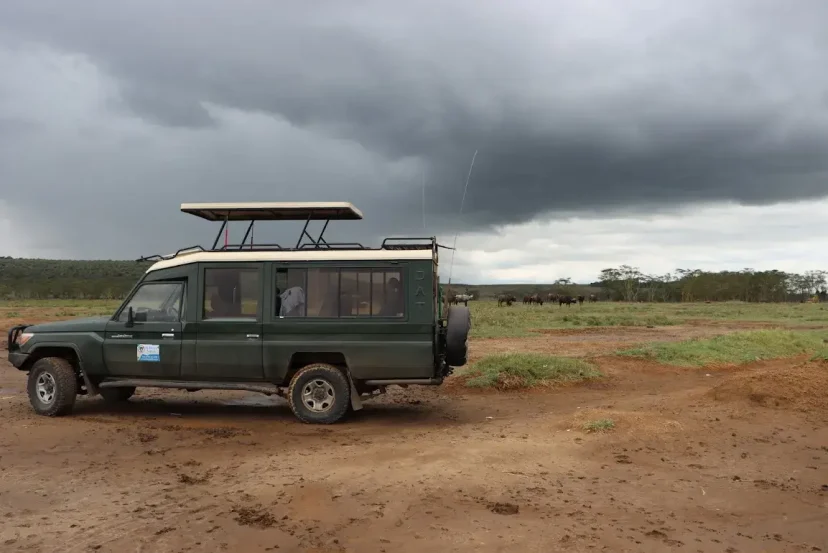 One of the best ways to find yourself is losing yourself in a decadent destination and alluring as Kenya.  We have created this 8 days Kenya safari that transports you to a world of uncompromised luxury and never-ending serenity. 
None of Kenya's finest gems is left unexplored from Amboseli to Lake Naivasha and Masai Mara. Go on exciting game drives and watch as the ecosystem comes alive. 
Travel across spectacular sceneries by bike, and witness the beauty of Kenya's natural attractions with our 8 days in Kenya package. Completely immerse yourself in the luxurious sophistication of Kenyan lodges. Interact with the locals… the list is endless.
Kenya Safari 8 Days | Kenya Itinerary 8 Days - Contact Us to Book this Safari
It is easy to book or even customise this 8 days in Kenya safari. Kindly contact our team through email, phone call, or WhatsApp:
Phone No. +254-704-532-105

WhatsApp +254-704-532-105
You can also fill out the "Book a Safari Form", and we will get back to you within 12 hours.
The Summarised, Best 8 Days Kenya Safari Itinerary
The Detailed Kenya Safari 8 Days Itinerary
Day 1: Airport Pickup, Transfer to Masai Mara, & Afternoon Game Drive
Great first impressions are our thing, and what better way to make a great first impression than being punctual for your airport pick up. The rest flows effortlessly, a scenic five-hour drive to the Amboseli National Park. 
Amboseli is a nod to the impressiveness of Kenya safaris as it busts at the seams with wildlife and different habitats. The gorgeous wetlands are alive and as woodlands, savannahs, and grasslands. 
Your arrival is grand, as can be; we check-in into one of the most elegant lodges within the park, a delicious lunch overlooking spectacular Amboseli, and an hour or two of rest. Your guide picks you up later for an evening game drive. 
There are a little over 1000 individual elephants in the Amboseli, the largest population in the continent yet. Your game drive is a reminder of this impressive detail; these 6,000kg creatures inches away from your land cruiser are a more common sight than you might think. 
There are other wonderous sights to delight in, the distant views of Kilimanjaro and the dried-up bed of Lake Amboseli being classic examples. Our game drive closes with an optional epic sundowner.
Day 2: Full Day Game Drives in Amboseli National Park with Packed Lunch
With sunrise golden and gorgeous and wildlife teeming and exceptionally active, sensuality is the name of the game for this Amboseli morning game drive.  We are in the park at first light, which, as we mentioned previously, is when the wildlife is most active. 
Over 56 different wildlife species to discover, including the Big Five, hippos, zebras, wild dogs, giraffes, wildebeests, elands, jackals, impalas, and more. Mt. Kilimanjaro is also particularly gorgeous at this time, forming a splendid background for wildlife viewing. 
At noon we break from the game drive by settling at a shady spot in the park for a picnic lunch. Our game drive resumes an hour later.  Afternoon game drives, while not as rewarding as morning game drives in terms of wildlife, are every bit as attractive. 
We head to the observational hill, which provides 360-degree views of the Amboseli and its surrounding.  Below the hill is the lake where hundreds of wildlife gather to beat the intense afternoon sun, so keep those eyes open! 
The game drive spans till evening and with evening comes a more active wildlife population. We stick around till sunset because there's something genuinely poetic about dusk in the Amboseli.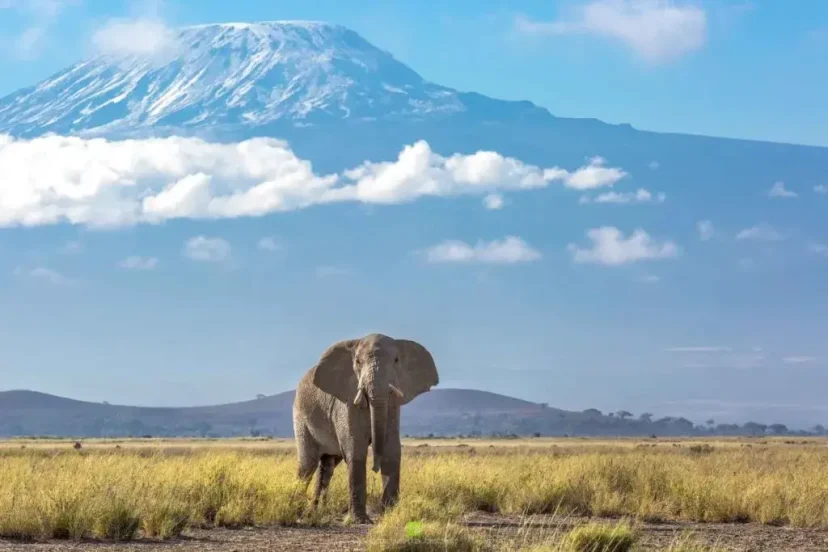 Day 3: Transfer from Amboseli to Naivasha & Relax in the Afternoon
This Amboseli morning offers luxury, pristineness, and great views. To top it off is a fun 7-hour road trip from Amboseli to Naivasha, which begins at 8 a.m.  We make a quick stop at the Great Rift Valley View Point to let you take some photos and enjoy the view. 
We expect to be in Naivasha by 3 p.m. from where we check you into your lodge and leave you to yourself for the rest of the day.
Day 4: Hell's Gate National Park & Horse Wildlife Safari at Sanctuary Farm
Hell's Gate National Park is located south of Lake Naivasha. It is a standout attraction that merges spectacular sceneries and tranquil ambiences to create a destination perfect for your Kenya safari for 8 days. 
We are well into our bike ride session by 9 a.m., an adventure that sees us cross paths with stunning towering cliffs, water-filled gorges, rock towers, and scrubby volcanoes. On a lucky day, you might stop some animals such as hartebeests, African buffaloes, zebras, elands, baboons, reedbucks, antelopes, and gazelles. 
After the cycling experience, we head out of the park to the hotel, take lunch and relax for a while. As Julia Roberts notes in Pretty Women, failing to visit the Sanctuary Farm while in Naivasha is a "Mistake. Huge Mistake."
It combines everything you can do at Naivasha during your 8 days Kenya safari, from viewing animals, bike riding, horse riding, and more. The attraction touches the lake and allows to view wildlife on horseback like zebras, wildebeests, antelopes, waterbucks, and birds.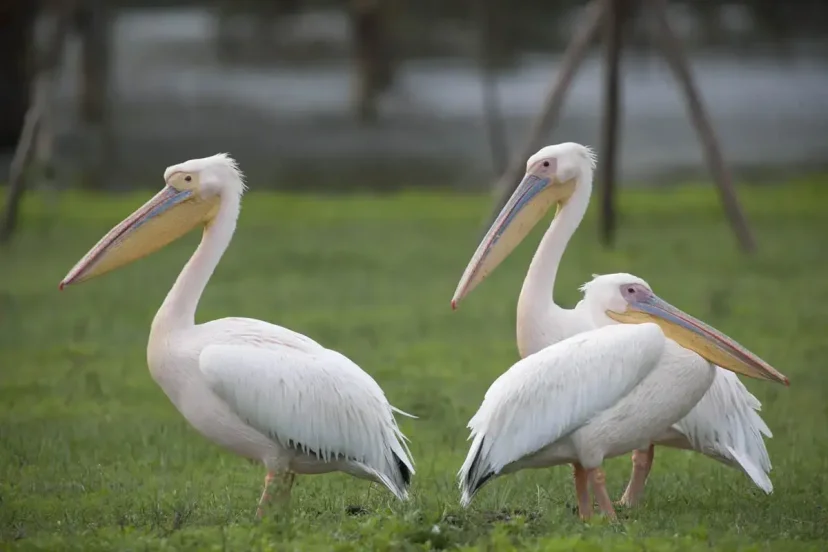 Day 5: Mt. Longonot Half-Day Trip - Hiking Safari to Mt. Longonot
We'll be honest; the unfit will probably struggle a little when hiking Mt. Longonot, but what awaits is a world of sceneries so surreal, you'll struggle to believe it. It takes us only 2 hours to hike from the park's gate to the mountain's crater rim, a trek that is worth every ounce of effort. 
Once you reach the crater rim, the world opens up; the acres upon acres of lush forests, the breathtaking views of the Great Rift Valley, the ambience, you name it! A little about Mt. Longonot hike, shall we?
It takes a total of 5 hours to reach Longonot's crater rim and back down.

Mount Longonot is 2,776m high

Though the park is home to wildlife, sightings are not guaranteed. But should it be your lucky day, you should expect to see; leopards, hartebeests, zebras, buffaloes, and giraffes.    
We should be back in the hotel by 1 p.m; for lunch and afternoon rest.
Day 6: Transfer from Naivasha to Masai Mara & Afternoon Game Drive
All the beauty and splendour of Naivasha takes centre stage on the sixth day of our 8 days Kenya safari. The day begins with a sumptuous sunrise breakfast on a deck overlooking the lake. It gets even better when we check you out of your lodge and take you on a 5-hour road trip to the Masai Mara. 
Alongthe Great Rift Valley, Masai Mara, lies somewhere south of Kenya, a park so surreal it features on almost all our Kenya safari itineraries. We check you into your lodge minutes after arrival, take some lunch, leave you to relax for an hour or two and then, later that evening, pick you up for an Afternoon game drive. 
Afternoon game drives are where the beauty of natural wonders meets the calm of evening to create an exhilarating experience for all. Those looking to have a wonderful time will love the droves of wildlife the mild temperatures bring in. 
Look forward to the Big 5, wildebeests, zebras, hippos, giraffes, dik-dik, antelopes, and crocodiles, among many others. When the sun sets, savour a glass of champagne as you watch the breathtaking ordeal unfold from your Landcruiser.
Day 7: Full-day Safari in Masai Mara with Packed Lunch
Designed to pique the interests of nature lovers and wildlife enthusiasts' interests, Masai Mara at sunrise is an experience devoid of words.  We stare at its beauty from our Landcruiser. The slowed movement of wildlife, the melodious birds singing, the silent yet profound rustling of acacia trees, the tranquillity, etc.
Keep your eyes open and see how many of the 90 different species of mammals you can spot; it might just be your lucky day! At noon, we reconnect with nature by indulging in a picnic lunch at the heartbeat of the park. After, we continue with the afternoon game drive. 
There are afternoon game drives, and then this one takes game drives to a whole different level. Although it's harder to spot wildlife in the afternoon (animals are either sleeping or hiding from the scorching sun), Masai Mara afternoon game drives are anything but boring. 
We turn our attention to the Mara River, where hundreds congregate to quench their thirst. The crocodile-pounces-on-antelope action is the type you should expect here as well as generous amounts of elephants, which love mud, wildebeests, gazelles, zebras, and dik-dik. 
The evening game drive brings a particular charm with it. This time it's the sunset we are obsessed with, and my isn't it a delight. We head back to camp before nightfall.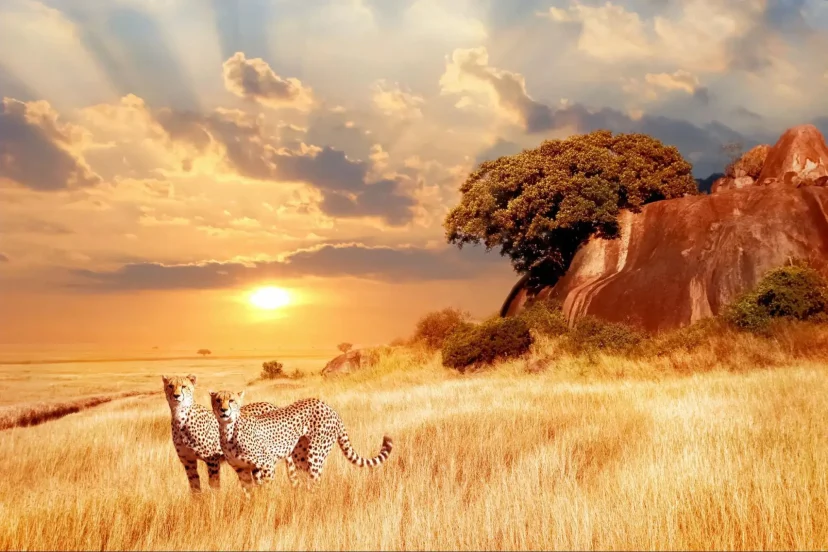 Day 8: Morning Game Drive, Visit a Maasai Village, and Transfer to Nairobi
We check-out of the hotel, enjoy a morning game drive at Masai Mara until 10 a.m and then head to a Maasai village.  If ever there was a place that would blow your mind, Maasai Villages are it.
Here, you will find women who dance as if their life depended on it and elders so set on showcasing their way it's admirable. Learn to make a fire from rubbing sticks on the earth. Admire their colourful artwork and support their art by purchasing souvenirs. 
Or learn the Adamu, the Masai jumping dance. Our visit is an hour-long, after which we bid the locals goodbye and begin the six-hour drive back to Nairobi.
Items Included in the Price
Pick-up from the Jomo Kenyatta International Airport in Nairobi

Services of a professional, Gold level safari guide

Game drives in a luxurious 4×4 safari cruiser 

Exclusive use of the safari land-cruiser for the  8 days

Mineral water  during game drives 

Meals and accommodation on a full-board basis for 7 nights 

All applicable park fees and government takes 

Afternoon game drive at Amboseli National Park on day 1

Full-day game drive at Amboseli with packed lunch on day 2

Morning visit to Hell's Gate National Park on day 4 for Bike Wildlife Safari 

Afternoon visit to Sanctuary Farm on day 4 for Horse Wildlife Safari

Mt. Longonot Hike on day 5 

Evening game drive at Masai Mara National Reserve on day 6

Full-day game drive at Masai Mara on day 7 with packed lunch 

Morning game drive at Masai Mara on day 8

Visit a Maasai village on day 8

Return to the airport at the end of the safari
Items Excluded from the Price
An optional hot air balloon safari at £430 Per Person 

Optional bush dinner for 4-pax at £60 Per Person 

Easter, Christmas, & other holiday Supplements of £20-£50 Per Person Per Night

Gratuities and tips to the safari guide 

Local and international flight tickets 

Laundry services 

Extra meals or drinks in the hotel, except typical lunch, dinner, and breakfast

Transfer fee when sending the money
8 Days Kenya Safari Cost Per Person
| Date/Month | Price Per Person Sharing |
| --- | --- |
| 1st Jan – 31st March | GBP 2203 |
| 1st Apr – 31st May | GBP 2078 |
| 1st June – 30th June | GBP 2114 |
| 1st July – 31st Oct | GBP 2738 |
| 1st Nov – 19th Dec | GBP 2149 |
| 20th Dec – 1st Jan | GBP 2765 |
The price is based on two people travelling together and sharing the accommodation and safari vehicle. These prices are based on the 2023 seasons, and it will be cheaper if you travel as a group of 4-6 people. The accommodation often gets packed during the migration season and is only confirmed upon making a deposit. Kindly book early to ensure you don't miss your prefered accommodation.