Romantic, 8-Day Honeymoon Vacation in Kenya - Review, Itinerary, & Price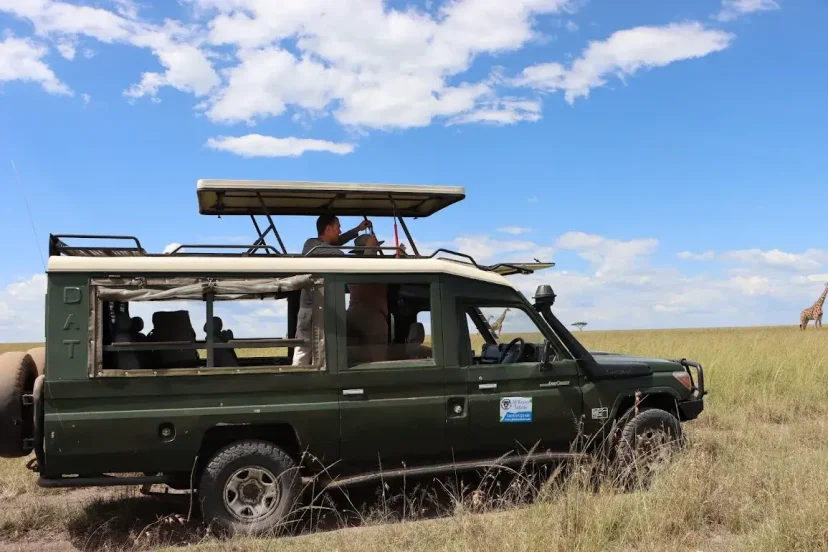 It might not seem like it, but a lot of blood, sweat, and tears go into planning a wedding. By the end of the big day, all you want is to throw away your heels or rip your suit apart and go on a long, never-ending adventure. That's where we come in as KenyaLuxurySafari.co.uk.
We specialise in creating transcendent honeymoon experiences that go the extra mile in setting the tone for any future adventures you have as a couple. Our honeymoon packages present luxury beyond belief, breathtaking vistas, luxury accommodations, wildlife, impeccable services, and anything necessary to blow your mind.
Up our sleeves is an effortless brush with the Masai Mara, which combines astounding wildlife varieties, sceneries, luxury accommodation, and the world-renowned Wildebeest Migration.
There is a string of exciting beach activities, surreal coastlines, and blinding white beach sands at Diani Beach for romantic beach dinners. Come! Let's make this an adventure you lovers won't forget with this 8-Day Honeymoon Vacation in Kenya. 
Book Your 8 Days Honeymoon Safari Vacation to Kenya Now
The Summarised 8 Days Honeymoon Safari Vacation In Kenya Itinerary
Detailed 8-Day Honeymoon Vacation in Kenya Itinerary
Day 1: Airport Pick Up, Road Trip to Masai Mara, & Afternoon Game Drive
Dapper, all smiles and pumped for your adventure is how you find us when you land at the JKIA. We then brief you about this honeymoon experience and welcome you to your "just-married" 4×4 safari land cruiser.  
Although our drive to the Masai Mara is six hours long, the scenic countryside makes it all worth the extra hours. We arrive at Masai Mara early in the afternoon, in time for lunch, the posh Basecamp Masai Mara being our temporary residence. 
After, will head out for a game drive until late in the evening.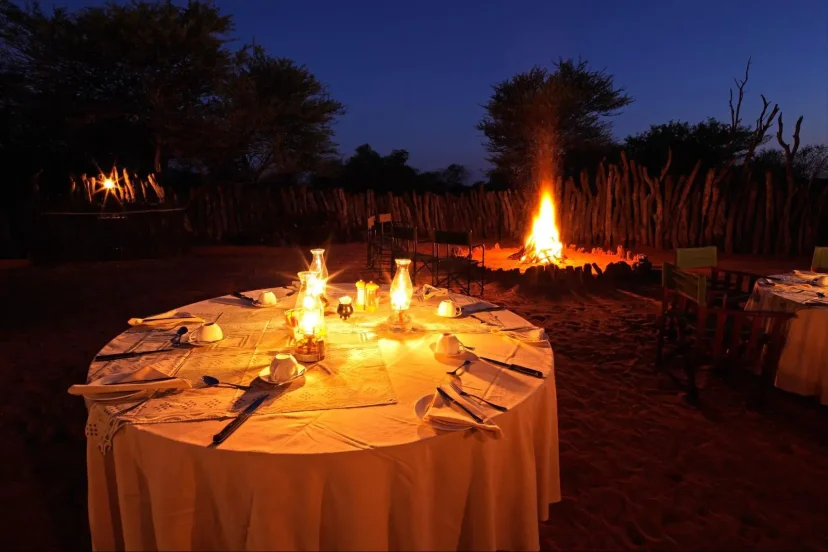 Day 2: Full Day Game Drive at Masai Mara with Picnic Lunch
From its sunburned savannahs, mesmeric lookouts, sweeping landscapes, and wildlife that meets you at every turn, the Masai Mara is a beauty by all accounts. We embark on our morning game drive just before sunrise, ready to treat you lovebirds to the adventure of your lifetime.
The chances of spotting the rarities and other wildlife species are higher at this time of day, a thing we take full advantage of. Expect to spot scores of the Big Five, wildebeests, zebras, jackals, hippos, gazelles, giraffes, buffaloes, wild dogs, and the dik-dik. 
Our exploration of the park's immense variety is rigorous, an activity that only stops for a delicious lunch in the heart of the wild. Our afternoon game drive commences shortly after. There is no scarcity of wildlife and sceneries to be awed at in the Masai Mara. 
Our afternoon game drive combines the animals with wonders such as the Oloololo escarpment to blow your minds away. We additionally bring worthy attractions such as the Ol Kinyei and Olare Orok Conservancies to your attention.
Mentioned above are conservancies that also house a great wealth of wildlife and stunning sceneries. Our day closes with a romantic sunset-lit drive around the park. Cuddle your partner as you watch the dramatic scenery unfold with a wine glass at hand.
Day 3: Optional Hot-air Balloon Safari/Morning Game Drive and Afternoon Game Drive
Besides being incredibly romantic like a Heli Tour, Hot-air Balloon Safaris breathe to life everything the Mara is known for: jaw-dropping sceneries and its staggering wildlife. For an hour, you are treated to a dumbfounding showcase of sunrise and exposed to luxury like never experienced before.
We pick you up from camp at 5:00 A.M and drive you to the balloon's take-off point in time for sunrise. That you will be stunned is a surety. The balloon ride covers 12kms of the park, your pilot making sure to lower you closer for the wildlife and fly you higher for a bird's eye view of the scenery. 
The ride ends with a delicious breakfast accompanied by a champagne breakfast. We pick you up from the breakfast site and continue with a typical game drive. Note – we start with a 6 am game drive if you opt-out of the hot air balloon safari. 
An alternative is to head back to the camp for rest.  Here you can enjoy picturesque views of the River Talek, take a dip in the pool, or lock out the world in the comfort of your rooms and then head for an afternoon game drive. 
Our afternoon game drive begins after lunch when we take you to enjoy the remarkable Wildebeest Migration. This part of your package depends entirely on when you book your honeymoon because the migration happens from July to October.
Millions of wildebeests and zebras and an astounding number of lions, hippos, crocodiles, cheetahs, hyenas, and leopards are what to expect from this once Wonder of the World. Watch the prey outwit the predators as they try to pass the Mara River into the Masai Mara National Reserve.
Driving through the park is still an exciting option if this is not your kind of thrill. Some music, wine, sunset, and charming scenery are all the resources we need to plan a romantic evening experience of the park.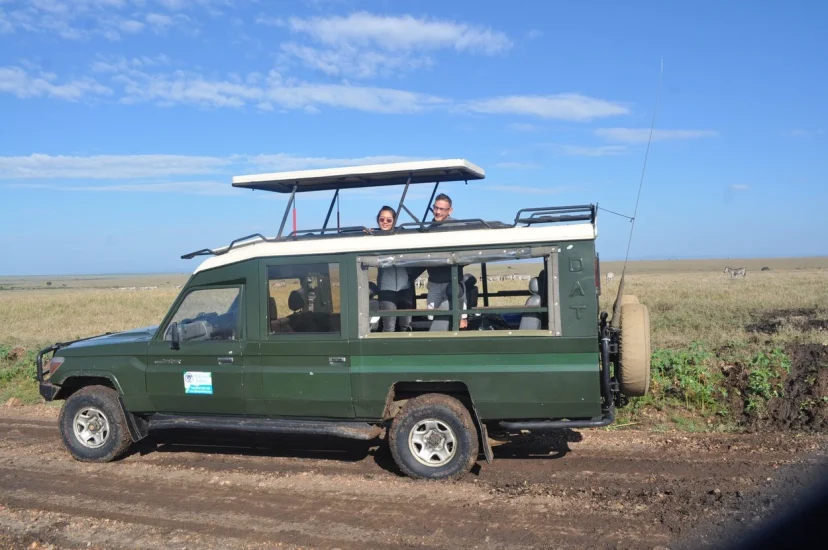 Day 4: Morning Game Drive, Maasai Village Visit, & Evening Flight to Ukunda (Diani)
Exhausting close to 56 mammal species and over 450 bird species in the Mara is nearly impossible. We again wake up to the wild at sunrise, hoping to uncover the animals we had missed in our previous drives.
Let the scenery remind you of the beauty of life, and let the wildlife remind you of how important it is to live in the moment. We take breakfast, check out, and head to the jungle for the morning game drive. 
The morning game drive ends at around noon, the perfect time to head out of the reserve. We stop at the Maasai Villages for an hour before heading to the airport to board an evening flight to Ukunda.
The Maasai are cheerful people who wear their culture as a badge of honour. Our visit introduces you to their glass-thatched houses made of mud, cow dung, and sticks, as well as their lively dances. 
Their beadwork, stories, and songs also give you a peek into their culture as well as leave you well entertained. Bond over their dances and celebrate your love by buying their excellent beadworks.
On landing at Ukunda, we take an 8-minute drive to Diani, check you into the resort and leave you to marvel at the seaside gem. A romantic lantern-lit dinner is enjoyed at the picturesque shores of the Indian Ocean.
Day 5: Private Romantic Morning/ Tamarind Dinner Cruise
Nothing beats waking up to the sounds of the ocean next to the one you love. Our day five of your honeymoon safari is dedicated to celebrating your love. A romantic rose petal breakfast is arranged at the terrace of your room, from where you can catch delightful glimpses of the ocean. 
Later walk down the beach hand in hand as you enjoy the serene ambience, lounge by the beach, or take a dip in the inviting waters. You can also swim, snorkel, deep-sea dive, kitesurf, enjoy delicious Swahili cuisines or spend a lazy day in bed. The day is yours! Make it count! 
Dress to impress, for, in the evening, we whisk you away for a 1 hour 30 minutes drive to the exciting Mombasa Tamarind Dinner Cruise. Previously used as cargo trading boats, the Nawalilkher and Babulkher boats were remodelled into floating restaurants that still retained traditional Swahili charm. 
The spectacular Nawalilkher has a 70 person capacity and still has enough room for dancing and hosting cocktails parties. However, the Babulkher is a little smaller but still has enough space to host the wildest dinner parties.
The dinner cruise that commences at 6:30 P.M is brilliant on a magnificent scale. Sip a glass of the special Dawa cocktail as you enjoy a scenic star-lit sail down to the famous Fort Jesus. And enjoy your specially prepared Swahili Cuisine as you dance to the catchy Swahili music filling the air.
Ask your lover to the dance floor if dancing is something you lovebirds enjoy and watch the bright city lights share in your excitement.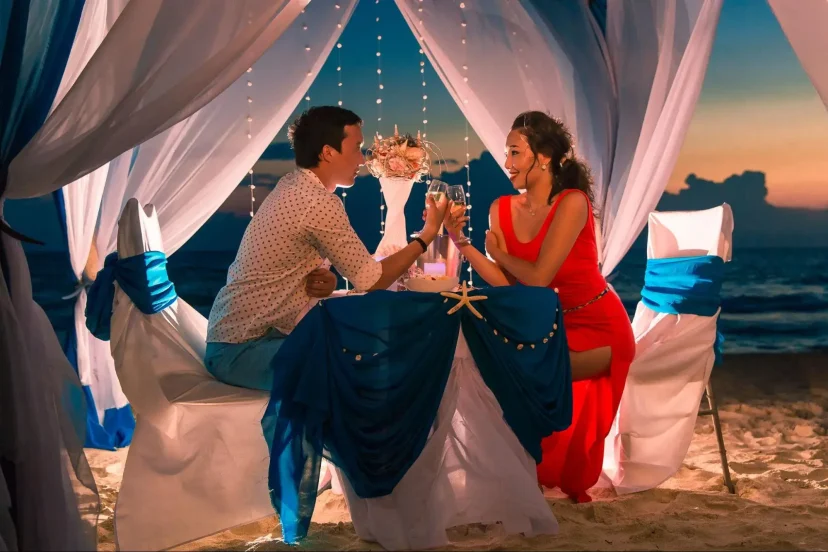 Day 6: Scuba Diving & Romantic Evening by Yourselves
If a jaw-dropping showcase of the incredible underwater world is your kind of perfect, then hold your partner close and join us on this adventure. Diani is arguably one of the best places in the world to go diving with water visibility of 10-30 meters.
There is something for everyone here, the different diving points catering for the amateur and the seasoned diver. You and your lover get treated to extraordinary varieties of marine life as well as stunningly beautiful corals during the dive.
You get the once-in-a-lifetime chance to encounter the reef shark and the whale shark, the largest of all known sea creatures. Not only is the scenery incredible, but the favourable undersea temperatures also make this a must-try venture for you. Believe us; you will want to carry your waterproof cameras for this!
Couple this with surfing, swimming, dolphin swimming, and kite surfing, and you have yourself the best honeymoon vacation ever. Enjoying the Swahili architecture and history under which Diani is buried is as fulfilling as dancing and toasting to the beautiful beginning at the Forty Thieves Bay. 
Day 7: Day Trip to Wasini Island with Lunch
If you thought your honeymoon trip to Kenya couldn't get better, you thought wrong. We are on a 1 hour 30 minutes car ride from Diani to the Shimoni caves, where we explore for a few minutes. From Shimoni, we yet again take a one-hour dhow trip to the Kisite Mpunguti Marine Park. 
The trip is far from ordinary, with you guaranteed a 90% chance of spotting dolphins and catching stunning views of the ocean. The Kisite Marine Park only comes second to the Australian Marine Park. It spreads over 30km2 and promises astounding variety when it comes to its wildlife. 
We spend three hours here before taking another dhow to the gorgeous Wasini Island. Overflowing with stunning corals, spectacular shorelines, and fabulous restaurants, Wasini Island is a 7km long coastal strip 58 km from Diani. 
We spend a fantastic day here swimming with dolphins, snorkelling, exploring the reef, and sightseeing. We also make time for some delicious Swahili cuisines accompanied by some fresh fruits and sweets.
Dance to the sound of the ocean, lie down on the beach and enjoy the sun, or cheer for the good life while taking in the awe-inspiring scenery. A romantic shoreline dinner is how we end the night.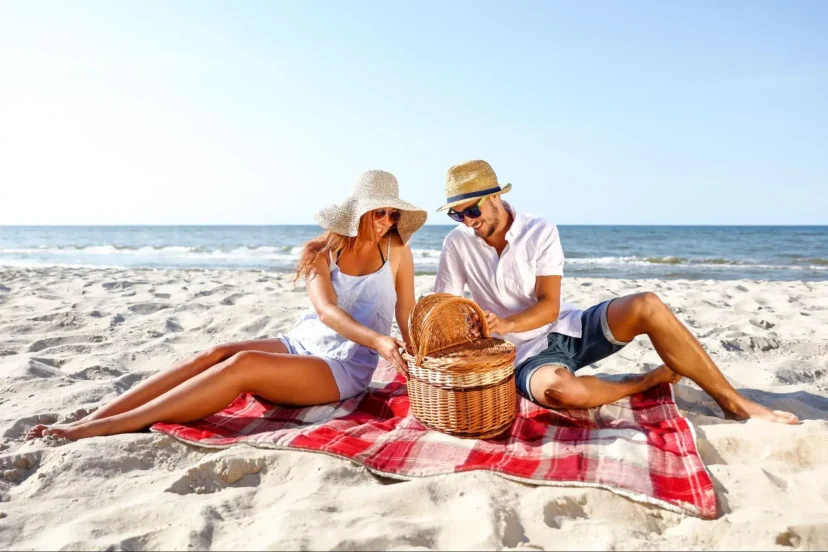 Day 8: Romantic Morning by Yourselves & Afternoon Flight to JKIA
Spend a romantic morning by yourself doing whatever it is lovebirds do when surrounded by insane coastline beauty.  We later check you out of the hotel and drive to Mombasa's Moi International Airport for a direct flight to the JKIA.
Things Included in the Price:
Airport pick up and drop off 
Service of a professional, silver or gold level safari guide 
Bottled, mineral drinking water during the safari
Exclusive use of the safari vehicle during the wildlife safari (4 Days)
All applicable park fees and government taxes 
Full-board accommodation at Masai Mara for 3-night – Honeymoon Tent
Afternoon game drive at Masai Mara National Reserve  on day 1
Full-day game drive at Masai Mara National Reserve with packed lunch on day 2
Full-day game drive with packed lunch  on day 3
Morning game drive & visit a Maasai village on day 4
Full-board accommodation for 4-night at Diani 
Things Excluded from the Price:
Optionals like Hot air balloon safari and Diani activities 
Easter, Christmas, & other holiday Supplements of £20-£50 Per Person Per Night
Flight tickets from Masai Mara to Ukunda & from Ukunda to Nairobi
Gratuities and tips to the safari guide 
Local and international flight tickets 
laundry services 
Extra meals or drinks in the hotel, except typical lunch, dinner, and breakfast
Transfer fee when sending the money
Optionals, Flight Ticket, & SGR Prices for 8 Days Kenya Honeymoon Safari
The optionals, flight ticket, & SGR would cost the following:
| Particular | Cost Per Person in GBP |
| --- | --- |
| Hot Air Balloon Safari | £350 |
| Whale Shark Spotting | £225 |
| Dinner Cruise | £90 |
| Scuba Diving for 2 hrs | £162 |
| Wasini Day Trip | £105 |
| Glass Boat Ride | £27 |
| Deep-Sea Fishing | £430 Per Boat |
| Flight Tickets from Nairobi to Diani | £150 |
| Mombasa Day Trip + Haller Park + Lunch at Tamarind Restaurant | £100 |
8 Days Kenya Honeymoon Safari Cost Per Person for the Whole Trip
| Date/Month | Price Per Person Sharing |
| --- | --- |
| 1st Jan – 31st March | GBP 2202 |
| 1st Apr – 31st May | GBP 1948 |
| 1st June – 30th June | GBP 1966 |
| 1st July – 31st Oct | GBP 2413 |
| 1st Nov – 19th Dec | GBP 2074 |
| 20th Dec – 1st Jan | GBP 3144 |
The price is based on two people traveling together and sharing the accommodation and safari vehicle. These prices are based on the 2023 rates. The accommodation often gets full during the migration season and is only confirmed upon making a deposit.
*Kindly book early to ensure you don't miss the said accommodations. The accommodation is on full-board basis at Masai Mara and half-board at Diani.