The Mega 3 Days, 2 Nights Jambo Mara Safari Lodge Package - Review, Itinerary, and Prices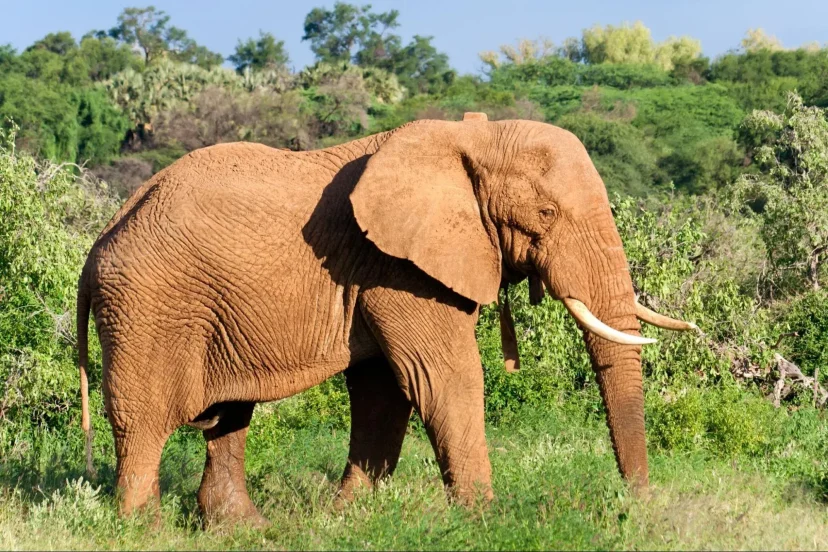 Jambo Mara Safari Lodge enjoys an enviable position overlooking two streams and an abundance of wildlife right at the heart of Masai Mara. It offers 50 wooden cabins, 55 glass cottages, 2 business suites, and 1 presidential suite that embody a modern style that is as warm as it is sublime.
Its recreational facilities include a fitness centre, tennis court, a swimming pool, billiards, darts, and a great bar and restaurant. Jambo Mara Lodge is sensational, to say the least, and is even made better by the wildlife-filled Masai Mara National Reserve.
With magnificent landscapes to explore and tremendous biodiversity to marvel at, the reserve is undeniably one of the most breathtaking places on earth. Everything within the park exudes ultra-pristine vibes and include over 56 wildlife species, 500 bird species, and striking sceneries, to mention but a few.
Book Your Jambo Mara Safari Lodge Adventure Now
The Summarised, 3 Days Jambo Mara Safari Lodge Itinerary
Detailed 3-Day Jambo Mara Safari Lodge Itinerary
Day 1: Pickup at JKIA, Road Trip to Masai Mara, & Evening Game Drive
We advise our UK clients to book a flight that lands in Nairobi by 6:00 A.M – and for a good reason. You are picked by our bubbliest, silver/gold-certified guides, briefed about the safari, and off we go to the Masai Mara.
What follows is a 6-hour trip that journeys us through lush countrysides, rough roads, hills, all-weather roads, bone-dry terrains – you name it! We make a quick stop at the Great Rift Valley Viewpoint for the pics and views and another, two hours later, at Narok for shopping.
Some more breathtaking views and a 4-hour drive later, and we are in the Masai Mara. We take the Sekenani road and drive 11km south towards the show's star – the Jambo Mara Safari camp. We ensure you are well settled into your room before leaving you for two hours to get acquainted with the exceptional Jambo Mara lodge and take lunch.
Our evening game drive begins at 3:00 P.M. The evening is when vicious predators stir from their sleep and ready their limbs for a meal chase. It's also when the unsuspecting prey goes for a final drink and nibbles on Mara's vast grasslands.
We are in the park just before sunset, marvelling at the vast wildlife and unique vegetation congregation. Our drive spans till just before nightfall when we go back to camp for dinner and night rest.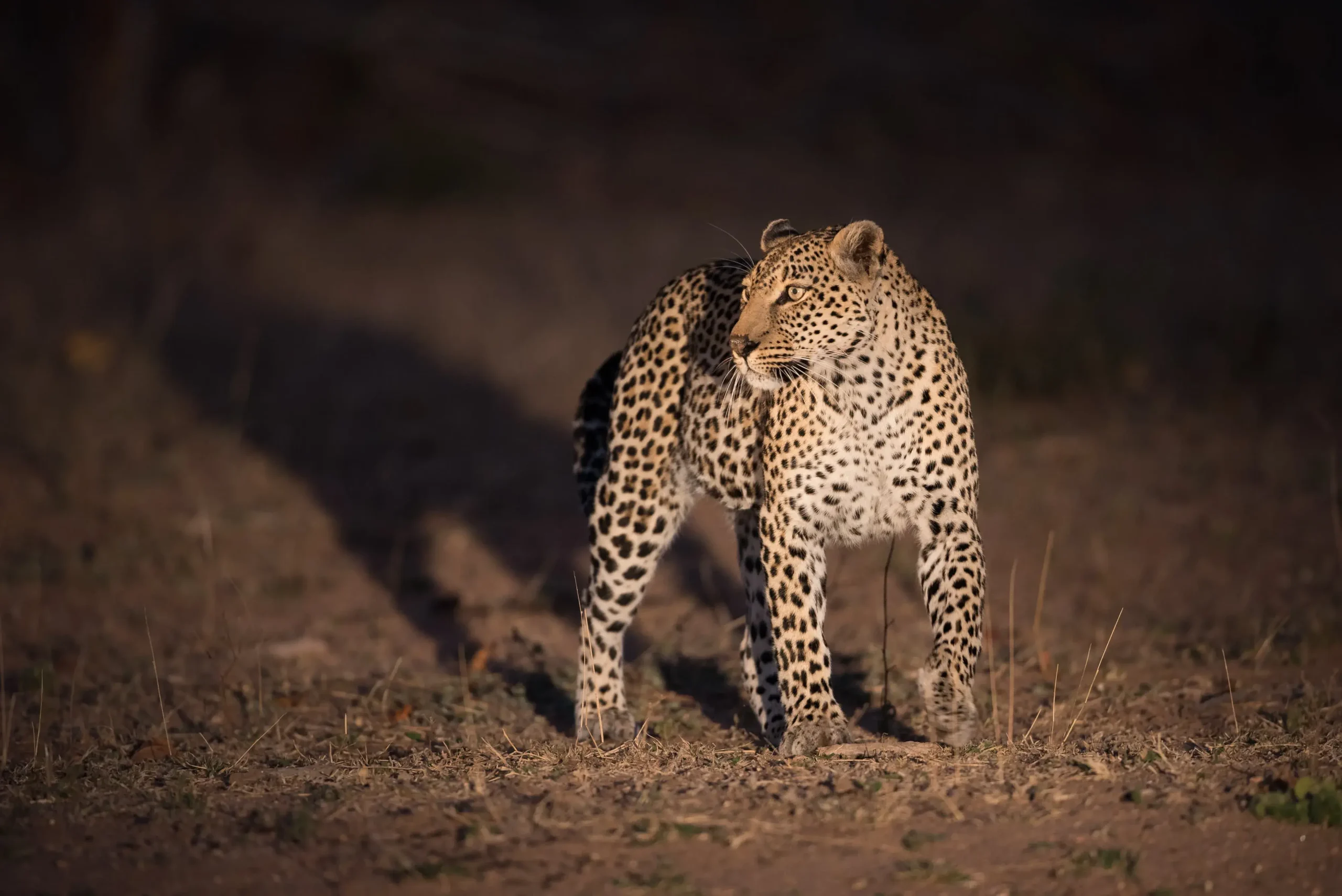 Day 2: Full-Day Game Drive in a 4×4 Open-Top Van with Packed Lunch
Our morning game drive starts soon after breakfast, and we are again deep into the wild in search of its thrills and spills. Like the evening game drive, morning drives are very rewarding in matters of wildlife and riveting sceneries.
Expect immense multitudes of the Big Five, hippos, giraffes, antelopes, gazelles, impalas, and wildebeests. The birds aren't shy either; the Kingfisher, hornbill, Secretary bird and Kori Bustard are expected to appear.
At noon, we gather under the signature acacia trees within the Mara for a delicious packed lunch from the Jambo Mara Safari Camp. Our game drive continues after with an afternoon to evening game drive.
Every turn within the Mara reveals new sets of attractions to admire. If we are not fussing over the wildlife, sunburned savannah, or bird variety, then we are admiring its scenery. The Oloololo Escarpment is one such scenery.
The pics we take here will give your Instagram a crazy boost, so don't be shy… strike a pose! Our drive extends till nightfall when we return to camp, gather around an optional campfire, and tell the stories of our lives.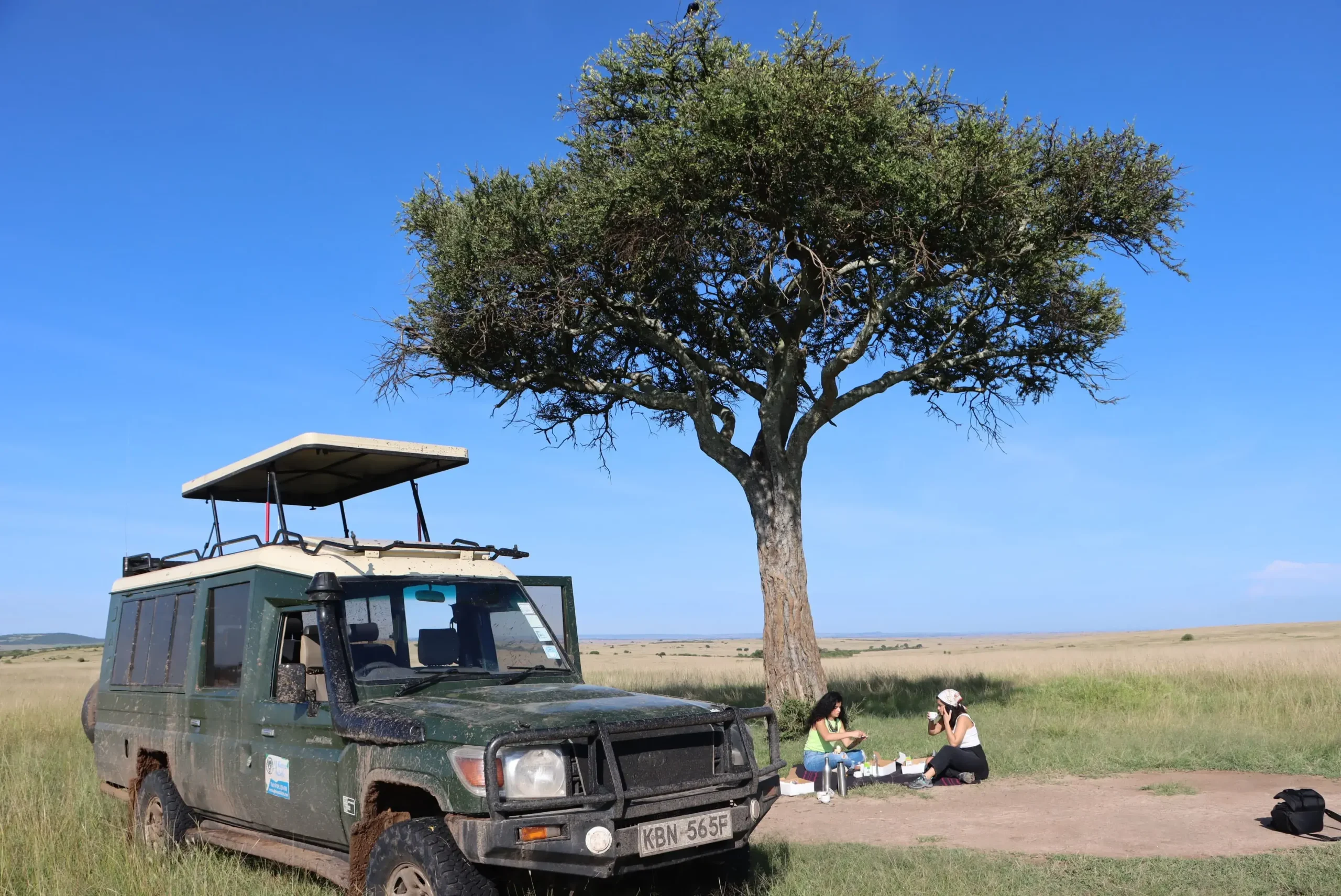 Day 3: Morning Game Drive, Maasai Village Visit, & Drive Back to Nairobi
We don't know about you, but adventure hits differently when your day starts with a warm shower. The Jambo Mara Camp seems to know this secret, and so its spacious bathrooms feature hot and cold showers, hand basins, and flush toilets.
You will also love that the camp has 24-hour services, free WI-FI, and clean, regularly changed sheets. We head out for our morning game drive after breakfast and check-out, this time searching for the wildlife that might have escaped us during our previous endeavours.
Those that book the Jambo Mara Lodge safari between July and October also get to witness the world-renowned Wildebeest Migration. The aforementioned is a thrilling once-wonder-of-the-world event that witnesses the crossing of millions of wildebeests and zebras past the Mara River into Mara from the nearby Serengeti National Park.
We head to the Maasai village at 10 AM after the morning game drive. Stone walls, electric fences are what most expect the houses of this tribe that lives in the heart of the wild to look like.
But to their surprise comes cow-dung and mud huts erected by sticks. Gather and listen to their near-death experiences, buy their colourful beadwork and join in their dances. Our journey back to Nairobi begins after this visit. We see you on your flight back home.
Things Included in the Price:
Airport pick up and drop off
Service of a professional, silver or gold level safari guide
Exclusive use of the safari vehicle for 3 days (4×4 safari land cruiser)
Bottled, mineral drinking water during the safari
2-night accommodation on a full-board basis at Jambo Mara Lodge
All applicable park fees and taxes for the 3 days
Afternoon game drive on day 1
Full day game drive on day 2 with picnic lunch
Morning game drive on day 3
Visit a Maasai village on day 3
Things Excluded from the Price:
Optional hot air balloon safari at £350 Per Person
Optional bush dinner for 4-pax at £60 Per Person
Easter, Christmas, & other holiday Supplements of £20-£50 Per Person Per Night
Gratuities and tips to the safari guide
Local and international flight tickets
laundry services
Extra meals or drinks in the hotel, except typical lunch, dinner, and breakfast
Transfer fee when sending the money
3 Days Jambo Mara Safari Lodge Cost Per Person
| Date/Month | Price Per Person Sharing |
| --- | --- |
| 2nd Jan – 30th June | GBP 887 |
| 1st July – 31st August | GBP 1112 |
| 1st Sept – 31st Oct | GBP 923 |
| 1st Nov – 3rd Jan | GBP 1022 |
The price is based on two people traveling together and sharing the accommodation and safari vehicle. These prices are based on the 2023 seasons. It will be more affordable when you travel as a group.
The accommodation often gets full during the migration season and is only confirmed upon making a deposit. Kindly book early to ensure you don't miss your prefered accommodation. Here are Jambo Mara Lodge official website and TripAdvisor Reviews