Luxury Kenya Hotels and Safari Lodges - Packages & Prices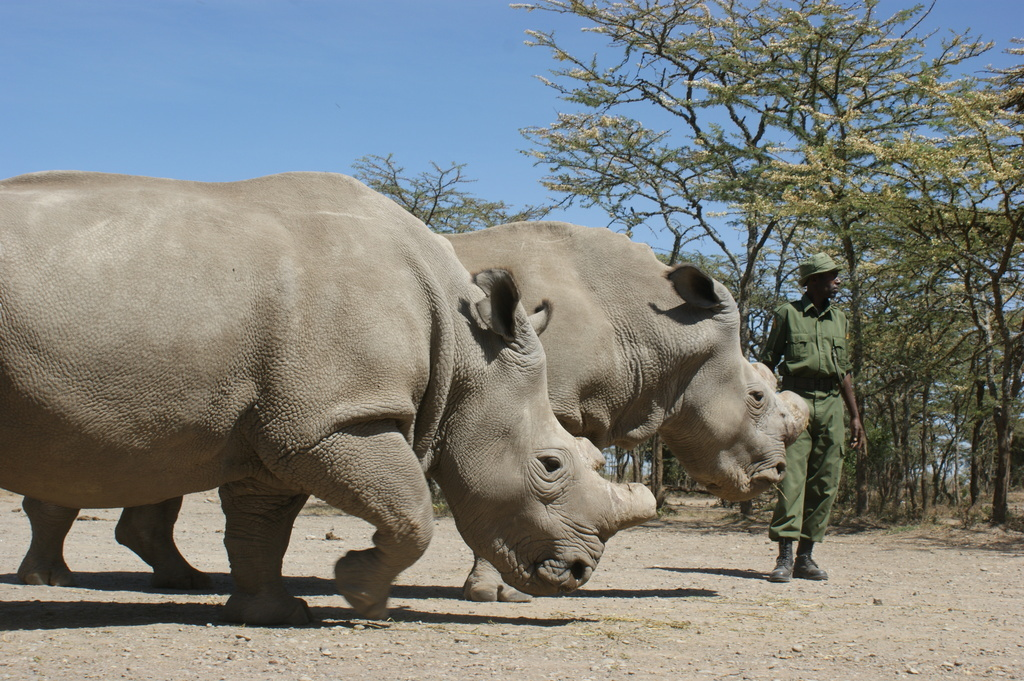 As sworn gallivanters, we've stayed in enough hotels to know that where you decompress after a long day of safariing has a huge influence on the quality of your safari. Good Kenya hotels, we've discovered, elevate your safari experience. They enhance your understanding of the destination and further your sense of place. 
In this article, we share 20 of the hotels where we've felt most alive and at home. Now, these are not just your average Kenyan hotels- they are the creme de la creme- the perfect representation of Kenyan hotel luxury. 
But first…
Here's Where to Contact us to Book Your Kenya Safari and Beach Holidays
You can call or WhatsApp our professional team of tour consultants at +254-704-532-105 or contact us by filling out the "Book a Safari Form".  You can also shoot us an email at  safarioffers@kenyaluxurysafari.co.uk or safarioffers@ajkenyasafaris.com or james@ajkenyasafaris.com
Explore Our Most Booked Kenya Safari and Beach Holidays
The Best Kenya Safari Lodges in Mount Kenya Region
These to Mount Kenya hotels effortlessly combine first-rate comfort with breathtaking views. 
Fairmont Mount Kenya Safari Club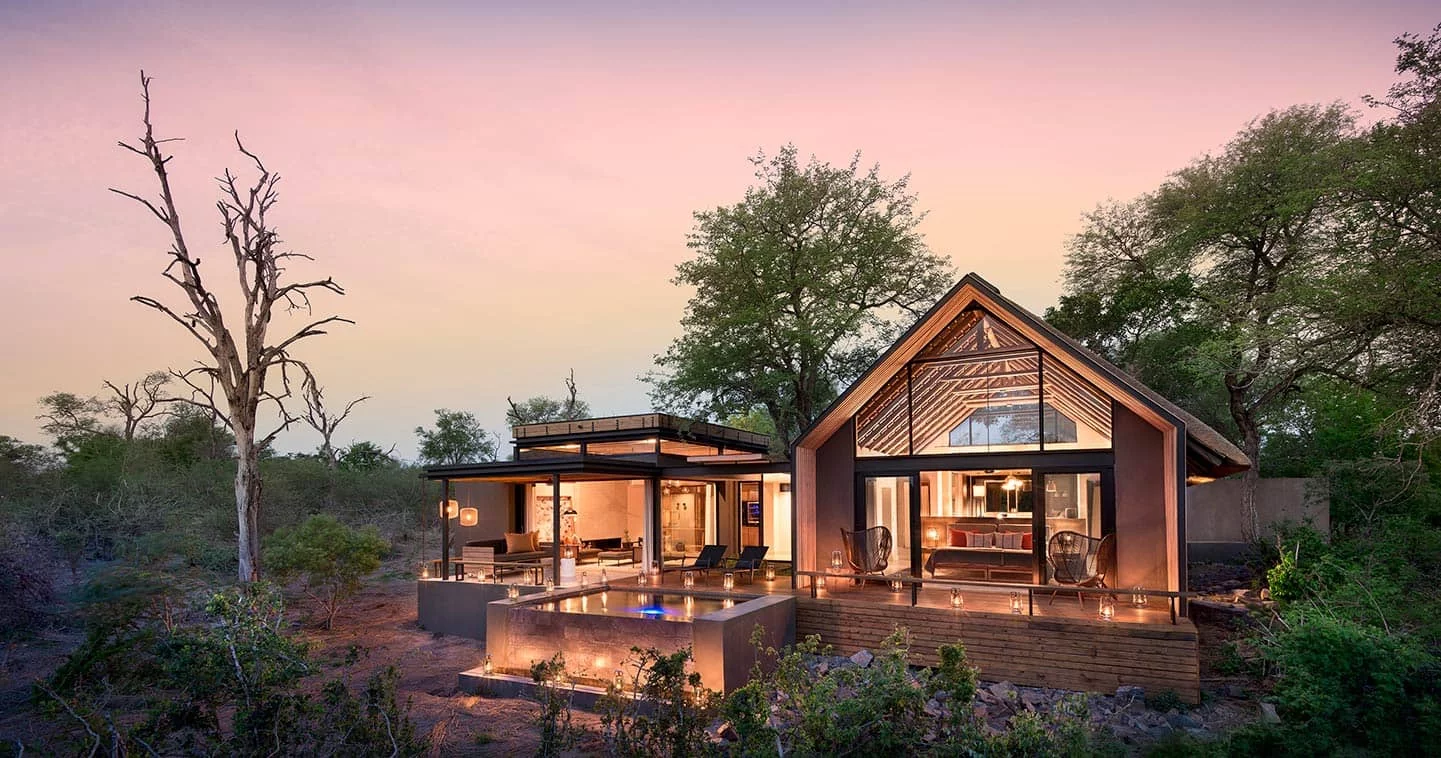 Experience incomparable luxury at the Mount Kenya Safari Club, a  breathtakingly beautiful hotel nestled in the misty heights of Mount Kenya. 
This five-star property offers guests 50 exquisitely designed rooms, all of which boast spacious living areas, fireplaces, private balconies, and en-suite bathrooms. Guests can also make use of a variety of onsite facilities such as a swimming pool, spa, fitness center, golf course, and tennis court.
Highlights: 
Dining experiences at the award-winning Mount Kenya Safari Club Restaurant.
A scenic 9-hole golf course
A modern-day spa and wellness center with 3 treatment rooms, a sauna, and steam room
Solio Lodge- the Safari Collection
Thee Solio Lodge. A place where time stands still, unforgettable memories are made, and life becomes 1000 times better. This magnificent African safari lodge nestles on the foothills of Mount Kenya and is surrounded by rolling hills and lush grasslands.
It features 31 luxury suites and cottages, each fitted with modern amenities, including air conditioning and en-suite bathrooms. There are also many onsite facilities such as a pool, spa, fitness center, restaurant, and bar.
Highlights Include: 
Suites with floor-to-ceiling windows offering breathtaking views of Mt. Kenya's dramatic landscapes
State-of-the-art spa
Safari Lodges: Masai Mara National Reserve
How do you define luxury? Modern amenities? Stunning rooms? These two luxury safari lodges have it all.
Angama Mara
Poised high above the floors of the Great Rift Valley, this lively and sophisticated lodge is where to go for a truly authentic safari experience. 
There are 30 tented suites for guests to choose from, each offering spectacular views of the Mara, ultra-modern amenities, and incredibly beautiful interiors. 
Highlights Include:
An outdoor pool with 360-degree views of the unspoilt wilderness of the Maasai Mara
A state-of-the-art bar and lounge
Exciting game drives- morning, afternoon, and evening.
Sunrise hot-air balloon safaris (these are simply magical)
A bird's eye view of the Great Wildebeest Migration 
Hemingways Ol Seki Mara
The true essence of luxury comes alive at the Hemingways Ol Seki, a private tented camp nestled at the heart of the Mara Naboisho Conservancy. 
Only guests staying in lodges within the conservancy are granted access to it, making the safari lodge perfect for private and truly intimate safari getaways. 
Highlights Include:
10 exclusive tents with stunning views of the conservancy and the neighboring Masai Mara
Exceptional private and safari dining (their menu is diverse and accommodating)
An infinity pool
Hot air ballooning/ guided bush walks/ game drives/ community visits/ walking safaris
Lewa Conservancy
The Lewa Conservancy is stunning and these two Kenyan hotels are evidence of it. 
Lewa House
Sophisticated elegance, exceptional services, and a prime address in the stunning Lewa Wildlife Conservancy are the hallmarks of this stunning safari lodge. 
The lodge offers three family-friendly cottages and four 'earth-pods' fit for smaller groups. Guests staying at the camp can treat themselves to exciting game drives, horse riding, camel safaris, guided walks, and biplane flights. 
Amenities include a spacious dining room, a pool, and a terrace with spectacular views of the conservancy. 
Lewa Safari Camp
Panoramic views of Mount Kenya and contemporary luxury await you at the Lewa Safari Camp which nestles in the heart of the Lewa Conservancy. 
Visitors to the camp are privy to some exceptional game-viewing, with the likes of black and white rhinos, wildebeests, the grevy's zebra, and the African wild dog roaming around. 
Highlights Include:
12 luxurious tents each with an en-suite bathroom and private veranda
Exciting game drives in customized safari vehicles
A pool and a massage deck 
A restaurant with exceptional views of the conservancy
Nairobi National Park
These two Nairobi hotels are everything you've been dreaming of and more.
Giraffe Manor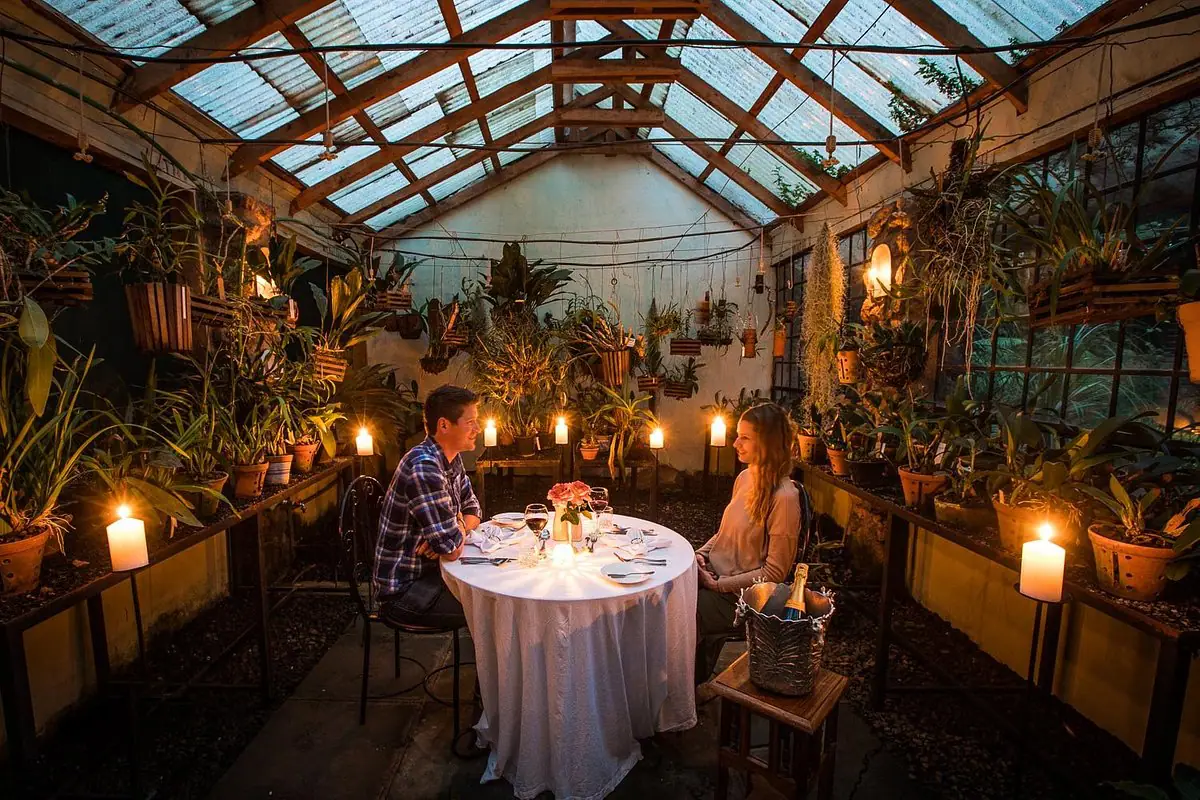 Be enchanted by the timeless beauty of the Giraffe Manor, a boutique hotel located only a 40-minute drive away from the iconic Nairobi National Park. 

This safari collection-owned hotel is perfection epitomized, from its enchanting gardens down to its breathtaking interiors, magnificent terraces, and exceptionally beautiful courtyards.  

There are 12 ravishing rooms for guests to choose from, all of which exude charming African flair and feature en-suite bathrooms, fireplaces, and viewing decks.   

Perhaps even more fascinating is that guests at the Giraffe Manor can feed and interact with the endangered Rothschild's giraffes from their rooms' balconies! 

Highlights Include:

Breakfast with giraffes
Romantic candle-lit dinners at the fragrant-filled Orchid House
Strolls to the nearby Giraffe Center
Giraffe Manor Spa treatments

Hotel Fairmont the Norfolk

The perfect blend of old-school charm and modern amenities, the historic Norfolk hotel is one of Nairobi's most iconic destinations. It has been around since 1904 and is renowned for its excellent hospitality and atmosphere.  

Rooms are more than just rooms here, they are beautiful pieces of art, adorned with African-inspired decor and furnished with everything a traveler needs. 

Highlights include:

17 tastefully designed suites and 108 comfortably chic rooms 
An outdoor pool, spa treatments, and a health club
Exceptional dining experiences at the award-winning restaurant Tamarind
Fascinating cultural tours of the city
Game drives in Nairobi National Park 

Amboseli National Park

These two Amboseli National Park lodges promise unmatched standards of comfort, authenticity, and exemplary service. 

Ol Donyo Lodge

Sandwiched between the Tsavo And Amboseli National Parks, in over 111,000 hectares of private land in the Chyulu Hills, the Ol Donyo Lodge is where luxury meets refined service.

Here, guests are treated to spectacular views of Mount Kilimanjaro, as well as plush accommodations, abundant wildlife sightings, and majestic landscapes.   

Kenyan safari 

What's more, the safari camp treats guests to some excellent fine dining, fly camping, and horse riding experiences.  

Highlights:

Ten private suites with stunning views of the Amboseli National Park
An infinity pool with jaw-dropping views of the plains
A spa center with massage treatments and steam rooms
A romantic treehouse hideaway for couples 
And a bar area with a fire pit and wine cellar 

Amboseli Serena Safari Lodge

Discover classic elegance, exceptional service, and luxury beyond your wildest expectations at the Amboseli Serena Safari Lodge. 

This luxury tented camp is located at the foot of Mount Kilimanjaro and is designed to complement the area's breathtaking beauty. 

To make it worth your while are 92 classically designed rooms, all fitted with state-of-the-art amenities, en-suite bathrooms, and private viewing decks with awe-inducing views of the Amboseli.  

Highlights Include:

Breakfasts in the wild and dinners on the plains
A gift shop and business center 
Game drives, bush walks, and mountain biking trips
A plunge pool with breathtaking views of the savannah 

Tsavo National Park

Kilanguni Serena Safari Lodge

Experience the grandeur and charm of Africa at the Kilanguni Serena, a breathtaking safari lodge nestled in the shadow of Mount Kilimanjaro. 

This luxury lodge offers stunning views of the Tsavo plains and features 64 classic and comfortable rooms, each with private balconies and modern en-suite bathrooms. 

Highlights Include

Private game drives in the Tsavo National Park
Cultural visits to nearby Maasai villages
Sundowners at the safari bar 
The Kilanguni Amphitheater where guests can enjoy performances by local performers 

Severin Safari Camp

For a truly unique safari experience, head to the Severin Safari Camp in Kenya's Tsavo West National Park. 

The camp offers 20 stylish tented suites and two family tents with breathtaking views of the surrounding African wilderness. Guests can enjoy game drives, hot air balloon rides over the savannah; bush walks with local guides, and much more.

The camp also features an outdoor pool, a wellness center with massage treatments, and an on-site restaurant offering traditional African dishes. 

Ol Pejeta Conservancy

The best safari camps in Ol Pejeta as chosen by our safari consultants. 

Sweetwaters Serena Camp

Experience a playful mix of opulence and style at the Sweetwaters Serena, an exquisite luxury safari camp located in the heart of Kenya's Ol Pejeta.

There's everything to love about this tented camp, from its intricately designed rooms to its top-notch culinary experiences and stellar personalized services. 

Highlights Include:

56 avant-garde tents with en-suite bathrooms and riveting views of Mt Kenya
Exceptional in-room and al-carte dining experiences

Porini Rhino Camp

Porini means 'the wild' in Swahili and boy does this camp live up to its name. Small but in every inch luxurious, this intimate camp sits at a prime spot in the Ol Pejeta, offering guests exclusive game-viewing opportunities. 

The tents? Don't even get us started! They are the epitome of elegance, each tastefully furnished and fitted with modern amenities like flush toilets, hot showers, and solar lighting. 

Highlights Include;

A wildlife viewing hide from where guests can closely but safely observe wildlife
Free laundry services (for a limited amount of laundry)

Lake Nakuru National Park

The Cliff

A jewel among Kenya safari lodges, the Cliff aims to captivate and leave a lasting impression. This luxury safari lodge sits inside the Lake Nakuru National Park and is effortless in design, service, and hospitality.

Spend your Kenya safari here and enjoy all that this lodge has to offer, from sumptuous rooms and suites to an outdoor pool, a wellness center with spa treatments, and even free Wi-Fi. 

Highlights Include:

10 high-end tents with 180-degree views of Lake Nakuru
Helicopter transfer services
A bar, spa, and fitness center

Sarova Lion Hill Game Lodge

When ranking the best Kenya safari lodges, it's hard to leave out the Sarova Lion Hill Game Lodge. This charming safari lodge is located inside the Lake Nakuru National Park and offers a truly one-of-a-kind luxury safari experience. 

To tickle your fancy are 67 elegantly designed rooms all fitted with terraces, en-suite bathrooms, and contemporary amenities (think mini-bars, free WI-FI, and hot and cold showers) 

Even better, the lodge offers some great food, excellent park views, and unparalleled game-viewing opportunities. 

Samburu National Reserve

Sarova Shaba Game Lodge

Arguably one of the best luxury safari camps in East Africa, the Sarova Shaba Game Lodge is the perfect place to stay for those looking to explore the beauty of Samburu National Park. 

Set on an elevated plateau, the lodge offers stunning views of the Ewaso Nyiro River, savannah plains, and wildlife. 

The accommodations are plush with stylish interiors and modern amenities like en-suite bathrooms, indoor and outdoor showers, plunge pools with sun decks, and private balconies. 

Highlights Include:

Exciting game drives and bush walks led by experienced guides
Bush meals served in the lodge's gazebo 
Sundowners at the nearby hippo pools. 

Saruni Samburu

And then there is the Saruni Samburu, a distinctively gorgeous abode where luxury and comfort are a priority.

From en-suite bathrooms to al fresco dining, private plunge pools, and outdoor fireplaces – those staying here find themselves surrounded by a blissful blend of classic sophistication and modern-day opulence.  

Highlights Include:

6 eco-chic villas with jaw-dropping views of the Kalama Conservancy 
Culinary classes with the on-site chef
An excellent range of in-room services and amenities.

Diani Beach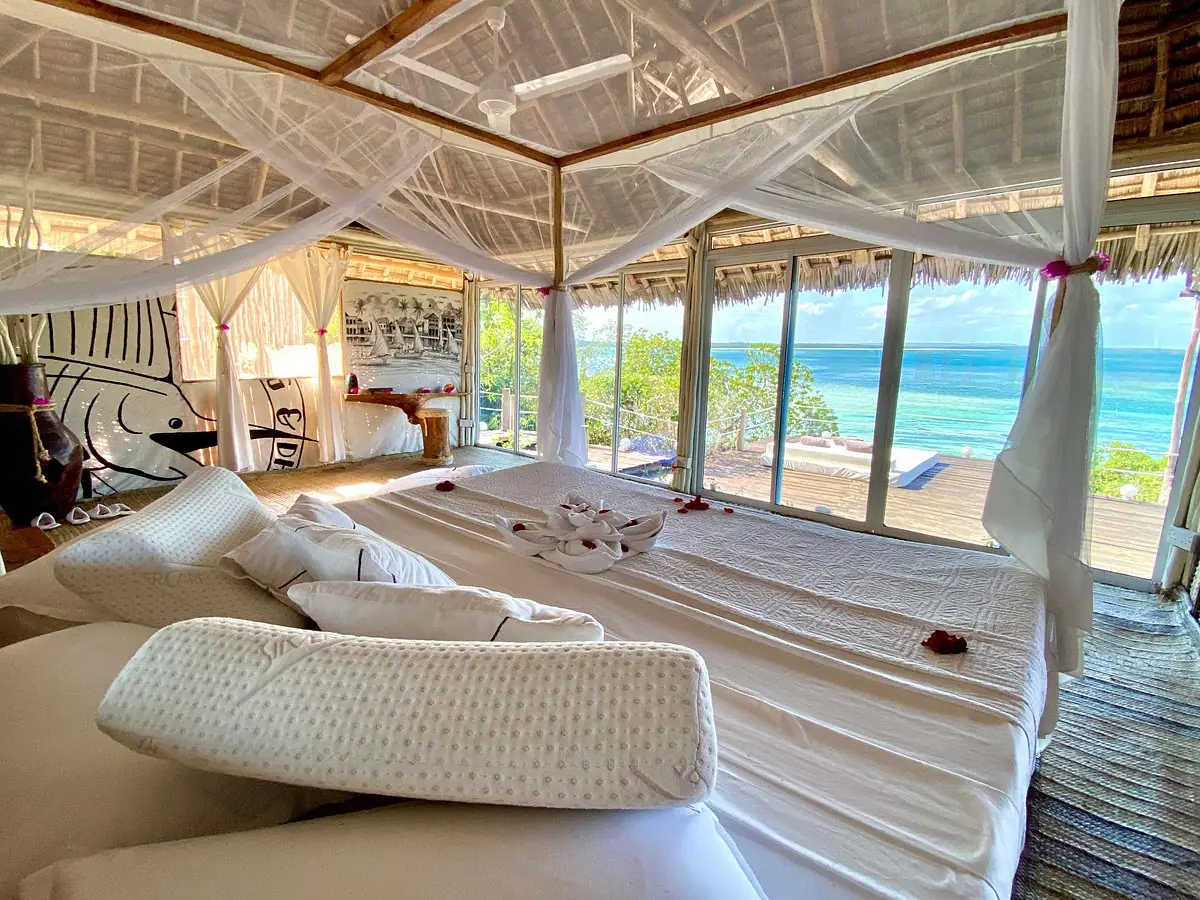 The Sands at Chale Island
Discover unmatched oceanfront luxury at the Sands at Chale, an exquisite luxury lodge located on the southeastern coast of East Africa. 
The resort's accommodations are nothing short of magical, from the bright and breezy luxurious villas to the suites with private plunge pools. 
Be sure to make the most of the hotel's many amenities, such as its spa and wellness center, restaurant and bar, gift shop, and more.  
Highlights Include;
A private beach 
A variety of water sports activities ranging from stand-up paddle-boarding to snorkeling and diving.
An award-winning restaurant that features a range of international cuisine 
A gorgeous selection of beachfront bars offering spectacular views of the turquoise Indian Ocean
Laikipia – Loisaba Tented Camp
Experience a truly unique combination of rustic and luxury at the Loisaba Tented Camp, a luxury safari camp nestled within the breathtaking Laikipia region.
From en-suite bathrooms to private terraces and expansive decks, this secluded camp offers all the amenities you'd expect from a top-notch lodge.
The camp also offers an array of activities and services, such as hot air balloon rides, private game drives, guided bush walks, and even horseback riding!