Kenya Safari Animals - Facts, Best Places to Spot Them & More.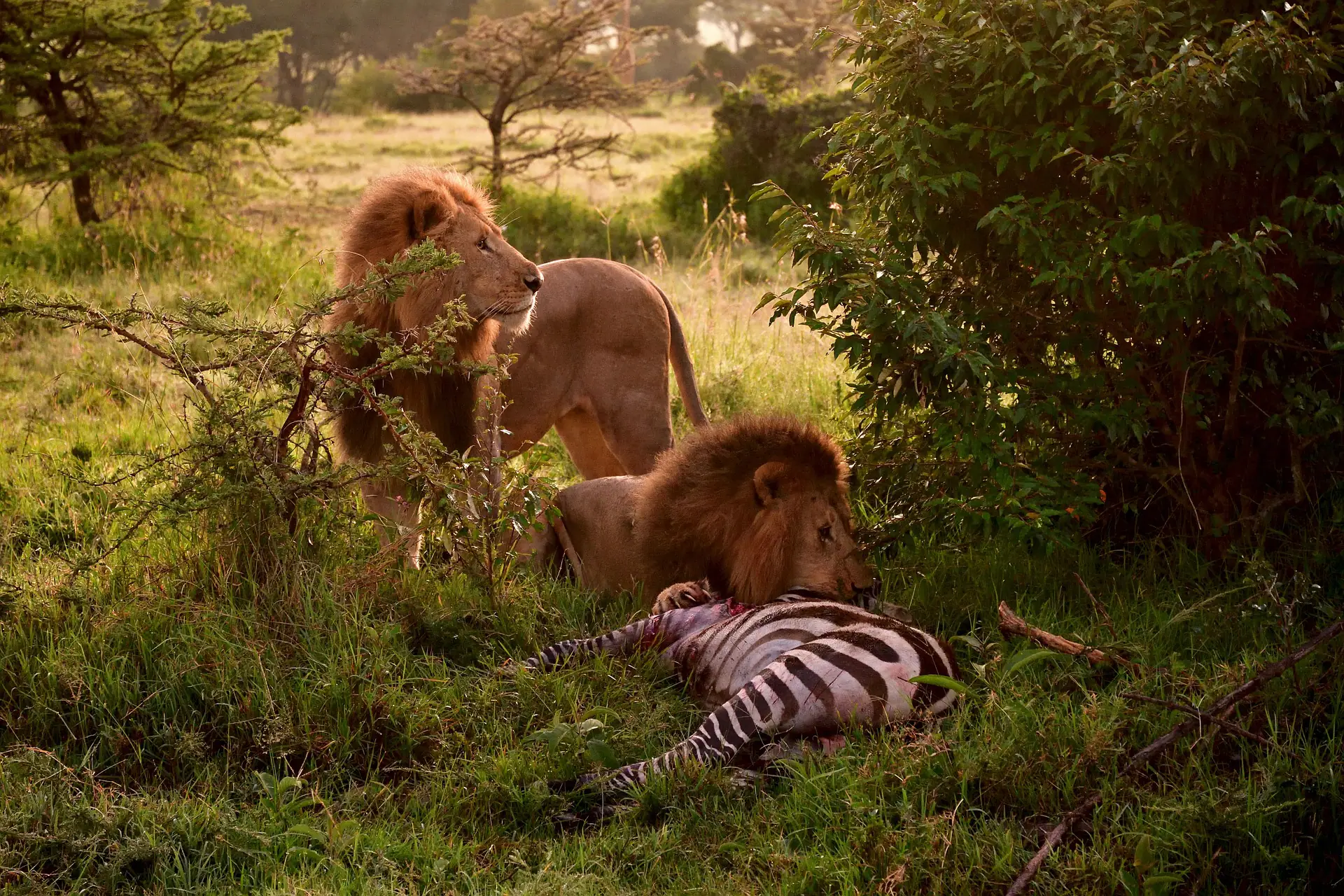 With an estimated 25,000 plant species and 7000 animal species, Kenya is one of the African countries with the highest levels of biodiversity. In this article, we look at some of the animals you're likely to see on a Kenyan safari and interesting facts about each animal. Expect to learn about the famous Big Five, the Ugly Five, and the lesser-known species like the banded mongoose. But before then…
Here's Where to Reach us to Start Planning your Kenya Animal Safari Tour
Call or WhatsApp us at +254-704-532-105 or send us an email at safarioffers@kenyasafariholidays.uk, safarioffers@ajkenyasafaris.com, or james@ajkenyasafaris.com. 
And Here are our Most Booked Kenya Wildlife Safari Packages.
Table of Content
The Big Five Kenya Safari Animals
The Northern Five
The Ugly Five
The African Antelopes of Kenya
Predators in Kenya
The Birds of Kenya
Critically Endangered Wildlife Species in Kenya
Other Species of Wildlife in Kenya
The Big Five Kenya Safari Animals
The Big Five. The undisputed stars of the show. The reason hundreds set out to parks at dawn. Who are they, and where to find them? Read on.
The East African Lion (Panthera Leo)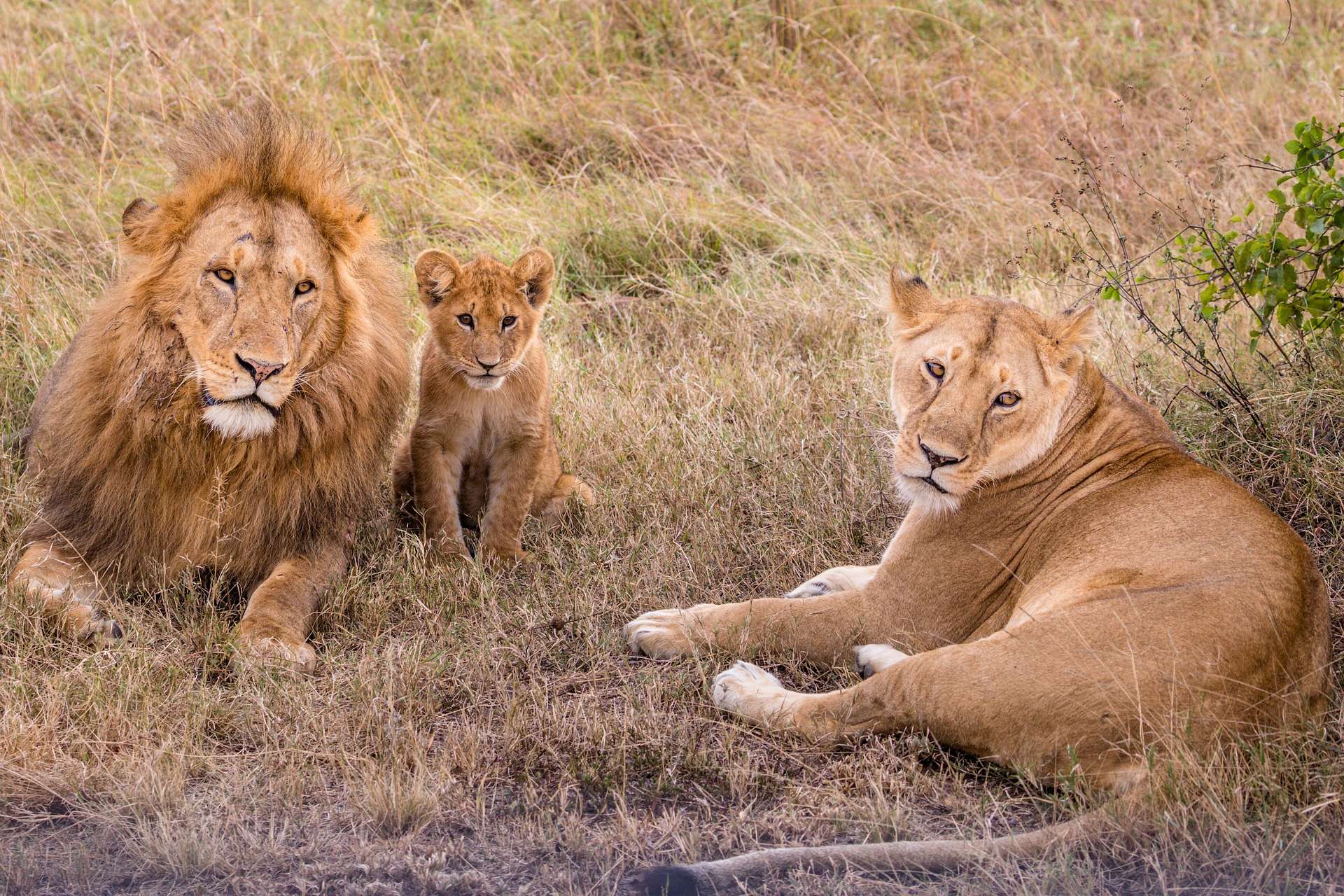 The East African Lion is the national animal of Kenya. In our favorite TV shows, movies, legends, and stories, the lion was always sold as the king of the jungle to us, which is why the first time we spot a lion in its natural habitat is special.
Like in the movies, they are huge and powerful, with a lush mane and a spine-tingling roar. They also have a broad diet- one that features over 37 wild animals- so yes, lions really are the king of the jungle.
There are an estimated 3000 East African lions in Kenya, but the sad fact is that the East African lion is one of the critically endangered species. Fun facts about the East African lion?
Well, for one, it is the national animal of Kenya. For another, a male East African lion weighs 148-190kg while a female one weighs about 122-181kg. The third is that the king, the male lion, leaves all the dirty work (the hunting) to the lionesses. So much for being king, huh? But then again, kings don't tire themselves with menial tasks.
Where Can You See Lions in Kenya
Masai Mara- has the second-largest lion population in East Africa
The Lake Nakuru National Park
Lewa Wildlife Conservancy
The African Buffalo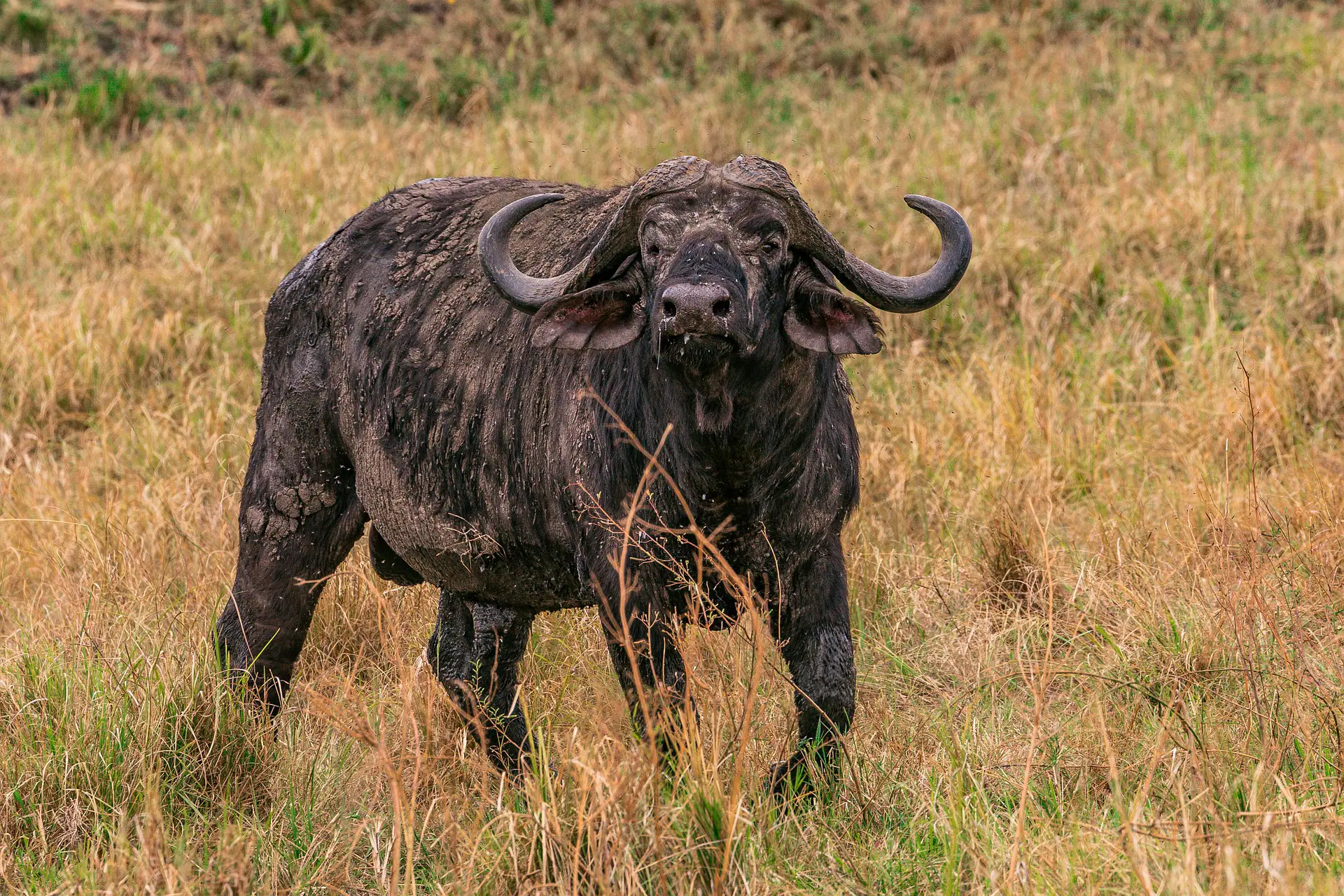 Large and grim with horns more than likely to impale anyone who dares cross their path, the African buffalo is one of the world's most dangerous animals. These creatures can weigh up to 870 kg but make no mistake- they are hella fast and can run up to speeds of 60km/hr.
African buffaloes are also surprisingly social and live in herds ranging from 20 to 500 individuals. Even more fascinating? Lions are the only predators strong enough to take on buffaloes; even then, this is no easy feat as there are numerous videos on the internet of herds of buffaloes intimidating prides of lions.
Where Can You See The African Buffalo?
Masai Mara- the population of African buffalo is most dense here
Tsavo East and West National Parks
Lake Nakuru National Park
Lewa Wildlife Conservancy
The African Elephant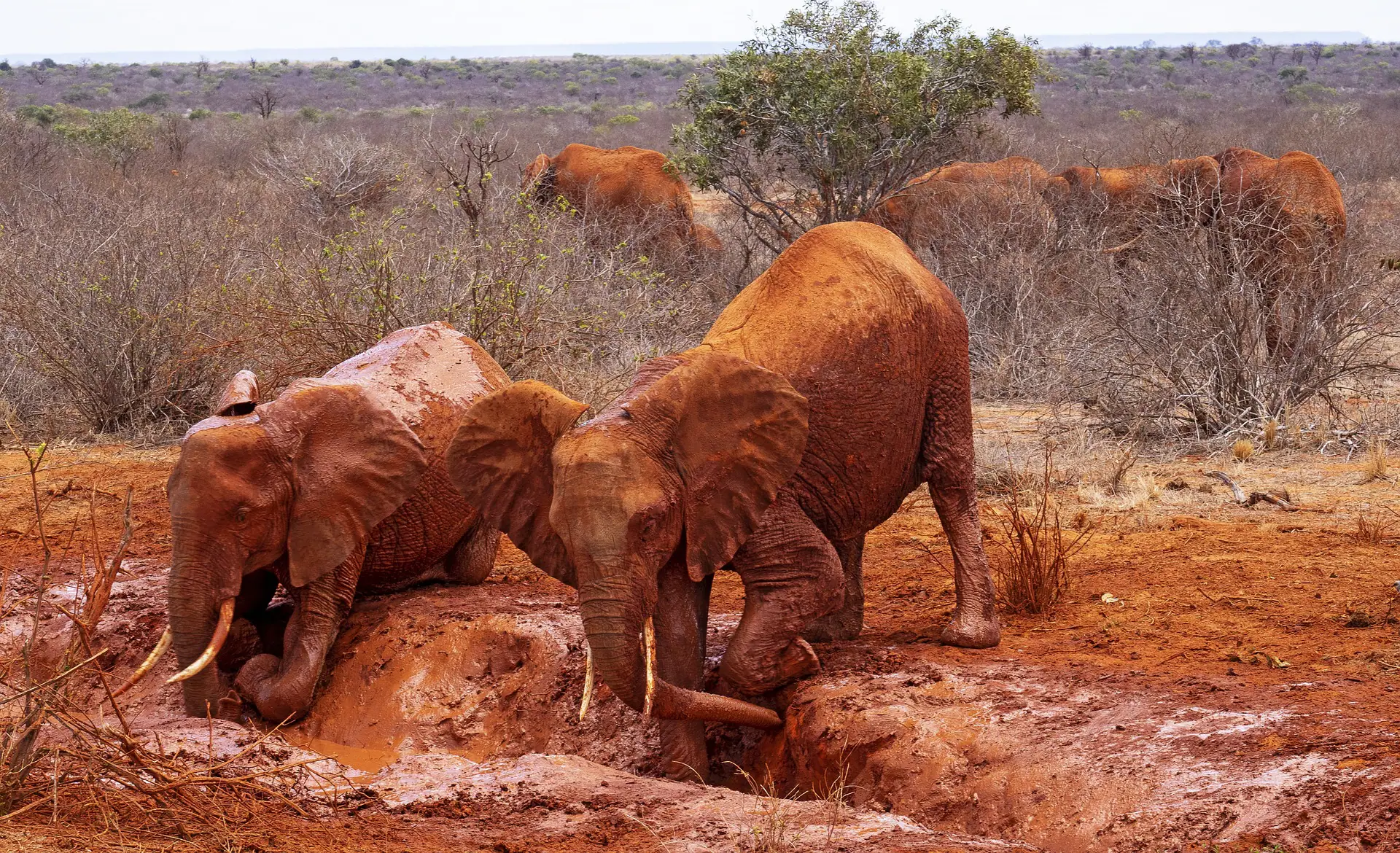 The African elephant is the largest terrestrial animal in the world and a sight to behold.
These creatures can weigh up to 7 tons, have ears that look like maps of Africa, and travel at speeds reaching 25km/hr. They also live relatively long lives ( the life expectancy of African elephants ranges from 60 – 70 years). Also, they are quite social, living in large family units of related females and their young.
Where Can You See The African Elephant?
Tsavo East and West National Parks- With over 12,000 elephants, these two parks host the largest elephant population in Kenya.
Amboseli National Park- there is an estimated 1600+ individual elephants in the Amboseli.
Lewa Wildlife Conservancy
The Leopard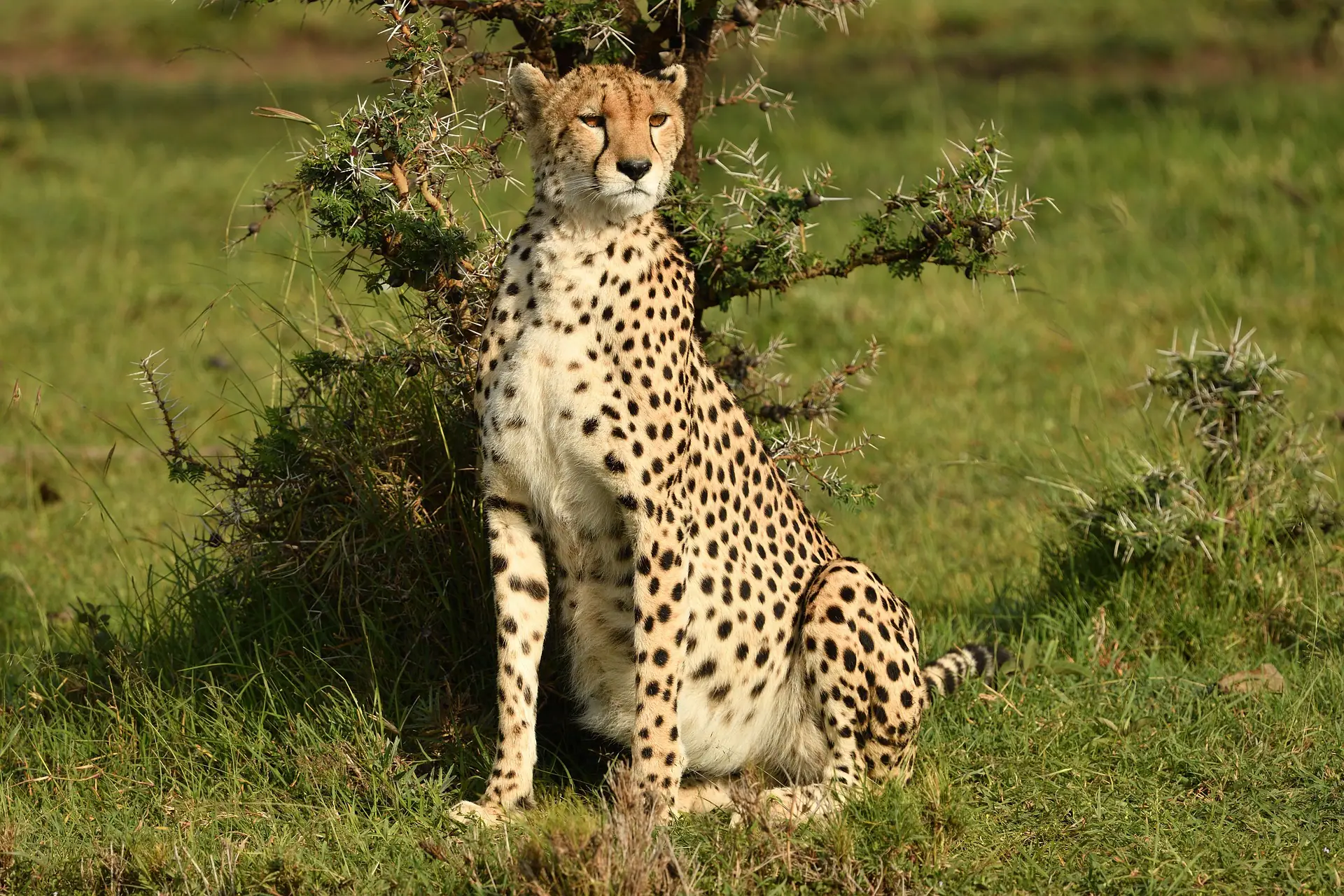 The beast. The myth. The legend. Leopards are solitary animals known for their power, agility, cunningness, and strength. They are strong enough to carry animals three times their body weight up a tree, quick enough to outrace a gazelle, and clever enough to know that a kill cannot be made in the open.
Leopards are also unique in their diet- they eat almost anything from ants to monkeys, rodents, and wildebeests. Leopard populations in Kenya are estimated at 17 to 36 per 100 square miles, which explains why they're so elusive.
Where Can You See The Leopard?
Samburu National Park is estimated to have over 300 leopards in reserve.
Maasai Mara National Park
Lewa Wildlife Conservancy
Kora National Park
Meru National Park
Rhinos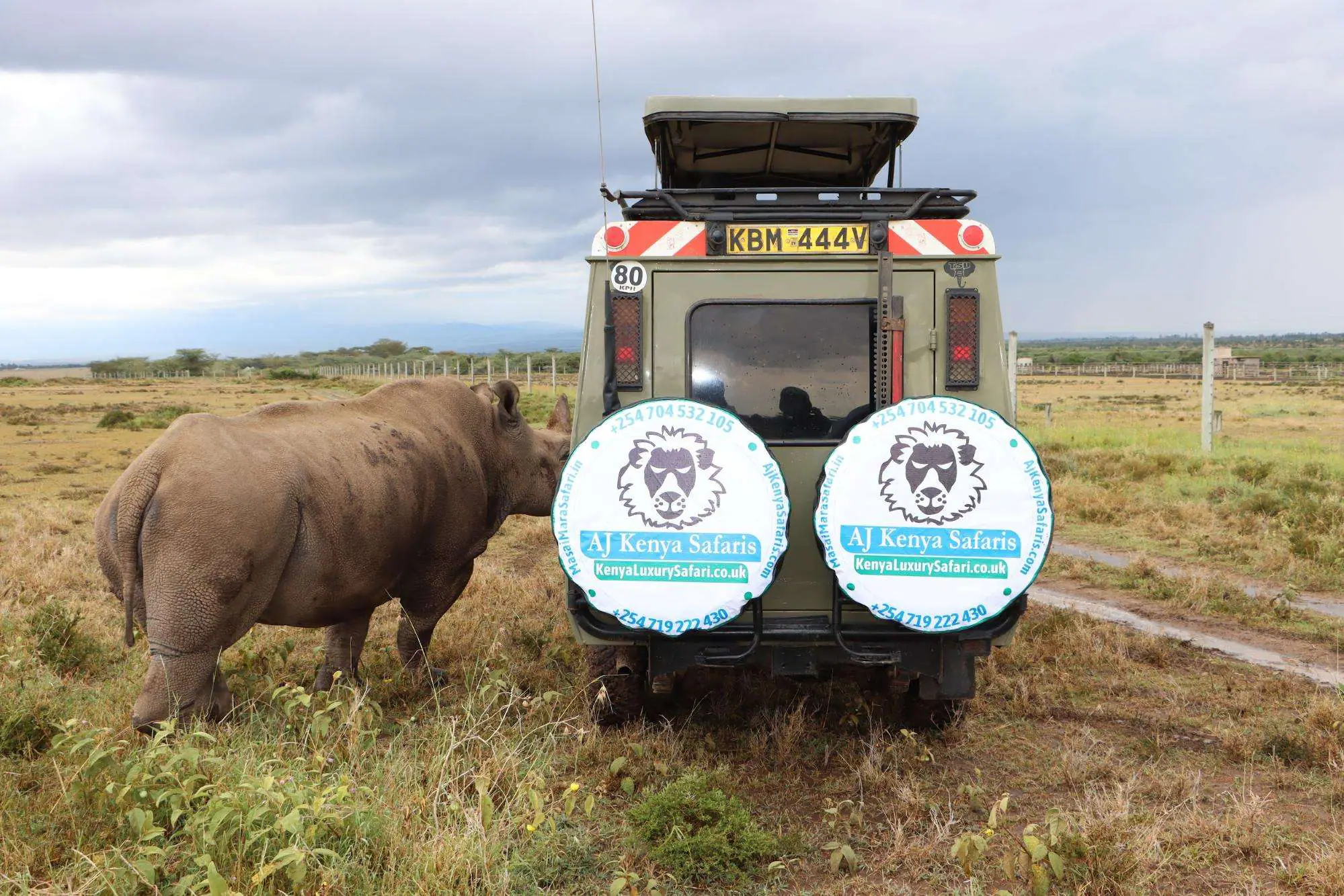 Did you know that the Ol Pejeta Conservancy hosts two of the planet's only remaining northern white rhinos? Or that Kenya and Southern Africa single handedly raised the black rhino population from a dwindling 2300 to over 6000 black rhinos? Now you know!
Kenya is home to two of the five species of rhino- the white and black rhino. White rhinos are the larger of the two species and can weigh up to 3,600kg; their black counterparts can weigh up to 1,750kg. Both white and black rhinos are herbivores and can be observed grazing on grasses during the day.
Where Can You See Rhinos?
Ol Pejeta Conservancy- home to two of the world's only remaining northern white rhinos, over 165 black rhinos, and 39 southern white rhinos.
Masai Mara- home to 35-50 black rhinos,
Lewa Wildlife Conservancy- home to 10% of the black rhino population in Kenya and 15% of its southern white population
Tsavo West National Park- home to the largest black rhino population in Kenya
Lake Nakuru National Park- is home to 100 white rhinos and about 50 black rhinos.
Nairobi National Park
Kenyan Animals: The Northern Five
The Northern Five, also known as the Samburu Five, is a nickname for the five species of animals commonly seen in Kenya's Samburu region (northern Kenya). These animals are the Grevy's zebra, Reticulated giraffe, Beisa Oryx, Somali ostrich, and last but certainly not least, the Gerenuk antelope. Here's a brief overview of each of these animals:
East African Oryx (Beisa Oryx)
There probably isn't a better-looking animal in the Kenyan wild than the Beisa oryx. Yup! You heard that right. That reddish-brown coat and those long straight horns will catch your attention anytime, any day.
The oryx looks like a cross between a gazelle and a goat and is mostly found in northern Kenya's savannah plains and desert climate.
It weighs around 135 kilograms (300 lbs) and uses its sharp horns to defend against predators such as lions and hyenas.
As well as being an adept fighter, the Beisa oryx is an expert grazer that eats grasses and low shrubs found in its habitat. It feeds mostly during the night when temperatures are cooler.
The Giraffe Gazelle (Gerenuk)
The Gerenuk, also known as the Giraffe Gazelle, is as stunning as it is rare (it is the rarest of the Samburu Five). It stands at around 90 cm (3ft) and is characterized by its long, thin legs and narrow body covered in a reddish-brown coat with white underparts.
Even more fascinating is that the Gerenuk can go without water for days on end due to its ability to extract moisture from the plants it consumes. Last but not least, its diet consists mainly of foliage, leaves, and shrubs in its natural habitat.
Grevy's Zebra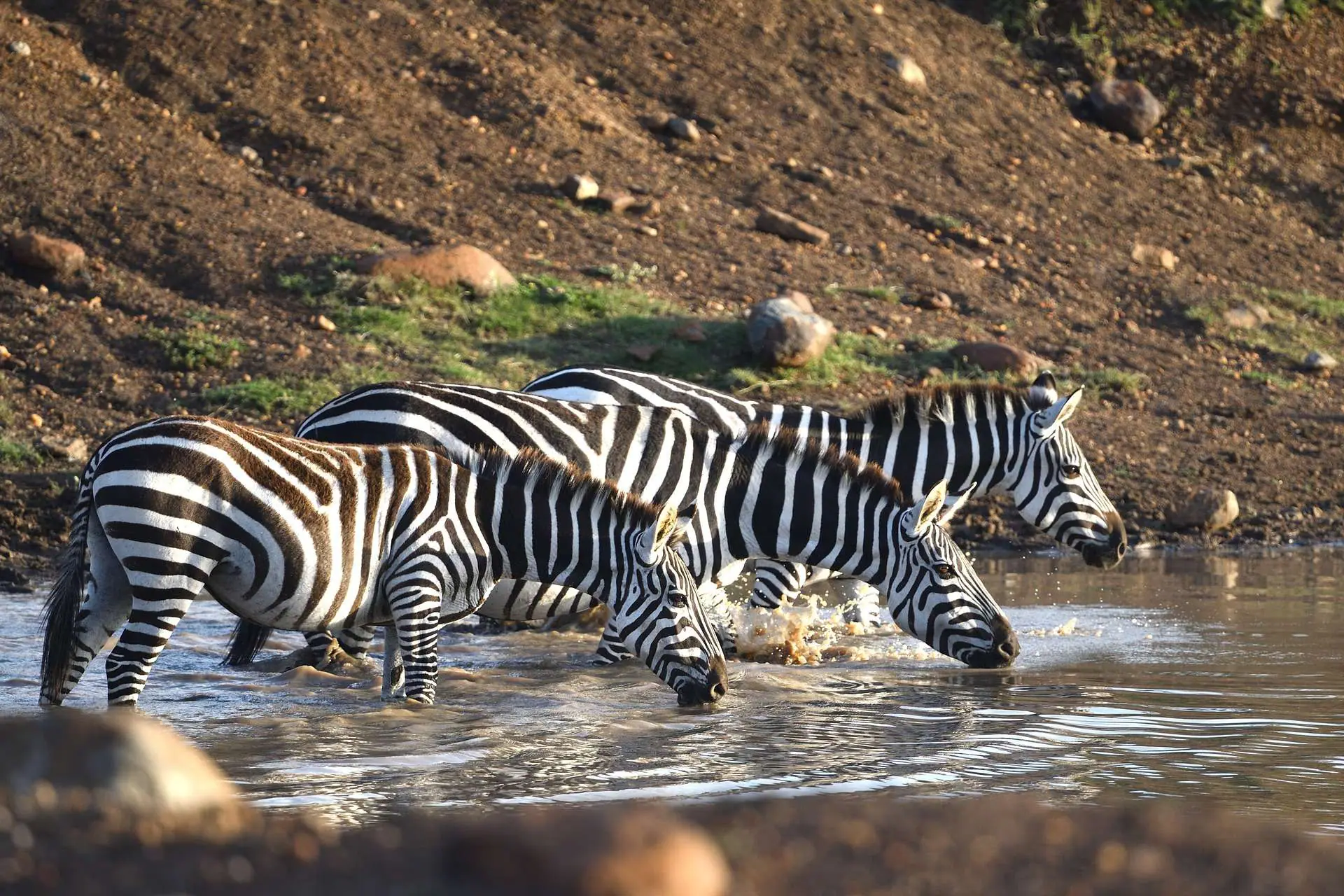 With larger ears and more stripes than the regular zebra, the Grevy's Zebra is the Chanel of the zebra world. It is also the largest of all three species of zebras (it stands at around 1.3m (4ft)
With only 2700 Grevy's zebras left in the world, this zebra species is getting even rarer, but should you want to spot one, easily head to the Lewa Wildlife Conservancy, which holds 11% of the world's population.
P.S: Its black-and-white coat pattern is unique for each individual, just like a fingerprint!
Reticulated Giraffe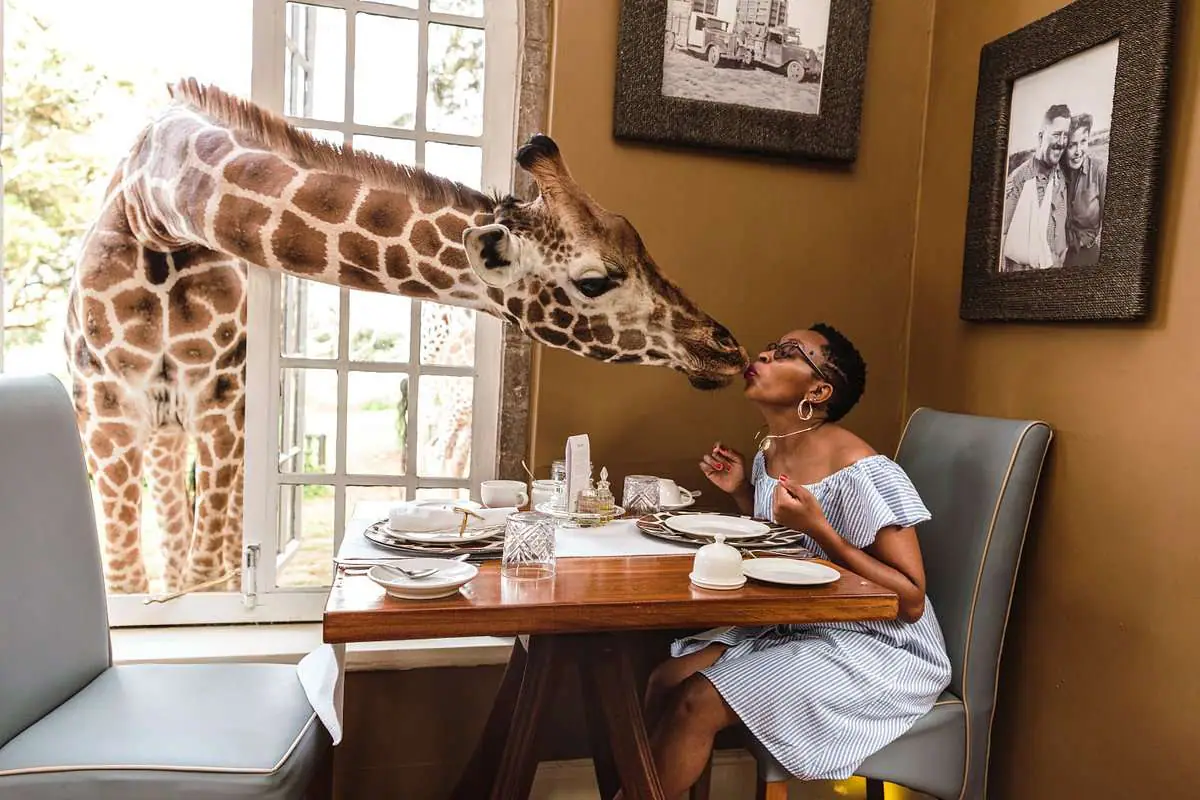 The Reticulated giraffe is a common sight in the grassy plains of Kenya thanks to its colorful patches and long neck. Honestly, as tall as it is, it's very hard to miss.
It stands at over 4m (13ft) and feeds on leaves, twigs, shrubs, and other tree foliage.
It is also an expert browser, and its long neck gives it the perfect vantage point for spotting predators from a great distance.
Somali Ostrich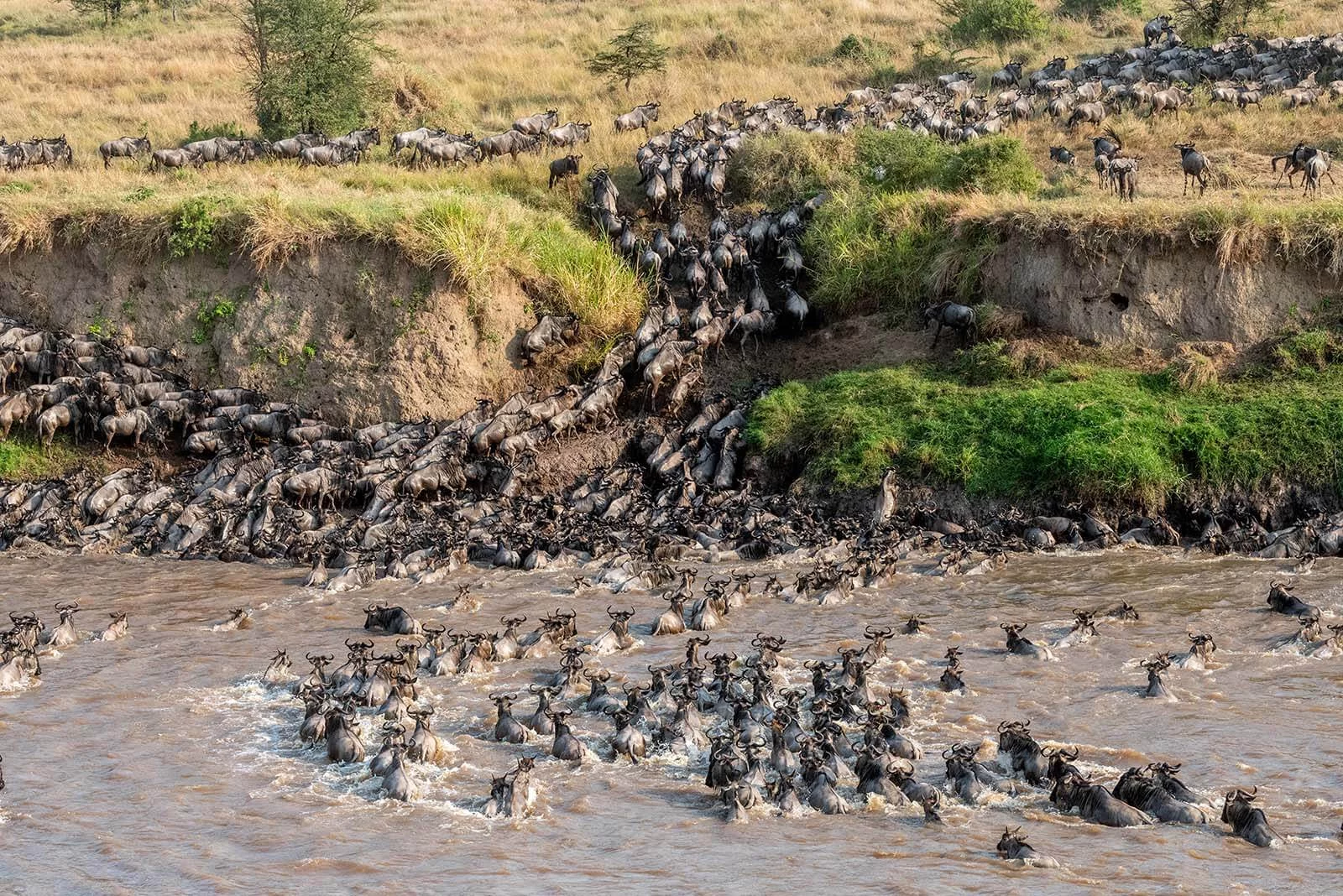 The Somali ostrich is one of two species of ostrich found in Africa and has a unique black and white plumage that sets it apart from other birds. It can be seen wandering the savannah plains of northern Kenya and is easily recognizable by its bright red legs and long neck.
The ostrich feeds mainly on plants, insects, fish, small reptiles, and other small animals. It is also one of the fastest birds in the world, with a running speed of up to 72 km/h ( 45 mph).
Where to Find the Samburu Five
Samburu National Reserve
Buffalo Springs National
Kenyan Wildlife: The Ugly Five
Uh-huh, you heard that right. The ugly five. Unfortunate, yes, but sadly true, and you'll understand why when you visit Kenya. Here's a basic overview of each:
The Spotted Hyena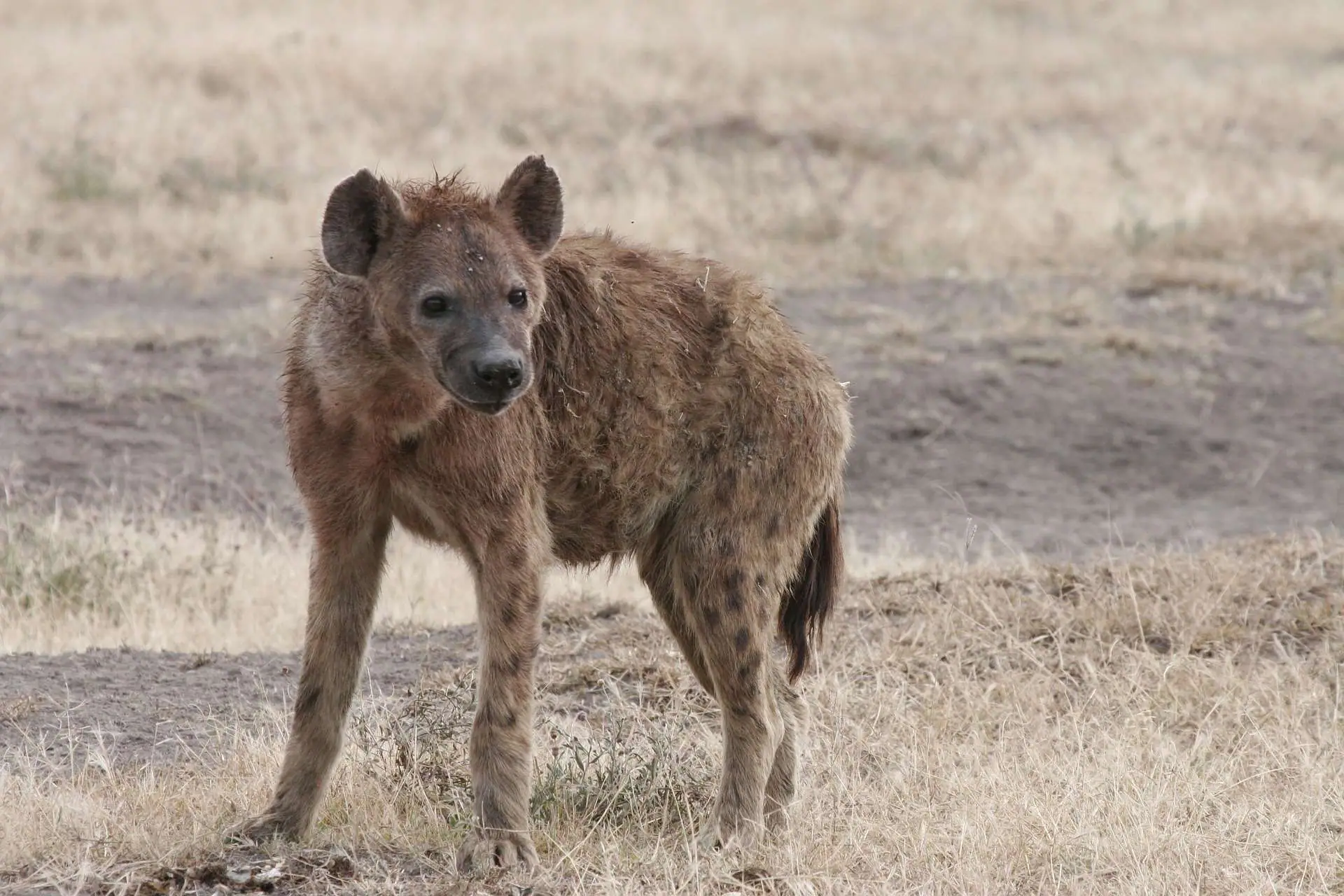 With its scruffy fur, noticeable limp, and a laugh bad enough to give you nightmares, it's obvious that the hyena is… well, ugly. But don't let its appearance fool you; it is one of the most formidable predators in Africa.
The hyena feeds mostly on carrion but also eats small animals, such as birds and rodents. Thanks to its powerful jaws and remarkable hunting skills, it also preys on mammal species such as the cape buffalo, plains zebra, and antelope.
P:S: You'll find the hyena across all Kenya's major parks.
The Warthog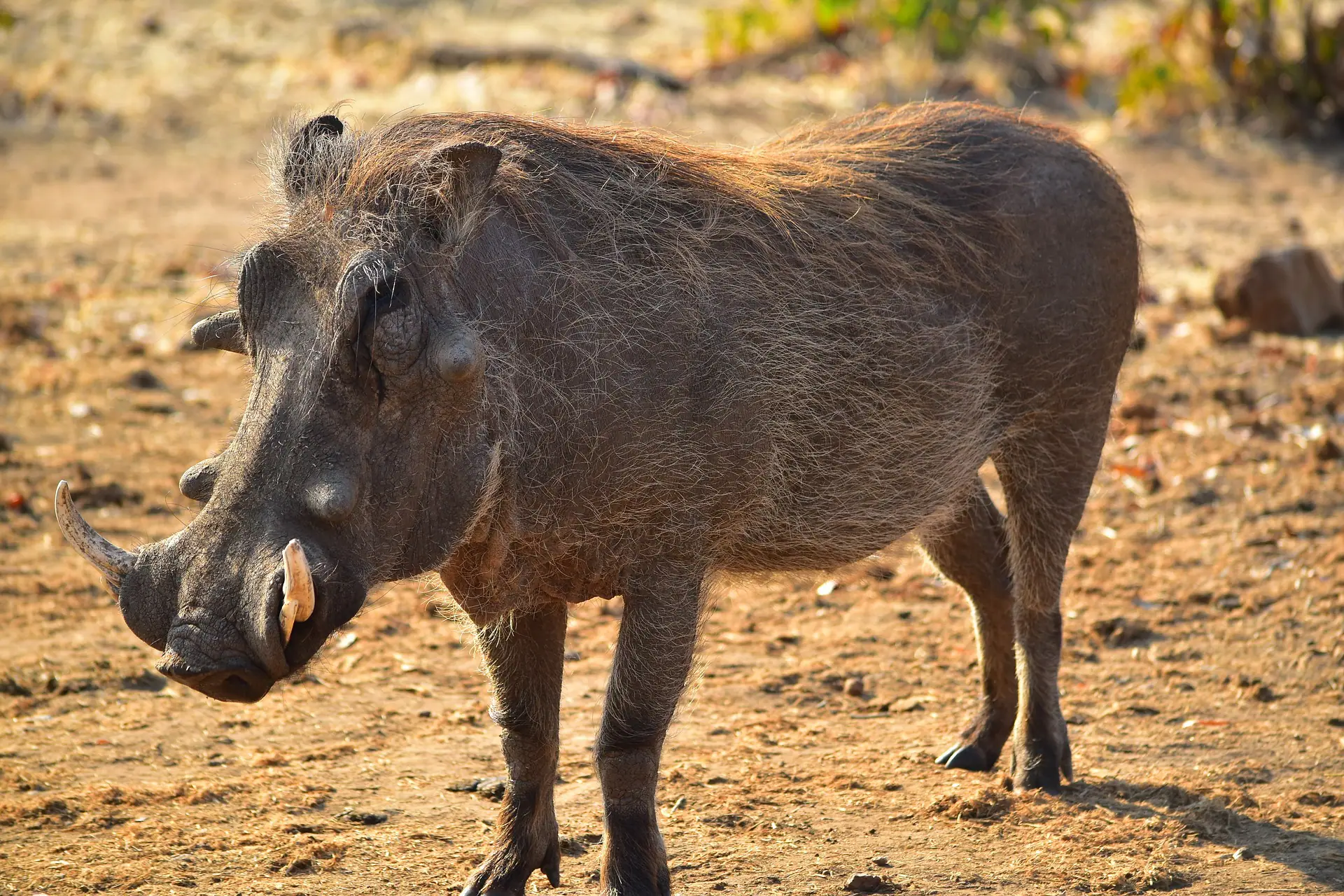 If you are like Eva, our editor, your first introduction to the warthog was through Pumbaa, Timon's gluttonous, happy-go-lucky bestie.
In the movie, Pumbaa, though brave and friendly, has a pungent smell and problems with flatulence. The real-life warthog is, unfortunately, not so different from Pumbaa.
In real-life, warthogs are large, stocky animals with a coat of coarse, bristly hair and long tusks curving up from the lower jaw. They are found in savannah and grassland areas throughout Kenya and feed mainly on roots, tubers, bulbs, and rhizomes.
However, it's not all grim when it comes to the warthog. These creatures are incredibly smart and can run up to 34mph. They are also vegetarian, which is a plus for planet earth.
The Marabou Stork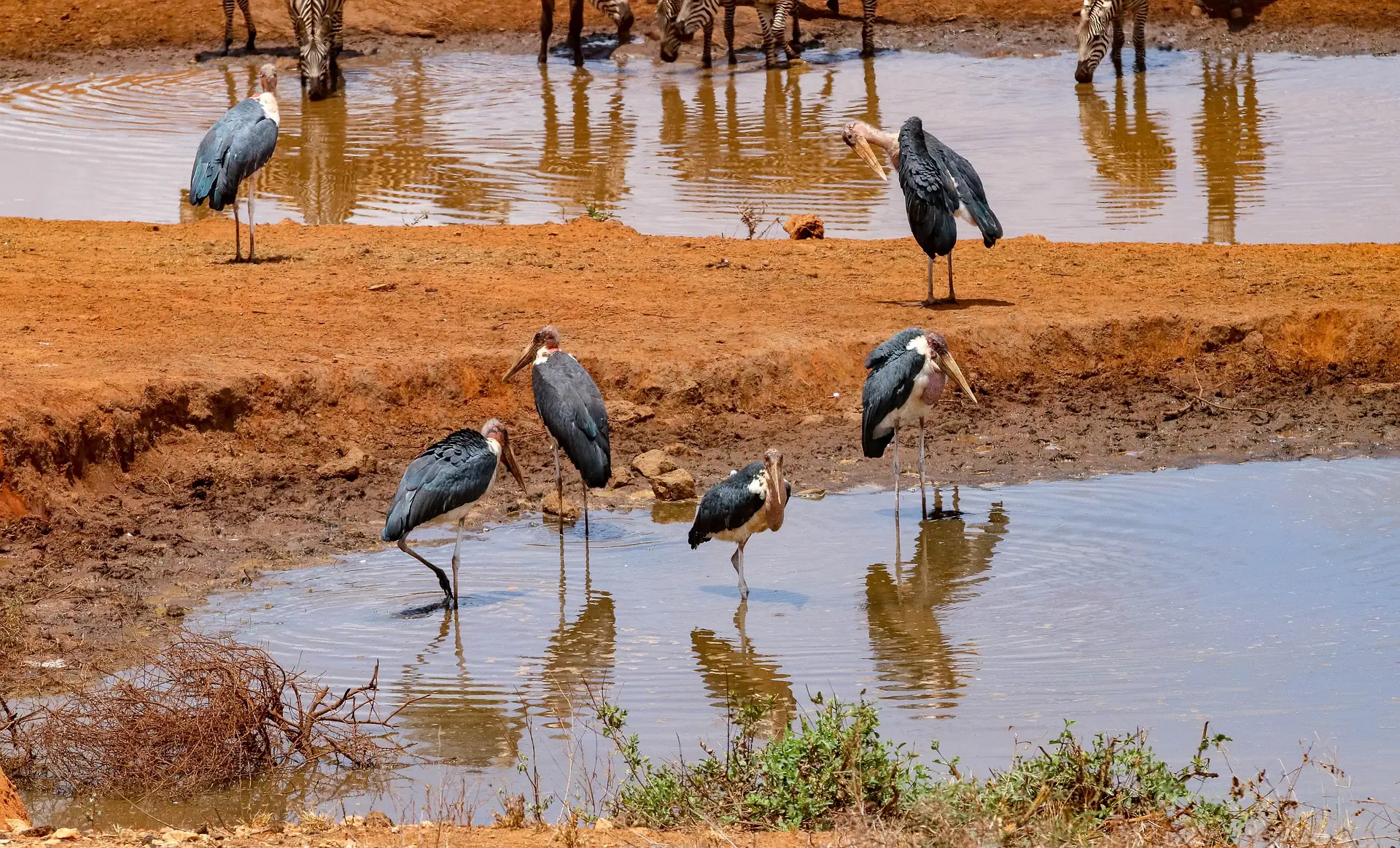 It honestly sucks to call another creature unfortunate looking, but the Marabou Stork is precisely that (yikes). This tall bird stands at around 4 ft (1.2m), has bare, scaly legs, and a bald head that looks more like it belongs on an alien than a bird (okay, now we're sounding mean, but here are some 'nice' points to make up for it).
For one, the Marabou stork is an excellent scavenger; and as any Biologist will tell you, this is a very important role in the ecosystem. The other is its beautiful relationship with the bees, known as commensalism, where one species benefits from the other without causing harm.
The White-backed Vulture
The vulture is another one of the 'ugly five,' but it's a bird we should all be thankful for. This scavenger helps to keep our environment clean by feeding on animal carcasses that might otherwise spread disease or pollute the environment.
Unlike other vultures, the White-backed species has a bald head, long wings, and a white patch on its back. It is found in the grasslands and open woodlands of eastern, central, and southern Kenya and feeds primarily on carrion.
The Wildebeest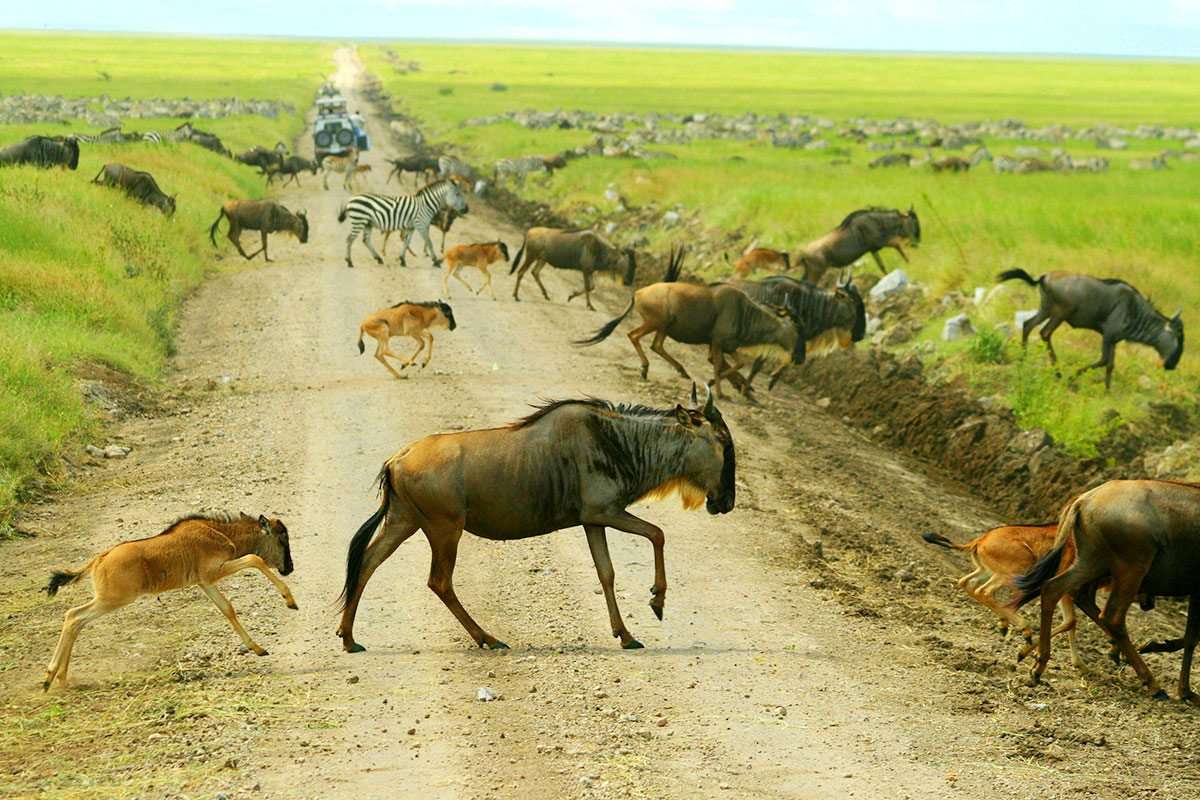 Also known as the 'gnu,' the wildebeest is a large mammal that looks like a cross between a cow and an antelope. It has curved horns and long legs and can run at speeds of up to 60km/h (37mph).
Wildebeests are found throughout Kenya and feed mainly on grasses and herbs. They migrate annually in search of food and water, which means you'll find them moving about the country during certain times of the year.
These animals are a vital part of their ecosystem as they help to keep grasslands healthy by grazing on vegetation.
Where to Find the Wildebeest
Those craving some wildebeest action can have their fill of this creature at the Masai Mara during the wildebeest migration. During the migration, over 1 million wildebeest, zebras, and other animals make the perilous journey across the Mara River. It's a mesmerizing sight that's not to be missed.
The Tsavo National Park is also home to a large herd of wildebeests.
Kenyan Wildlife: the Predators of Kenya
Vicious with an unquenched thirst for blood, here's a list of some of the predators you'll find in Kenya
The Black-backed Jackal
Here's a little black-backed jackal fact to encourage you to cut off disloyal people: black-backed jackals mate for life. If a jackal can do it, they can do it too!
The black-backed jackal is a small, fox-like animal found in open grassland and savannah areas throughout the country. It usually hunts alone or in pairs and feeds on rodents, insects, reptiles, birds, and other small mammals.
Lions (Panthera Leo)
Who better than the king of the jungle to be the national animal of Kenya, right? Well, good choice that one seeing that the lion is a vicious predator known for its strength, power, and ferocity.
You can find these felines in the savannahs and grasslands of Kenya, where they hunt for a variety of prey, including antelopes, buffalos, warthogs, wildebeests, and other mammals.
Cheetahs
With a running speed of 120km/h, cheetahs are the fastest land animals on the planet! Oh, you think that's impressive? Wait till you hear this!
A cheetah can accelerate faster than most sports cars!
How to tell apart a cheetah from a leopard in your next Kenya wildlife safari?
Cheetahs are dog-like spotted cats with long legs and slender but very muscular bodies. Their bellies are white, and they have black "tear stripes" running from the eyes to the mouth.
You can find these impressive hunters in areas with vast open plains, such as the Masai Mara National Reserve.
Parks and Reserves Where You Can find Cheetahs
Maasai Mara National Park
Lewa Wildlife Conservancy
Amboseli National Park
Lake Nakuru National Park
Samburu National Reserve
Nairobi National Park
Leopards
Secretive, solitary, and shy? Most certainly! But make no mistake about it; the leopard is one of the most dangerous animals in the African bush.
It is also the smallest of the big cats and is easily distinguished by its spotted coat, short legs, long tail, and wide head. It can weigh up to 90kg (200 lbs) and can be found in Acacia forests, open savannahs, and hilly areas such as the Aberdare National Park. They feed on small to medium-sized animals such as warthogs and duikers.
Parks and Reserves Where you Can Find the Leopard in Kenya
Maasai Mara National Reserve
Amboseli National Park
Samburu National Reserve
Lake Nakuru National Park
Lewa Wildlife Conservancy
Nairobi National Park
Wild Dogs
The African wild dog is one of the most efficient hunters in the canine family and has one of the most unique social systems. Unlike other types of dogs that hunt in packs to increase their chances of success, African wild dogs take turns being the hunter and even give up their meal for puppies or sick members. They also frequently use group vocalizations to communicate with each other during hunts. How impressive!
Another interesting fact about this species is that each dog has a unique pattern of spots on its coat, making it easy for them to distinguish each other in dense vegetation. Though heavily threatened by habitat loss and human-wildlife conflict, wild dogs remain a delight to learn more about!
Wildlife Reserves/ Parks Where you Can Find Wild Dogs in Kenya
Amboseli National Park
Lake Naivasha National Park
Lewa Wildlife Conservancy
Nairobi National Park
Meru National Park
Hyenas
Kenya is home to two species of hyenas – the spotted and brown hyena. These animals are known for their strong jaws, remarkable scavenging skills, and their spine-tingling laugh.
Hyenas live in large groups called clans, which typically range from 10-20 individuals, although there have been documented cases of larger clans of up to 50 individuals! They are also one of the most social animals in the wild and communicate with each other through a variety of vocalizations.
Hyenas can be found in savannahs, woodlands, and even deserts throughout Kenya. You'll have your best chance at seeing them during dawn or dusk when they are most active.
The Bat-eared Fox
This small fox is found in arid areas of Kenya and is easily identified by its large, bat-like ears. They are incredibly shy and elusive animals that typically feed on insects such as termites and ants.
Nile Crocodiles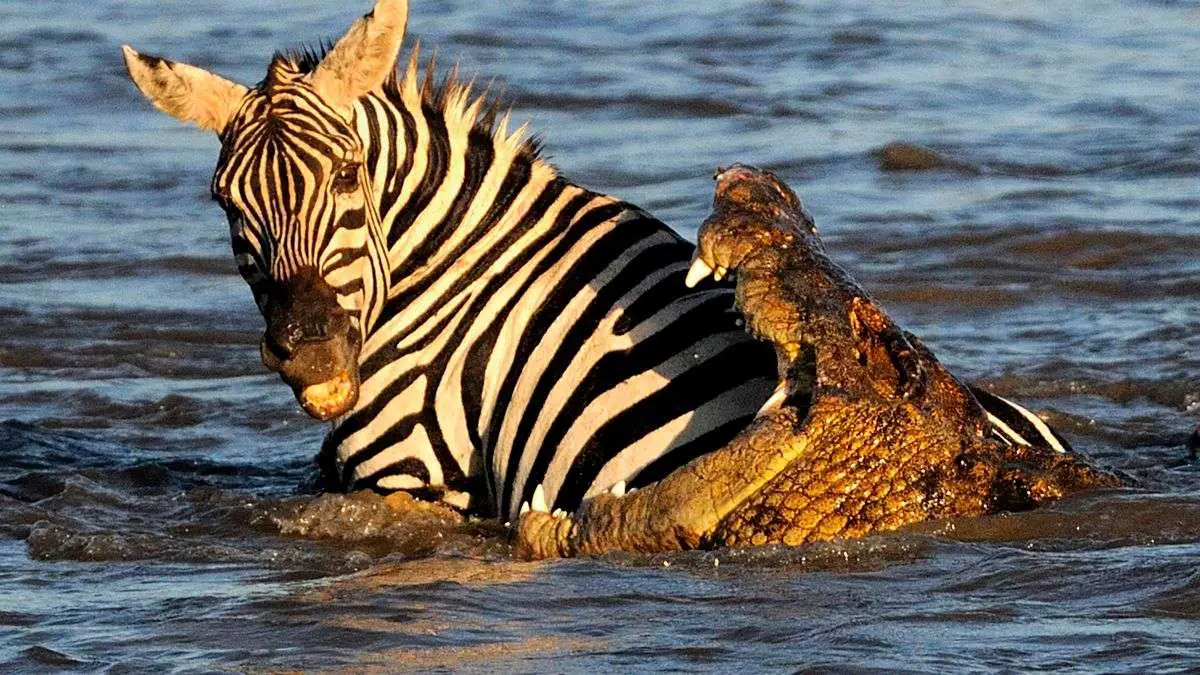 The Nile crocodile is the largest crocodile species and can be found in rivers, lakes, and marshes throughout Kenya. These powerful predators are an integral part of many aquatic ecosystems.
And though humans have heavily hunted them for their skin and meat, these apex predators remain a sight to behold!
Parks and Reserves Where You Can Find Nile Crocodiles in Kenya
Maasai Mara National Reserve
Lake Nakuru National Park
Lake Naivasha National Park
Meru National Park
Lewa Wildlife Conservancy
The Serval Cat
The serval cat is a unique species of wildcat known for its incredibly long tail, which allows them to leap up to 3 meters into the air! Additionally, they possess excellent night vision and hearing senses, making them highly successful hunters. What's more, the trip from their large ears to their black-tipped tails can measure up to 70 centimeters long! That's almost twice their body size! These gorgeous cats usually live in solitary environments – much like typical house cats – but can also be found in family groups. It is truly an animal deserving of admiration and fascination.
The Genet
The genet is a small, spotted carnivore found in many types of habitats throughout Kenya. It has a long, slim body and keen senses of smell and hearing, allowing them to thrive in its environment. They are also adept climbers and can climb trees with ease! Additionally, genets are highly social animals that usually live in family groups, though males tend to be solitary.
The Birds of Kenya
As of October 2022, there are 1154 confirmed bird species in Kenya. Here are a few of the most notable species that you may see while visiting:
The Lilac Breasted Roller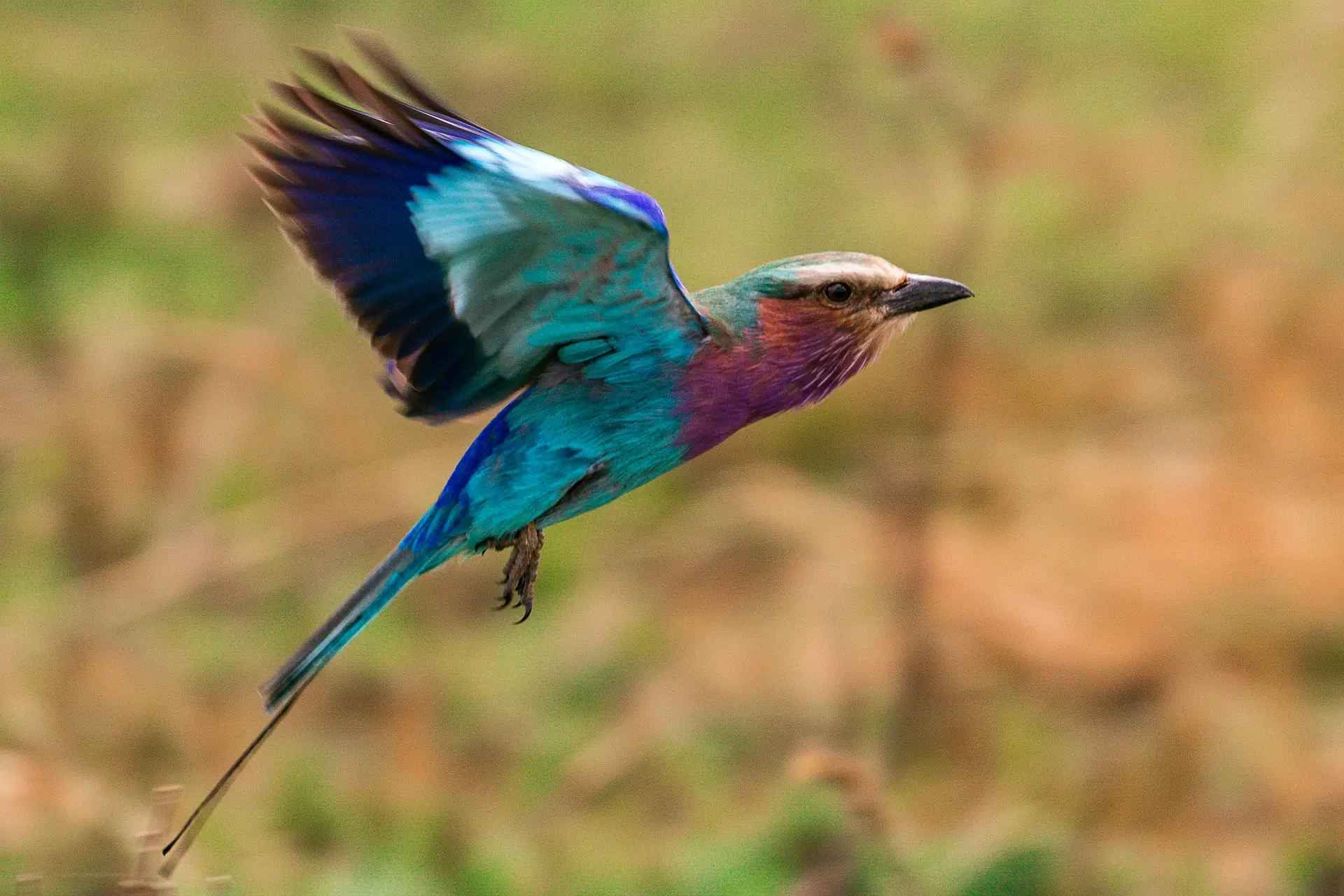 The lilac-breasted roller is the national bird of Kenya
This vibrantly colored bird is a common sight in Kenya's savannahs and open woodlands. These birds are known for their aerial acrobatics and loud, raucous calls.
The Grey-Headed Kingfisher
The shy but undoubtedly gorgeous grey-headed kingfisher can be found near rivers, lakes, marshes, and lagoons throughout Kenya.
One can easily identify it by its striking plumage and long bill.
The Crested Guinea Fowl
Especially prevalent in the Aberdare National Park, this medium-sized guinea fowl can also be found in woodland habitats across the country.
Its distinguishing features include its dotted feathers and the white crest on its head. The bird is also notable for its loud call, often echoing in the woods.
The Secretary Bird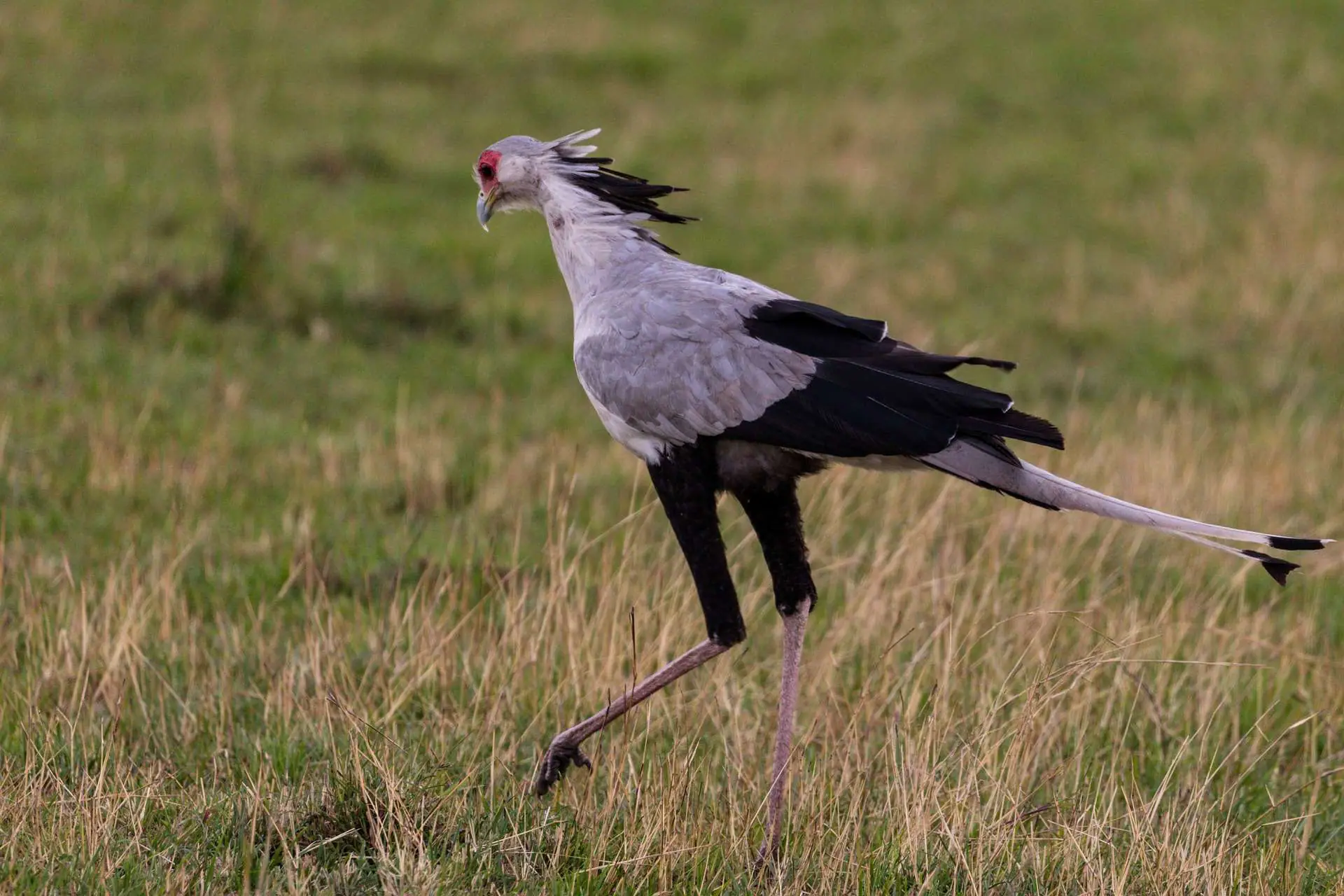 Did you know that secretary birds mate for life? Or that it's one of the only two birds of prey in the world that hunt on the ground?
Did you also know that the bird, due to human encroachment, has in the recent past been classified as vulnerable to extinction? Well, now you know.
The majestic secretary bird is one of the most iconic birds in Kenya and can be found in open grasslands and savannahs throughout the country.
Due to its long legs, this species is well adapted for walking on the ground and hunting small reptiles, amphibians, and insects.
The Martial Eagle
Strong enough to snap a human arm and launch an antelope into the air, the martial eagle is the largest bird of prey in Sub-Saharan Africa. These birds also have strong eyesight- they can spot prey from 5 kilometers away- incredible acceleration and incredibly sharp talons.
They can be found in open savannahs and woodlands throughout Kenya but are typically more difficult to spot due to their large size.
The sad news, however, is that the bird has recently been classified as 'vulnerable to extinction' by the IUCN.
Little Bee Eater
The little bee-eater is a colorful bird found in Kenya's open woodlands, savannahs, and grasslands. It feeds on insects such as bees, wasps, and dragonflies.
Its bright yellow breast and iridescent blue wings easily identify this species.
Red-bellied Parrot
The red-bellied parrot is a vibrant, medium-sized bird found across Sub-Saharan Africa. It is easily identified by its bright green plumage and distinctive red belly.
This species feeds primarily on fruits and nuts, making it an important seed disperser in many ecosystems!
Vulturine Guinea
The vulturine guinea fowl is easily identified by its featherless head and black plumage. This species can be found in dry bushes, savannahs, acacia woodlands, and forest edges throughout Kenya.
These birds form large flocks, which helps them to keep safe from predators and search for food more efficiently. They have also been known to use their wings as a defense mechanism against predators!
Superb Sterling
The superb starling is a small bird that lives in savannahs, thorn bushes and acacia areas, gardens, lakeshore woodlands, and open grasslands. It has striking black and white plumage with vivid blue and yellow accents.
This species is particularly adept at catching flying insects in midair, making it an important part of many ecosystem food webs!
Eastern Chanting Goshawk
The eastern chanting goshawk is a medium-sized bird of prey found in dry and savannah regions across Kenya. It has gray plumage with black streaking, which provides excellent camouflage when hunting its small mammal prey.
This species can often be heard uttering its distinctive chant during the day as it hunts for food!
Kenyan Animals: Critically Endangered Wildlife Species in Kenya
Here's a list of 5 critically endangered Kenyan animals.
The Northern white rhinos. There are only 2 left. Both can be found at the Ol Pejeta Conservancy.
Roan antelopes- only 15 specimens left)
Sable antelopes- only 51 left
Hirola- only 497 left
Black rhinos- only 897 left
Tana River Mangabey- only 1650 left
What are the Main Threats to these Animals
Some of the most serious threats to Kenyan wildlife include;
Population Growth.
Kenya's growing human population has resulted in habitat loss and increased competition for limited resources.
Habitat Loss & Degradation.
This is often caused by land conversion for agriculture, logging, development, and other forms of land use.
Illegal Hunting &Trade.
Poaching continues to be a major issue for Kenyan wildlife with some species, such as the black rhino, facing significant reductions in population numbers.
Human-Wildlife Conflict.
As humans encroach on wildlife habitats, they often conflict with wild animals. This can result in injuries, property damage, and even death.
Climate Change
Kenya is particularly vulnerable to the impacts of climate change, including more frequent and intense droughts. This can have a devastating effect on already fragile ecosystems.
Habitat Fragmentation
Habitat fragmentation – the breaking up of large, connected habitats into smaller and more isolated areas – can severely impact species populations.
What Can Be Done to Protect these Animals?
The government of Kenya is working hard to protect its endangered wildlife species by putting in place various conservation initiatives such as;
Anti-poaching laws and enforcement
Establishing protected areas and reserves
Managing human-wildlife conflict
Sustainable development initiatives
Community-based conservation projects
Research and monitoring programs.
In addition, different organizations worldwide are also doing their part to protect Kenya's endangered species by raising awareness about the threats they face.
Other Species of Kenya Wildlife
Other animal species in Kenya include;
The Hippo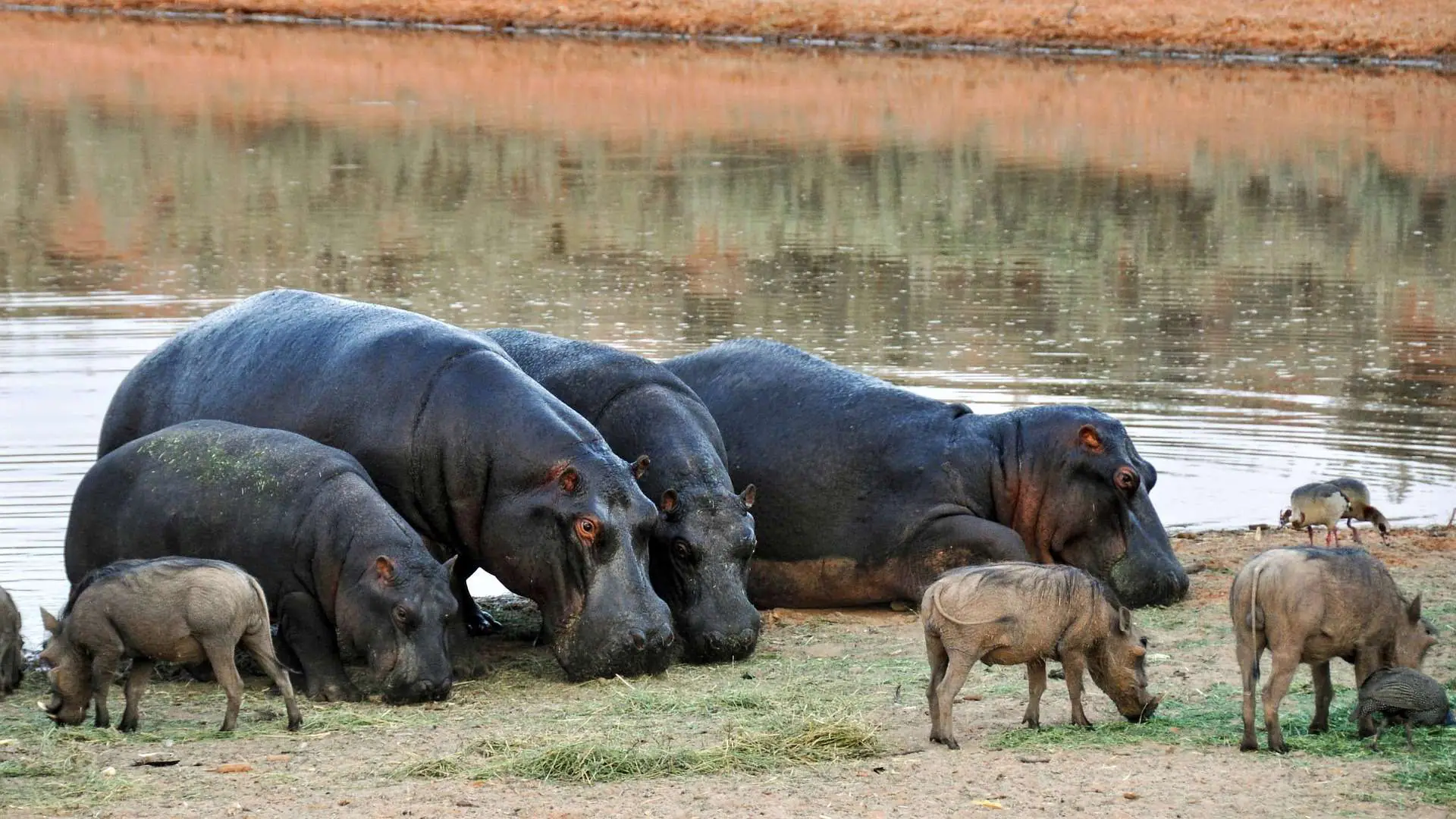 Did you know that even though they spend most of their time there, hippos cannot breathe underwater? And yes, it gets even more interesting; contrary to popular belief, it has been discovered that hippos cannot also swim.
Hippos are also the world's third largest land mammal and can be found in large numbers along the rivers and lakes of Kenya.
The Masai Giraffe
No sleep and more food really is the mantra of the Maasai Giraffe, which is known to eat for more than 20 hours a day and sleep for less than 30 minutes per day.
The species is the largest of giraffes in the world, with males growing up to 5.5 meters tall!
How to tell it apart from the bunch? With its distinctive dark markings, long lashes, and horns on its head.
Where to Find the Masai Giraffe
Masai Mara National Park
Amboseli National Park
Chyulu National Park
Tsavo West National Park
The Impala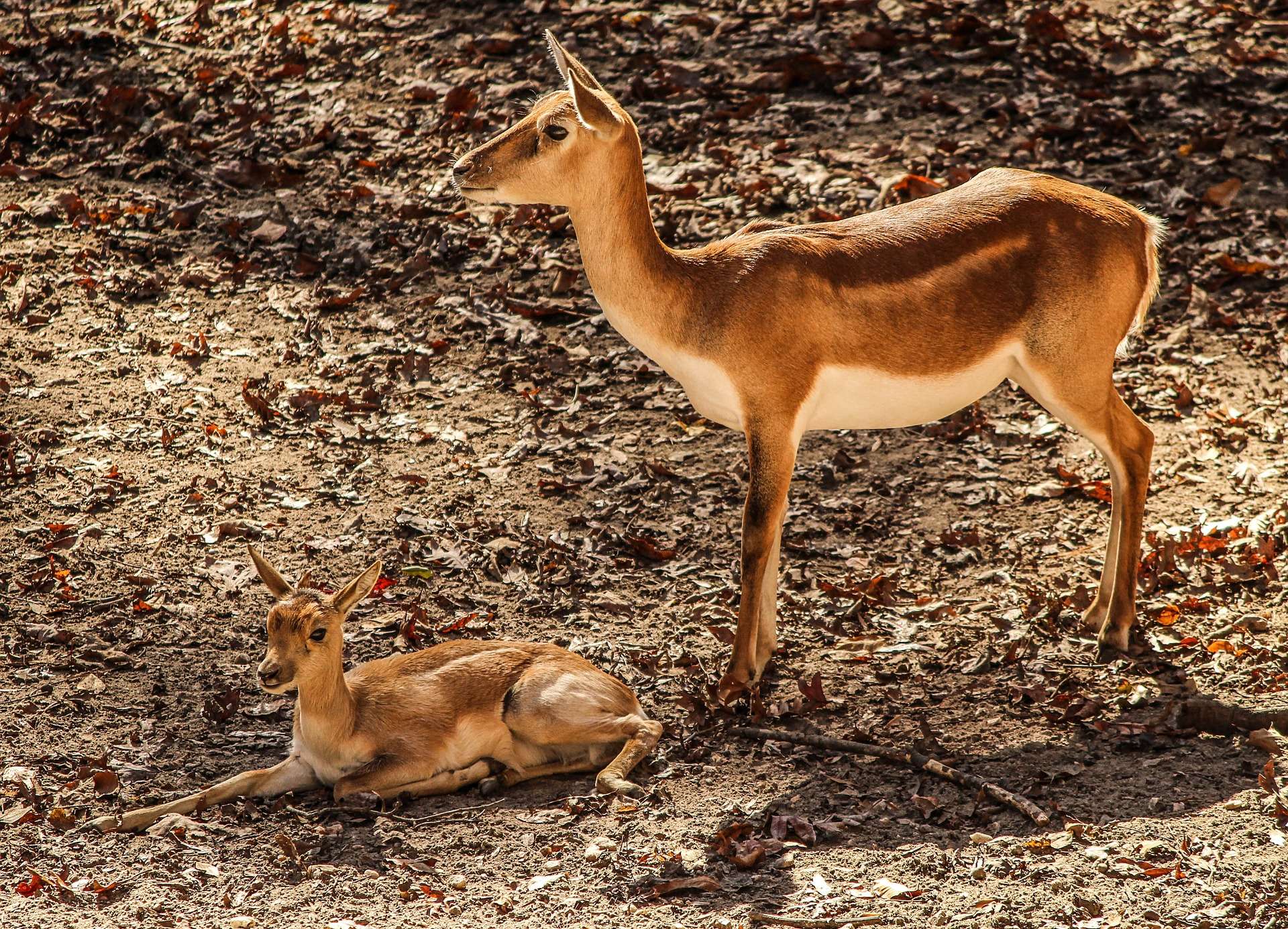 The impala is a medium-sized antelope found in most parts of Kenya. It's known for its distinctive reddish-brown coat, long ears, and white belly. Impalas are incredibly agile and able to leap 3 meters up in the air and 9 meters across!
They're also very social animals and can be seen in large herds on the plains of Kenya.
Where to Find Impalas
Ol Pejeta Conservancy
Maasai Mara
Lake Naivasha National Park
Meru National Park
Lewa Wildlife Conservancy
Thomson's Gazelle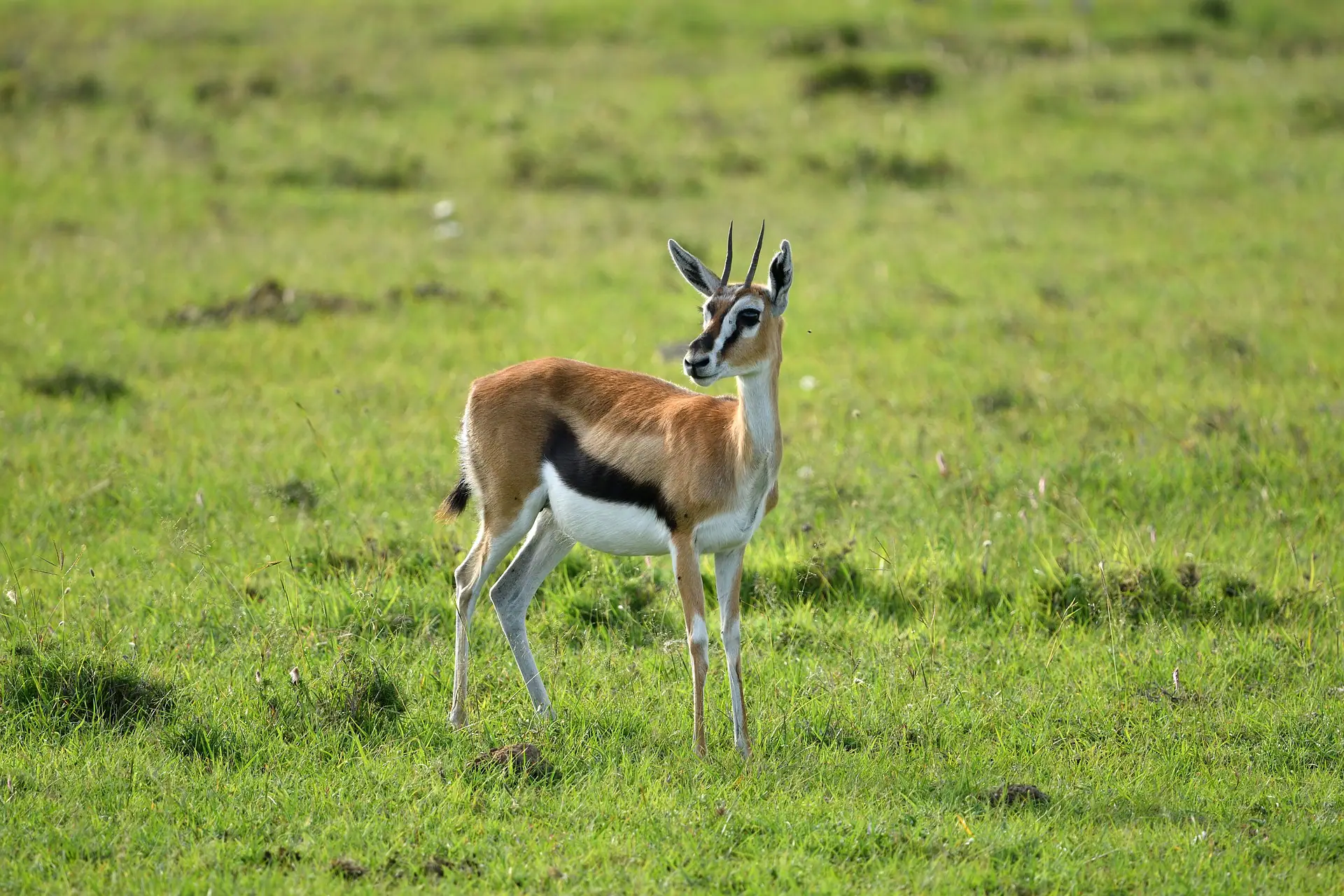 Thomson's gazelles are a type of small antelope that can be found all across East Africa. They have distinctive white stripes on their sides, short tails, and tufted ears.
These animals are incredibly fast and able to reach speeds of up to 80 kilometers per hour!
The Banded Mongoose
The banded mongoose is found in almost all African countries except Congo and Southwestern Africa. They have distinctive black-and-white stripes and are incredibly social animals, living in groups of up to 30 individuals!
Cape Buffalo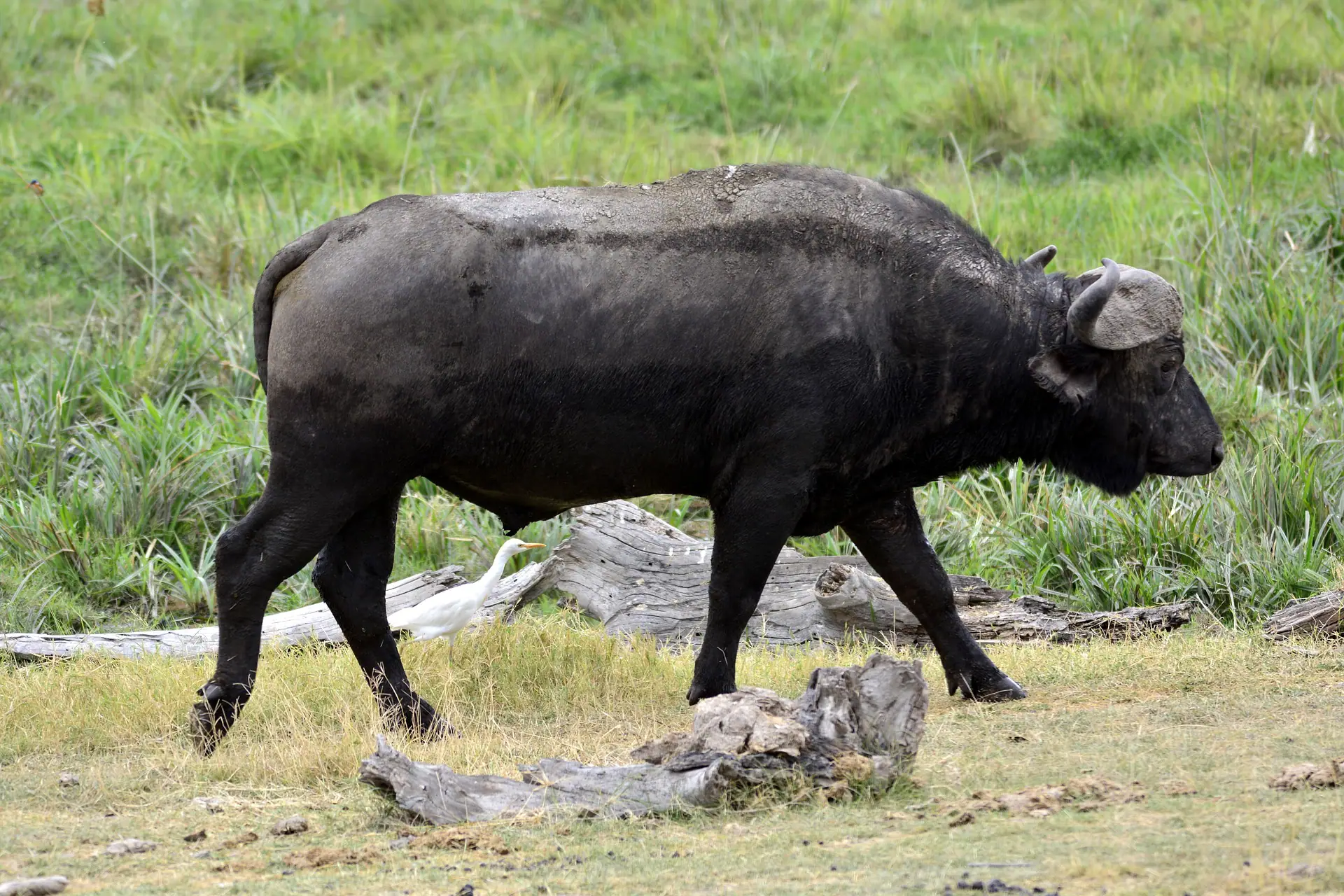 The African buffalo, also known as the Cape Buffalo, is a large hoofed mammal that can be found in most parts of Kenya. This species is known for its massive size and aggressive behavior, so it's important to keep your distance if you come across one!
Where to Find Cape Buffalo
Masai Mara National Park
Aberdare National Park
Dik Dik
Dik diks are some of the smallest antelopes in the world, growing up to only 60 centimeters in height! They have distinctive small horns, big eyes and ears, and a sandy-brown coat.
These animals are extremely shy and difficult to spot, so if you do manage to see one consider yourself lucky!
Waterbucks
The waterbuck is a large antelope found in the savannas and floodplains of Kenya. They have distinctive thick coats, long horns, and white circles on their backsides that set them apart from other species.
These animals are incredibly strong swimmers and can be found near waterways, lakes, and rivers.
Best Time to Visit Kenya for a Wildlife Safari
The best time to visit for a Kenya wildlife safari is during the dry season, which runs from June to October. During this time,  animals easily congregate around waterholes, making it easier to spot them while on game drives.