11-Day Kenya Safari: An Unforgettable Introduction to Kenya's Finest Destinations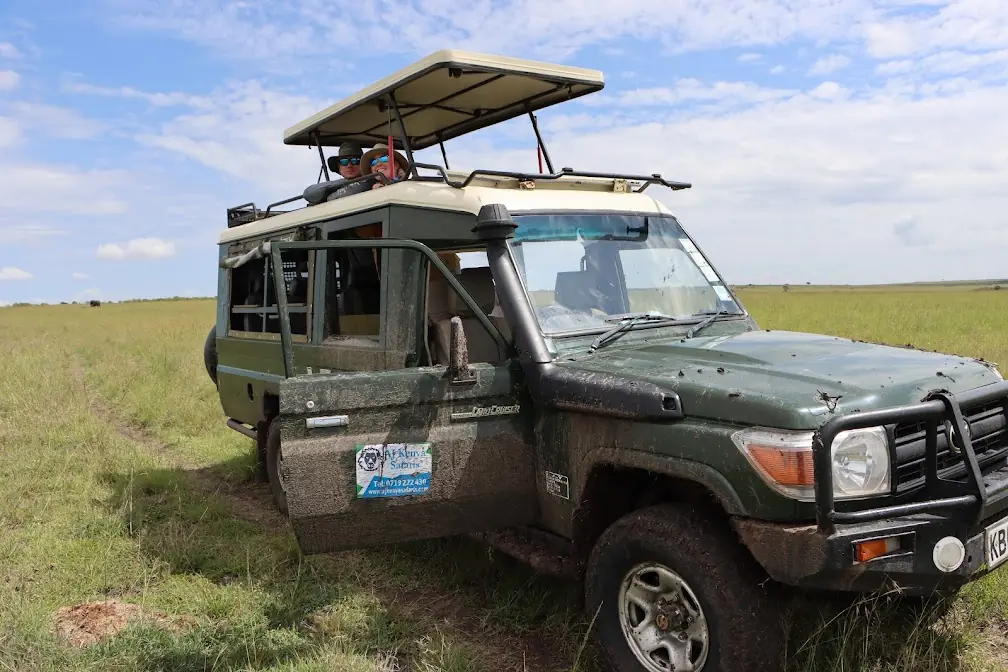 This 11-day Kenya safari offers travellers an intimate immersion into some of Kenya's most prolific safari destinations. We have planned to start the adventure in the Ol Pejeta, a magnificent wildlife reserve best known for hosting two of the world's only remaining northern white rhinos. 
It then proceeds to the Masai Mara, where we leisurely search for what is perhaps the most diverse wildlife population on the African continent. Last but not least, is the Kenyan coast, a place of blinding white sands, piercing blue waters, mouth-watering cuisines, and vibrant cultures. 
On this 11-day Kenya safari, you will see the big 5, the big cats, do game drives, night safaris, horse safaris, walking safaris, cultural tours and so much more.
Photos of Suggested Hotels for this 11 Days Kenya Safari Package
Ololo Safari Lodge & Farm
Ololo Safari Lodge & Farm
Ololo Safari Lodge & Farm
Ololo Safari Lodge & Farm
Ololo Safari Lodge & Farm
How to Book Our 11 Days Luxury Safari to Kenya
The Summarized 11 Days Kenya Safari Tour
| | |
| --- | --- |
| Highlights  | Details  |
| Day 1 | Pickup from JKIA – Visit David Sheldrick Elephant Orphanage & Afternoon Game Drive at Nairobi National Park |
| Day 2 | Fly to Ol Pejeta – Afternoon Game Drive |
| Day 3  | Morning and Afternoon Game Drive  |
| Day 4 | Morning Game Drive, Horse Safari, & Bush Dinner  |
| Day 5 | Flight to Masai Mara – Afternoon Game Drive |
| Day 6 | Morning and Afternoon Game Drive at Masai Mara |
| Day 7 | Morning Game Drive, Maasai Village, & Bush Dinner  |
| Day 8 | Morning Game Drive & Flight to Kenya Coast – Diani  |
| Day 9 & 10 | Spend Time at Diani – Relax in Hotel/Beach |
| Day 11 | Morning at Watamu – Evening Flight to Nairobi |
| Items Included  | Airport transfers, Nairobi National Park, David Sheldrick Elephant, Ol Pejeta Conservancy, Masai Mara National Reserve, Horse Safari, Maasai Village, Bush Dinner, Diani, Local flight, and More |
| Items Excluded  | Hot air balloon, International flight, Money transfer fee, Visa, and  |
| Safari Price  | From GBP 6520 Per Person  |
The Detailed 11-Day Kenya Safari Itinerari
Kenya is the capital of safari and has a lot on offer to make your 11 days and 10 nights in Kenya memorable. Here is what you can expect during your safari.
Day 1: Welcome to Kenya - Transfer to Hotel - Nairobi National Park & David Sheldrick Elephant Orphanage
Your adventure begins today when you land in Kenya. On arrival, we will receive you at JKIA and transfer you to the hotel. You will spend the rest of the day here and enjoy game drives at Nairobi National Park and visit David Sheldrick.
Your accommodation is Ololo Safari Lodge and Farm.
Day 2: Fly from Nairobi to Ol Pejeta - Afternoon Game Drive
A short morning flight takes us to Ol Pejeta, beloved worldwide for its unique wildlife population and sprawling grasslands. Here, we check you into The River Camp, a luxurious wonder that prides itself on providing exceptional services, stunning decor, and elegant accommodations. 
Spend the rest of your morning and the better part of your afternoon here, and then, in the evening, join us for an evening game drive. Few safari destinations hold as much charm and character as the Ol Pejeta, and this evening game drive shows you exactly why.
In our safari Landcruiser we find ourselves snaking through her lush grasslands. It is breathtaking- the scattered acacia trees, the sweeping plains, and the wildlife- both common and rare. 
Elephants, zebras, lions, giraffes, wildebeests, buffalo, dik-dik, and the most fascinating of all, the northern white rhinos (the only ones remaining in the world). 
Your evening game drive ends just before nightfall after which we take you to Sanctuary Tambarare for dinner and rest.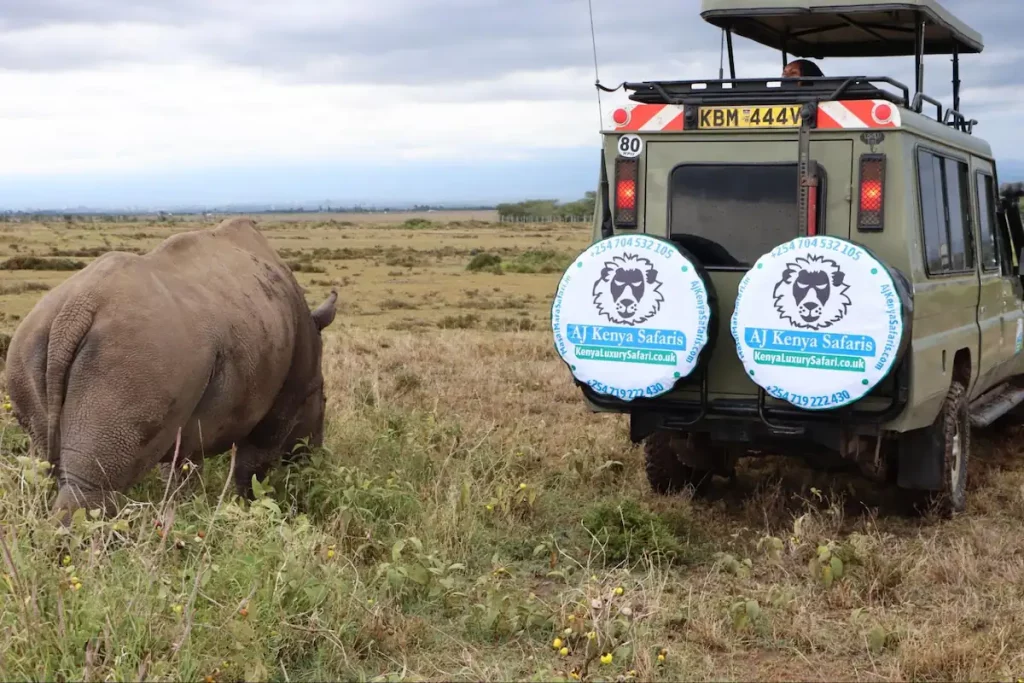 Optional Activity: Night game drive in Ol Pejeta conservancy which starts either at  19:00 – 21:00 or 21:00 – 23:00.
Day 3: Morning and Afternoon Game Drive at Ol Pejeta
Ol Pejeta's breathtaking landscapes and unique wildlife population have enchanted travellers for decades. Today, we treat you to game drives in the park. 
The first game drive- the morning game drive- begins at dawn. In our  4×4 safari Landcruiser, we slowly wing our way through the conservancy introducing you to its countless wonders. 
To discover are two of the world's only remaining white rhinos- Fatu and Najin- as well as the fastest-growing population of rhinos in the world. The park also holds one of the highest predator densities in the country and is the only place in East Africa where you can spot both the Big Five and the chimpanzees.   
The afternoon is our chance to explore the Ol Pejeta landscape even further and explore the way we do. The sprawling grasslands, the wildlife, the scattered acacia trees, the distant views of Mt. Kenya- there is that and so much more to see. 
In the evening, we take out our best bottle of champagne and toast to the golden sunset as we admire the beauty around us.
Day 4: Morning Game Drive- Horse Safari- Bush Dinner
As previously mentioned, Ol Pejeta is home to the highest predator density in Kenya, and there's no better time than mornings to spot them. Again, we are in the conservancy at the first light of dawn, our main agenda for the morning being the beasts of the wild.  
There are over 72 African lions, 30 cheetahs, 20 leopards, and about 100 hyenas to be uncovered here, as well as countless bat-eared foxes, caracals, jackals, and approximately 33 wild dogs. 
We drive you back to Sanctuary Tambarare for breakfast and, later that afternoon, pick you up for a horse safari. 
Horse safaris are a wonderfully intimate way to experience the serenity and vastness of Ol Pejeta. Your two-hour ride begins at the northern white rhino enclosure and continues to the Ol Pejeta Plains before ending at the rhino memorial where Sudan, the last male northern white rhino, was buried.
Day 5: Fly from Ol Pejeta to Masai Mara - Afternoon Game Drive
Today, you will catch a flight from Nanyuki to Masai Mara. When you land, we will transfer you to your hotel. Here, we check you into the iconic Entim Camp, an architectural masterpiece nestled by the banks of the Mara River in the heart of the Mara. 
You can spend a chill day relaxing in the camp or go out on an evening game drive if you're not tired. 
Mara afternoon game drives… Scenic, blissful, and chaotic. Chaotic? Yes, you heard that right, chaotic! Chaotic because the hustle and bustle to land that last meal before nightfall is at its most vicious. And blissful because there's nothing as breathtaking as watching the sun set over the sprawling Mara grassland.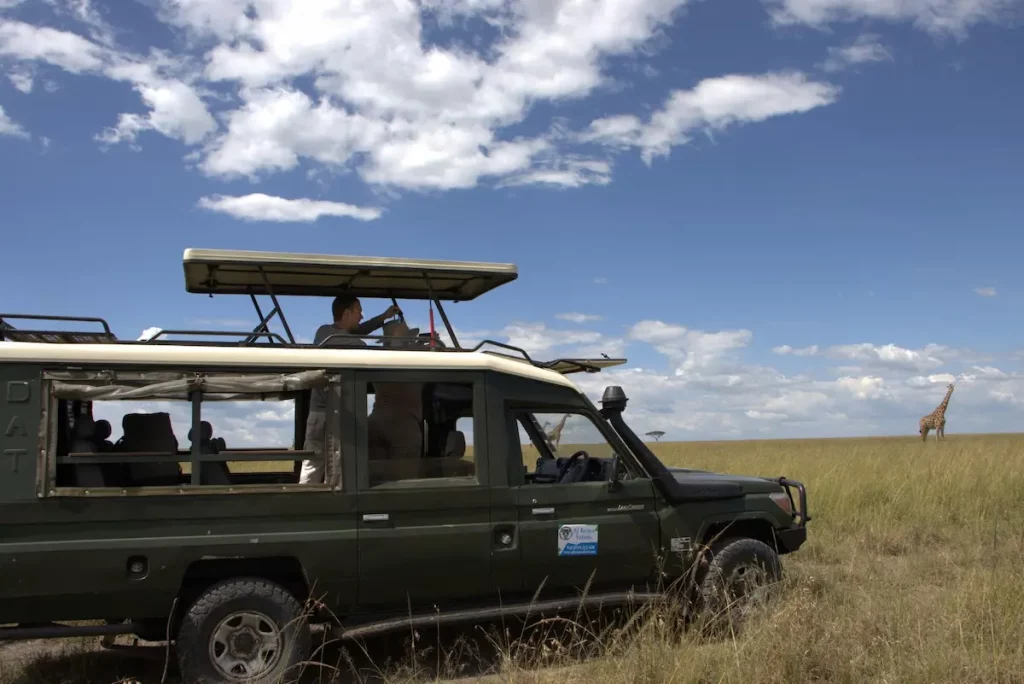 Day 6: Morning and Afternoon Game Drive at Masai Mara
If you've talked to someone who's been on one, then we're dead sure that you've heard beautiful things about the Mara morning game drive. The sunrise, the sheer variety of the wildlife, the pristineness, the singing birds- it all looks and feels like living your wildest dreams.    
The highlights?An unlike-any-other interaction with over 90 mammal species, including the Big Five, wildebeests, zebras, dik-dik, gazelles, waterbucks, duikers, bushbucks, and so much more. 
The park is also home to over 450 bird species, including the Kingfisher, Grey Crowned crane, turaco, secretary bird, Marabou stork, and ostrich. 
And that's not even the best part yet. Even more spectacular is the Mara's Great Wildebeest Migration, a one-of-a-kind event that is the largest of its kind on the planet. See, this is not just your average animal migration- not by any means!- not when it is graced by over two million wild animals, including wildebeests, zebras, antelopes, lions, crocodiles, hyenas, leopards, wild dogs, elands, and impalas. 
The catch? Only those who book this safari between July to October get o experience the migration (Read more about when, where, and why the migration here)
This afternoon game drive is all about the landscape, immaculate vibes, and more wildlife, and boy, do we make it worth your while. From the Mara River to the Oloololo Escarpment, lush grasslands, riverine forests, and Mara Triangle- no corner of the Mara goes untouched. 
Your evening game drive begins at 6:00 P.M. and is your chance to discover the secrets of the wild under the beautiful sunset glow. We also offer you a glass of wine and blast some of your best tunes- just for the aesthetics…
Day 7: Morning Game Drive - Maasai Village Visit - Bush Dinner
A morning game drive, a quick return to Sanctuary Olonana for breakfast, and then, at 10:00 A.M, a Masai Village visit.  See, the Masai are as fascinating a people as it gets- from how they dress to where they live, what they eat, how they interact with each other… You get the gist… They are incredible!  
From this visit, you will learn how to make fire by rubbing two sticks together… You will learn that the real value of life lies not in how much you have but in who you have… You will learn that houses can be made from human urine (no kidding), sticks, mud and grass. 
You will learn the famous Adumu dance… And, if you're into it, you can try drinking raw, fresh-from-the-cow blood and see how you like it! From the village, we chauffeur you directly to the park's heart, where you are to enjoy a scenic bush dinner. 
Now, there is nothing like the romance of a bush dinner. The tranquil ambience, the views upon views, the guaranteed wildlife sightings- it is all so beautifully surreal!
Day 8: Morning Game Drive - Flight from Masai Mara to Diani Beach
As sunrise streaks the morning sky, we head into the Masai Mara for one last game drive. As expected, the sheer number of wildlife scattered across the grasslands is incomparable. Lions, wildebeests, elephants, gazelles, hyenas, waterbucks, giraffes- it is remarkable. 
The journey takes approximately two hours and provides some incredible views of the Kenyan landscape. The sight of sweeping savannas, towering acacia trees, and rolling hillsides dotted with wildlife is something you won't forget in a hurry. Accommodation at Waterlovers Beach Resort.
Day 9 & 10: Spend Time at Diani Beach
Diani Beach is a beautiful paradise located on the South Coast of Kenya. This picturesque beach stretches 25 kilometers along the Indian Ocean and boasts white sand, clear blue water and plenty of sunshine all year round! 
It is one of Africa's most popular beaches and has something for everyone – from sunbathers to adventurous travelers. Whether you're looking for a romantic getaway, an action-packed holiday or just some time to relax and enjoy the stunning views of the Kenyan coastline, Diani Beach has it all. 
The area is filled with amazing restaurants, lively bars, vibrant cafes and a variety of activities such as diving, snorkeling and yacht cruising. With its breathtaking beauty and laid back atmosphere, it's no wonder why Diani Beach is one of the most popular and beloved beach destinations in Africa. 
So come to Mara to Diani and experience a blissful getaway you won't forget!
Day 11: Morning at Diani & Evening Flight to Nairobi
Today you can spend your morning at Diani and then cath an early evening flight to Nairobi. You will land at JKIA, where you will connect with your international flight.
Items Included in the Cost of this All-Inclusive, 11-Day Kenya Safari Tour
1-night accommodation at Ololo Safari Lodge & Farm

Airport pickup from JKIA and transfer to Hotel

VAT

Full breakfast

2-course lunch and 3-course dinner

Soft drinks, house wine, house beer, & selected spirits

Wi-Fi

Swimming pool

Full laundry

Guided farm tours

Two game drives per day in Nairobi National Park

Guided walks to Anselm & Kitengela Hot Glass

Excursions to David Sheldrick's Wildlife Trust

Transfer to Wilson Airport for flight to Nanyuki 

Nairobi National Park Fee

3-night accommodation at The River Camp

Ol Pejeta Conservancy Fee

Fullboard accommodation

Sundowner excursions

Curated spirit brands, house wines, beers and soft drinks

Shared game drives

Laundry

Airport pickup and transfer 

Visit the Northern White Rhino 

Horse riding at Ol Pejeta 

3-night accommodation at Entim Camp

Full Board accommodation

Curated spirit brands, house wines, beers and soft drinks

Sundowner excursions

Shared Game Drives 

Laundry – except undergarments

Cultural Visits

Pickups and transfers 

3-night accommodation at Diani Waterlovers Beach Resort 

Full-board accommodation 

All pickups and transfers 

The services of professional, well-trained guides and drivers 

All applicable taxes

Flight from Nairobi to Nanyuki 

Flight from Nanyuki to Masai Mara 

Flight from Masai Mara to Diani 

Flight from Diani to Nairobi

All pickups and transfer
Safari Cost Per Person for 11 Days Tour - Based on 2 People
| | | | |
| --- | --- | --- | --- |
| Travel Season  | 1st Nov – 19th Dec 2024 | 3rd Jan – 31st March 2024 | 16th June – 31st Oct 2024 & 20th Dec 2024 – 4th Jan 2025 |
| Price Per Person | GBP 6520 | GBP 6816 | GBP 8132 |
Items Excluded from the 11 Days Kenya Safari
International flights

Tips and gratuities

Activities not listed on the itinerary/optional activities suggested. 

High-end alcoholic drinks

All personal expenses- laundry, telephone charges, snacks etc

Passport and visa fees 

Hot Air balloon safari at GBP 400 Per Person