Private Kenya Safari Tours | Book Exclusive Kenya Safari Packages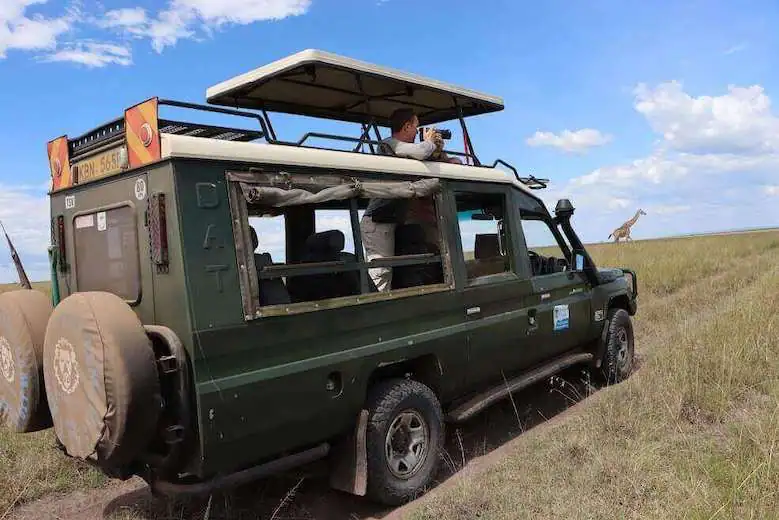 Did you know that Prince William proposed to Kate Middleton while on a private Kenya safari tour? Or that Queen Elizabeth was on safari at Aberdare National Park when she received news of her father's demise? And the list of prominent people who have chosen to vacation in this East Africa country keeps getting bigger.
Brad Pitt, Angelina Jolie, Naomi Campbell, Pep Guardiola, Barack Obama, Richard Branson, and so many prominent people and celebrities have all visited Kenya, and so should you.
Our private Kenya safari packages are for you if you are looking to spend a few moments of luxurious solitude in the wilderness. They are always on an all-inclusive basis. Everything is included in the cost from the accommodation, airport, private vehicle during game drives, all transfers, meals, park fees, all excursions, and airport return. All that is left is for you to book your private safaris in Kenya and have lots of fun and adventure.
Contact us to Start Planning your Private safaris in Kenya
We invite you to email us at safarioffers@kenyaluxurysafari.co.uk or call/WhatsApp us at +254-704-532-105 to start planning your flexible private safari tour in Kenya. We are the local experts of exclusive Kenya safaris, and we promise to plan an amazing trip for you.
Our Most Book Kenya Private Safari Tours
Best Destinations for Private Safari in Kenya
Best Private Safaris Tour Destination #1 - The Giraffe Manor
With guests as acclaimed as Calvin Klein, and Ellen DeGeneres, you'd best believe that the Giraffe Manor has luxury mastered down to a tee.
This boutique hotel sits on 12 acres of private land and is so dreamy, so much so that it has earned the title 'most Instagrammed property in the world.' The Luxury Columnist also ranks it the 8th most luxurious hotel in the world.)
To make it worth your while, the hotel merges lush private gardens and striking courtyards with sunny terraces and elegantly designed rooms. But even more enthralling is the fact that you get to explore and dine with giraffes (you actually get to hand-feed them). It is the only place in eastern Africa where you can have breakfast with giraffes.
Take a stroll in their midst, or even share some afternoon tea with these animals on the hotel's terrace.
Other things you can do on an exclusive Kenya safari at Giraffe Manor include:
Enjoy a romantic, candle-lit dinner at the striking Orchid House.
Relax to calming wilderness sounds and healing massages at the hotel's spa and sauna.
Marvel at soulful art at the Nairobi Art Gallery.
Best Private Nairobi City Tour Destination #2 - David Sheldrick Elephant Orphanage
Open for only one hour a day, the David Sheldrick Elephant Orphanage is a quieter escape for guests looking to catch some elephants away from the crowds and groups. Learn about Tingai, a 19-month-old elephant calf who likes to keep to himself due to past traumatic encounters with humans. Watch 60-week-old Choka wallow in the mud and socialize with other calves. Or learn of Oldepe's drought-related near-death experience.
Best Private Nairobi City Tour Destination #3 - The Nairobi National Park
This larger-than-life park sits in the heart of Nairobi and is faultless in the scenery, ambience, and wildlife varieties it houses. Private safaris to this park begin at sunset, a blissful encounter that allows you access to over 100 wildlife species, including buffaloes, zebras, cheetahs, wildebeests, lions, and giraffes.
Add to that list an impressive array of over 400 bird species and breathtaking views of Nairobi's skyscrapers, and you'll see why the park piques visitors' interests and is one of Kenya's finest.
Reasons why an exclusive Kenya safari in Nairobi National Park is a good idea.
You get to have your private vehicle, maximizing privacy and comfort for an awesome safari experience.
Our Nairobi National Park packages are all-inclusive; that is, we cater for lunch park entry fees and give you full-day access to a knowledgeable driver and guide.
Best Private Tours Kenya Destination #4 - Masai Mara National Reserved
"Masai and elephants. The rest is dust"- Alastair Reynolds. The Mara is not an experience one quickly forgets- the magical sunsets, the eerie laugh of a hyena in the dead of night, the tranquility, the luxury. Our private safaris in Kenya introduce you to the luxury of this park's natural wonders while simultaneously immersing you in the luxury for which the park is most known. 
We have a dedicated team to take you on the game drives, a thrilling activity that gives you access to over 90 different mammal species. Think the Big Five, wildebeests, hyenas, zebras, giraffes, dik-dik, rhinos, warthogs, gazelles and more. 
Oh, and our game drives are conducted in private open-topped land cruisers to ensure maximum privacy and comfort. It's pure bliss! You can also explore the Mara on a hot-air balloon- a rousing indulgence that opens up to jaw-dropping sceneries- or by foot on a walking tour and get to experience the wildlife and vegetation intimately. Visit this page for more information on your Masai Mara hot-air balloon safari. 
Private Tours in Kenya: Where to stay in Masai Mara
At the peak of luxury is Richard Branson's very own Mahali Mzuri, a place the business magnate set up after he visited and became enchanted by the Mara. It is a hotel so refined it was voted 2021's #1 hotel by the Travel + Leisure Awards.  The views are exceptional here, and the service is even grander. Guests arrive and are met at the door dancing Maasais (an indigenous tribe in Africa) carrying glasses of sparkling champagne.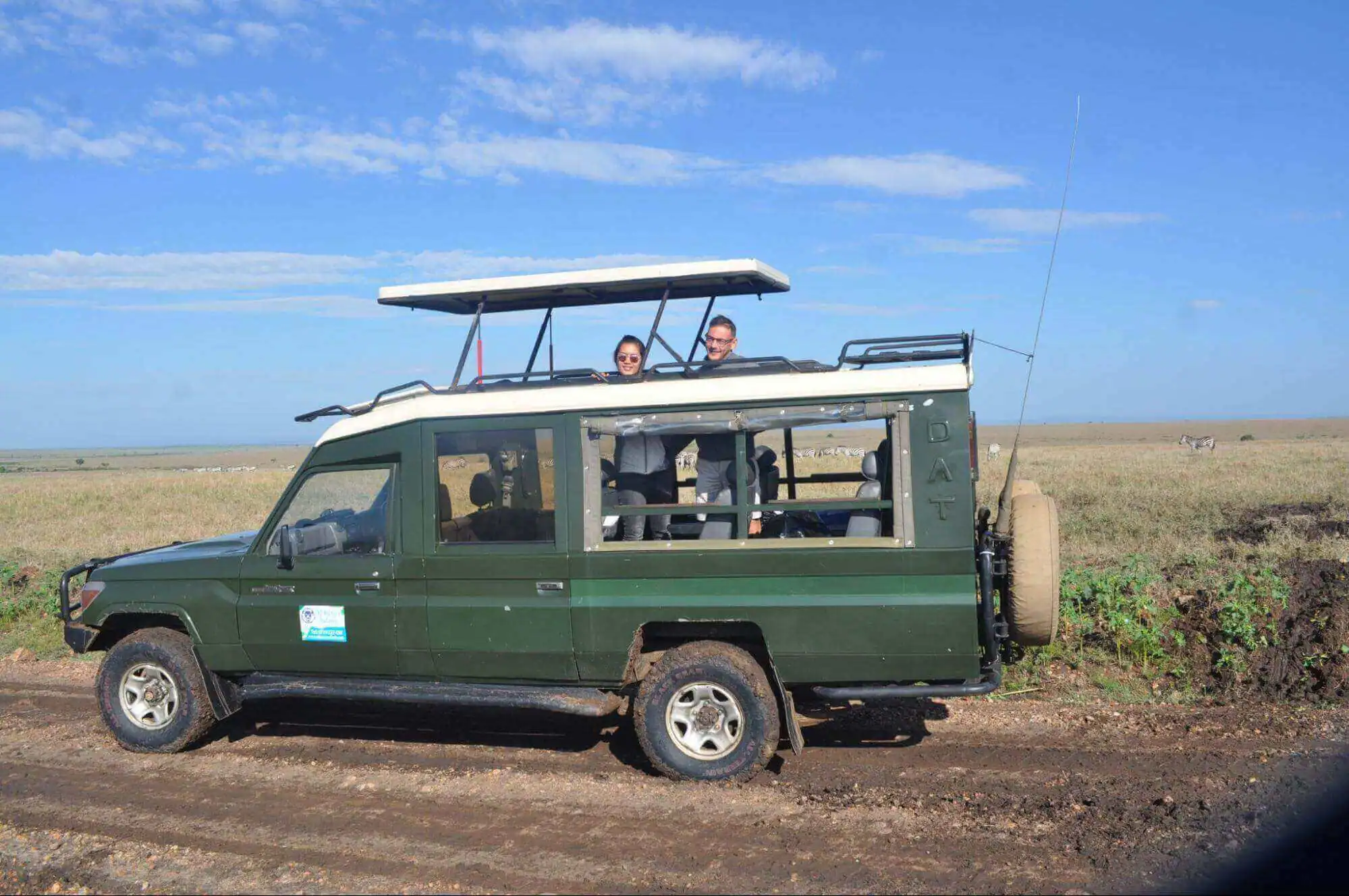 Best Destination for a Private Safari in Kenya #5 - Ol Pejeta Conservancy
It was here, in the soul-stirring grasslands of Ol Pejeta, that Prince William popped the question to Kate Middleton. The Conservancy has since witnessed many more beautiful moments from first 'I love yous', to weddings and honeymoons. We believe that you, too, whether individually, with a partner or in the company of a group, should have your Ol Pejeta moment, which is why we have created this Kenya tour. A little background info about the Ol Pejeta.
Established in the late 1980s, the Ol Pejeta sits on the slopes of Mt. Kenya, an enviable position largely responsible for its mind-blowing views. Wildlife thrives here, from giraffes to zebras, baboons, black rhinos, hyenas, elephants, lions, and buffaloes. But it really is the northern white rhinos that steal the show (they are two of the world's only remaining ones).
A private safari in Kenya spent here is one commemorated amidst one of the most striking sceneries in East Africa. We are talking of lush, unwinding grasslands, gorgeous mountain views, and winding rivers. Book this safari experience in Kenya and see Ol Pejeta through the experienced eyes of our bronze-certified guides.
Ol Pejeta Highlights:
Home to all the big five
It's the world's most prominent black rhino sanctuary
Hosts an overabundance of wildlife. On a visit to Ol Pejeta, you will see elephants, giraffes, buffaloes, zebras, hyenas, lions, and rhinos.
One of the best parks in Kenya for private safaris with friends and family.
Where to stay in Ol Pejeta.
If the fact that this was Prince William and Kate Middleton's proposal locale doesn't convince you to stay at the Lewa Safari Camp, maybe this photo gallery will. The area is rife with top-notch lodges and camps experienced at hosting local and international visitors alike, with children-friendly accommodations and meal times.
Best Exclusive Kenya Safari Destination #6 - Amboseli National Reserve
Most people book our Private Kenya safari tours, hoping to catch a glimpse of the famous Simba. Well, on a safari to Amboseli, you're likely to see more than just Simbas (lions). For example, the park hosts over 1000 individual elephants, giraffes, buffaloes, wildebeests, wild dogs, cheetahs, dik-dik, you name it.
With Mt. Kilimanjaro at its background and a spectacular habitat that ranges from wetlands, grasslands, and woodlands, it's honestly next to impossible to find fault in Amboseli. The park's excellent selection of luxurious resorts doesn't hurt either, nor does its impressive list of things to do. Some fun things to do in Amboseli include game drives, nature walks, sundowners, and bush dinners/ lunches/ breakfasts.
Where to Stay In Amboseli
Experience luxury like you've never before at the Amboseli Serena Safari Lodge, a striking 92-room property at the heart of the Amboseli.
Best Private Safaris Destination #7 - Samburu Game Reserve
"Beautiful destinations are those that allow us the luxury of quiet. They are those that you can spend hours alone in and never, for a single moment, feel lonely. They are places where you fall asleep listening to the sounds of the wild. Samburu is every inch a beautiful destination."– James, CEO AJKenyasafaris.com ltd.
A private trip to Samburu introduces you to rare wildlife species, exotic resorts, and breathtaking sceneries. Like most attractions in the country, Samburu has its rare gems. First, we have the Samburu five, a rare wildlife quintet that features the Beisa oryx, reticulated giraffe, Somali Ostrich, Grevy zebra, and gerenuk.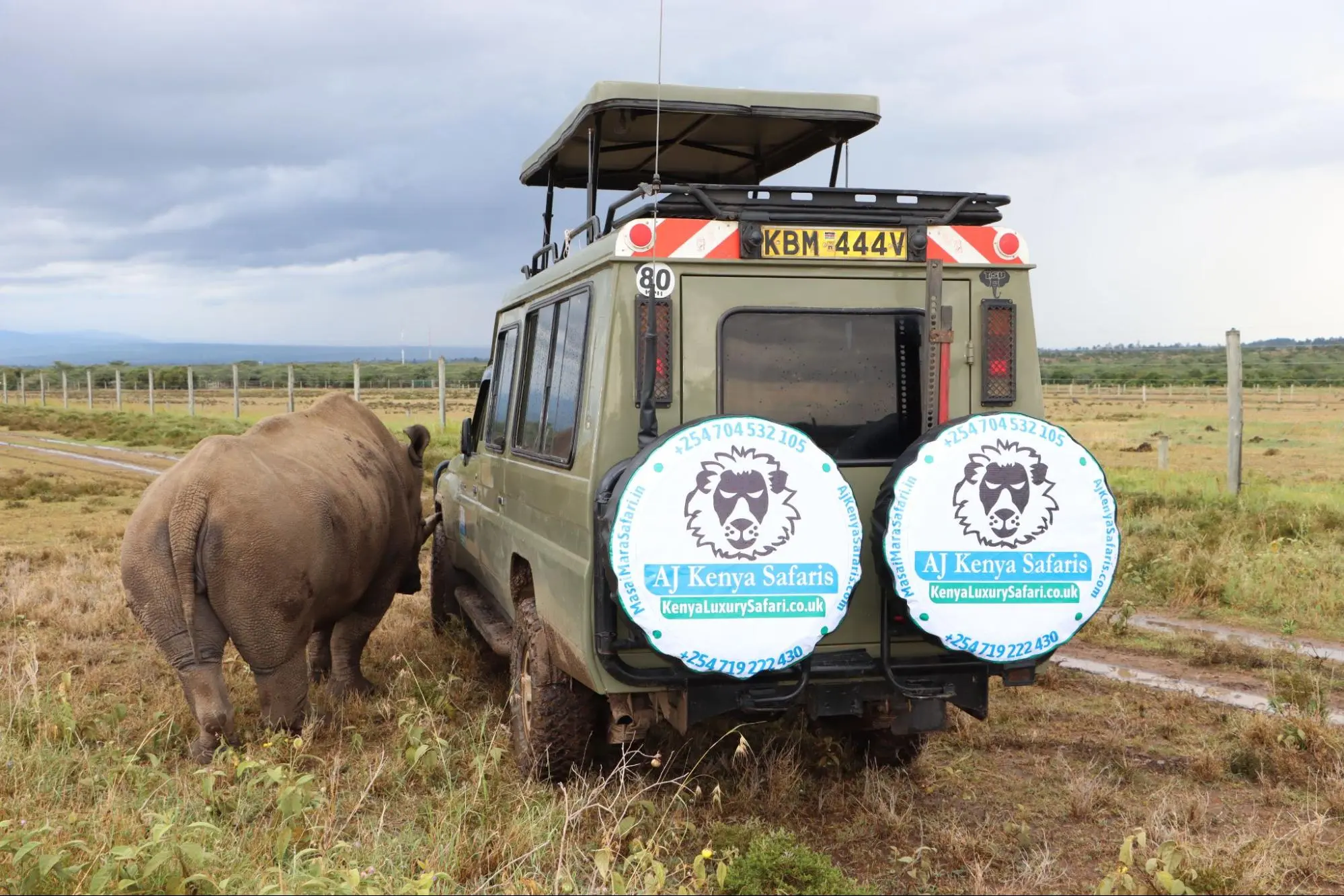 Then there's a large predator population that features lions, leopards, hyenas, and cheetahs. And last but definitely not least, the rest of the animals, including over 900 elephants, giraffes, zebras, wild dogs, and over 450 bird species. Guests can rest assured of maximum privacy, seeing as the Samburu National Reserve is hundreds of miles away from modern civilization. But make no mistake about it, the resorts are very modern and luxurious.
Highlights of Private safaris in Kenya Amboseli National Park:
One of the best national parks in the country for elephant safaris.
It's the best place in Africa for those looking to grasp the best views of Mt Kilimanjaro.
Home to lots of luxury accommodation options; both luxury lodges and camps.
It's located on the Kenya Tanzania border. An ideal location for a combined Kenya Tanzania safari experience.
It's ideal for private safaris with friends, family, or groups.
Private Safaris in Kenya, East Africa - Conclusion
Kenya is considered to be the most beautiful country and home to the most amazing trip of all Southern Africa and East Africa countries. KenyaLuxurySafari.co.uk offers the chance to observe Kenya on a private path. Whenever you make reservations for a private Kenya safari, you'll want to ensure you get a good experience.
This includes a private en-suite room or tent during your trip, a private journey in a 4×4 Jeep, your own guide, and total control over the itinerary by selecting your national parks & game reserves. Our excursions are totally private safaris. So, you can relax and enjoy the best safari in East Africa. As a couple with family or close friends, you are able to explore a magnificent Kenya safari destination in a 4×4 Land Cruiser or Jeep. All under the knowledgeable eyes of a multilingual driver/ guide.