Zanzibar Beach Holidays - Travel Guide, Where to Stay, Cost, and Packages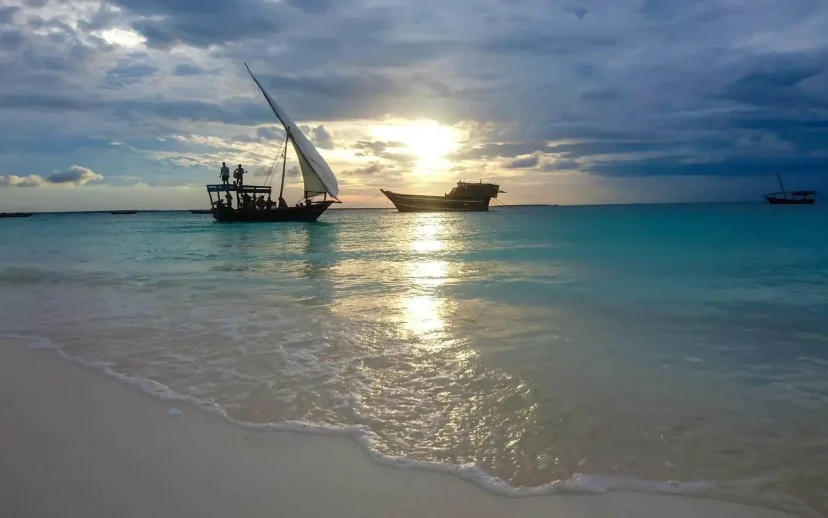 Zanzibar is a semi-autonomous island of Tanzania located 25-40 km off the mainland coast and is often called Unguja. 
The island forms part of the Zanzibar archipelago and consists of numerous islets (small islands) and two huge islands: Unguja and Pemba Islands.
 Unguja takes centre stage when it comes to Zanzibar beach holidays and attractions. 
Its shorelines are other-worldly, its turquoise beach waters blending perfectly with the tall greening palm trees and velvety sands.
Contact Us Now to Book Your Zanzibar Beach Holiday
Our Top Zanzibar Beach Holidays for the UK Citizens
10 Interesting Facts About Zanzibar Beach - Unguja and Pemba
Here are 10 interesting facts about Zanzibar (you can also find 10 interesting facts about Ngorongoro Crater here:
The name Zanzibar is Arabic for 'coast of black people. 

Ever heard of Freddie Mercury? The Queen Band's lead singer was born in Zanzibar as Farouk Bulsara.

Zanzibar is warm throughout the year because of its proximity to the equator, making it an all-year-round destination. 

Contrary to popular belief, Zanzibar comprises more than one island. The main ones are the Pemba and Unguja Islands. 

Spices constitute a significant part of Zanzibar, thus Spice Island. Cloves, peppers, cinnamons and nutmegs are among the most common. 

The UNESCO World Heritage Site Stone Town, unbeknownst to many, is not the capital of Zanzibar. The Zanzibar City is Zanzibar's capital. 

Zanzibar is not all island. Rare species like the Red Colobus Monkey, Servaline Genet and Zanzibar leopard reside here. 

The first coloured TV in Africa was introduced in Zanzibar!

Swahili is the primary language spoken in Zanzibar, and a large portion of Zanzibar is Muslim. 

Pristine and charming, Zanzibar lies deeply embedded in Arab, European, Chinese, Persian and Indian cultures, its curving lanes and mosques being undeniably beautiful.
Zanzibar Beach Holidays - The Top 10 Best Beaches in Zanzibar
Just like Diani Beach, Zanzibar is made up of many beaches that you can visit. We have the top 10 beaches, making this a top tourist destination.
1. Best Beaches in Zanzibar - Nungwi Beach
To try and encapsulate the Nungwi Beach beauty in just a few words feels so much like trying to fit the ocean in a shot glass. 
But featuring on TripAdvisor's Best Beaches in the World- 2018 does send the message, doesn't it? 
Insanely popular and lively, the Nungwi Beach rests on the northwestern coast of Zanzibar. 
The first-rate hotels, bars, restaurants and resorts that line its shores stand in a true testament to its ageless beauty and popularity. 
The ambience is out-of-this-world here, swimmers and divers flocking its waters to test her calm tides. 
Paragliding, snorkelling, scuba diving, jet-skiing are also a favourite here, especially with coral reefs as fantastic as hers. 
Get to watch the sun take an evening dip from the comfort of your daybed or take a sunset cruise for the views and breeze.
Where to Stay at the Nungwi Beach
3 kilometres from Nungwi lies the pristine and urbane Hotel Riu Palace Zanzibar. 
Services here are impeccable, its views of the Indian Ocean and lush gardens surrounding it unrivalled. 
Other great options include the DoubleTree by Hilton Resort, the Tree by Hilton Resort, and the Royal Zanzibar Beach Resort.
The best time to visit Nungwi Beach is during the hot months of January-March and June-December. 
Your time at the beach is uninterrupted by the rains and the weather perfect for beach lounging.
Nungwi to Stone town is a 58km distance that can be covered in 1 hour 19 minutes. 
If approaching from Unguja, the taxi ride will take 58 minutes to cover the 51 km distance.
Alternatively, flights from the Zanzibar Airport to Nungwi will cost you anywhere from £26-£39.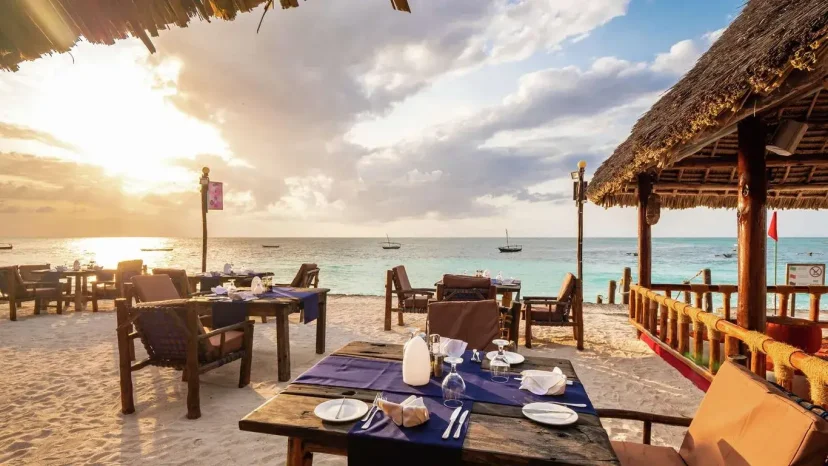 2. Zanzibar Beach - Kendwa Beach
Add quietness to the gorgeous Nungwi Beach, and you get an even more gorgeous Kendwa Beach. 
It is only a stone throw away from Nungwi and is the best Zanzibar beach to frequent if you like quiet and breathtaking beaches. 
The waters here are still like Nugwi, making the Beach a perfect dive, swim and snorkel option.
Long uninterrupted beach walks are an affordable luxury here, the blue skies and majestic ocean forming a surreal backdrop. 
For the cocktails are the bars and for the seafood the restaurants. Lounging by the beach is also an excellent option, more so if graced by the orange of sunset.  
Beach parties are another recommended indulgence for the ready to mingle vacationers.
Where to Stay at Kindwa Beach
A beach as incredible as Kendwa can only have accommodation options as eye-catching. The Kendwa Rocks Resort guarantees a king's worth stay.
Zanzibar beach vacation at Kendwa can never go wrong in June. The weather is hot and perfect for swimming.
The tides are also even 365 days at this beach.
The 49.7-kilometre distance from Unguja can be covered in an hour by dala dala or taxis. However, Stone Town to Kendwa Beach takes 1 hour 20 minutes for the 56.8km.
3. Zanzibar Beach Holidays - Paje Beach
Silky white sands, sky-high palm trees, alluring sunsets, and a gorgeous shoreline is precisely why the Paje Beach features on our best beaches in Zanzibar. 
The Beach has a coastline as you've never seen before, complete with beachfront bungalows, restaurants and bars. 
Located on the quieter east coast, the beach is the ultimate go-to for quiet fun-packed, sun-soaked beach days. 
Beach walks, sunbathing, diving, swimming, scuba diving, snorkelling, and surfing are everyday happenings. 
The ambience is also excellent for romantic star-lit dinners.
Where to stay at Paje Beach
The Summer Dream Lodge is to the Paje Beach what bread is to butter. The lodge is immaculate, its services top-notch, and the view of the ocean mesmerising. 
Demani Lodge is also a great pick.
A dala dala from Unguja to Paje will take you almost 51 minutes, while one from the Zanzibar Archipelago will take you 28 minutes.
4. 10 Best Beaches in Zanzibar - Pongwe Beach
An offshore reef stretches down the Pongwe shoreline far as the eyes can see. The only other view as fascinating is the brilliant turquoise ocean. 
Pongwe Beach lies south of Zanzibar and is unmatched in its swimming and diving opportunities. 
Surrounding it is a peaceful quiet that goes painlessly with a glass of wine and sun. 
The open space and ambience beg for romantic dinners, and the palm trees all over it provide ample shade for the sunbathers. 
If you want some relaxing Zanzibar beach time, the beach is where to go. Or if the ocean is the kind of motivation you need to finish that book. 
The boat trips also seldom go wrong. Truly awe-inspiring!
Things to Do in Pongwe Beach
There are many things to do at this beach, whether visiting or combining a Tanzania and Kenya Honeymoon Beach safari. 
Explore the museums and cultural boutiques

Enjoy a sumptuous meal at the restaurant

Enjoy your favourite movie at the nearby theatre
Where to stay at Pongwe Beach
There lacks variety in Pongwe Beach accommodation, but there is no second-guessing the few hotels and restaurants that are available. 
The Pongwe Beach Hotel has Zanzibari style imprints all over it with its palm-thatched roofs and wooden doors. 
The services are flawless, and its infinity pool is the therapy you never knew you needed.
The 37-kilometre distance from Stone Town to Paje can be covered within an hour, while Unguja to Pongwe is 20 minutes. This is either by dala dala or taxi. 
Public transport might take longer due to the many stops.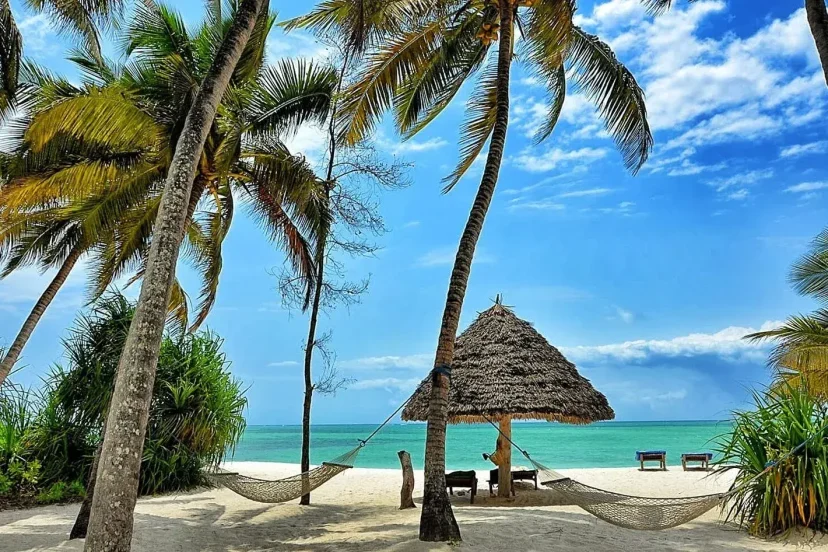 5. Zanzibar Beaches - Bwejuu Beach
Bwejuu Beach calmness is good for your soul; its scenery and shoreline are necessary to kill that selfie game. 
It ranks among the quietest beaches for Zanzibar beach holidays and is an attraction to sandy and palm trees. 
The stunner nestles along the southeast coasts, 90 minutes away from Stone Town, and is undefeated in its excursions and beach activities. 
The Jozani Forest is rich in Red Colobus Monkey populations and the culture-rich Bwejuu Village. Also within it lies a beautiful mangrove forest.
You can never go wrong with a dhow trip down its warm waters or a reef safari down its shoreline. 
And what is a Bwejuu vacation without swimming, snorkelling, and diving!
Go for the Baraza resort if waking up to mind-blowing views of the Indian Ocean is what you had in mind for your vacation. 
The place is family-run and is worth your money.
6. Zanzibar Beach Holidays - Michamvi Beach
Zanzibar beaches are known for their fine-grained sandy beaches, coral reefs, and gigantic palm trees. The Michamvi Beach houses the best of these. 
Located southeast of Zanzibar, the Michamvi Beach is yet another stunning Zanzibar beach with lots of activities and beautiful sceneries to offer.
Kite surfing, diving, sailing, snorkelling and swimming are some of the exciting activities to engage in. 
The beach is a lot less famous than the Zanzibar beaches on the northeast coast, making it more of an away-from-it-all destination rather than a partying one. 
The ambience is incredible, and the local reception is like nowhere else's.
Where to Stay at Michamvi
Michamvi Beach has seen a surge in the number of resorts willing to invest in the area, each distinctive in style and design. 
The Kichanga Lodge and Konokono Resort are good choices, offering privacy, fully equipped rooms, and praiseworthy services.
7. Best Beaches in Zanzibar - Kizimkazi Beach
Located on the southern coast of Zanzibar, the Kizimkazi Beach is a fishing village consisting of two neighbouring settlements: Kizimkazi Dimbani and the Kizimkazi Mkunguni.
The beaches are not your usual stretch of white sand, although they are undeniably beautiful. 
A coral cliff raises the beachfront directly above the ocean forming small cove-like rocky beaches. 
The region, as a result, records minimum tourist visits and accommodation options. 
Dolphin safaris are a huge thing, though, boats offering interaction with the round-headed creatures and views of the striking Kizimkazi scenery. 
With the village comes interaction with the Swahili culture, seafood and souvenirs being among our favourites.  
Disclaimer: Dolphin sightings are not guaranteed, and anyone promising otherwise probably isn't going about it legally.
Chances of viewing and swimming with dolphins are higher between February and October.
Otherwise, the weather is best for swimming and snorkelling from June to October.
Where to Stay at Kizimkazi Beach
Posh, family-friendly with knee-jerking views, the Residence Zanzibar, 20 minutes from Kizimkazi, is an endorsed choice. 
Apart from being surrounded by an unspoiled beach, the hotel sits on 32 hectares of a breathtaking lush garden. 
The Unguja Lodge is an alternative and is the place to go if you are surrounded by some green and quiet.
From the Zanzibar Archipelago, Kizimkazi is only 18 minutes away by car. The ride will take 1 hour 18 minutes if you approach Stone Town.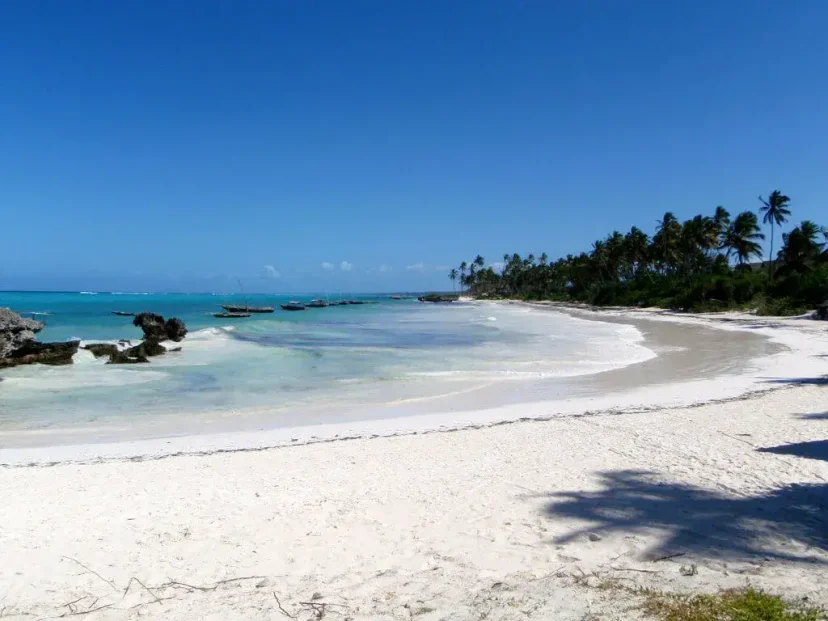 8. Zanzibar Beach Holidays - Matemwe Beach
A book by the beach sounds like the kind of thing Matemwe would be down for. 
Tucked away north-east of Zanzibar, Matemwe is a pristine beach location offering honeyed beach sands, warm waters, excellent ambiences and insane ocean views. 
Its long dreamy shoreline is perfect for long quiet walks and, if arranged, even more, perfect for romantic picnics and dinners. 
Two kilometres outside the main reef lies the Mnemba Atoli Island. 
The island is recognised globally for its fantastic scuba diving opportunities, of praise being its unique and unspoiled coral reefs. 
Prison Island is effortless for the gigantic tortoises combined with a village spice tour.
Swimming, sailing, diving, snorkelling and surfing are rewarding ventures here.
Where to Stay Matemwe Beach
The lagoon overlooking Matemwe Lodge is a great candidate for those long scenic reflective nights. 
The services are refined, the food sumptuous, and the atmosphere rich. 
Mnemba Island Lodge is a close contender.
The hot and dry months are great to visit Matemwe Beach between January and March.
Keep in mind that swimming activities are greatly affected by tides. Swimming is difficult at low tide. 
Different tides occur at other times of the day. Make sure to check or consult.
9. Best Beach in Unguja - Kiwengwa Beach
Dubbed Zanzibar's 'little Italy', the Kiwengwa Beach sits on the northeastern coast of Zanzibar and is as scenic as beaches are allowed to be.
The little name Italy references the countless Italian-run hotels that line her shores, each outdoing the next in elegance and service. 
The beach is famous for its calm peace, pristine beaches and drop-dead gorgeous shorefront. 
Exciting Maasai culture, beach games, beach walks and sunbathing are other favourites. 
Activities to engage in include; beach netball, swimming, snorkelling, diving, and surfing.
Where to Stay at Kiwengwa Beach
If anything, choose a beachfront lodge. You can never go wrong. The Sipano Beach Lodge and Family Beach Bungalows are excellent options. 
Double rooms range from £22-£30. The grand reception and services are a reflection of the price.
10. Beach Beaches in Pemba - Jambiani Beach
Last on our list of 10 best beaches in Zanzibar is Jambiani Beach. The beach is nowhere near last when it comes to its irresistible shoreline. 
The beach lying southern of Zanzibar completely outdoes itself due to its vibrant bars and high standard restaurants. 
Its scenery is also as beautiful, and the peace surrounding it calls for long beach walks and romantic dinners. 
The beach is a good swimmers' destination, though one must be mindful of the tide. Low tides make it difficult to swim.
The Jambiani is 26 minutes away from the Zanzibar Archipelago and approximately 56km away from Stone Town. The area is accessible by dala dala or taxi.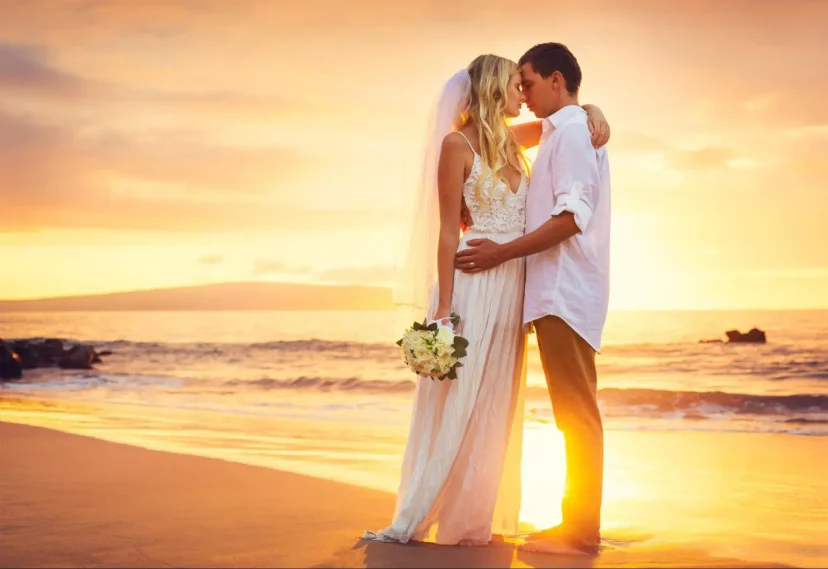 Zanzibar Beach Holidays - Frequently Asked Questions
We invite you to check out some of our best Diani Beach Holidays as you check out the FAQs of Zanzibar beach.
1. Which Part of Zanzibar Has the Best Beaches?
Zanzibar's east coast holds the charm when it comes to stunning idyllic beaches. Its hotels and lodges are the best, most-varied on the island. 
However, the tide tends to variate on this part of the coast, meaning one has to sometimes walk for a swim or dive. 
Highly pristine and private, the northern coast of Zanzibar houses stunning beach locations, its resorts rivalling the east coast in both beauty and luxury. 
The south is more crowded, its coast bursting with locals, culture and spice, while the west coast is more remote with fewer beach locations.
2. Is Zanzibar Safe for Tourists?
There isn't an island in the world safer than Zanzibar. 
Well, maybe that's quite a stretch, but tourism being the island's primary source of income means serious security measures implemented.  
Caution, however, has to be taken to avoid falling victim to petty crimes or crossing paths with pirates in the waters. 
Zanzibar is a Muslim island, so be descent in your attires whatever you do. 

Avoid dark, isolated corners. 

Only keep what is necessary with you. 

Avoid carrying hefty amounts of cash.

Avoid late-night solo travels. 

Avoid crowded spaces- a pickpocket's love for crowds is out of this world.

Avoid leaving your luggage unattended.
3. What Injections Do I need for Zanzibar?
The WHO recommends Hepatitis A, hepatitis B, yellow fever, tetanus, polio, typhoid and diphtheria vaccines for those looking to visit Zanzibar. 
Similarly, anti-malarial tablets are advised, seeing that Zanzibar is a high-risk malaria zone. 
Travellers are also advised to carry mosquito repellants, wear long-sleeved clothes and trousers, and sleep under mosquito nets. 
Stick to bottled water to avoid E.colli. Avoid buying street food or any meals you might term poorly prepared.
4. Are There Mosquitoes in Zanzibar?
Yes, there are mosquitoes in Zanzibar. Warm and wet are the preconditions are perfect fact conditions for a mosquito breeding ground – Zanzibar is precisely that. 
However, a newly conducted report shows decreased malaria cases in the country, the region reportedly recording a 98% drop in malaria cases. 
Prevention, nonetheless, is always better than cure, so do make it a point to consult your doctor about taking anti-malarial tablets. 
The good news is that Zanzibari hotels and resorts are obliged to provide mosquito nets for their guests. Demand for one if this is not the case. 
Also, carry your mosquito repellent with you, and wear long-sleeved clothes at night.
5. Is Alcohol Allowed in Zanzibar?
It's zanziBAR!  A large majority of Zanzibar's hotels and restaurants serve alcohol, except for a few in Stone Town. 
The island also has a duty free allowance for 250g of cigarettes, 1 litre of wine, and 500ml of perfume for persons over 17. 
18, however, is the island's legal drinking and purchasing age. However, you must keep in mind that the Zanzibaris are deeply religious. 
Drunk slurring or public display of drunken behaviour is highly looked down upon.
Moreover, alcohol consumption is strictly restricted to bars and pubs, so publicly might warrant unnecessary attention.
6. Can I Wear Shorts in Zanzibar?
Yes, shorts are allowed, but there are limits to your shorts. The Zanzibaris are a cultural people, so one must be mindful of how much is too much.
Booty shorts, for example, can be offensive to the Zanzibaris, while walking bare-chested for men is also frowned upon. Swimwear is, nonetheless, restricted to pools and beaches.
Additionally, skimpy clothes are discouraged with as much strength as revealing clothes are, while nudity is simply a no-go zone. 
You can, however, never go wrong with casual or semi-casual clothes. Make sure to carry some warm clothes for the early mornings and late nights.
7. Where is the Best Part of Zanzibar to Stay?
You'll probably not find the luxury and comfort that comes with accommodations at the north-eastern coast of Zanzibar. 
Hotels and lodges are unmatched in numbers, scenery, services and professionalism. 
The Dream of Zanzibar, Melia, Matemwe Retreat and Bluebay Beach Resort are just a few of the gems on that part of the coast. 
The northern coast is best for serene far-from-the-city stays. Views here are breathtaking, and the beach is generally quiet except for Nungwi and Kendwa beaches.  
The south coast does have pretty good options too. The Residence, Swahili Beach Resort and Karamba Resort are solid options.
8. What is Zanzibar Famous For?
Zanzibar is famous for its tropical beaches, spices, rich history and diverse culture. 
Hundreds of tourists line the Zanzibari shoreline year in year out, 2019, recording a record-breaking 538,262 visits. 
Though most of these visits are dedicated to the Zanzibari beaches, many tourists visit the spice farms. 
Spices are a massive part of Zanzibar, the island being the second-largest clove exporter in the world. 
Also primarily celebrated is the rich history and diverse culture that is the very backbone of the island. 
The Zanzibari culture is a colourful mixture of Persian, Indian, Chinese, Arab and European cultures. 
Their architecture is breathtaking, their food, dances, and language an attraction by itself.
9. How Expensive is Zanzibar?
A flight from Tanzania to Zanzibar costs between £30-£45. Alternatively, you could board a ferry from Tanzania, whose cost averages £27. 
The average daily expenses for Zanzibar tourists stand at £35. That should be the least daily amount you budget for. 
Daily food expenses average at £10, and local transportation at £8. 
For couples, the daily hotel rate averages at £33, to mean that a team on a 2-week vacation should expect to pay a little over £487. 
The accommodation prices differ from hotel to hotel. Stone Town's Garden Lodge, for example, charges £45 per couple per night.