Tanzania Safaris - When to Visit, Where to Go, Packages and Cost.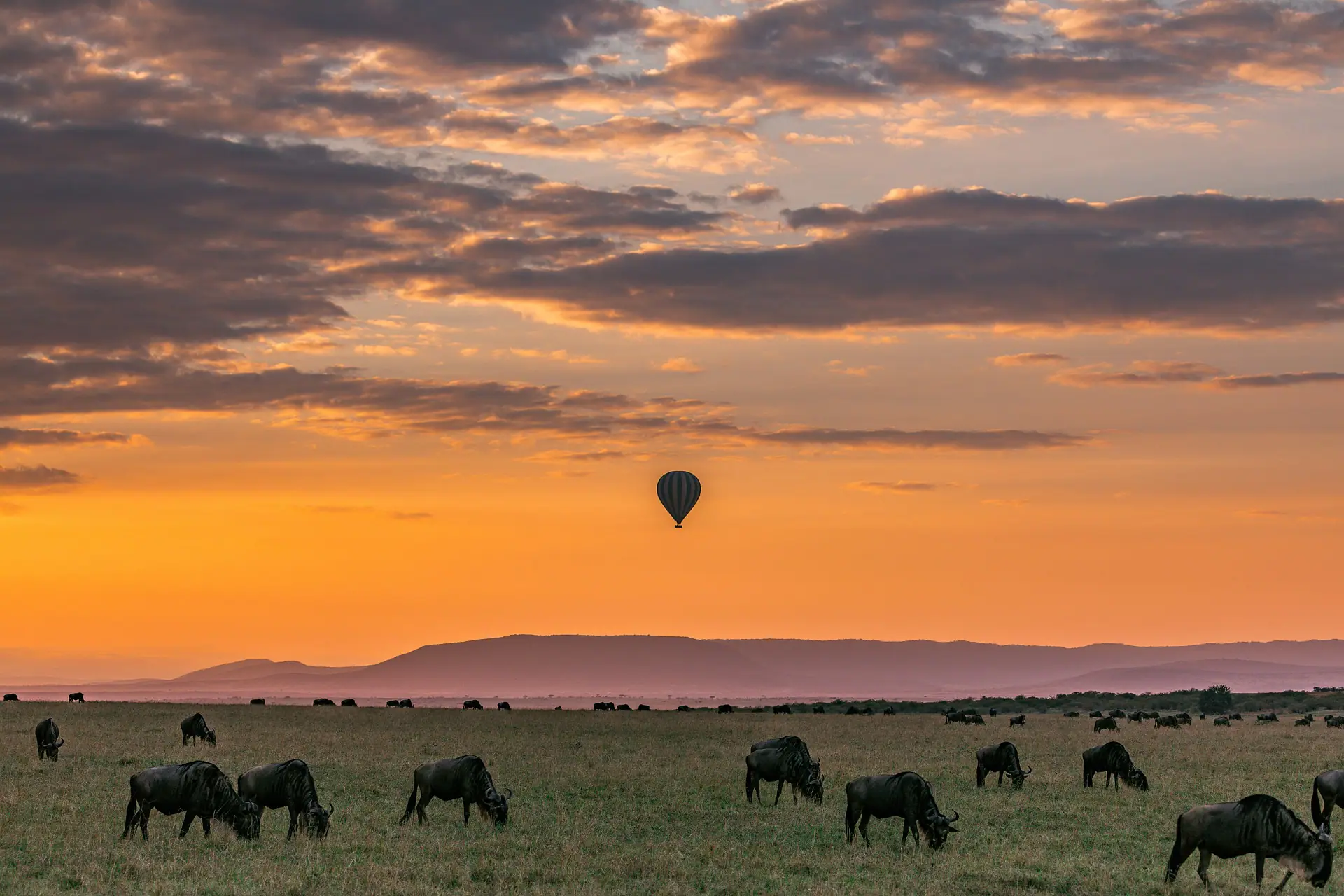 Tanzania Safaris are some of the best adventures in Africa. They introduce you to the country's vast landscapes, diverse wildlife, and numerous cultural experiences. The best safari destinations in Tanzania include the Serengeti National Park, Zanzibar beaches, Tarangire National Park, Lake Manyara National park, Ngorongoro crater, and more.
You can also opt to climb mount Kilimanjaro, or witness the great wildebeest migration which is ranked as the largest wildlife migration on the planet. Simply put, Tanzania is a land of breathtaking beauty; one that exudes culture, elegance, and timeless beauty.
In this travel guide, James Gatheru, our Kenya-Tanzania safari consultant, will share all the information you need to plan the best safaris in Tanzania. This included the best time to visit Tanzania, the average cost of an African safari in Tanzania, the best parks in the northern circuit and the southern circuit and more.
Contact us to Start Planning Your Safari in Kenya and Tanzania
We invite you to Contact Us via phone or WhatsApp at +254-704-532-105, and we will plan the best Tanzania luxury safari for you. You can also email us at safarioffers@kenyaluxurysafari.co.uk or safarioffers@ajkenyasafaris.com or James@ajkenyasafaris.com or even fill out our "Book a Safari Form."
We are the local experts of Tanzania holidays, and we promise to make your trip the most memorable safari ever.
The Best Tanzania Safari Destinations – Our Top Picks
You too, like the million others before you, will fall in love with these Tanzania safari destinations.
Serengeti National Park. Southern Tanzania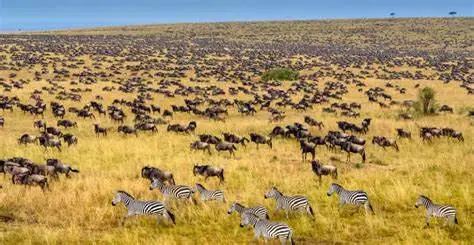 Few national parks in the world can match Serengeti's sheer beauty. The park is home to the big cats, the big five, 3000 lions, and innumerable hyenas, rhinos, hippos, leopards, baboons, elephants, and giraffes.
However, when it comes to the Serengeti, the Great Migration is the star of the show.
Every year, between June and October, over 2 million wildebeests, zebras, and antelopes traverse the Serengeti National Park into Kenya Maasai Mara Game Reserve in search of greener pastures.
Things to do in the Serengeti – game viewing, visit the Maasai, bird watching, hot-air balloon safaris, nature walks, and the Great Migration.
Ngorongoro Crater
The Ngorongoro Crater lures tourists with its invigorating mix of breathtaking sceneries, unique wildlife, and endless string of things to do.
It is an absolute delight, which is one of the reasons why it's one of the most popular destinations for Tanzania safaris.
So what and where is the Ngorongoro Crater?
The Ngorongoro Crater is an 8-mile-wide caldera located inside the Ngorongoro Conservation area. Those on a safari holiday here will be treated to around 25,000 animals, including large mammals like rhinos, elephants, and cheetahs.
The crater is also home to the world's densest population of lions and is one of the few places on earth where you can observe lions in their natural environment.
Tarangire National Park
Tarangire is a spectacular park located in north-central Tanzania. It's home to over 550 bird species, including the world's largest population of African Eurasian Cranes. The park also boasts a large number of elephants, wildebeests, cheetahs, and over 4000 zebras.
The Tarangire River, which passes through the park, is also a major attraction and provides sustenance to animals from the surrounding areas.
Mount Kilimanjaro National Park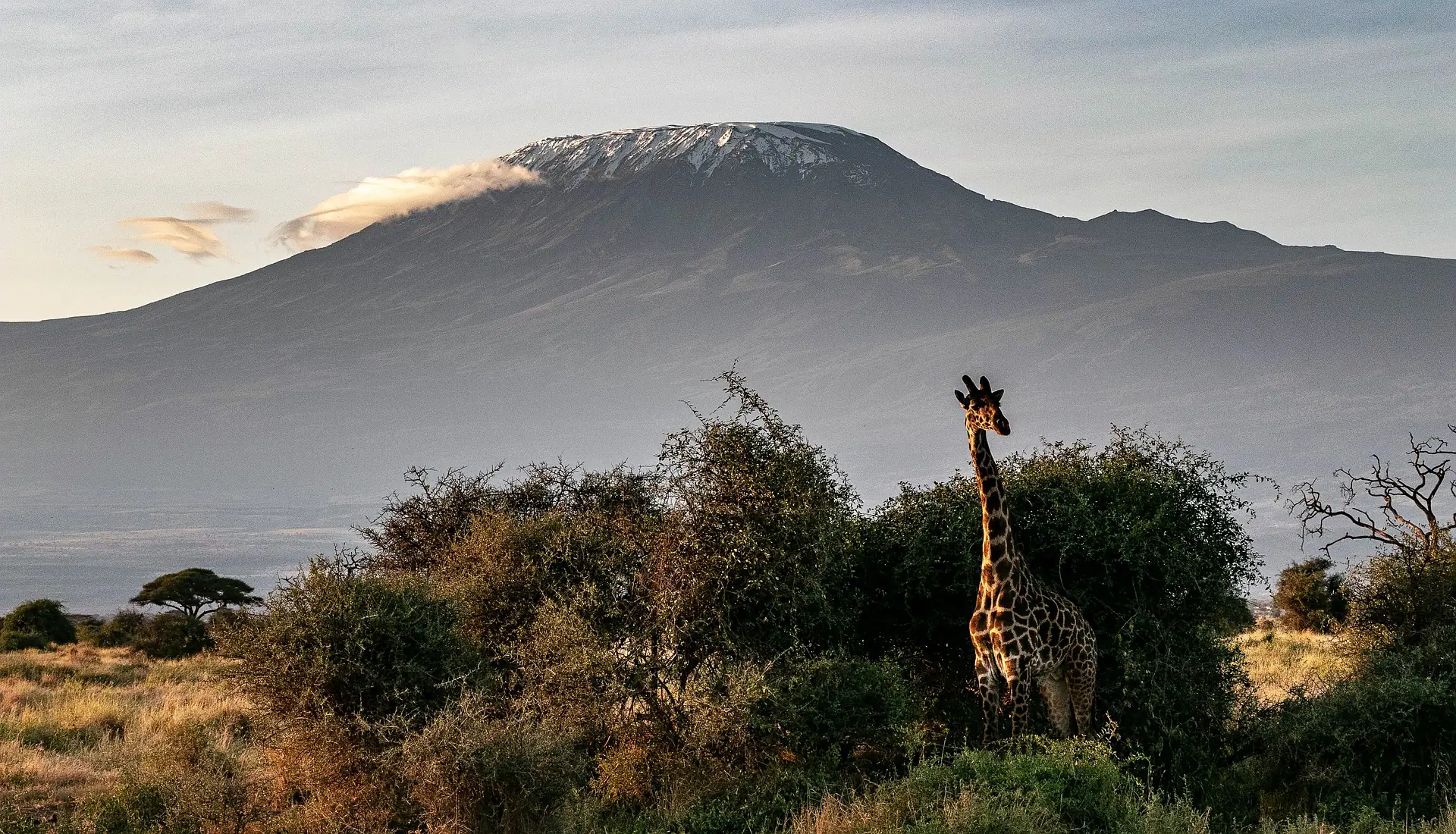 Location: Northern Tanzania
Mt. Kilimanjaro. Home to the world's highest free standing mountain and the tallest one in Africa. It also houses almost every ecological system in the world so you're guaranteed an awesome time if and when you do spend your Tanzania safari here.
To be found in this park are some of the world's rarest creatures, including the endangered Abbott's duiker. There's also a uniquely beautiful variety of glaciers to be admired and rivers, moorlands, grasslands, and montane forests.
Things to do in Mt Kilimanjaro? Climbing Kilimanjaro is one of the highlights for sure as well as game viewing, game drives, nature walks, bird watching, and camping.
Lake Manyara National Park
Often a pitstop for holidaymakers on their way to other destinations on Tanzania's northern circuit, Lake Manyara is a surprisingly beautiful and diverse park. The park boasts over 400 species of birds, including migratory birds, and is well known for its large population of baboons and tree-climbing lions.
Hippos, elephants, zebras, flamingoes- this is where to find them- as well as a jaw-dropping scenery that features lush grasslands, dense woodlands, and captivating mountainsides. That, plus the fact that the park is also home to the riveting Lake Manyara sinkhole, makes it a must-visit African safari destination.
Ruaha National Park
And then there is the Ruaha, a stunningly beautiful park located on Tanzania's southern circuit. The park famously houses 10% of the world's lion population as well as countless elephants, cheetahs, leopards, giraffes, and antelopes.
It is also home to the world's second-largest rhino population and the gorgeous Ruaha River, famous for its crocodiles and hippos.
Things to do at Ruaha- game viewing, nature walks, bird watching, and camping.
Selous Game Reserve
A safari in Tanzania wouldn't be complete without a visit to the Selous Game Reserve. Also located within the southern circuit of Tanzania, the reserve is Africa's largest. Spend your Tanzania safari here and enjoy the most breathtaking grassy plains, mountains, and open woodlands as well as some of the continent's most spectacular wildlife.
With over 145,000 buffaloes, 35,000 zebras, 250,000 impalas, 4000 lions, 40,000 hippos, and 100,000 wildebeests- this African safari park knows no bounds.
Things to do at the Selous Game Reserve- wildlife viewing, nature walks, camping, and bird watching.
Katavi National Park
Now, this one is one of the western parks and my is it stunning. For one it is home to the largest buffalo population on the planet and the other is its riveting scenery encompassing open grasslands, woodlands, dense waterways, thick reeds, and several seasonal lakes.
Wildlife viewing is also premier here, the park promising four of the Big five, giraffes, zebras, cheetahs, wild dogs, and hyenas.
Zanzibar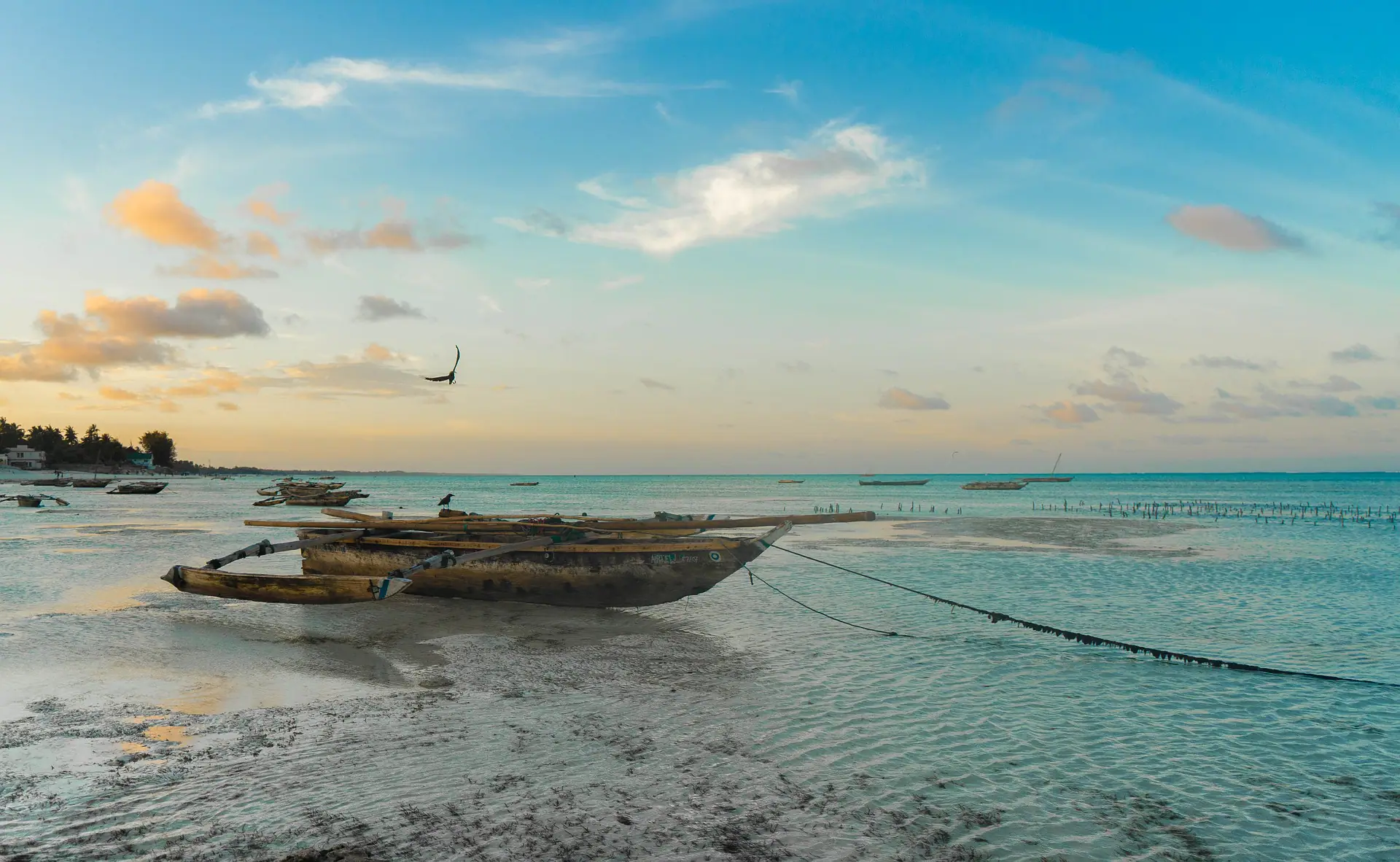 With a plethora of stunning beaches on one hand and captivating historical sites on the other, Zanzibar sits at ease ready to deliver the best beach holidays.
The island is set on the Indian Ocean and is known for its amazing spices, pristine white sands, and captivating architecture- think winding alleys, beautifully carved doors, and breathtaking mosques.
Head here after your African safari in Tanzania and you won't regret a second of it. Snorkel, dive, sail, or relax- it's Zanzibar and in Zanzibar the possibilities are limitless.
Best Time to go on a Tanzania Safari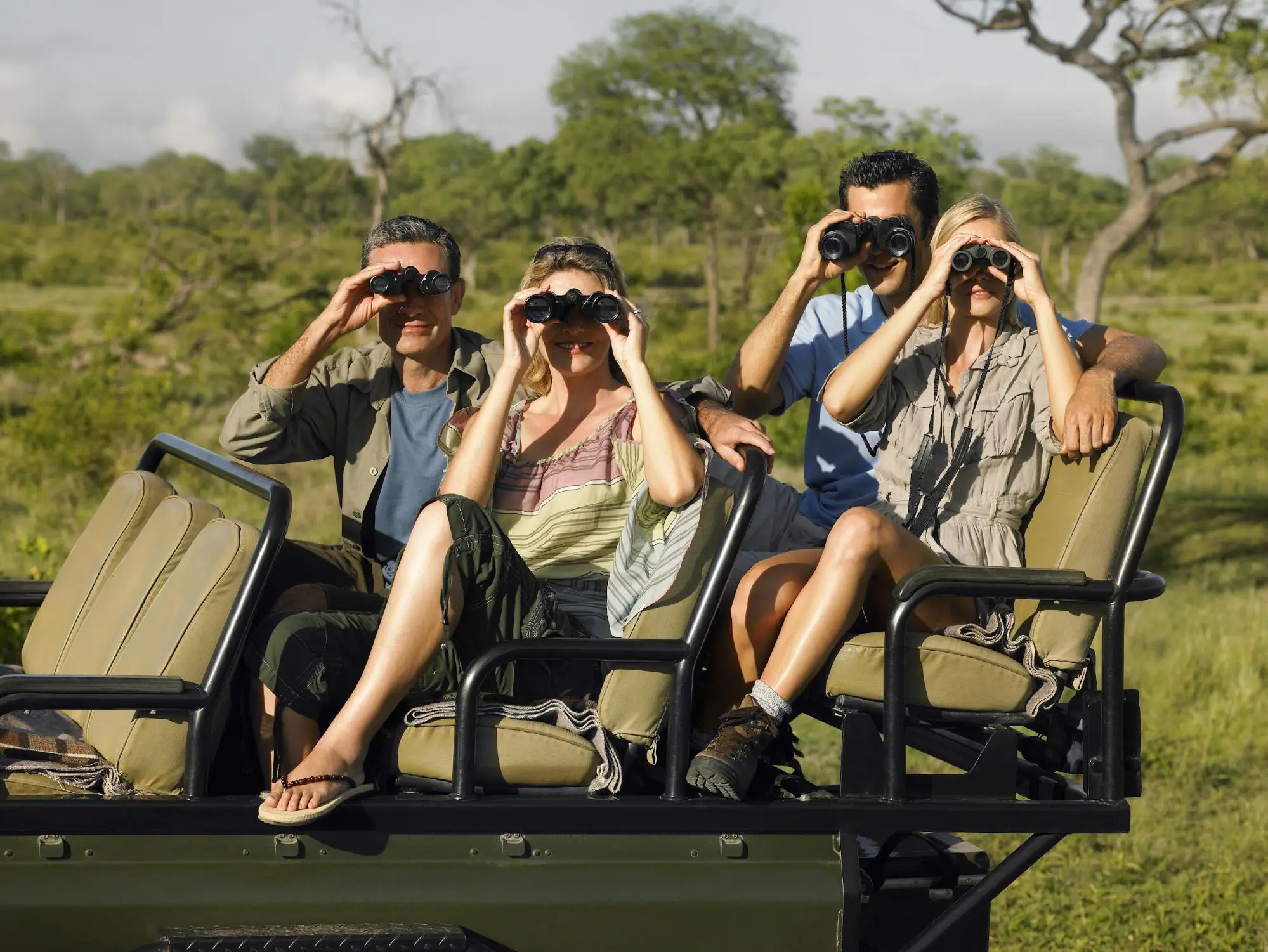 Although Tanzania is an all-year-round safari destination, we recommend visiting Tanzania during the dry season which runs from late June to early October.
Here's a month-by-month rundown of Tanzania in case you want to plan your trip differently.
January and February
Also known as the green/ low season. Best time for birders to visit due to the high volume of migratory birds in the country. It is also the calving season- when the wildebeests in the Serengeti plains give birth.
Pro: Being low season, the parks and lodges are crowded meaning lower rates and great value for your money.
March, April, and May
These are the wettest months in Tanzania and probably the worst time to visit Tanzania.
The long rains are a hindrance to most activities like lounging on the beach or climbing Kilimanjaro. However, those wanting to save some bucks might want to consider this period.
July and August (peak season)
The dry season is in full swing during these months meaning you can spot the wildlife easier and better. The wildebeest Migration is also in Tanzania at this time.
Con- Tanzania safari rates are sky rocket high during this period.
May to August
Also peak season. The nights are cold and the days hot. Pack for both!
Pro- the Great Migration is in full swing
Con- High rates
September to October
Moderate temperatures and lower rainfall make this the best time to climb Kilimanjaro.
November and December (short rains)
Photographers will love the lush landscapes and lovely scenes during this time.
The Cost of a Tanzania Safari
The cost of your Tanzania safari depends on factors such as when you travel, the level of luxury in your lodges, your preferred means of transport, and the number of extra activities.
Also at AJ Kenya Safaris, we understand that a "one size fits all" approach to Tanzania safari packages just doesn't cut it. That's why we offer tailor-made trips and activities for everyone!
Having said that, here are some estimated figures of how much it would cost you for the Tanzania holidays.
Budget safari – $300 per person per day based on two people travelling together.
mid-budget safari – $400 Per person per day based on 2 people travelling together.
Luxury safari experience – \$550 per person based on 2 people travelling together
Getting to Tanzania
Being that it is one of the most visited safari destinations in the world, Tanzania is well-connected and easily accessible.
Firstly, there are three international airports in Tanzania, all of which offer daily international flights to and from the country.
These airports also offer flights to and from tourist attractions within Tanzania. Let's, for example, assume a tourist wants to traverse between the Serengeti and Ngorongoro Crater, a short flight would be the easiest and quickest way.
Destinations are also connected by roads.
Tips and Tricks: Saving Money when When Booking a Tanzania Safari
Here are 5 tried and tested ways to save money when booking Tanzania safaris.
Visit Tanzania Towards the End of the Low/ Off-peak Season
The low season (March-May) and the off-peak season (November to mid-December) are excellent times for budget travelers to book a safari in Tanzania.
The low number of tourists in the country during this period means that flight and accommodation prices are significantly lower.
Here's the catch though. You have to book your safari towards the end of the low/off-peak season (a few days before the high season). This way, you get to enjoy a safari that offers all the thrills and spills of the high season at a significantly low price.
The Further the Tented Camp from the Park, the Cheaper It Is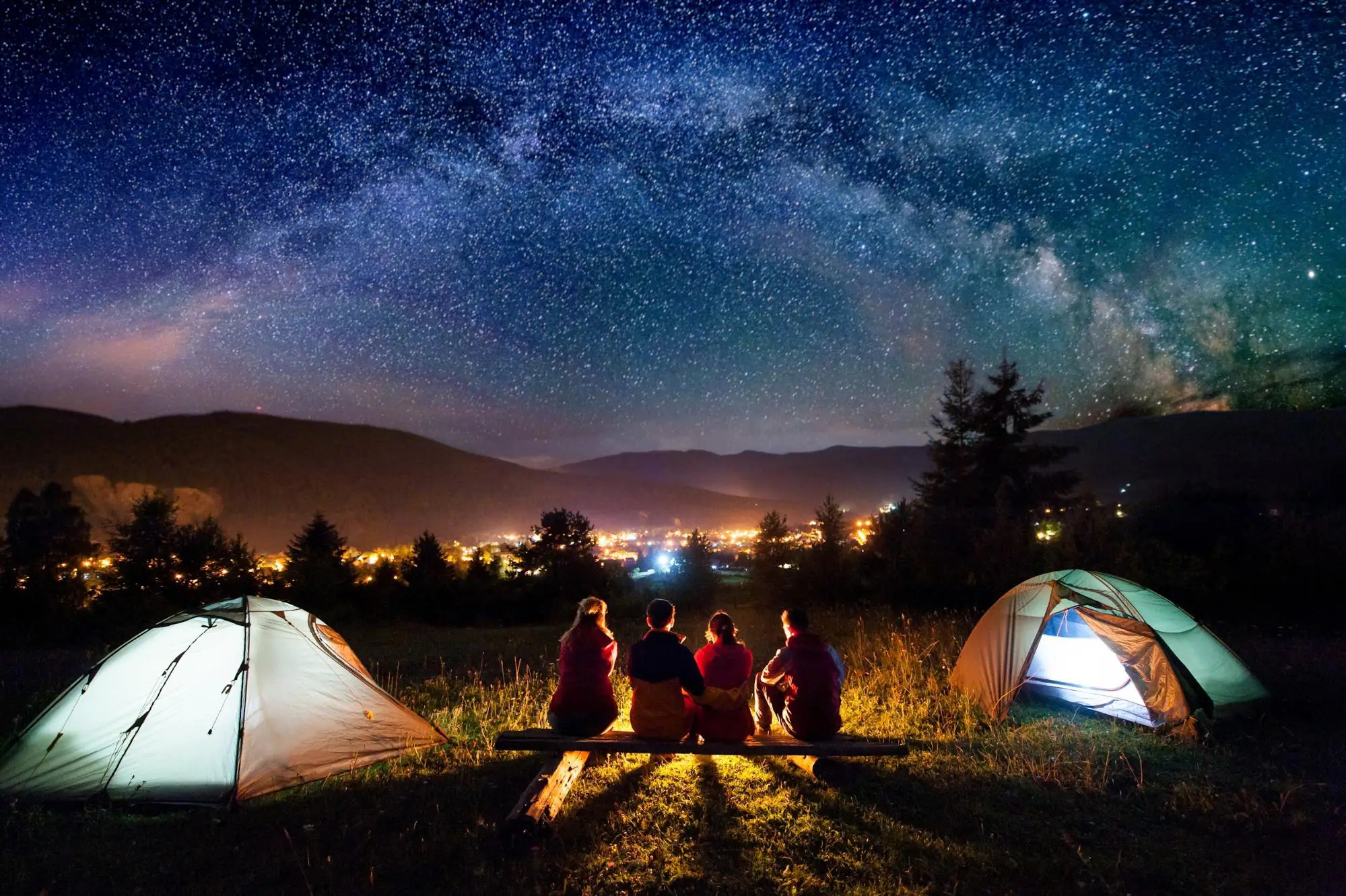 Think it's time we finally let you in on a secret- tented camps and lodges outside the parks are usually more reasonably priced.
One reason is that tourists lodging outside the parks do not have to pay the requisite concession fees that those lodging inside the park have to pay.
Consider the Less Popular Safari Destinations
Most Tanzania Safari Packages feature popular national parks like the Serengeti and Ngorongoro. Unfortunately, these parks' entrance fees tend to lean on the heftier side.
Opt for the cheaper parks, they are cheaper and equally exciting. Instead, for example, of visiting the Serengeti, you can opt to visit Tanzania, which, as highlighted above there, also boasts tons of wildlife.
The Shorter your Safari, the Cheaper It Is
Yeah, we know, longer is often the case. But not if you are looking to save some cash.
A shorter Tanzania safari will be much cheaper than a shorter one but that doesn't mean that it will be 'lesser fun'. For the best safari experience, lias with your travel guide to create a bespoke itinerary that makes the most out of your days (action-packed days)
Consider Booking a Budget Tanzania Safari
Budget safaris can still be as fun and rewarding as luxury safaris. The trick is to go for a tour company that is reputable for crafting the best tailor-made budget safaris. AJ Kenya Safaris is one excellent example.
Tanzania Holidays – Frequently Asked Questions
Next, we look at the most common questions we get about Tanzania holidays. Note that most holidays in Tanzania can be tailor-made to suit your travel plans and budget. Just send us an email at safarioffers@kenyaluxurysafari.co.uk and we shall plan the best safari in Tanzania for you.
Which are the Southern and Western Parks in Tanzania?
The southern parks in Tanzania include the Selous, Ruaha, Katavi, Mikumi, and Udzungwa Mountain National Parks. On the other hand, the western parks include Rubondo, Gombe, and Mahale (situated directly on Lake Tanganyika).
The top parks to explore on your Tanzania safari
When booking Tanzania Safaris, the most important decision must be whether to visit the famous northern circuit parks or the less busy southern circuit. The Northern Circuit includes the Serengeti National park. It is possible to combine a safari in Serengeti with some time in Ngorongoro crater for an incredible experience in Africa.
The southern circuit safari allows you to discover the picturesque 'outsider' wildlife region including Ruaha National Park, Nyerere National Park and Mikumi National Park. The southern
Tanzania parks make it possible to include some time in the beautiful Zanzibar beach and keep the cost low.
Ways to Experience Luxury Travel in Tanzania
If you are looking to make your visit to Tanzania more exciting, book a personalized Tanzania private safari tour with Kenyaluxurysafari.co.uk. Each of our custom Tanzania itinerary is designed specifically to suit your travel plans, with custom luxury tailor-made adventures, unique accommodation, private flights and so on. Our trips are unforgettable luxury family vacations in Tanzania created and guided by the best family adventures expert in the continent.