Vaccine Kenya: Which Vaccinations Do I Need for Kenya?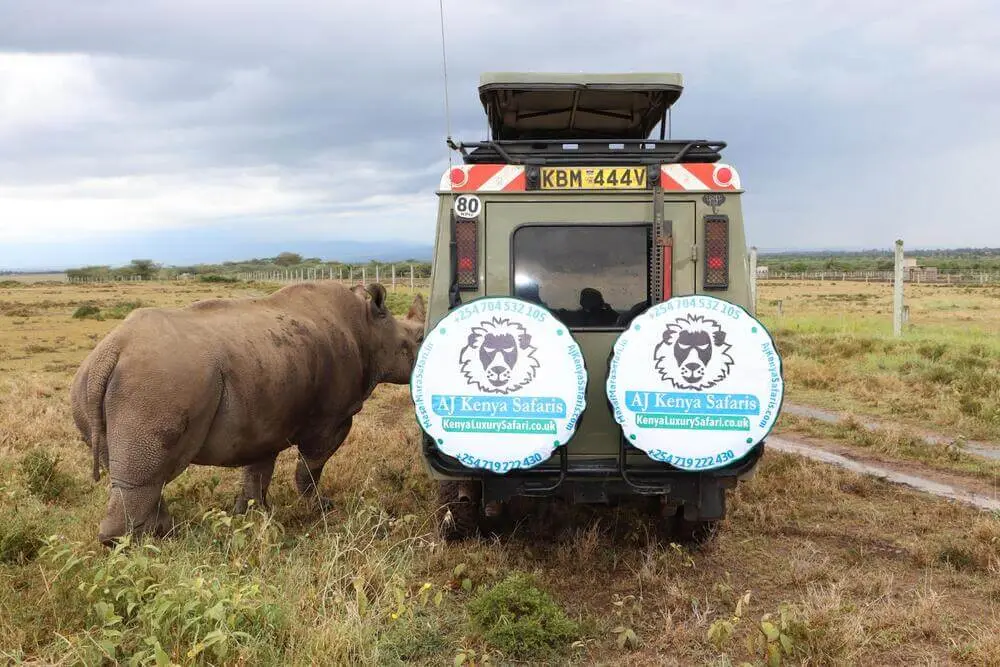 In this article, we'll provide an overview of the Kenya vaccination requirements, as well as information on malaria and yellow fever requirements in Kenya. We'll also answer some common questions about vaccinations required for Kenya.
But before then, let us quickly mention that Kenya is a top-tier safari destination. It hosts incredibly gorgeous landscapes and sceneries and fantastic game reserves, resorts, and the remarkable annual animal migration. So, yes, we totally get your obsession with the country. We equally understand that you might have some health-related questions about traveling to Kenya which is really what this article is all about.
Here's where you can contact us to start planning your Kenya Safari
Call or WhatsApp us at +254-704-532-105 or send us an email at safarioffers@kenyasafariholidays.uk, safarioffers@ajkenyasafaris.com, or james@ajkenyasafaris.com. 
And here are some of our best Kenya safari packages.
Ready?
Let's get to it!
Which Vaccines Do You Need When Traveling to Kenya?
With the exception of COVID-19, there are no mandatory vaccinations for Kenya. However, there are certain vaccines you should get depending on your own health background, the length of your stay in Kenya, and where you are traveling to within Kenya.
Our number one piece of advice to clients is that they should visit a doctor for personalized vaccine recommendations. That said, here's a list of vaccines the WHO and CDC recommends for those traveling to Kenya.
COVID-19
Mandatory for all travelers above the age of 12
All travelers above the age of 12 are mandated by Kenyan law to show proof of vaccination against COVID-19 at all of the country's points of entry. Those without a COVID-19 vaccination certificate can present a negative COVID-19 PCR test taken not more than 72 hours before departure.
Those not in possession of either of these two documents will be required to take a rapid antigen test which will cost them about £24.30.
If the rapid antigen test returns positive, the traveler will be required to take a £41 PCR test and self-isolate as per the Kenya's Ministry of Health guidelines. The traveler also has to fill Jitenge's passenger locator form for easy monitoring.
Exemptions Include;
Children under the age of 12
Travelers with medical conditions that prevent them from being vaccinated. These travelers have to provide letters from recognized medical facilities explaining their condition.
Travelers who have recovered from an active COVID-19 infection or received convalescent plasma in the last 90 days. Again, a letter from a recognized medical facility is needed as proof.
Returning unvaccinated Kenyans who had trouble accessing vaccinations in the country they are coming from. These travelers must register for vaccination before they depart from their country of origin. They must also come prepared for on-the-spot vaccination.
P.S: the vaccine administered MUST be one that is WHO-approved.
Hepatitis A
Recommended for: all travelers
Mode of transmission: contaminated food and water
Tourists 12 months old or older who are visiting areas with poor levels of sanitation and hygiene are at a high risk of contracting hepatitis A. Sadly, there is no telling whether a restaurant or hotel kitchen has been taking the right measures to keep their food safe, so this vaccine is recommended for all travelers.
Common symptoms of Hepatitis A infection include; yellow skin and eyes, stomach pain, vomiting, fever, dark urine, and diarrhea.
Hepatitis B
Recommended for: some travelers
Mode of transmission: direct or indirect contact with blood and body fluids of an infected person
The Hepatitis B vaccine is recommended for children, long-stay travelers, and medical or dental care doctors who are more likely to be in contact with infected blood.
Common symptoms of Hepatitis B infection include; fever, fatigue, a loss of appetite, nausea, abdominal pain, dark urine, and vomiting.
Meningococcal Disease/ Meningococcal meningitis
Recommended for: some travelers
Mode of transmission: respiratory secretions or droplets
Tourists 2 months old or older who are traveling to parts of Kenya that fall under the meningitis belt should be vaccinated against the meningococcal disease.
Other people at risk of infection include persons with underlying medical conditions, military recruits, and gay men.
Common symptoms of meningococcal disease include; a stiff neck, sudden fever, headaches, increased sensitivity to light, vomiting, nausea, and confusion.
Typhoid
Recommended for: all travelers
Mode of transmission: contaminated food and water
Tourists staying with friends/ relatives or those who are visiting small cities and areas with poor sanitation practices are at a high risk of typhoid infection.
Cholera
Recommended for: some travelers
Mode of transmission: contaminated food and water
Areas of active cholera transmission (risk areas) include the Kisumu, Kajiado, Garissa, Homabay, Kiambu, Nairobi, and Meru counties. Vaccination is recommended for those traveling to these areas.
Rabies
Recommended for: some travelers
Mode of transmission: when the saliva of infected animals enters a person's bloodstream either through a lick, scratch, or bite.
Rabies vaccination is recommended for those taking part in outdoor activities such as camping and hiking, or any other activity where they may come into contact with wild animals.
Routine Vaccinations
Tourists traveling to Kenya should ensure that they are up to date with the following routine vaccinations;
Measles-Mumps-Rubella (MMR)
Polio vaccination
Shingles
Influenza
Chickenpox
Pneumonia
DPT (Diphtheria, Pertussis, and Tetanus)
Other Health Risks You Face When Traveling to Kenya
Dengue Fever
Vaccine is recommended for: some travelers
Mode of transmission: mosquito bites
More common in urban areas, dengue fever is a viral illness transmitted to humans via mosquito bites. Although various outlets on the internet claim that there is no vaccine for dengue fever, two vaccines have recently been approved by the World Health Organization and they are both recommended for people aged 9 or above.
Symptoms include severe muscle pain, headaches, and fever.
Preventive measures: avoid mosquito bites by applying insect repellent to exposed skin and seek early consultation from your health provider.
Health Risks Altitude: Acute Mountain Sickness
Acute mountain sickness is a potentially life-threatening condition attributed to the decreased oxygen pressure in areas of very high altitude(3658 m or more). A tourist climbing Mount Kenya, for example, should take sensible precautions like including rest days in their ascent schedule, avoiding strenuous exercise two days before the ascent, and consulting a travel medicine specialist for the appropriate acclimatization medical treatment.
P.S: Travelers with pre-existing medical conditions like heart failure and pulmonary disease should consult with their doctors for the appropriate clinical and safety advice.
Yellow Fever Kenya: Do I Need Yellow Fever Vaccine for Kenya?
No, you don't need a yellow fever vaccine to travel to Kenya unless;
you've recently been to a high-risk country
you've spent more than 12 hours of transit in a high-risk country
you're planning on going to high-risk areas in the country including the entire north-eastern province, Meru, Baringo, Elgeyo Marakwet, Turkana, Samburu, and West Pokot.
You're planning on taking a safari to rural parts of Kenya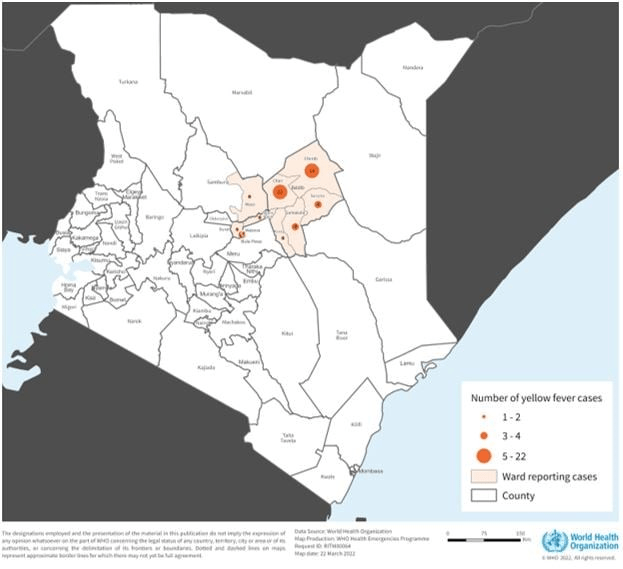 Yellow Fever Transmission, Symptoms, Prevention, and Intervention Measures
YF is a potentially severe disease spread to humans through mosquito bites. The disease can be prevented by using insect repellent, getting vaccinated before travelling, and wearing long-sleeved pants and shirts.
Some common symptoms of YF include;
muscle pain
backaches
nausea
headaches
vomiting
fever and chills
Seek immediate medical attention when and if you experience these symptoms after or while visiting Kenya.
Validity of the Yellow Fever Vaccination Certificate
The yellow fever vaccination certificate is valid for life. On July 11th 2016, the WHO instructed that countries should no longer require visitors to show proof of YF re-vaccination.
Risk of Contracting Malaria in Kenya
According to the WHO, Malaria prevalence in Kenya dropped from 11% to 8% between 2010 and 2015. We tell you what Malaria is, who is at Malaria risk, and how to prevent it.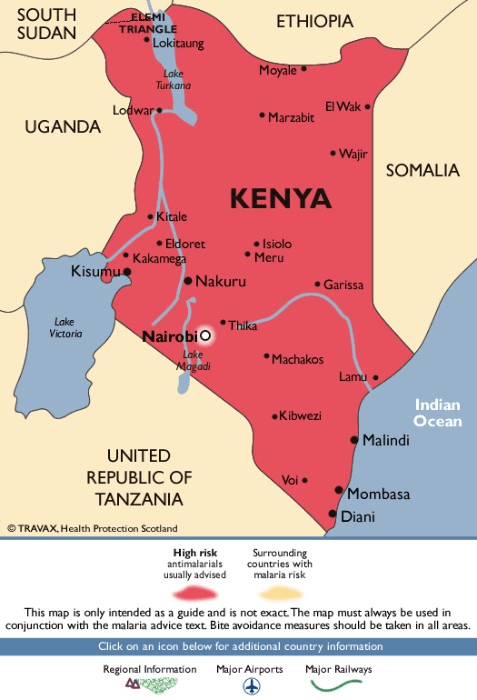 What is Malaria
Malaria is a parasitic infection spread to humans through mosquito bites. Currently, Malaria risk is high throughout the country with the exception of Nairobi and the highlands of Central, Nyanza, Eastern, Western, and the Rift Valley provinces.
Malaria Prevention Measures
There is no vaccine for Malaria. However, there is a number of prevention measures you can take to lower your risk of contraction. These include;
Taking Malaria Tablets
The CDC recommends that travelers take anti-malaria tablets before, during, and after traveling to a Malaria risk area. It is best that you seek advice from your health provider before the trip for further information on the best medication to take.
Again, Insect repellent
Insect repellent are mosquito kryptonite. When applying repellent on your child, make sure to read the label instructions, and avoid applying on broken skin and areas near the child's mouth and eyes.
As for which insect repellents you should use, we swear by these EPA-registered repellents. We also recommend that you use this EPA Search Tool to find the right insect repellent for you.
Other safety measures include;
sleeping under a treated mosquito net
Wearing long pants and long-sleeved shirts especially at night
treating gear and clothing with permethrin
Keeping mosquitos and bugs out of your resort or hotel. You can do this by keeping your window shut at night.
Further Health Travel Advice for Kenya
In this section we provide additional health risks information about traveling to Kenya.
Food and Water Hygiene
When traveling to Kenya it is important that you avoid;
eating food from the street or any food prepared by unlicensed vendors
eating raw meat and uncooked vegetables
eating food that been left uncovered for long. 
drinking tap water (even if it is described as fresh water). Opt for bottled mineral water instead or boil your drinking water for at least two minutes.
Unpasteurized milk which might expose you bacteria that might lead to serious illness.
Some good hygiene practices include peeling fruit and vegetables before eating them, avoiding ice in your drinks, and brushing your teeth with bottled water. Finally, make sure you wash your hands often with soap and water before and after handling food.
Animals
Be sure to avoid contact with stray animals. Also avoid petting wild animals while on safari as there's an increased risk of contracting rabies when and if the animal attacks you.
Insects
Dengue Fever, Malaria, and YF are all transmitted via insect bites. You'd do well to follow these tips by Lonely Planet on how to deal with insect bites and stings.
Travel Insurance
Make sure you have adequate travel insurance for your trip to Kenya. This includes medical expenses coverage in the event that you contract any of the above mentioned diseases or suffer any other medical emergency.
Traveler's Diarrhoea
Traveler's Diarrhoea is caused by contaminated food and water, and is the most common illness affecting travelers in Kenya. During your stay, practice food and water safety measures mentioned above. If you do experience diarrhoea, seek medical assistance as soon as possible.
Personal Hygiene Measures
Good personal hygiene practices are key to staying healthy while in Kenya. This includes washing hands regularly and avoiding contact with people who have contagious illnesses. It also helps to wear protective clothing such as long pants, long-sleeved shirts and a hat when outdoors.